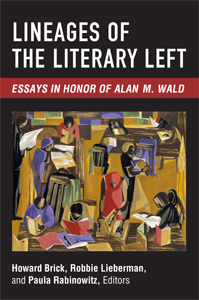 Lineages of the Literary Left: Essays in Honor of Alan M. Wald
Skip other details (including permanent urls, DOI, citation information)
: Ann Arbor, MI: Michigan Publishing, University of Michigan Library, 2015.
Permissions: This work is licensed under a Creative Commons Attribution-NonCommercial-NoDerivatives 3.0 License. Please contact mpub-help@umich.edu to use this work in a way not covered by the license.
For more information, read Michigan Publishing's access and usage policy.
20. The Present of Future Things
Scholars make their own personae, but they do not make them just as they please.[1] Handcuffed to history, I address the field of the Literary Left in ways that cannot be detached from the succession of highly charged, contextualized experiences shaping and reshaping my life. Summing up the composite autobiographical figure emerging from these unceasing engagements is like taking aim at a moving target. A BuzzFeed version would read "Twenty-five Surprising Things You Didn't Know about Alan Wald." I have been tracking my great white whale of Literary Radicalism since high school. Then, during the events of the 1960s, a rendezvous with culture and the Left crystallized into a lifelong pursuit. That decade turned out to be the political Rorschach test of my generation; the passion of its victories and defeats formatted me forever. My scholarly writings will never be understood by reading backwards through my professional career at the University of Michigan; academe was not an end but a vehicle through which other needs and goals might be fulfilled.
As Derek Walcott wrote in Midsummer, "To curse your birthplace is the final evil."[2] When history intruded in my existence as an undergraduate at Antioch College, my birthplace was conclusively established. I seized upon Marxism (via Jean-Paul Sartre and Richard Wright) as a compelling if partial and imperfect ethical criticism of the exploitative and imperialistic dynamics that coexisted with Western society's remarkable achievements. In the worldwide eruptions of 1968, I thought I saw a new kind of society in the making through the international alliance of student rebels and working-class militants, the visionary grammar of a historical process suggested by class analysis combined with the imaginative liberties of a metaphor stemming from hope. An observation by Leon Trotsky, Marxism's stern superego, might suggest why such yearnings, their birthplace still uncursed, are with me some forty-five years later: "Ideas that enter the mind under fire remain there securely and forever."[3]
More puzzling is psychology, the life of subterranean passions coiling beneath the surface of the various roles that one serially inhabits. Perceiving the world on dual channels, we grapple with disparate temporal regimes generating the inner, elusive contradictions that define our characters. Mine oscillates between hotheaded emotions, sensing everything at once, and a calibrated intellect relentlessly deciphering how one thing follows another. This leaves me with an inability to resist any opportunity to interpret, rushing to hasty judgment too often, and with recurrent aspirations at odds with my temperament and talent. I am convinced that a lack of self-knowledge makes self-deception probable, but how does one differentiate between emotional and factual truth in the realm of hard-wired memories?
Matters that are private, the restless ghosts of my universe, are also the ones that obstinately resist the voicing that precedes comprehension. The traumatizing loss of my father prematurely in 1981 and then the loss of my mother in 2003 brought increased appreciation of their impact on my early life yet not much more. The death of my first wife, Celia, at age forty-five in 1992 after a decade of illness, remains a knotted emotional ache that I will carry to the grave. (Happily this has been offset by the bliss of my romantic partnership with Angela Dillard since 2001.) Curiously, most of my longtime friends, a number of them former students but usually political or scholarly associates, are either a decade or so younger or five to ten years older; almost none are exact contemporaries. As my enemies grow older, I am luckily free of lasting resentments against even those people who aimed to do me harm, yet petty humiliations and embarrassments (including tiny factual errors in my work and some poorly written sentences) are as vivid as ever. I can coolly explain my attraction to literary narratives of exile, unreliable memory, and uneasy citizenship, and all the whys and wherefores for my recoil from those who substitute ideological certainties for the messiness of experience. But I am flummoxed to account for my ironic/sardonic sense of humor that serves largely as an emotional defense as well as my lapses into complete silence in many conventional social situations.
Top of page