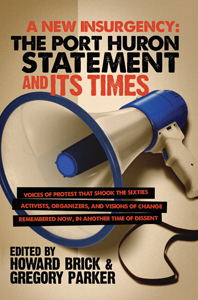 A New Insurgency: The Port Huron Statement and Its Times
Skip other details (including permanent urls, DOI, citation information)
: Ann Arbor, MI: Michigan Publishing, University of Michigan Library, 2015.
Permissions: This work is licensed under a Creative Commons Attribution-NonCommercial-NoDerivatives 3.0 License. Please contact mpub-help@umich.edu to use this work in a way not covered by the license.
For more information, read Michigan Publishing's access and usage policy.
III. Connections: The Sixties Movement of Movements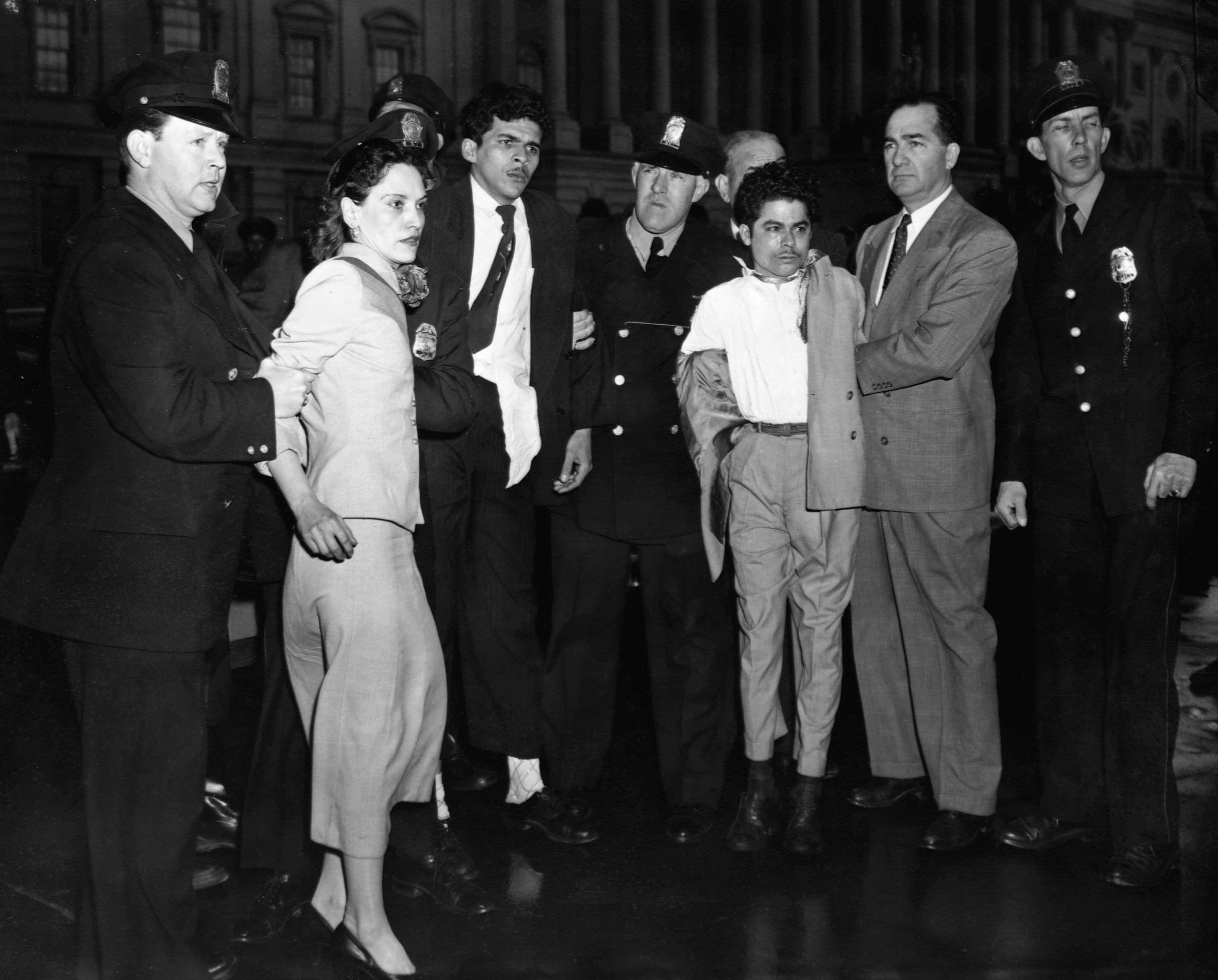 Three Puerto Rican nationalists, including Lolita Lebrón, seized by Capitol police after firing into the House Chambers from the gallery and injuring eight congressmen. Washington, DC, March 1, 1954. © CORBIS
It has become common coin in radical activist circles of the past fifteen years to emphasize the plurality of causes that mobilize protest, no longer speaking of "the Movement" as many did fifty years ago but rather of what Naomi Klein called, when describing the globalization protests starting in 1999, a "movement of movements."[1] In fact, that characterization applies as well to the new insurgencies of 1955–65, and this collection aims to highlight the multiple forms and causes that coexisted at the time, often intersecting in ways that served to inform each other and enhance momentum, sometimes operating in distinct channels, and occasionally inducing strains or conflicts with which organizers tried to cope. In these chapters we see how varied currents—anticolonialism, pacifism, feminism, black liberation, and more—interacted with each other. And yet it was also the case that things close at hand may have gone unnoticed: we do not know how much, if at all, the (largely white) university activists of Ann Arbor were aware of the dramatic developments in Detroit's black radical politics, when James Boggs and Grace Lee Boggs helped convene the Grass-Roots Leadership Conference (November 1963) that played host to black nationalist Malcolm X almost as he was breaking from his organizational home, the Nation of Islam, toward an independent activist career with a much wider audience. (See Stephen Ward's chapter on the emergence of James Boggs's distinctive Black Power politics.) In another case, somewhat surprising connections were made, as Andrea Friedman narrates the activities of radical pacifists after World War II, showing solidarity with Puerto Rican nationalists, even though that entailed the discomfiting defense of agitators who took up arms. Marian Mollin describes radical pacifist challenges to the nuclear arms race.
Ramón Gutiérrez reveals how the urge to assimilate different causes (and regional cultures) into a common movement could obscure the specificity of one strand of Mexican American mobilization. Daryl Maeda illuminates the long-overlooked engagement of Asian Americans in New Left activism, which would lead, in time, toward an independent movement of ethnic self-assertion; Paul Chaat Smith's reflections on the American Indian Movement (AIM) recognizes the distinctive conditions and rhythms that made AIM both linked to and apart from other new insurgencies. Ruth Rosen and Marian Mollin explore the dimensions of women's consciousness within and without protest organizations in the 1950s and 1960s. Richard Mann, one of the organizers of Michigan's innovative Vietnam teach-in of March 1965, describes the evolution of academic dissent. Not included here but part of the 2012 conference was Kevin Mumford's intriguing account of black and gay/lesbian identities ("Subversive Perversion: Notes on James Baldwin, Lorraine Hansberry, and Bayard Rustin") well before the Stonewall "riot" of 1969 boosted gay liberation into public recognition as yet another insurgent dynamic.
—Howard Brick
Top of page