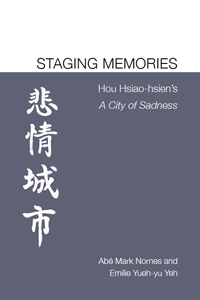 Staging Memories: Hou Hsiao-hsien's A City of Sadness
Skip other details (including permanent urls, DOI, citation information)
: Ann Arbor, MI: Michigan Publishing, University of Michigan Library, 2014.
Permissions: This work is licensed under a Creative Commons Attribution-NonCommercial-NoDerivatives 3.0 License. Please contact mpub-help@umich.edu to use this work in a way not covered by the license.
For more information, read Michigan Publishing's access and usage policy.
2 / A Style of Unreasonable Choices
While the world of art cinema is filled with stylists, there are only a handful of filmmakers who have developed a personal approach so idiosyncratic that it is recognizable at a glance. Hou is one of those filmmakers. And City of Sadness is the film that crystallized his approach to cinematic narration. It provided a foundation from which he continues to elaborate in his subsequent films.
One of the reasons Hou Hsiao-hsien has come to the attention of critics is this cinematic style which, in its systematic rigor, has few precedents in the history of cinema. At this book's initial writing, shortly after the release of City of Sadness, no one had brought his approach under close analysis. While it is reckless to make such assertions, we will argue that Hou's style may be considered unique in the history of cinema. In this section we hope to describe this approach with great specificity, for it is difficult to understand the power of his films without first grasping the nature of his cinema and its relationship to thematic concerns.
Hou put this approach to cinematic narration in place early in his career, and he changes in significant ways after 1995 (see James Udden, "This Time He Moves!"). However, Hou's cinema reaches a particular level of refinement in City of Sadness, particularly for the way cinematic style becomes inseparable from his representation of history.
Hou's style displays characteristics we may describe as self-restricting. This general orientation toward restraint and stylization is reminiscent of Ozu Yasujiro, so much so that one is tempted to borrow David Bordwell's characterization of Ozu's work as an "unreasonable style," a comparison we deal with below. In Hou's case, the following self-restrictions have been imposed to some degree on all his films:
The use of relatively static, extremely long takes
Measured, rhythmic use of ellipsis
Minimal use of tracks, pans, intrashot reframing
Temporally unmarked transitional spaces
Tendency toward tableaux-like long shots/few closeups
The geometricization of space
Delimitation of the frame
Locking the camera/spectator onto a single axis
Rare, strategic use of the shot–reverse shot figure
Gradual revelation and construction of spatial relationships
Repetition
This sounds overly programmatic (a danger in any taxonomy). However, it should be emphasized that these characteristics are entirely interrelated, as the following elaboration will show. Moreover, Hou orchestrates these qualities in such a rigorous way that they lend themselves to an equally rigorous analysis. These are legible characteristics and not dogmatic rules. At the same time, we hope to show that the rare occurrences of the staples of classical filmmaking (such as the shot-reverse shot) are crucially connected to larger issues of style, theme, and cultural codes.
Top of page