The opening line of A Tale of Two Cities by Charles Dickens portraying life in London and Paris during the French Revolution—"It was the best of times, it was the worst of times"— applies equally well to today's burgeoning cities throughout much of the developing world. Whether it is Lagos, Mumbai, São Paulo, Karachi, or Shanghai, life within or on the periphery of such cities mixes economic opportunity with deprivation, social solidarity with exclusion, and ecological blessings with burdens. With this year marking the epochal transition of humanity from a rural to a majority urban species, it is a propitious moment to ponder how the future of global urbanization, predominately in the low- and middle-income countries of Asia, Africa, and Latin America, may evolve over the next few decades in regard to size, velocity, shape, and functioning.
The big question is whether the urbanization of today and that to come will lead the world toward or away from sustainability. Sustainability achieves an optimal scale of resource throughputs within the regenerative and absorptive capacities of life-supporting ecosystems and optimal distribution of resources, both within and across generations, based on ethical criteria of equity and sufficiency. With scale and distribution established, optimal allocation or division of resources can then be shaped by the logic of market efficiency.
The dawning of the urban millennium has been marked by a prodigious outpouring of projections and assessments of urban futures from international organizations such as UN-Habitat, UN Population Fund, World Bank, UN Environmental Programme, Intergovernmental Panel on Climate Change (IPCC), Worldwatch Institute, Organisation for Economic Co-operation and Development (OECD), International Energy Agency, and more. Table 1 provides a summary snapshot of long-term global projections of relevance to urban evolution recently provided by these organizations. These are typically business-as-usual projections based on recent experience, assumptions of linearity and continuity, masking of huge regional disparities, and tunnel-vision disregard for complex whole-system dynamics and interdependencies.
Table 1: "Business-as-Usual" Projections to 2030 and 2050
PROJECTIONS
2000–2005
2025–2030
2045–2050

World population

UN, billion

6.46
7.01
9.3

World GDP

Organisation for Economic Co-operation and Development, trillion

44.65
89.29
133.93

World energy consumption

Energy Information Administration, quadrillion, British thermal units (Btu)

462
695
?

Urban population

UN Population Fund, billion

3.1
4.5–5.0
6.4

Population > 60 years old

UN, billion

0.6
1.2
2.0

Urban slum dwellers

UN-Habitat, billion

0.94
2.0
?

Urban built-up area

World Bank, million square hectometers

400
1,100
?

Population living within 100km of coasts

World Resources Institute, billion

2.2
2.75
?

Population experiencing severe water stress or scarcity

Organisation for Economic Co-Operation and Development, billion

2.8
3.9
6.9

Greenhouse gas emissions

Organisation for Economic Co-operation and Development, metric gigatonnes (Gt) CO2 equivalent

46.9
64.25
71.29

Climate refugees

Intergovernmental Panel on Climate Change, million

25
100
150

World ecological footprint

World Wildlife Fund, % of Biocapacity

130
150
180
When put together, the projections entail huge impossibilities. Can the world's cities really massively grow their fossil fuel-based energy consumption in the wake of the end of cheap oil and during climate change? Can the future of urbanization really be concentrated in the world's coastal zones growing increasingly vulnerable to extreme freshwater scarcity, storm surges, and sea-level rises induced by climate change? Can cities in low-income nations really double their urban populations with mainly very poor, old, and young people in the absence of vast increases in employment, income, and tax revenue? And can we really double or triple the physical size of the world's cities while irreversibly liquidating the stocks of natural capital upon which such growth ultimately depends? Inconsistency in charting urban futures is to be expected given that forecasters are dealing with a confluence of unprecedented and very complex trends—population aging, urbanization of poverty, coastal ecosystem degradation, climate change, massive sprawl, decoupling of urbanization from industrialization and wealth creation, and so on—without parallel in the history of humanity.
A brief survey of eight "megaforces" that vastly complicate or reduce the potential of achieving sustainable urbanization (mainly in the developing world) reveals a rather doomy and gloomy picture. In the absence of radical efforts to alleviate poverty and to promote environmental sustainability, the lives of hundreds of millions of urban dwellers under this painted scenario, to borrow from Thomas Hobbes's Leviathan (1651), could become increasingly "solitary, poor, nasty, brutish, and short."
Urban Population Growth
UN demographers project that the world's population will increase by 2.5 billion from today to a total of 9.3 billion by 2050, with more than 95% of this growth expected to occur in today's developing nations. The population living in urban areas is projected to expand by 3.1 billion during this time period due to in-migration, natural increases from relatively high fertility rates of those in poverty, and reclassification. Roughly 75% of humanity is thus predicted to be urban by 2050 as compared to 50% today.
The urban population of developing nations is expected to double to 4 billion people by 2030, increasing at the rate of 70 million per year. The influx of "climate change refugees," as discussed below, may take these figures much higher. Only 22% of this growth is expected to occur in cities with more than 5 million citizens; about half of the urban expansion is likely to occur in smaller and newer edge/infill/satellite cities of less than 500,000 inhabitants, which are probably least equipped to effectively manage rapid expansion. The extraordinary scale of urban growth, particularly in Africa and Asia, was recently captured by Enrique Peñalosa, former mayor of Bogotá, at the World Urban Forum:
These two billion new urban inhabitants will require the equivalent of planning, financing, and servicing facilities for a new city of one million people, every week, for the next 30 years.
Population Aging
The demographic transition from high to low fertility and mortality throughout much of the world is producing unprecedented population aging, especially in urban areas. The UN projects that the proportion of people aged 60 and over will increase from about 10% today to over 20% of the total population—two billion people, nearly a third of urban population—by 2050. The aging trend is most advanced in the industrialized world, particularly Europe, but the pace of population aging is most rapid and most compressed in the developing world. China and India together already account for one-third of the world's older citizens. Urban areas house 51% of the world's older persons today, but the figure is likely to rise to 62% by 2025 as a result of increasing longevity and rural-to-urban migration. In addition to aging, many cities in Africa and Asia will also be confronting a youth bulge: some 60% of all urban dwellers are likely to be under the age of 18 by 2030. The rapidly declining worker-to-retiree and youth ratio (i.e., the dependency burden) can be expected to strain the fiscal, health, educational, and pension systems currently in operation in most major cities. We can also anticipate the necessity of radical shifts of urban social and physical infrastructure if cities are truly to become caring places for seniors and youngsters.
Poverty/Slum Growth
While globally the majority of the poor are today found in rural areas, which will likely remain true for a few decades to come, the locus of poverty is rapidly shifting from the countryside to cities. UN-Habitat estimates that over one billion people now reside in urban slums, often squalid, unhealthy areas without water, sanitation, durable housing, public services, and secure tenure. Sixty-three percent of these slum-dwellers are found in Asia, 22% in Africa, and 15% in Latin America/Caribbean. Slum populations are growing faster than urban populations in general and the fastest in sub-Saharan Africa at the rate of 4.53% per year. In the absence of radical policy shifts, UN-Habitat predicts that some two billion people, about one-half of the urban population in developing countries, could be struggling to live in slums by 2030. This may be particularly true in Africa and Southern Asia, as a result of poverty traps, persistent unemployment, elite neglect, bypassing of "risky" urban areas by global investors, and substantially increased in-migration pressures. UN-Habitat research reveals that "there is little or no planning to accommodate these people or provide them with services."
Anna Kajumulo Tibaijuka, Director-General of UN-Habitat, warns of the consequences:
In this global village, someone else's poverty very soon becomes one's own problem: of lack of markets for one's products, illegal immigration, pollution, AIDS, other diseases, insecurity, crime, fanaticism, terrorism. . . . We can no longer ignore the plight of slum dwellers. . . . We do so at the risk of massive social exclusion with all of its attendant consequences for peace and security.
Urban Physical Expansion
Numerous recent studies indicate that the vast majority of the world's cities are spreading out in built-up area faster than they are growing in population. A recent World Bank study estimates that average urban densities over the past decade have been declining at an annual rate of 2.2% in developed countries and 1.7% in developing countries (Angel et al. 2005). Rising real incomes, falling real transportation costs, and enhanced accessibility via information and communications technology appear to explain much of this decentralization and fragmentation of metropolitan growth. If such diffuse urbanism continues, the world's cities could grow 2.5 times in built-up area by 2030, consuming an additional 700,000 square kilometers of land area. This would mean a tripling of built-up area in developing nations to accommodate the doubling of urban population and a 250% increase in land consumption by cities in developed nations with only a 20% projected increase in urban population. As noted below, more than doubling the spatial size of the world's cities over the next few decades would have enormous adverse effects on the health and integrity of life-supporting natural systems, particularly if most of the expansion is situated in fragile coastal zones. As with slums, the World Bank study sadly concludes that "few governments in the developing world are actively preparing for urban population growth, even though it is now generally accepted that slowing it down or reversing the tide of urbanization—through rural development or population dispersion—is unrealistic and unworkable."
Coastal Densification
The World Resources Institute estimates that about half of the world's population currently lives within 200 kilometers of a coast and about a third (2.2 billion) lives within 100 kilometers of a coast. Almost half of the world's cities with populations over one million are located within this 100-kilometer zone, and about half of the world's smaller cities with less than 500,000 people are located within 50 kilometers of the coast. Average population densities in the world's coastal zones are three times higher than world average. Large positive productivity and quality-of-life effects of coastal proximity have served to concentrate employment, income, and urbanization along the coasts. In China alone, an estimated 100 million people have moved from inland to coastal locations over the past 20 years. So, while cities are de-densifying, they are sprawling throughout coastal zones creating seemingly endless urban-zone corridors, such as the Boston to Washington, D.C., corridor in the U.S. northeast. Estimates of future coastal population growth vary widely, ranging from 750 million to over 4 billion over the next few decades. As explored below, the potent mix of climate change-induced storms and sea-level rise, along with severe water scarcity (coastal zones currently have less than 10% of global renewable freshwater supplies) and exponential degradation of fragile coastal ecosystems, could profoundly reduce the attractiveness of coastal living in the near future.
Freshwater Stress
The world's freshwater resources are under rapidly growing pressure. Global freshwater use has tripled over the past 50 years, and demand for water resources is growing at twice the rate of population growth. Long-term per capita water availability has dropped by a third since 1960, and two-thirds of humanity inhabit areas that today receive less than 25% of annual rainfall. The UN conservatively estimates that 1.1 billion people still lack access to water-supply services, and 2.6 billion lack sanitation. If current supply and demand trends continue, at least 3.5 billion people, 49% of the world's population, could be living in water-stressed conditions by 2025, with stress defined as per capita water availability of 1,700 cubic meters or less per year. One-third could be in regions facing water scarcity with less than 1,000 cubic meters of freshwater availability per capita per year. Regions forecast to be hit the hardest include the Middle East, Central Asia, North Africa, South Asia, China, Australia, the western United States, and Mexico.
Water availability constraints are posed by population growth, rising incomes, groundwater depletion, pollution, expanding farm irrigation, and, most profoundly, climate change, which is projected to decrease precipitation, river runoff, and water availability in general in many subtropical, arid, and semi-arid regions. Many existing megacities (e.g., Los Angeles, Mexico City, Cairo, Karachi, Bombay, New Delhi, Calcutta, Beijing, and Shanghai) confront massive water challenges, as do the hundreds of smaller cities projected to emerge in the coastal zones of Asia and Africa lacking dedicated supplies, delivery infrastructures, fiscal resources, and management systems.
Ecosystem Degradation
Today's cities occupy 3% of the Earth's land surface, house 50% of the world's population, generate about 75% of world gross national product, consume 60% of the world's water, and emit 80% of global greenhouse gas emissions. Cities obviously appropriate the ecological output and life-support services provided by both proximate and distant ecosystems. All cities have an "ecological footprint," an area of biologically productive land and water required for their consumption of food, fiber, timber, land, and disposal of wastes and pollution, including carbon sequestration. London, for example, has an estimated ecological footprint 293 times its physical size, an area roughly twice the size of all of the United Kingdom and 42 times the city's own biocapacity for resource generation and waste absorption.
The World Wildlife Fund's latest Living Planet Report estimates that the world as a whole is already using the planet's resources faster than they can be renewed by a factor of 30% to 40%. Projected population and economic growth trends, including the OECD's prediction that world gross domestic product will double by 2030 and triple by 2050, suggest that humanity's demand on nature could be twice the biosphere's productive capacity by 2050. With current urban ecological footprints, this would imply that cities would survive only through a vast global appropriation and near total liquidation of the natural capital of the planet's hinterlands. This is obviously a socially, economically, politically, and ecologically impossible scenario. As documented in the UN Millennium Ecosystem Assessment, the bulk of today's cities are situated in the planet's most fragile and most highly threatened (coastal) ecosystems, nearly all in a state of exponential degradation. Reduction of urban footprints by 80% may thus be necessary to secure a sustainable human urban future.
Climate Change
Urban centers in low- and middle-income countries, where the most rapid urbanization is projected, particularly where situated in coastal zones and riverine areas, are forecast by the IPCC to be increasingly vulnerable to the adverse effects of global climate change. Cities along the east coast of China and India, as well as in the Caribbean region, Gulf Coast of the United States, and Central America, are especially likely to experience an increase in the frequency and intensity of extreme weather events such as heavy rainstorms, cyclones, or hurricanes. IPCC forecasts of sea-level rise due to thermal expansion and ice melt range from 18 to 81 centimeters during this century; abrupt melting of Greenland's ice sheet and/or collapse of the West Antarctica ice sheet would vastly increase these estimates. This could wreck havoc on the 634 million people living in the world's low-elevation coastal zones (less than 10 meters above sea level) via flooding, coastal erosion, and wetlands inundation, predominately in South and East Asia. The IPCC predicts a substantial decrease of rainfall, along with increased evaporation and saltwater intrusion into coastal aquifers, greatly boosting freshwater stress in the already semi-arid and arid areas such as the Mediterranean basin, western United States, Southern Africa, and northern Brazil. Estimates of the number of coastal urban residents at serious risk from climate change-induced storms, sea-level rise, reduced water supplies, heat waves, spread of infectious diseases, and so on range from 500 million to 2.75 billion. Inland impacts of climate change, including drought, food and water shortages, and conflicts over scarce resources could induce a vast increase in forced migration from the countryside to cities, both within countries and across borders.
Estimates of the number of climate refugees on the move over the next few decades range from 150 to 900 million. The big uncertainty is where they will try to go. Numerous analysts forecast massive movement of climate refugees into the flood plain and steep slope slums of coastal cities, preordaining a vicious cascade of human climate tragedies. Business-as-usual projections from the International Energy Agency for energy demand, fossil fuel use, and greenhouse gas emissions extending to 2030 and 2050 take the world way beyond the two-degree Celsius rise of mean global surface temperature above pre-industrial levels deemed necessary for avoiding "runaway climate change" that would induce the urban chaos projected above. Clearly both old and new cities will need to drastically reduce their greenhouse gas emissions and dramatically increase their adaptive capacities to reduce vulnerabilities to climate change impacts.
A Systemic Look Forward
When you google for quotes on the modern city, one of the first to pop up comes from The Satanic Verses (1988) by Salman Rushdie: "The modern city is the locus classicus of impossible realties." While wildly out of context, this conception nicely captures the essential predicament confronting developing nation cities. The eight megaforces described above do not operate independently but rather function as a tightly intertwined set of interdependent relationships. The urban-ecological-economic-sociological-political nexus constitutes a complex adaptive system characterized by emergence, path-dependence, coevolution, nonlinearity, self-organization, delays, irreversibility, tipping points, and surprise. The future of global urbanization thus profoundly challenges understanding as well as prediction. Figure 1 provides a very crude causal loop diagram capturing the feedback dependencies operating among the eight megaforces outlined above, based on solid theory and empirical evidence. The arrows represent causal relationships. The polarities next to each arrowhead indicate whether the effect is positively related (S for same direction) or inversely related (O for opposite direction), and the double-hash marks on an arrow imply substantial delays in time or space. Typically employed in the early qualitative stages of developing a rigorous mathematical system dynamics model, causal looping forces a modeler to expose his or her causal assumptions to external review and critique.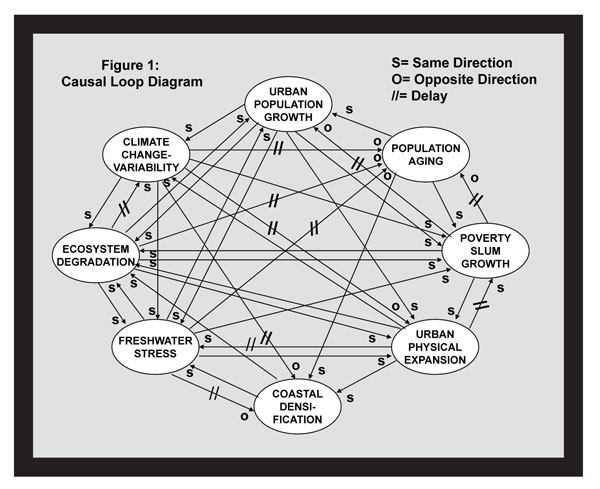 While highly simplified, the 37 causal relationships charted in figure 1 highlight the extraordinary dynamic complexity (i.e., separation of cause and effect in time and place) at work in the forces of global urbanization. While detailed analysis lies beyond the scope of this brief article, the "patterns that connect" suggest some foundational insights about the probable future of developing nation cities. First, while every megaforce in the system is both causal and consequential, some of the forces appear to be more potent in driving system behavior. The interactive forces of urban population and physical growth approaching or exceeding the limits of freshwater availability, carbon sequestration capacity, and ecosystem integrity emerge as the fundamental drivers of the fate of the whole system. Other forces such as population aging, slum growth, and coastal densification are largely consequences of the driving forces or other variables lying outside of this eight megaforce system, such as medical care improvements.
A major implication is that long-lasting improvements in the healthy functioning of a complex system rarely emerge from palliative solutions targeted at consequences, for example, boosted social safety nets for those in poverty, while the fundamental drivers of such consequences are still exponentially in force. Secondly, some two-thirds of the relationships and derivative causal loops portrayed in this system move in the same causal direction, implying a very powerful, self-reinforcing, accelerating, and policy-resistant vicious cycle of dysfunctional and unsustainable urbanization. The only substantive balancing or regulating causal loops bringing stability to the system are either weak or quite delayed in effect, such as long-term increases in environmental stress-associated mortality or morbidity, reducing aging and population size, and therefore urbanization.
Our cursory trend and systems analysis, in the absence of profoundly pro-poor/female/youth/livelihood/renewable energy/compactness/eco-efficiency/self-sufficiency/adaptive-capacity policies and interventions, portends cities of "darkness rather than light" as once imagined by urban futurists. Under this scenario, cities in the urban world over the next few decades will grow older, younger, poorer, and more divided, and the resources available to city dwellers will grow more scarce and costly. The physical structure of cities will simultaneously grow more sprawled and crowded, and the living conditions in cities will become much hotter, drier, contagious, insecure, and conflictive. With substantial delays, as illustrated in figure 1, the forces of devastating climate change and explosively unstable slum growth could combine to radically reduce livability in coastal urban regions, leading to pressures for a massive migratory shift toward more climate-resilient, water-plentiful, socially secure, and economically prosperous inland and higher ground . . . such as Ann Arbor! Whether the world permits or attempts to block this rational and powerful search for human security will surely induce a wave of unanticipated consequences. Moving forward, our only hope as citizens and scholars is to abide by the wisdom suggested by Antonio Gramsci, the Italian philosopher and revolutionary: "The challenge of modernity is to live without illusions and without becoming disillusioned."
---
Thomas N. Gladwin is the Max McGraw Professor of Sustainable Enterprise and the Associate Director of the Erb Institute for Global Sustainable Enterprise serving jointly between the Ross School of Business and the School of Natural Resources and Environment. He directs the Sustainable Mobility and Accessibility Research and Transformation [SMART] project at the University of Michigan.
This article is adapted from an academic address at the June 2008 "New Mobility" conference organized by the University's Sustainable Mobility and Accessibility Research and Transformation [SMART] project.
References
Angel, Shlomo, Stephen C. Sheppard, and Daniel L. Civco. 2005. The dynamics of global urban expansion. Washington, D.C.: World Bank.
Batty, Michael. 2008. The size, scale, and shape of cities. Science 319 (5864): 769-771.
Davis, Mike. 2006. Planet of Slums. London: Verso.
De Sherbinin, Alex, Andrew Schiller, and Alex Pulspher. 2007. The vulnerability of global cities to climate hazards. Environment and Urbanization 19 (1): 39-64.
Decker, Ethan H., Scott Elliott, Felisa A. Smith, Donald R. Blake, and F. Sherwood Rowland. 2000. Energy and material flow through the urban ecosystem. Annual Review of Energy and Environment 25: 685-740.
Girardet, Herbert. 1999. Creating sustainable cities. Totnes, Devon, U.K.: Greenbooks.
Hardoy, Jorge E., Diana Mitlin, and David Satterthwaite. 2001. Environmental problems in an urbanizing world. London: Earthscan Publications.
Hobbes, Thomas. 1998. Leviathan or The matter, forme and power of a common wealth ecclesiasticall and civill. New York: Oxford University Press. (originally published London: Andrew Crooke, 1651).
Intergovernmental Panel on Climate Change. 2007. Climate change 2007: Synthesis report. Geneva, Switzerland: IPCC.
International Energy Agency. 2008. World energy outlook: 2008 edition. Paris: IEA.
Munich Re Group. 2004. Megacities-megarisks: Trends and challenges for insurance and risk management. Munich: Munich Re Group.
Roaf, Sue, David Crichton, and Fergus Nicol. 2004. Adapting buildings and cities for climate change. Amsterdam: Elsevier.
Simon, David. 2008. Urban environments: Issues on the peri-urban fringe. Annual Review of Environment and Resources 33: 167-185.
UN-Habitat. 2003. The challenge of slums: Global report on human settlements 2003. Nairobi, Kenya: UN-Habitat.
UN-Habitat. 2006. State of the world's cities 2006/7. Nairobi, Kenya: UN-Habitat.
UN-Habitat. 2008. State of the world's cities 2008/2009. Nairobi, Kenya: UN-Habitat.
United Nations Environment Programme. 2007. GEO4: Global environment outlook: Environment for development. Nairobi, Kenya: UNEP.
United Nations Population Fund. 2007. State of world population 2007: Unleashing the potential of urban growth. New York: UNPF.
World Resources Institute. 2008. World resources 2008: Roots of resilience—growing the wealth of the poor. New York: Oxford University Press.
World Wildlife Fund. 2008. Living Planet Report 2008. Gland, Switzerland: WWF International.
Worldwatch Institute. 2007. 2007 state of the world: Our urban future. New York: W.W. Norton.
Top of page