Since 1986, the University of Michigan's Department of Obstetrics and Gynecology has been actively and increasingly involved in medical education in Ghana. In 1986, the American College of Obstetricians and Gynecologists (ACOG) and the Royal College of Obstetricians and Gynecologists (RCOG) came together under the auspices and support of the Carnegie Corporation of New York to reinvigorate and instate postgraduate medical education in Ghana. It was a time when postgraduate training for Ghanaian medical school graduates mostly occurred in the United States or Great Britain, with low rates of repatriation. It was also a time of particular attention to the burden of maternal mortality: it was realized that, despite advances in global child health, over 500,000 women worldwide were dying from pregnancy-related causes each year.
In response, the World Health Organization launched the global Safe Motherhood Initiative with an emphasis on improvements in obstetrical care of women. The late Dr. Thomas E. Elkins (U-M) was one of several representatives of ACOG's Planning Committee, which included Dr. Timothy Johnson (then at Johns Hopkins and now chair of Obstetrics and Gynecology at U-M) to partner with Ghanaian educational institutions to create sustainable and culturally appropriate models of capacity building to improve obstetrical care in Ghana. Since that early initiative, over 60 obstetrician/gynecologists have been trained in Ghana with 99 percent in-country retention rate. Graduates of the program are now faculty members, clinical providers, and leaders including the chair of the Obstetrics and Gynecology Departments at both the University of Ghana Medical School in Accra and Kwame Nkrumah University of Science and Technology in Kumasi. The partnership between U-M and the medical schools of Ghana continues with yearly exchanges of medical students and senior residents, as well as research trips by undergraduate and graduate students through the Minority Health International Research Training Program (MHIRT), Global Reach, and the Global Intercultural Experience for Undergraduates (GIEU) programs.
History of the Ghana Postgraduate Training Program
Postgraduate training in obstetrics and gynecology in Ghana was established as a five-year program to meet the requirements of the Western African College of Surgeons. Faculty members from U-M and other universities in the United States initially traveled to Ghana and vice versa to share discussion of curriculum development and teaching techniques. Similarly to postgraduate training in the United States, the residents were given graduated experiences in clinical obstetrics and gynecology; however, their training was located in-country and specifically targeted to clinical demands in the region. In a novel and innovative response to the issues of maternal mortality at the community level, the program included a six-month rotation at a rural health facility. Chief residents were also given the opportunity to visit one of the affiliated universities in the United States, including U-M, Johns Hopkins, and Northwestern, for a three-month rotation during their last year. The rotation gave them a chance to prepare for oral examinations and allowed them some exposure to new technologies not available in Ghana. This exposure later in their training allowed for an informed interpretation of the medical reality. One graduate has been quoted as saying,
You saw how things are being done in the developed world. It gave me an opportunity to compare methods there with those here. And I concluded that after all, what they are doing in the developed world is not miles ahead of what they are doing here, so I became more confident in what we are doing as OB-GYNs.
Over the 10-year funding period, the Ghanaian OB-GYN training program became autonomous, both in terms of its capacity to train, as well as in its funding with increasing and now ongoing support from the Ministry of Health of Ghana. One indicator of the high quality of the educational experience for Ghanaian graduates is their very high success rate in the West African College of Surgeons board examinations (over 90 percent passed) compared to under 50 percent of examinees from other West African countries.
Retention
The very high retention rate of postgraduate OB/GYNs in Ghana is an anomaly in an era of high migration of health workers from less developed to more developed regions. Last year, we, with our Ghanian partners, published a qualitative analysis of the attitudes of graduates and current residents of the program to identify factors that may explain the retention of their graduates. The study results underscore that the presence of a high-quality training program that allows a Ghanaian to attain full agency as a certified specialist in the country is the most important factor for retention. While financial issues create some push factors out of the country, the strong interest of Ghanaians to stay with their family and friends is a strong pull factor that, when coupled with the training program, has resulted in all but one of over 60 graduates staying in Ghana. Another graduate put it this way: "I like being home. I can walk around and visit a friend without making an appointment, and that freedom is not there in the Western world."
Clinical Exchanges
Currently, U-M's Department of Obstetrics and Gynecology is involved with a number of programs that allow for a rich exchange of education, service, and research activities between the three universities. Ghanaian residents continue to visit U-M to observe cutting-edge obstetrics, gynecology, gynecologic cancer, infertility, and family-planning care during their three-month rotation. Ghanaian medical students generally divide their one-month rotation between two weeks each for obstetrics and gynecology. Student rotations were recently expanded to pediatrics and family medicine. Exposure to technologies such as robotic surgery, advanced ultrasonography, and electronic fetal monitoring give them an understanding of the breadth of emerging technologies, but students soon realize that the basics of health care are the same.
The Michigan medical students who travel to hospitals in Ghana see a very different type of patient than in Ann Arbor. At U-M, most pregnancy complications are addressed and solved before they become life threatening. In Ghana, however, lack of access to basic health care and education, poor recognition of pregnancy complications, and limits to emergency transport lead women to present for care in conditions rarely witnessed in the United States. One medical student who recently returned from Ghana reported seeing a woman die from a septic abortion on the first day of her visit and, during the course of her month-long stay, saw additional maternal mortalities. Repetitive tragedies such as these are indeed relatively rare in the developed world and have stimulated many students to strive to erase such disparities. American students also see the outstanding clinical skills, patience, diligence, and sheer dedication that are demonstrated by the Ghanaian physicians who work in very challenging conditions.
This ongoing relationship has provided U-M students with a number of opportunities to assist in research projects in Ghana. For two summers, students in the MHIRT Program studied barriers and stigma associated with testing for HIV during pregnancy and were able to provide our Ghanaian colleagues key information to aid in strategies to maximize testing rates. More recently, students have assisted in the development of a database of pregnancy complications that has been useful in devising further research and strategies to prevent complications from becoming severe or life threatening. Other students have been working in the labs of the Center for the Scientific Study of Plant Medicine to determine the phytochemical properties of traditional herbs that are used to stimulate uterine contractions. This summer, students participating in the GIEU program will be learning about maternal mortality by observing obstetric care at the Komfo Anokye Teaching Hospital in Kumasi and by experiencing conditions faced by rural women at the Sene District hospital.
Ongoing Partnership
The novel approaches and lessons learned from the experience of the Obstetrics and Gynecology program are informing new initiatives that will lead to improved health care for Ghanaians and retention of health care professionals in other specialties. A recent competitive award given by the U-M William Davidson Institute to the Department of Pediatrics is initiating the same kind of faculty development and capacity building to enhance human resource capacity in pediatrics. Currently, the Departments of Physical Medicine and Rehabilitation, Emergency Medicine, Family Medicine, Orthopedics, and others are planning exchanges of faculty, residents, and medical students.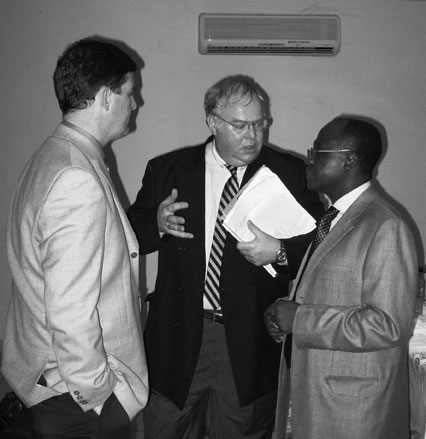 U-M Professor Tim Johnson and Ted Hanss talk with Professor Peter Donkor, Provost, College of Health Sciences at Kwame Nkrumah University of Science & Technology (KNUST), in Kumasi. VINCENT DUFFY
Future Direction
The longstanding and productive relationships in obstetrics and gynecology are part of a large network of collaborative work between U-M and Ghanaian universities. As President Coleman's February 2008 trip to Ghana attests, the future holds great promise for continued and expanded activities in many areas of study. It is our hope that the traditions of the Michigan OB-GYN style of partnership, which emphasizes equity, sustainable capacity development, and long-term relationships, will inform projects for years to come.
---
Frank Anderson, MD, MPH, is Assistant Professor of Obstetrics and Gynecology at the U-M Medical School, and Director of Global Initiatives. He has been involved in numerous projects in Ghana and elsewhere to reduce maternal mortality.
Timothy Johnson, MD, is Chair of Obstetrics and Gynecology at U-M Medical School. He has worked extensively in Ghana, and was part of the U-M Presidential delegation that traveled to Ghana in March to explore strengthening health care infrastructure in Africa.
References
Klufio CA, Kwawukume EY, Danso KA, Sciarra JJ, Johnson T: Ghana postgraduate obstetrics/gynecology collaborative residency training program: Success story and model for Africa. Am J Obstet Gynecol 189:1-5, 2003.
Anderson FWJ, Mutchnick I, Kwawukume EY, Danso KA, Klufio CA, Clinton Y, Yun LL, Johnson TRB. Who will be there when women deliver? Obstet Gynecol 110:1-5, 2007.
Top of page