Three traditional leaders of Tachiman joined Ray Silverman and Mary Sue Coleman after Coleman's speech in Accra, Ghana. VINCENT DUFFY
In late February and early March 2008, University of Michigan President Mary Sue Coleman led a delegation to South Africa and Ghana to extend existing collaborations with several African universities, forge new relationships between U-M and African counterparts, and develop new initiatives.
The visit was the occasion for launching the U-M African Exchange Scholars program, which will greatly increase the opportunities for African scholars to visit U-M. Designed in response to needs identified by academic partners in Ghana and South Africa, the program will bring approximately 10 early-career and emerging scholars from Africa to U-M each year, beginning with visitors from South Africa and Ghana. Providing time for focused research and scholarship, the program is intended to nurture the careers of junior academics from African universities where faculties are especially challenged by the departure of young intellectuals to other sectors. Any loss of faculty in Africa is especially onerous now, given the growing demand for higher education and professional training across the continent. The new U-M program will be open to scholars from all institutions of higher education in South Africa and Ghana, augmenting CAAS's Charles Moody Exchange Scholars Program which has brought scholars from South Africa to Michigan since 1996.
In visits to eight universities, President Coleman and the delegation developed plans for deepening and enriching several longstanding collaborations and launching new areas of shared work:
An expanded program of collaboration between U-M's health sciences and leading universities in Ghana. Honoring a 22-year partnership in Obstetrics and Gynecology (see page 11), U-M and Ghanaian faculty are undertaking new pilot projects to strengthen human resources for health across the clinical sciences. These efforts include a project to jointly create and promote web-based Open Educational Resources in medical, public health, and health science education.
A major new initiative in the study of heritage, focused on questions of how universities, museums, libraries, and other institutions help societies preserve cultural assets, interpret their histories, and remake their cultural inheritances. Building on U-M and African partnerships in musicology, museum studies, architecture, performance, and the humanities more broadly, the project will engage faculty across the U-M campus in cooperation with the new African Studies Center and African partners.
A proposed consortium for expanding and strengthening social research at U-M, in South Africa and Ghana, and for promoting the career development of young social scientists focused on Africa. Anticipating an annual symposium over the next three years, the consortium will support thematic research groups, provide seed funds for innovative, multi-country pilot research, and explore potential partnerships with other scholarly networks. It will seek to engage a broad array of U-M faculty through the African Studies Center.
The visit to Ghana included meetings with Ghana's President John Agyekum Kufuor; Asantehene Otumfuo Osei Tutu II, the King of Asante, and Chancellor of Kwame Nkrumah University of Science and Technology in Ghana; and U.S. Ambassador to Ghana Pamela Bridgewater. Coleman delivered a lecture on globalization and the role of higher education at the Kofi Annan Center for Peace Keeping Training in Accra, and public lectures were given by several other members of the delegation, both in Ghana and South Africa.
Accompanying the Ghana delegation were 40 vocalists and five musicians representing the U-M Gospel Chorale. The Chorale performed at Ghana's most prestigious venue, the National Theatre in Accra, sharing the stage with the University of Legon Choir, and the Methodist Presbyterian Union Choir, among others. The U-M Chorale gave a stunning and vibrant concert, which was warmly received... "I liked the show by the black Americans; they had a strong vocal power," said a Ghanaian member of the audience. "The Chorale's performance represented the broad range of styles subsumed under the rubric of American gospel music. This group of student artists presented an array of songs, dances, and mime enactments that displayed the close stylistic relationship between African and African American music and religion," according to Lester Monts, Professor of Music and a senior member of the delegation.
The overflow crowd included longtime Ghanaian colleagues and friends who have been working with U-M faculty for many years. Among these were three traditional leaders from the state of Techiman, Nana Baffour Asare Twi Brempong II, Nana Owusu Gyare II, and Nana Apenteng Fosu Gyeabour II, who graciously engaged members of Gospel Chorale at the reception—a discussion that continued long after everyone else had left the event!
The visit to South Africa included a reception hosted by the U.S. Consul General in Johannesburg, Steven Coffman, a U-M alumnus, and lectures by Coleman at both the University of Pretoria and the University of Cape Town. In addition to Coleman's visits to the Universities of Pretoria, Witwatersrand, Johannesburg, Cape Town, and the Western Cape, side delegations visited the Universities at Fort Hare and Kwa-Zulu Natal. During the visit to Cape Town, Coleman and the delegation were received by UCT Vice-Chancellor Njabulo S. Ndebele, who will be on campus in April to receive an honorary U-M degree. In her Cape Town speech President Coleman noted,
...Scholarship knows no borders. By our very nature, universities are at the forefront of globalization and cooperation. By establishing the African Studies Center, we want to make the whole of our African intellectual activity greater than the sum of the parts. And we look to the universities of South Africa as partners. Nothing is more important to me than expanding the spirit of reciprocity that has been a hallmark of our relationships over the years. We want to learn as much as we want to teach.
Collaboration is imperative to all the work of the University of Michigan in South Africa. From heritage initiatives and social science research to sharing medical curricula, we want this expanse of intellectual and clinical activity to grow and flourish, for the benefit of South Africans and Americans alike.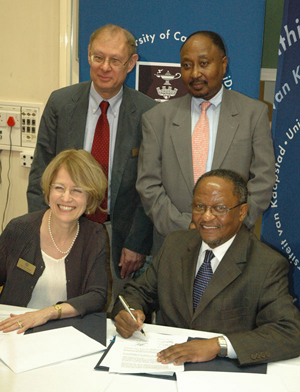 President Coleman and UCT Vice-Chancellor Ndebele (seated) signing an MOU, with U-M Vice Provost for International Affairs Mark Tessler and UCT Deputy Vice-Chancellor Thandabantu Nhlapo (standing) looking on. TED HANSS
Provost Terry Sullivan has approved the establishment of a new African Studies Center (ASC), which will begin operations on July 1, 2008. The center will join other centers and programs within the International Institute, but will also have an important relationship with U-M's 38-year-old Center for Afroamerican and African Studies (CAAS).
"Working with CAAS and Africanists across the campus, we have laid the foundation for what promises to be one of the country's strongest and most innovative programs dealing with Africa," said Mark Tessler, Director of the International Institute.
The plan for the ASC was developed during 2006-2007 by a committee appointed by the Provost and chaired by Mark Tessler and Kevin Gaines. As part of the planning process, the committee prepared an inventory of University of Michigan faculty with teaching and research interests relating to Africa. There are about 120 faculty members, located in 40 different academic units, whose teaching and scholarship devote attention to Africa.
An important development that will contribute to the work of the center is a University delegation, led by President Mary Sue Coleman, that visited Ghana and South Africa in late February and early March. President Coleman and other faculty and administrators met with counterparts at a number of universities in each country and discussed plans for collaborative scholarly projects in the social sciences, humanities, and professions. They also made plans for African scholars and students to visit Michigan, and counterparts at Michigan to visit Ghana and South Africa.
During its first year of operation, led by Interim Director Kelly Askew and a steering committee, the African Studies Center will sponsor on-campus events and activities to serve faculty and students, organize a major international conference to establish the center's visibility, and conduct a search for a permanent director. The center will also support the Africa-oriented instruction in CAAS, as well as course development in other units. Finally, the center will assist in coordinating and administering the collaborative initiatives being developed in connection with President Coleman's trip to Ghana and South Africa.
---
Rachel Snow is U-M Associate Professor at the School of Public Health and Center for Population Studies, and Associate Director of the International Institute; she was a member of the South African delegation.
Top of page