This is the article version of the author's presentation given at IFLA 2016. View the video recording of the author's presentation. The presentation begins at 13:02.
Abstract
The aim of this paper is to stress the importance of small public libraries as publishers. The case study will be the library network of the Koprivnica-Križevci County in the Republic of Croatia. Among five public libraries, three of them are publishers. Although publishing is not their core business, they use it as a tool in: (i) protecting and promoting richness of local cultural heritage; (ii) contributing to library collections with specific local topics; (iii) empowering local identity; (iv) positioning themselves better as important culture, education and information centres of their local communities; and (v) creating new, added value of libraries in society. Publishing profiles, topics, and formats will be stressed, as well as these public libraries' creative efforts to find finances in alliances with private and public sectors. The models show that these libraries use both print and digital opportunities in publishing. Collaboration with all stakeholders who participate in the publishing process is also stressed. We conclude that publishing activities relating to collection development policies and practices do not primarily depend on type, size, and financial means of libraries, but on library policy and strategic orientation that includes also publishing as a business model.
Keywords: Small public libraries, publishing activities, Public library "Fran Galović" in Koprivica - Croatia, Town library "Franjo Marković" in Križevci - Croatia, Town library in Đurđevac – Croatia
1. Introduction
Publishing is an activity that enables written works to become available to the public. The publishing process includes recruitment and selection of manuscripts, editing, graphic and visual design, organization of printing or other forms of production, promotional activities, and distribution. Librarianship is an activity that deals with collecting, processing, storage, and dissemination of publishing activities' products. Although publishing and librarianship are different and separate activities, throughout history we often see cases of their convergence. For example, the Alexandria Library, the oldest and most famous library of ancient times, is a prominent example of a library publisher[1]. Why have libraries dealt with publishing activity to this day? One answer, common to publishers and libraries, is that they are intermediaries for transmission of information. Today, in the information and digital age, libraries are becoming publishers because users are not only seeking information, but also they require new services. Through publishing activities, libraries increase their offerings of books in various formats and contribute to the exchange of ideas, dialogue, and freedom of expression. It is understood that libraries with their own publications also enrich their own collections[2].
Besides national, research, and academic libraries, public libraries all over the world also have a long tradition of publishing activities with wide range of topics and formats. Despite economic, political, societal, and technological transformations and transitions in Croatian society in last three decades, including also turbulence in book market[2], there is a visible number of public libraries that also nurture and develop publishing activities covering a wide range of areas - from collections of poetry to philosophical discussions, from history to works in the field of information and library sciences[3]. Not only large, but also small, public libraries are successful in publishing, despite lack of staff and financial resources. In order to illustrate such efforts, we provide insights into the dynamic, vivid publishing activities of small public libraries comprising the library network of the Koprivnica-Križevci County in the Republic of Croatia.
2. Short profile of country, county, and county library network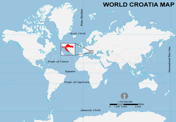 The Republic of Croatia is a sovereign state at the crossroads of Central Europe, Southeast Europe, and the Mediterranean. It covers a surface area of 56,594 square kilometres (21,851 square miles). The country's population is 4.28 million.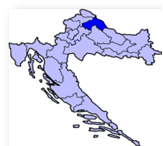 Croatia is administratively divided into 20 counties and the City of Zagreb, which has the status of a county[4]. Each county has responsibility and expertise in general education, health, land use, economic development, transport and infrastructure, as well as the development of educational and cultural institutions, including school and public libraries. Central counties' libraries are located in administrative centres best organized and equiped by staff, space and collections. They have special obligations to support development of each county's library network.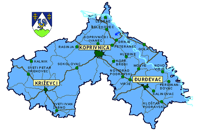 The Koprivnica-Krizevci county is one of the most economically developed Croatian counties, located in northern Croatia, along the border with the Republic of Hungary. This area covers 1,772 km2 and is populated by 115,582 inhabitants, half of whom live in three cities: county centre Koprivnica (30,854), Križevci (21,122), and Đurđevac (8,264). The rest of the population is rural, living in 22 municipalities, most of which have fewer than 3,000 inhabitants[5].
The county library network comprises five public libraries, 34 schools libraries, one university, one college library, three musem libraries, two special libraries and three church libraries.
Three of the public libraries are town libraries - in Koprivnica, Križevci and Đurđevac - and the remaining two are municipal libraries. Twenty rural municipalities are covered exclusively by mobile libraries operating within public libraries in Koprivnica and Križevci.
Publishing activities of town libraries in the County are mostly orienteted towards local features of their communities. They serve areas marked by long local history and tradition, including printing houses, and publishers dating from the late 19th century. It should be also mentioned that administrative centre, Koprivnica, was first mentioned in 1272 in a document by prince Ladislaus IV of Hungary and was declared a free royal town by king Ludovic I in 1356. It has flourished as a trading place and a military fortress since that time. Koprivnica developed significantly in the 20th century with the advent of the Podravka food industry, wood, furniture, and shoe industries. Križevci, as a smaller city and second by size in the county, was first mentioned from 1193 by Hungarian king Béla III, but it was divided into two parts that developed at different rates. Modern Križevci is oriented towards entrepreneurship, while preserving its eight beautiful churches (one is a cathedral), built mostly in the Middle Ages; these remind one of its previous rich history. The county also includes a third town, Đurđevac, but its population is much smaller than the main two. It is known for its branch of petrol industry, wood, and agricultural producion. The County area around Koprivnica and Đurđevac is also well known for its naive paintings created by self-taught artists without formal art education[6].
3. Publishing activities of public libraries in Koprivnica – Križevci county
Town libraries in Koprivnica-Križevci county act as cultural, information, and communication centres of their local communities. They support education, lifelong learning, and creative leisure-time activities. Their focus is in fostering reading and developing a reading culture of all age groups, especially children and youth. These libraries' publishing activities have been developing on both conceptual and practical grounds.
Public library of Koprivnica
Public library of Koprivnica is the largest in the County. It has a dual function as (1) a town library which primarily intends to serve the residents of the town of Koprivnica, and (2) a central county library with legal requirement for direct or indirect provision of library services to the population of Koprivnica-Križevci county. Its task is to support the development of library network in the Koprivnica-Križevci County. It is a medium-sized Croatian library, with 23 employees (including a professional staff 14). It had over 9,000 registered members in 2015, 124,000 visits (500 per day), 150,000 media, 200 programs and projects for users per year (from newborns to the oldest citizens). It is awarded locally, nationaly, and internationaly for its innovative and creative programs, especially for social ones. It was the Croatian Library of the Year 2013. It has received international awards from EIFL (Electronic Information for Libraries) for innovative use of ICT in supporting social inclusion, as well as from the ALA (American Library Association) for international innovative project in in-house training to support social inclusion of the Roma. This library's practices in various library fields has been presented at IFLA conferences: for example, local community literacy, library service for the blind and visually impaired, health information programs, green library programs, reading and social inclusion programs, support to the Roma programs, international cooperation programs, user training programs, and the TEDxKoprivnica library program[7].
Print publishing is a new activity for this library, since 2010. To date, it has published three books. But this library is a pioneer among Croatian public libraries in digital publishing, which began earlier, in 2008.
Printed publishing

City of Koprivnica libraries & reading rooms from 1650 to 2010: Fran Galović public library commemorative book. 2010. Koprivnica: Public library "Fran Galović".
This memory book about the 360 year old traditions of Koprivnica libraries deals with local cultural history through the lens of organized forms of reading in the town – from the first parish library in 1650, to reading rooms in the 19th century, to public libraries in the 20th century, and contemporary town library at the beginning of the 21st century. A majority of the articles' authors, as well as an editor, are librarians in the Koprivnica public library and the city museum library, while many famous citizens of various generations also contributed to the publication with their memories of the town libraries they used. The graphic designer was also local[8].

Let's play! Read to me! Storytelling, gameplay and nursery rhymes for babies and toddlers: recommendations to parents to encourage early literacy in children. 2012. Koprivnica: Public library "Fran Galović".
This is a handbook on family literacy and early literacy, based on experiences and topics of the Koprivnica library workshops for babies, toddlers, and their parents. It was a response to the lack of such books in Croatia and the needs of parents and educators. Authors are locals - a children's librarian from the Koprivnica town library and two kindergarten teachers, all of them leaders of workshops for babies and toddlers up to 3 years old. The aim of this publication is to make library activities accessible to a wider range of parents and to point out the very important role of libraries as partners and associates in the upbringing of the child[9].

Library service for the blind and visually impaired: current status and perspective": proceedings of the round table. 2012. Koprivnica: Public library "Fran Galović".
Koprivnica Public Library is a Croatian pioneer in implementing library services for the blind and visually impaired and a leader in training librarians in these areas. The Library is an orgniser of professional national meetings on library services for print disabled users, aiming to evaluate achievements and fostering them. One of the products was a published proceedings of presentations held at such a round table[10].
Digital publishing
Since 2008, the Koprivnica Public Library has carried out the digitization of protected, local history collections. A local cooperative digtal repository was established in 2012. The library was a pioneer in introducing digital publishing activities related to local heritage into the community, by initiating partnerships with a local media house, local museum, archive, and private collectors.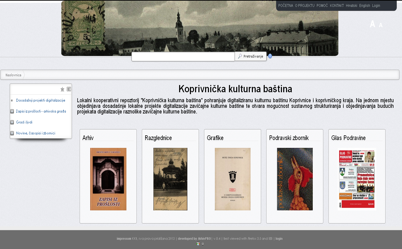 Its first digitization project, the local newspaper "Glas Podravine" (all issues from 1950) in 2008 was followed by three digitization projects in 2009 - Koprivnica postcards, Poet Fran Galović On-Line and Digitized Koprivnica newspapers (1950-2008), while "Podravski zbornik" an annual periodical, was realised in 2014. Virtual exhibition "Koprivnica and the First World War" is the newest one, published in 2015[11].
Town library "Franjo Marković" in Križevci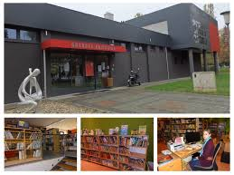 The town library "Franjo Marković" in Križevci is the second largest among public libraries in Koprivnica. It is well known for its homeland collection, which functions as the "memory" of the rich history of that community. It serves a population of 21,122 inhabitants. In 2015, it had 9 employees (6 professional staff), 4,347 registered members, 90,000 media, and 80,000 loans[12]. It published 5 printed books and 1 digital edition.
Printed publishing
The first publishing activity of this library appeared in 1989. It was a bibliography that, for the first time, brought together published works about the Križevci region. The local author, who had collected bibliograpic materials for many years, dedicated the bibliography to the 150th anniversary of Križevci's Illyrian Library, one of the first reading rooms in Croatia in the 19th century[13].
This reading room was established in 1838, among the first in Croatia[14].
Biography of Countess Sidonija Rubido Erdödy, the first Croatian prima donna, born in the Križevci area in the 19th century[15].
Memories of A. G. Matoš, famous writer of the Croatian Moderna, who visited Križevci and after that wrote a travelogue called "Around the Križevci"[16].
Biography of Nina Vavra, one of the first Croatian tragediennes. She was born in Krizevci town at the end of the 19th century. She wrote a play called "Arrival of Croats" and translated 50 plays from Czech and German into Croatian. She acted in the first Croatian films[17].
Digital publishing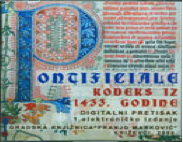 Pontificial Code of 143 : Manuscript on parchment: digital reprint on CD ROM. 2005. Town Library "Franjo Marković".
Digital reprint on CD ROM of "Križevci Pontifical", a book manuscript on parchment located in the library of the Greek Catholic diocese in Križevci. A "pontifical" is a liturgical book used by the Bishop during solemn Eucharistic celebrations, especially in the ordination of priests. It was writen in Gothic script in 1433 and comprises 137 parchment sheets. One of the most beautiful is the third page of the pontifical, which has the painted initials P decorated with floral motifs; the other pages are dominated by red and black colors. One of the most beautiful examples of the Croatian written culture[18].
Town library of Đurđevac
Town library of Đurđevac serves a population of 8,290 inhabitants. In 2015, it had 4 employees including professional staff, 1,233 registered members, 50,000 media, 30,000 loans, and 16,000 visits. Despite being the smallest public library in the county, it has developed the richest publishing activities, based on a strong network of collaborators in the local community [19]. It has published 10 printed books and about 80 exhibition catalogs.
Printed publishing
The first publishing activity of the Town libray of Đurđevac was a picture book in Croatian and English based on the local legend of the rooster who defenced Ðurđevac fortress from the Ottomans[20]. The author is a native of Đurđevac.
Monograph about a local naive painter Pero Topljak Petrina[21]. He is a painter of rich painting experience and substantial production, with focus on the art of drawing. His childhood and folk style of life have been the inspiration for his drawings.
These are the poems of a local poetess, well known and awarded in Croatia and abroad. Supplemented by art photos of a local photograph.[22].
History of the natural, geological phenomenon, the sandy area of Đurđevac, written by a famous local Croatian scientist[23].
Photo-monograph about the rich collection of local ethnologist Slavko Čamba[24]. It is one of nine largest ethnography collections in the Republic of Croatia.
This is a historical novel based on the local legend of the rooster who defenced Ðurđevac fortress from the Ottomans. Attached is an audio recording of the famous stage play presented each year under the walls of the Old Town in Đurđevac during the Đurđevačka Picokijada shows[25].
Picture book by a local Croatian novelist, with illustrations - watercolors of Dragica Lončarić, a famous native painter[26].
A book about tradition of local viticulture[27].
Co-authors of a study and a glossary - native speaker Vladimir Miholek and dialectology Ph.D. Jele Maresić - contributed to preservation of linguistic traditions of the region and international efforts to the preservation of linguistic diversity and study of endangered speech. The book is a contribution to Croatian science: dialectology, lexicography and lexicology, and especially to local dialect (kajkavologija), for Croatists and Slavic studies[28].
Ethnological records about folk life and customs. This publication is a result of years of publishing columns in the local weekly newspaper; it contains a set of interesting sketches from everyday life of ordinary people in the period between the two world wars[29].
Exhibition catalogs
Since 2002, the town library of Đurđevac has organized art exhibitions in its space as a continuous activity under name Ex libris gallery, as well as published exibition cataloges. About 80 catalogues have been published in the last years[30].

Covers of some of the exhibition catalogs
4. Lessons Learned
Among the five public libraries in the library network of the Koprivnica-Križevci county in the Republic of Croatia, three are publishers. The largest serves a population of 30,854 inhabitants, the middle-sized serves population of 21,122 inhabitants, but the third one, which serves a population of only 8,290 inhabitants is the most engaged in publishing.
Relationship to collection development
Libraries' publishing activities are based on users' needs on the one side, and on the other side on the lack of:
published materials on various specific, mainly local homeland, topics – local history, tradition, folk life, naive painting, linguistic, religous, geology, local myths, and legends, etc.;
published materials on specific library topics at the national level – for example, in the case of the Public Library of Koprivnica there are library servicse for the print disabled, as well as early literacy and family literacy programs;
other publishers in the community, as is the case of the town library of Đurđevac, the smallest town in the County; and
interest of other publishers in local topics.
Library collecting and library publishing are interconnected. It means that publishing activities lead to enriching library collections, and also the lack of collections, primarily local history topics, leads to publishing. Each public library in the county has its own publishing program choosen by librarians, but in collaboration with authors, who come from the local community or who deal with local topics (writers, painters, scientists, photographs, graphic designers, etc.). There is also cooperation with mostly local institutions and NGOs.
The most important difference between the two activities, library collecting and library publishing, is that collecting is a traditional, core business of public libraries, while publishing activities are added library activities or new, added business models.
In the context of discussions about new roles and tasks for today's librarians, it is interesting to observe that skills and knowledge about library publishing activities definitely belongs to such phenomena.
Budget for publishing activities is quite separate and independent from the collection budget. Finacial sources are: libraries' own means, private means of authors, applications to tenders of the Ministry of culture, county, towns. In the case of town library of Đuđevac, there were applications to tenders of the corporate sector (companies, banks) in the local community, as well as auctions of donated paintings exibited in the library in the frame of its program (such as the Ex libris gallery).
Publishing as a management tool. Despite publishing not being these libraries' core business, all of them use it as a management tool in:
contributing to library collections with specific local topics;
protecting and promoting richness of local cultural heritage;
empowering local identity;
positioning themselves better as important culture, education, and information centres of their local community; and
creating new, added value of libraries in society.
5. Challenges
Publishing activities of all the above-mentioned public libraries have been occasional, but sustained. They depend on the library's human and/or financial resources. Limited resources (finances, staff) are the largest challege to all the libraries in their publishing plans.
One very important challenge has been also that libraries must organise all parts of their publishing activities: production, promotion, and selling, despite their limited resources, primarily in staff.
Additonal efforts have been put into distribution to other libraries and bookshops, despite small editions (100-500 copies).
6. The next steps
The next steps must be focused on creating wider networking in planning publishing programs and activities with individuals: historians and art historians; institutions: historical, art, folk, and other cultural organizations; tourist offices, etc. Sharing staff and finaces will make common publishing efforts easier.
It is crucially important to raise awareness about publishing activities of the libraries in Croatia as a business model, as well as libraries' added value in society. The main reason is that there are no systematic and comprehensive analyses and studies on publishing activities of Croatian libraries, despite their long and rich tradition in this field.
7. Conclusion
Analysis and insights into the functioning of dynamic, vivid publishing activities of small public libraries comprising the library network of the Koprivnica-Križevci county in the Republic of Croatia shows that library publishing activities do not primarily depend on type, size, and financial means of libraries, but on library policy and strategic orientation that also includes publishing as a business model.
References
Top of page