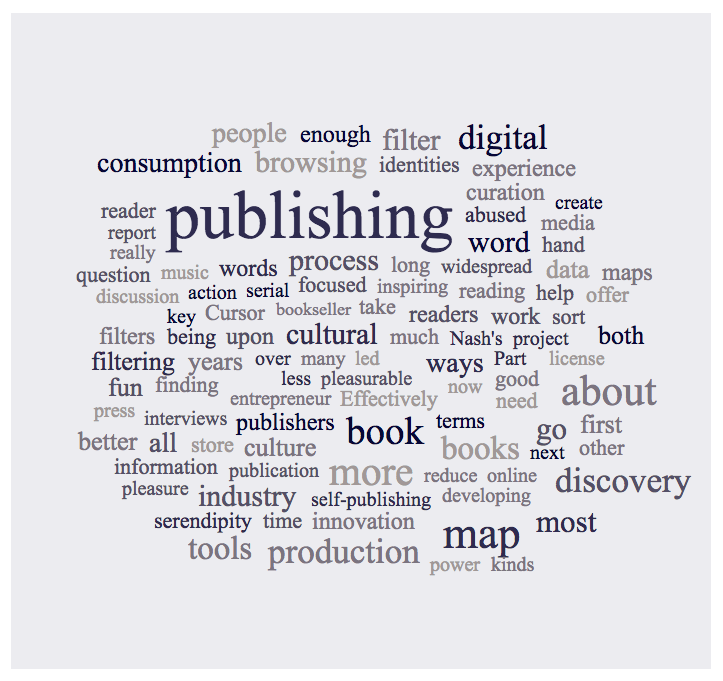 The production of this report of an interview with Richard Nash, serial entrepreneur and broadly acknowledged publishing Big Thinker, turned into a bit of a digital publishing parable. As the twentieth anniversary of the Journal of Electronic Publishing neared, I deployed the forces of social media and the online publishing communities I most respect, and asked for volunteers to be interviewed about their (long) views of where we have been as publishers in the past twenty years and where me might or should go next. I was delighted when Richard Nash put up his hand, as he has been saying smart things about publishing, digital and otherwise, for as long as I've been paying attention.
So on a sunny summer afternoon, while I looked out over the Puget sound and he walked the streets of New York City, we had one of those wide ranging conversations that are almost too fun to stop, talking about the trajectory of digital production, distribution and consumption in both music and text publishing, about the publishing industry staggering under the weight of its own production, and about the most satisfying kinds of discovery. I took notes until my typing fingers ached.
Flash-forward to the autumn, when your erstwhile editor, staring at her publication deadline, pulled up those notes to craft into proper prose for the forthcoming anniversary issue of JEP. Or rather, didn't. Because the fate that digital naysayers have been warning us of since the widespread adoption of computers for publishing production and communication, had overcame my poor file. It was entirely corrupt, broken and lost. I couldn't get a word out of it. And although in the intervening months I had thought often of several of the points Nash had raised that July afternoon, their careful articulation was lost to me
After banging my head fruitlessly against my monitor for a day or two, I wrote abashedly to Richard Nash, apologizing for the waste of his time and thought. He was unfailingly gracious and pointed me to two interviews that live online and that touched upon many of the themes and ideas we had discussed. In these, interviewers more conscientious with their files than I capture the sense and style of Richard's reflections upon and prognostications about publishing, in words that both prompted and complemented my own recollections.
So, this report owes its existence to the persistence of digital memory and to the rapid and easy access afforded by networked communication. Moreover, in its form, it is a sort of (fully attributed) textual mashup, an old form that has flourished with the ease and availability of digital formats and tools.
Moreover, the word cloud that opens this report is a sort of electronic publishing innovation in its self. In the two interviews that inform this one, Richard calls out word clouds as an examples of the kinds of map we need now to enable the pleasures of discovery, so it seemed only fitting to represent the colocation of his thinking in these interviews through a word cloud.
Our conversation began with my "where are we and where have we been in publishing" question, and led to Nash's instructive comparison of music and book publishing. He points out that with music it was consumption innovation that led the way to widespread change and that consumption innovation was prompted by the 1993 introduction of the MP3 format, in turn leading to devices that could deliver that format to the listener. At the same time it was not until years later that music-editing software begin to catch up and that production could leave the studio behind for the desktop. Conversely, in the book industry we began to have the localized ability (local as in your study or in a nearby computer lab) to create a perfect master as early as 1995 with the widespread adoption of PDF. But even with the easy ability to produce those perfect masters, it wasn't until about 2007 and the introduction of the Kindle that we began to mainstream consumption grade digital formats.
So for twenty years, or more, innovation in publishing became all about production. While everything was changing, Nash argues. Nothing appeared to be happening, publically, because the output was still the print book. Books got easier and easier to produce, so the industry produced more and more of them. In order to accommodate and to capitalize upon the onslaught of books, we saw the explosion of the superstores. The hottest action in the publishing industry was all happening in the supply chain, and although links in that chain did break, Nash applauds publishing's resilience, saying it was remarkable that industry was able to survive, faced with the onslaught of books.
But survive it did, and the universe of books continues to grow, each year overtaking the production of the year before. So how, drowning in this vast sea of reading material, do we seize upon the life raft of the book into which we actually want to invest our time? This is the question that has given rise to Nash's current focus on what he calls, in a bit of shorthand, "map, not filter."
The publishing industry has long prided itself on its role as a filter, on selecting out what's worthy of publication and thus of our reading attention. In the age of super publication abundance, retailers too focus on filtering functions, developing recommender systems and striving to create communities of consumption (people who bought this, also bought...). Librarians too have long been filters, curating collections and making reader recommendations. Filters, Nash contends, are limited, because, in short, they take the fun out of discovery. More fun, he argues, are maps. We need to find our way to the "good stuff," but we don't need to be told what that good stuff is.
At this point, this interviewer hijacked the conversation to reminisce about youthful adventures in Europe, backpack stuffed with every map the local tourist offices offered, but only a few (heavy) guide books. Let's Go Britain was useful for giving me the address of the youth hostel, but finding my way to it had none of the serendipitous and satisfactory pleasure of following my map off the coastal path I was hiking and comparing the looks and prices of a handful of B&Bs and settling upon one that would offer a warm bath and shelter for the night.
As Nash wryly puts it, friction is the source of (ahem, certain kinds of) pleasure. I enjoyed my cup of tea and bed in some Welsh coastal town because I had to work for it. And we like help in finding good reads, but we want to work through the process of selecting them ourselves. We have less fun, Nash would argue, on the plateaus of convenience, than we do on the steep inclines of search.
Nash offers short take on filters and maps in a post on his own blog, rnash.com, but goes into much more detail in his discussion with Andrew Lipstein at 0s&1s Reads. and another on the Whitefox web site. In the discussion at Whitefox, he tells us:
We're too focused on filter, and not enough on map. That's my pet framework for talking about the ways in which we need to organize all our cultural information. We're blessed (yes, blessed, despite what the panicked patricians say) with an ever growing abundance of cultural production, but we're not developing tools for engaging with that production with anything like the necessary sophistication. Largely we're using filter—reduce the number of objects for us to consider either through algorithmic filtering, or curation. The hassle is that it isn't really "discovery." Yes, that abused term, abused like curation. Discovery should elicit joy, wonder, ecstasy. Not some damn list of five books from which you can pick one. It's supposed to be "On First Looking into Chapman's Homer," seeing the Pacific, looking through a telescope, or a microscope. The "Holy Shit" of actual discovery. Filtering hides too much, both in terms of process, as it's a black box, and in terms of outcome—if you can't be lambently aware of how you get somewhere, you can't spontaneously choose a sudden diversion. So, it kills serendipity.
Map, on the other hand, is about finding user-friendly ways to display all the information, not a tiny subset of it. It's about saying, we'll show you everything, and give you the means to navigate towards it. Bricks-and-mortar stores partake of map, by the way. You see everything, and you follow visual cues to orient yourself. Part of the power of map is scale. Start with a globe, go to London, go to Camden, go to the Electric Ballroom. Like the famous Charles & Ray Eames Powers of Ten movie. Or fractal geometry. The closest two things we've had to this is the world cloud and my failed start-up Small Demons. I suspect VR or, better put, augmented reality, may offer some opportunities in this regard, because it allows greater dimensionality (as does a store, or a city). The "flatness" of most web browsing experiences, currently, is crippling. Ironic, given that the very word browsing comes from three-dimension retail experience, that in turns originates with the book store. Effectively we're way too focused on processing data, and not enough on how to effectively render data for the human brain to process it itself. Moreover, and I can't emphasize the significance of this: maps are fun in themselves. Filters are not. Map is where the cultural action is.
In Nash's interview with Lipstein and again in closing the discussion with me, he turns to the implications of deploying map for publishing practitioners. He says to Lipstein: "the key tools of the next decade will be tools that allow people to better understand their consumption habits, and that offer alternatives. Ways of browsing our culture that make the browsing experience itself pleasurable." As we finished our conversation, he recommended that publishers and others who help readers find their ways to books become cultural anthropologists of sorts, investigating the question of what we are doing when we're being cultural beings. How, as publishers and booksellers and other connectors of readers and books, "do we recuperate the pleasure of working to discover something?" Making good maps, Nash concludes, is the key task at hand for us now. For the book industry to thrive and to continue to engage readers, we must create a landscape of discovery.
---
Richard Nash is a strategist, executive, and serial entrepreneur in new and traditional media. He led partnerships and content at the culture discovery start-up Small Demons and the new media app Byliner. Previously he ran the iconic independent Soft Skull Press for which work he was awarded the Association of American Publishers' Award for Creativity in Independent Publishing in 2005—the last book he edited there was selected as a 2010 Pulitzer Prize finalist. He left in 2009 to found Cursor, now an open-source community publishing project and to run Red Lemonade as a pilot for the Cursor project. In 2010 the Utne Reader named him one of Fifty Visionaries Changing Your World and in 2013 the Frankfurt Book Fair picked him as one of the Five Most Inspiring People in Digital Publishing. He consults for numerous start-ups and corporations on content and market strategy and helps them use culture and narrative to build stronger products and services and more engaged audiences.
Top of page