Delivering Impact of Scholarly Information: Is Access Enough?

Skip other details (including permanent urls, DOI, citation information)
Journal of Electronic Publishing
This work is licensed under a Creative Commons Attribution-NonCommercial-NoDerivatives 3.0 License. Please contact mpub-help@umich.edu to use this work in a way not covered by the license. :
For more information, read Michigan Publishing's access and usage policy.
After more than two decades of engagement with open access in our community, perhaps it goes without saying that free access to content is an undeniably good thing, provided it can be sustained on a long-term basis. The question "Is Access Enough?" therefore, is not a question about whether open access is valuable; rather, it inquires as to whether open access is sufficient to accomplish the ultimate objective of enhancing knowledge and increasing the productive dissemination of information worldwide. Presumably our higher-level aim is not to enable or provide free access for its own sake, but rather to broaden the productive use of scholarly materials for the benefit of students, researchers, and learners all over the world.
Our focus at ITHAKA, an international not-for-profit organization, is on using technology to advance knowledge and higher education as broadly and cost-effectively as possible. We were founded in 1995 and pursue this mission in ways that are transformative for people and for organizations, largely through three areas of focus and related services. First, we work to preserve scholarly materials, which are the building blocks of knowledge. Second, we provide access to these materials and work with researchers, teachers, and students to create continually better tools for their productive use and engagement. Finally, we conduct research and offer strategic guidance in the form of consulting, workshops, training, and publications to those primarily responsible for educating people and leading changes to improve higher education around the world.
This article draws on our experience with JSTOR, our original and most well-known service. JSTOR is a large-scale digital library that provides access to scholarly materials to people from 170 countries. Although JSTOR is not an open access resource, as a mission-based organization, we have been committed to providing access to JSTOR as widely and as cost-effectively as possible. From our earliest days, we worked with foundations to fund and provide access to people at educational institutions in developing countries. As JSTOR established a reliable financial base, enabling us to be confident about our ability to fulfill our long-term promise to sustain the archive, we began offering the JSTOR library at very low or no cost to increasing numbers of institutions and people with fewer financial resources. For many years we did this exclusively through educational and other non-profit institutions in 94 countries. In 2011, we added programs to provide free access to portions of our journal collections directly to everyone in the world.
Based on our experience providing free access to scholarly materials to people in developing nations, we find that access alone is not enough to ensure that information has the desired impact of increasing knowledge and understanding. Is the content being used? It is instructive to look at the example of education in general. All children in the United States have access to education through our public school system, but we would be remiss if our focus stopped there. Attending school is not enough. What else needs to be in place so that children are able to take advantage of this access and learn—and ultimately, to assess what it has enabled them to achieve? Similarly, we need to look at the larger context of what factors beyond access must be in place for people to make productive use of these resources so that they have societal impact.
In this article, we explore the area beyond simple access and consider the question of productive use by taking the perspective of an individual user. This approach reveals a series of conditions that must exist for people to be able to use scholarly information to build their understanding of a topic and convert it into useful knowledge—either for their own purposes, to teach others, or to inform others through publication. We call this set of conditions the "pyramid of productive use." We structure these necessary conditions as a pyramid because the conditions are interrelated, ascending to the point at which a person has the materials and resources necessary to make productive use of them. From bottom to top, the steps in the pyramid are:
Literacy: It is assumed that a first and necessary condition of use of a resource is that the potential user must possess the basic skills, whether they be language skills or basic knowledge of the context of the materials, to understand them. This group of people with primary literacy defines the maximum universe of users.
Technology: Potential users must have access to the technology (computer equipment, network connections, and bandwidth) to make use of it.Awareness: Users with the fundamental capacity to make use of a resource must somehow become aware of its existence.
Access: Once aware, users must have a way to secure access to the resource.
Know-how and training: Users must have the necessary know-how to use the equipment and software in order to find and interact with the digital resources.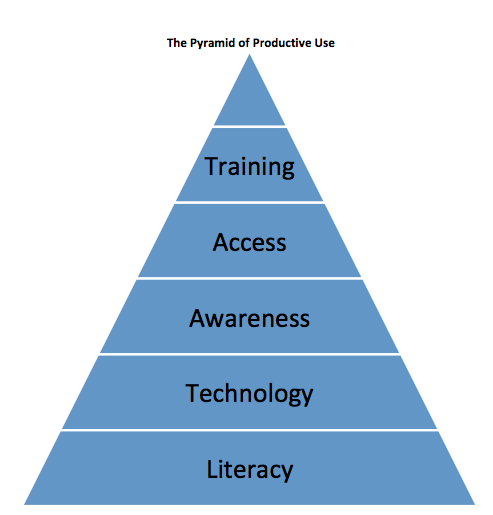 Although this framework applies to all users of scholarly content, our focus in this paper is on the developing world, where significant barriers to productive use remain. While some of these factors are well beyond any one entity's control, we share observations about them as a way to educate readers about the issues. For illustrative purposes, we highlight JSTOR's experience in providing access and pursuing educational and research impact for our resource. We also review the impact of access to JSTOR in one specific country and some of the positive outcomes we have seen.
There are a myriad of ways to look at access to scholarly materials and its implications. Our goal in writing this article is to provide others with a framework for considering how their own efforts and investments to expand access help achieve the ultimate desired goal—which is to enable people to have a positive impact in their own lives and the lives of others.
Background on JSTOR
Some history of JSTOR and our own trajectory in providing free access in developing nations will provide important context and highlight our particular motivations and key decision points.
JSTOR was established in 1995 with a primary objective of digitizing the back issues of important scholarly journals. We believed that having a digital library of these materials cared for by a trusted not-for-profit organization dedicated to long-term preservation would make the materials more accessible and useful to the scholarly community while simultaneously enabling colleges and universities to free up shelf space and save resources.[1]
JSTOR has been successful beyond our expectations, especially in terms of its value and usefulness as a database of core scholarship. In its formative days, few people agreed that the idea of reaching back to digitize 100 years of back files of journals was a wise investment. Even those of us involved originally thought that JSTOR would be valuable to a relatively small number of research libraries, mainly those that had invested in the resources to preserve and maintain long back files of journals in print formats.
Notwithstanding the doubts about the breadth of its appeal, JSTOR aimed to encourage as wide dissemination as possible by taking a site license approach and by establishing different fee levels for different types of institutions. JSTOR initially established four fee classification levels, the purpose of which was to enable small colleges to gain access to the kinds of collections that previously were only available to the largest university libraries. As we expanded our focus from U.S. academic institutions to a variety of additional institutional types around the world, additional classification levels accompanied by lower fees—for community colleges, secondary schools, public libraries, and museums, with discounts for overseas institutions on a sliding scale—were offered that expanded JSTOR's availability.
Thus, JSTOR has always had the goal of taking advantage of the low and declining marginal costs of online delivery to extend access to high-quality materials to those who previously had no reasonable means of access. This has been our mechanism for broadening access in a sustainable and persistent way. We are sure that no single institution holds the complete back runs of all titles in what is now called the Archive Collections, which comprises 57 million digitized pages from more than 2,000 academic journals. Many institutions, especially those outside the United States, hold only a small number of these titles. Access to the knowledge contained in JSTOR's collections has therefore been expanded dramatically via this broadened distribution. Today, there are 9,200 institutions with unlimited, simultaneous access to JSTOR's Archive Collections in 170 countries. More than half of these institutions are outside of the U.S. This expansion represents access for millions of faculty, staff, and students around the world. The JSTOR library now serves 12 million unique visitors in its peak usage months, and in 2014 alone, the site had over 140 million content accesses.
The large number of institutions that license the Archive Collections and support it financially have made it possible for JSTOR to continually invest in its own growth and development. Beyond the Archive Collections, JSTOR now includes 30,000 books, millions of primary sources, and the largest database of plant specimens in the world.
Access Models for Developing Nations
Even in its early days, JSTOR began to attract attention in the developing world from institutions that could not possibly consider licensing it, even at the discounted tiered fee levels. To address this problem, JSTOR's first strategy was to work with foundations to eliminate one-time fees and subsidize annual access fees for participation. The Andrew W. Mellon Foundation provided funding for higher education institutions in Eastern Europe and South Africa, two areas of program emphasis. The John D. and Catherine T. MacArthur Foundation provided funding for Russia and Nigeria. These agreements helped JSTOR to expand access to higher education institutions across the globe when it was not yet in a financial position itself to subsidize access for some institutions, however worthy the objective.
The program was effective, but in a modest way. Prior to January 1, 2004, for example, JSTOR offered a 50 percent discount to participants in African countries. At this level, only 14 institutions from five countries signed up and continued participation in the resource (10 of which were in South Africa). After January 1, 2004, a new fee structure was announced that offered African countries a 65 percent discount on JSTOR fees. While this program was in effect, 28 additional African institutions from 16 countries initiated participation, and access was paired with training programs that helped introduce people to the resource. Although this represented an expansion of access, it still wasn't having the broad impact that we hoped.
Given the limited impact of these programs, JSTOR's Board of Trustees decided in early 2006 to waive all fees for African institutions. This program, now called the African Access Initiative (AAI), was successful immediately; and in 2008, the Board approved the Developing Nations Access Initiative (DNAI). Under DNAI, institutions in 41 countries beyond Africa in the lower tiers of the World Bank's GDP table became eligible for free access or, in places with stronger economies, deeply reduced fees.
Since putting AAI and DNAI in place, institutions from 71 countries have joined JSTOR, bringing the total number of JSTOR institutions in the developing world to 1,540. The institutions that had previously been paying to license JSTOR learned that they would no longer have to pay JSTOR participation fees. Furthermore, those same institutions, some of which may have only chosen to license a subset of the collections, instantly gained access to the entire set of Archive Collections.
| Time period | Access Policy and Fees | Institutions | Countries |
| --- | --- | --- | --- |
| Pre 7/2006 | 50–65% discount on some Archive Collections | 151 | 26 |
| 7/2006–7/2008 | Free access to all Archive Collections in Africa; continued discounts elsewhere | 368 | 46 |
| 8/2008–12/2014 | Free or very low-cost access to all Archive Collections throughout the developing world, including Africa | 1,021 | 71 |
| TOTAL | | 1,540 | 71 |
While AAI and DNAI participation grew, JSTOR continued to consider additional opportunities for expanding access to the Archive Collections to users who were not at educational or other institutions in the developing and the developed world, and where it had the flexibility to do so. JSTOR has some constraints, given that the majority of content it holds is under copyright and licensed from hundreds of publishers. However, some material is in the public domain and, in August 2011, we made approximately 500,000 public domain articles from 200 journals in the Archive Collections freely available to everyone in the world. These articles, published before 1923 in the U.S. and before 1870 for non-U.S. content, are collectively referred to as Early Journal Content ("EJC"). Usage of the EJC content among users in AAI and DNAI countries showed significant growth. In the year prior to August 2011, usage of this material from these countries totaled 1.4 million content accesses. It more than doubled subsequently.
In 2012, we launched another option for users unaffiliated with institutions to gain free access to JSTOR: a guest access program called Register & Read (R&R). This enables anyone who creates a JSTOR account to read up to three articles for free every two weeks. R&R began as a pilot with less than 100 journals and, based on its early success, was expanded to include approximately 1,500 of the journals in the Archive Collections by the end of 2012. Since that time, more than two million people in 209 countries have registered with us, including users from 73 AAI and DNAI countries.
Taken together, our institutional and individual access programs have dramatically increased access to scholarly content throughout the developing world, and our decisions and ability to make much of this free of charge has had a significant impact on growth. Today, millions of researchers, educators, professionals, students, and others are making use of the Archive Collections. There were approximately two million content accesses from this group of institutions in 2008. In 2014, this figure totals approximately 8.5 million accesses across our AAI, DNAI, EJC, and R&R programs. This represents 23,288 content accesses each day from institutions and users that would have never had access to these materials before JSTOR.
Making Productive Use of Scholarly Materials
The progress described above is the result of a number of factors. As noted previously, JSTOR provided training in using digital content (not just JSTOR) in many of these regions. It also supported representatives in local regions to increase awareness and help people implement access to the resource locally. The experience of overcoming obstacles to increase the impact of JSTOR helped us identify the Pyramid of Productive Use introduced at the beginning of this paper. We review the Pyramid with this population in mind below.
Literacy
It is assumed that a first and necessary condition for productive use of a resource is that the potential user be literate in the language of the resource. While audio and video formats increasingly provide alternative means of accessing scholarly information, the importance of text to scholarly communications remains paramount. Scholarly literature tends to be available in a relatively small number of languages, and so literacy in the relevant "scholarly language" defines the universe of people who can make productive use of a collection of scholarly resources.
JSTOR remains a predominantly English language resource today. All of our interfaces are in English, as is 90 percent of the Archive Collection content. French and German account for significant portions of the content. This is in contrast to the languages spoken among people in many of the AAI and DNAI countries. While some people may have fluency in English, language is certainly a barrier among large shares of the population. It is possible that in the future we will be positioned to translate, or rely on others to translate, portions of the Archive Collections.
Beyond this basic barrier, which is common to all information resources, there are also the language chasms between academic fields of study. Work underway at the DataLab at the University of Washington is using the large JSTOR data set to look at jargon used in disciplines, its density, and the distance between related fields in terms of a user's ability to understand areas beyond his or her expertise. Early results of this analysis readily show the very real challenges that users can face in being sufficiently literate to understand a given article even when published in their native language.[2]
Both of these elements of literacy immediately limit those for whom access presents real, easily actionable opportunity.
Access to Technology Required to Find and Use Digital Material
Access to technological capacity is a significant and important barrier to the use of digital materials. This is an area in which any single entity, particularly scholarly resource providers, can have little—if any—impact. Technical issues related to computer infrastructure and bandwidth are simply beyond their scope.
Despite the fact that there are powerful economic incentives for the nations of the developing world to improve their computer and network infrastructure and access to the Internet, the level and quality of connectivity in the developing world remains inadequate.[3] This is one area in which the phrase "developing world" does not capture the substantial variation between countries. Some of the more developed of the developing countries have seen progress in Internet infrastructure recently, while others remain largely unconnected.[4] There is also substantial variation within countries, and connectivity also depends on the "last mile."
Quality connectivity is not a permanently insurmountable barrier, and data and experience indicate that connectivity and access to computers are improving all over the world. In JSTOR's early days, we worked with institutions that wanted to participate in JSTOR to conduct tests of their network performance; we were concerned that they would gain access to JSTOR and yet never be able to use it. We found it was common for institutions to not have sufficientnetwork performance to provide what we regarded as a reasonable user experience for JSTOR access. By 2007, we discontinued the test, in part because performance was improving, but also because institutions expressed a willingness to withstand long page-load times that many of us in the United States and elsewhere would find intolerable.
Today, while there is improvement, we still see significant differences in page load times in various parts of the world. The image below reflects the range of page load response times by country for a recent month for JSTOR. This puts in stark relief the differences that still remain between the developed and developing nations.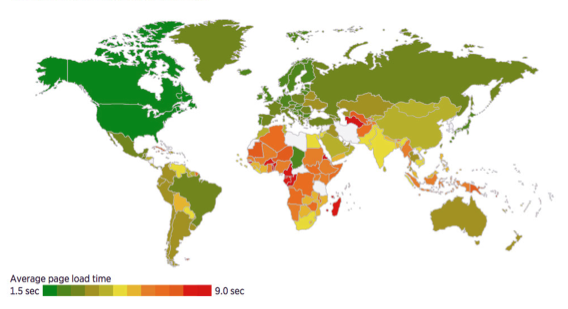 Countries by average page load time
We would be remiss if we did not note the incredible growth in the availability of mobile phones in the developing world. Sessions coming from mobile devices continue to rise, currently reaching 10 percent during peak usage. The growth rates are significant and indicate that the wireless handheld could be a platform that will reach more people in the developing world sooner and more effectively than any other mechanism.[5] Having said this, we also note that resource providers still face challenges depending on the format of their content. The JSTOR site has employed a responsive web design since 2013, meaning that it will reformat the site effectively to any device size. This is a good first step, but it does not address the fact that the library is comprised of nearly 60 million pages of page-scanned content—a format that does not easily lend itself to use on handheld devices. This challenge, however, is within our control. It is inevitable that we will convert some if not all of this content to mobile-friendly formats. While until now the project has seemed daunting, newer technologies may make automation of this effort possible and more affordable.
Awareness
Users with the fundamental capacity to make use of a resource must become aware of its existence. Prior to the development of the World Wide Web, it was nearly impossible for a user in the developing world to become aware of relevant scholarly resources not held locally.[6] Without access to the services of a librarian, or to expensive reference books and indexes, there were few ways for those readers to become aware of resources that might be useful.
Today, if a researcher has access to the Internet, opportunities to gain awareness of resources available at locations far from his or her own country have dramatically improved. Libraries and content owners are increasingly digitizing and making available, not only the metadata and finding aids associated with scholarly resources, but increasingly the full text as well. Search engines index this material and link users to them. Websites, portals, e-mail lists, blogs, social networks, and other mechanisms are enhancing this capability even further. Those tremendous advances notwithstanding, a new problem has emerged. The rapid growth of the web and proliferation of material available via the web has led to information overload—web searches often return far too many results. Traditional marketing and new search optimization strategies are becoming more and more important. There is, in other words, profoundly enhanced awareness of everything, but there are also new challenges associated with becoming aware of the thing that you most want.
Our efforts to spread awareness of JSTOR in developing nations have varied with time as new opportunities have emerged and technology has evolved. Early on, we relied on our network of foundation colleagues working in various regions of the world to connect us with institutions. In follow-on years, we traveled and presented at global conferences, and we employed dedicated staff to build awareness and reach out to institutions—one person based in the United States and another in Kenya.
Eventually, we made the decision to partner with two other organizations that have been pursuing similar aims and who have networks of country coordinators to help spread the word. These are:
Electronic Information for Libraries (eIFL): eIFL leverages the negotiating power of large groups of libraries in different countries in order to increase access to commercial journals and databases through the creation of library consortia, and eIFL provides support and training to these consortia.
International Network for the Availability of Scientific Publications (INASP) and Program for the Enhancement of Research Information (PERI): INASP is a networking organization that seeks to increase access to scientific and scholarly literature and support developing countries' participation in the exchange of knowledge or information. Through PERI, INASP negotiates to offer access on a countrywide basis to not-for-profit institutions, at a free or discounted price.
INASP's PERI program alone has been responsible for facilitating nearly 400 institutions participation with JSTOR.
Today, we continue to rely on these partnerships in addition to having two staff dedicated to the areas of the world where the majority of the AAI and DNAI countries reside: Africa, the Middle East, and India. Throughout, we have continuously relied on word-of-mouth efforts of scholars, members of academic societies, and students traveling to and communicating with people in these countries. Google indexing of the full text of JSTOR has also played an important role in expanding awareness, as have the library websites and tools at some institutions in these countries.
With these awareness-building resources in place, JSTOR participation growth has been continuous. The strongest growth has come from those DNAI and AAI countries with the most developed economies and/or technological infrastructure, including India, South Africa, Kenya, and Nigeria.[7] The table below shows the top 10 AAI and DNAI countries based on total participation. These countries represent 65 percent of all participation in these programs.
Top 10 Countries (As of December 31, 2014)
| Country | Total Participants | % Total AAI/DNAI Participants |
| --- | --- | --- |
| India | 337 | 21.87% |
| Kenya | 136 | 8.83% |
| South Africa | 128 | 8.31% |
| Nigeria | 106 | 6.88% |
| Ethiopia | 56 | 3.63% |
| Egypt | 54 | 3.50% |
| Tanzania | 54 | 3.50% |
| Ghana | 47 | 3.05% |
| Pakistan | 46 | 2.99% |
| Uganda | 41 | 2.66% |
| | 1,005 | 65.22% |
Despite this positive growth, there are still many who are unaware of JSTOR, and reaching them is a substantial challenge. We have not quantified the number of higher education or other relevant institutions in these countries, yet we are certain that there are many who do not know that JSTOR access could be available to them. To date, there are 23 countries covered by AAI and DNAI where we do not yet have any participation, and 11 where we have only one institution participating.
Access
Once a user is aware of the resource or specific article or book he or she wants to use, achieving access is frequently a barrier. We do not feel it is necessary to go into the details of this here, as nearly all users have experienced the inability to access a piece of content found on the web, even when they have the literacy and technical wherewithal to use it. We have worked to directly alleviate this for all users globally through our EJC and R&R programs. These programs offers quick and easy access for users in AAI and DNAI countries; however, our AAI and DNAI institutional arrangements offer the most substantial level of access—unlimited, simultaneous use of our complete Archive Collections. While access is not a barrier in terms of fees, there remains a short-term barrier: we do still require a license agreement to ensure there is some commitment to the resource on the part of the institution and to ensure the terms of use are clear.
Know-how and Training
As each of the previous four barriers is reduced, we begin to see the potential for transformative impact of the availability of scholarly resources on the student or researcher in the developing world. But awareness, access, and technology are still not sufficient to lead to productive use. For many users in the developing world, there is a need for training in how to use the equipment, software, and information resources. There is also the need, just as there is in many colleges and universities in the developed world, for training in basic information literacy.[8] Users need to have an understanding of both how to use the basic infrastructure and how to interpret the information they are able to acquire through that infrastructure.
We have limited knowledge of the capacities of our end users in these countries today, but we observe growing usage at a number of our participating institutions in the developing world. Having said this, we note that usage is still largely concentrated in a few countries and even among a few institutions within them.
Top 10 Usage Countries (As of December 31, 2014)
| Country | Total Content Accesses | % Total AAI/DNAI Participants |
| --- | --- | --- |
| India | 3,465,111 | 42.36% |
| South Africa | 1,387,340 | 16.96% |
| Pakistan | 726,822 | 8.89% |
| Indonesia | 563,071 | 6.88% |
| Egypt | 347,548 | 4.25% |
| Kenya | 266,645 | 3.26% |
| Nigeria | 221,683 | 2.71% |
| Kiribati | 213,382 | 2.61% |
| Zimbabwe | 180,152 | 2.20% |
| Ethiopia | 134,390 | 1.64% |
| | 7,506,144 | 91.76% |
Once access was established in several of these countries, we did some local awareness-building and training. Many other individual projects have identified developing basic know-how as a compelling need. Initiatives like INASP/PERI and the African Virtual University have developed programs specifically tailored toward helping to develop these capacities in developing countries.[9] Historically, JSTOR has run training programs specific to the JSTOR library in Eastern Europe, Russia, Greece, South Asia, Pakistan, India, and South Africa. Use of JSTOR has increased following these training sessions. In 2014, we produced a freely available online course called Research Basics for High School Students, which has been accessed all over the world. While use of this resource is still growing, we observe that among our top 10 user countries of Research Basics to date are Indonesia, Nigeria, and Pakistan.[10]
Productive Use
Progress is being made on different aspects of the pyramid at different rates, and there are reasons to be optimistic about the long-term prospects for continuing increases in the productive use of high-quality scholarly materials in the developing world. How long it will take is an open question. The JSTOR experience tells at least a few encouraging stories about the growth in productive use over time.
Take the case of Pakistan. As of the end of 2014, 46 Pakistani institutions had chosen to be part of JSTOR's DNAI program, paying a low annual fee to have broad access to the JSTOR Archives. These institutions vary widely in scale, resources, Internet bandwidth, and technological capacity; in other words, they are at different places in the degree to which they have "scaled the pyramid," and it is difficult to compare usage and growth across the category. However, a sub-group of 10 participating institutions accounted for 58 percent of use in this country in 2014 and appear to have addressed several parts of the pyramid.[11] Many of these institutions joined JSTOR in 2005 with government support and had the opportunity to attend training sessions we conducted in Lahore and Islamabad in early 2006. Nearly all of these schools are ranked among the leading institutions in the country according to the Higher Education Commission of Pakistan.[12]
The usage of JSTOR at these institutions tells an encouraging story: their usage as a group has been strong and steady, increasing 20 percent over the period from 2009–2014. We also see encouraging signs beyond this small group. Of the complete cohort of 25 Pakistani institutions that joined JSTOR with government funding in 2005, 13 have seen usage growth from 2009–2014, and the majority show increases upwards of 40 percent.
More work could and should be done to understand the nature and impact of this use, but scholars and students at these Pakistani institutions are clearly making increasing use of the materials they are able to access through JSTOR. We see similar patterns in other parts of the world, though there are still many other areas where institutions have long strides to go. It is only as the five steps on the pyramid are scaled that a user is positioned to use a resource effectively enough to find relevant scholarship and potentially bring it into the classroom for pedagogical purposes; the resource could also be used to advance his or her research and writing projects. When these conditions have been addressed, it is only then that we can realistically hope for a given scholarly resource to have an impact on its potential users and their environment.
Conclusion
The goal of universal access to knowledge is a worthy ideal, but we need to recognize that a focus on free access will not inevitably lead to productive use of those materials. Ensuring scholarly impact requires investments in a range of services that go beyond just putting materials up on the web. Providing those services, for example, to promote awareness of a resource or to provide training on the use of materials, forces institutions to consider what level of investment they are prepared to make to encourage impactful and productive use. If one regards the ultimate goal as being increasing scholarly impact, open and free access to content is an important but insufficient means to that end.
---
Heidi McGregor is vice president, marketing & communications for ITHAKA. She oversees all strategic positioning, brand management, marketing, and communications for ITHAKA and its services, JSTOR, Portico, and Ithaka S+R. 
Kevin M. Guthrie is an executive and entrepreneur with expertise in high technology and not-for-profit management. Mr. Guthrie was the founding president of JSTOR (1995) and Ithaka (2004), and oversaw their merger in 2010 to form ITHAKA.
Notes
Top of page