Abstract
Open access has become very popular over the last few years. It is evident in the increasing number of scientific journals being made available free to readers on the Internet, and the increasing number of institutions that are building repositories to house the electronic versions of open-access articles written by scholars at their institutions. The academic and research communities seem to support this movement and their right to obtain easy and free access to publicly funded scientific information. But, how often do researchers actually use such free publications as readers and how often do they choose to publish in an OA journal or institutional repository? How trustworthy do they consider those journals and repositories? Would they prefer that OA repositories be more selective? Although today about 10-15 percent of scientific peer-reviewed journals are OA[1] and there are several declarations encouraging institutions to build OA repositories,[2] there is still a long way to go, especially where OA repositories are concerned. This research is trying to determine why acceptance and growth of open access, particularly open access repositories, has been so slow.
Introduction
In the last few years researchers and librarians have focused on open access (OA) repositories and journals. As technological advancements make access to electronic information easier, users become more aware of the non-technological barriers that stand between them and information, and are more eager to remove them. OA journals function in many ways like subscription-based journals, but allow free access to their content. A great number of OA journals (though not all of them) adopted the peer-review process to assess and carefully select their content. And although access to the information is free, the author or the institution in which the author is employed may pay a publication fee, or the costs of the journal may be covered by other means.
OA repositories, which are paid for by the institutional consortia or individual institutions that maintain them, may be organized by discipline (subject/ disciplinary repositories) or by institution (institutional repositories). Institutional repositories are online sites that collect, preserve, and disseminate scientific or other research work produced inside a particular institution. Sometimes institutional repositories include works from authors at other institutions, but this is not a standard practice. Like OA journals, OA repositories typically offer free access to their content, although some are not open to all users. In those repositories, the authors decide the degree of access of users. Yet, access is still free of charge.
OA repositories do not follow any standard procedures for selecting articles to include[3]. Some limit their holdings to article from peer-reviewed journals; others include all works produced by members of affiliated institutions. OA institutional repositories may include in their collections articles, theses, dissertations, learning objects[4] such as course syllabuses, and audiovisual files - in short, any work that may be useful to the function of the institution.
Through the years, OA journals have established themselves because of selection policies that are similar to those of traditional journals, but OA repositories do not yet have researchers' trust that they offer quality material. There are no generally accepted standards for the quality of the contents of OA repositories; standards differ vastly depending on the institution and the selection procedures followed. OA repositories cannot become successful homes for scholarly material if researchers do not value them, contribute to them, and use them. This requires that researchers offer their works for publication in OA repositories, participate as reviewers to ensure the repositories offer same quality materials as subscription-based and open access scientific journals, and use the OA repositories as sources for their citations. On their side, institutional repositories have to adopt more specific and strict methods of material selection if they are to become more functional and trustworthy.
To understand the situation better, I surveyed researchers in Europe and North America to determine whether scientists trust the information published in OA repositories, whether they would prefer them to follow some kind of peer-review selection policies, whether they would be willing to review articles for OA repositories (if invited), and whether they could be as rigorous in their reviews as they would be with reviews for conventional scientific peer-reviewed journals.
The research
In the effort to gather, record, and analyze researchers' opinions about institutional OA repositories and, more important, the way researchers think they should operate, I created a questionnaire and sent it to researchers, electronically, via the Internet. The survey took place between June and August 2009.
The research focused on research and academic institutions of social and natural science in Europe and North America. The focus was on these two continents firstly because I tried to limit the scope, and secondly because the majority of social and natural science institutions are concentrated there. All relevant institutions were identified in this geographic area[5], a total of 7,481. Then, an algorithm was used to randomly choose 20 of those institutions.
List of Institutions
| Institution | Location | URL |
| --- | --- | --- |
| European University Institute | Florence, Italy | http://www.eui.eu/ |
| Cooperative Institute for Meteorological Satellite Studies | UW-Madison, NOAA, NASA | http://cimss.ssec.wisc.edu/ |
| Enrico Fermi Institute, University of Chicago | USA | http://efi.uchicago.edu/ |
| Jackson School of Geosciences, University of Texas | USA | http://www.jsg.utexas.edu/ |
| National Radio Astronomy Observatory, National Science Foundation | USA | http://www.nrao.edu/ |
| Steinhardt Social Research Institute, Brandeis University | USA | http://www.brandeis.edu/ssri/ |
| École des hautes études en sciences sociales | Paris, France | http://www.ehess.fr/fr/ |
| Niels Bohr Institute, University of Copenhagen | Copenhagen, Denmark | http://www.nbi.ku.dk/ |
| Centre for Research in the Arts, Social Sciences, and Humanities, University of Cambridge | Cambridge, UK | http://www.crassh.cam.ac.uk/ |
| Institute of Archaeology, UCL | London, UK | http://www.ucl.ac.uk/archaeology/ |
| Fritz Haber Institute of the MPG | Berlin, Germany | http://www.fhi-berlin.mpg.de/ |
| Stockholm International Peace Research Institute | Stockholm, Sweden | http://www.sipri.org/ |
| Institute of Astronomy | Cambridge, UK | http://www.ast.cam.ac.uk/ |
| Instituto de Meteorologia | Lisbon, Portugal | http://www.meteo.pt/pt/ |
| Lithuanian Academy of Sciences | Vilnius, Lithuania | http://lma.lt/index.php?lang=en |
| Dondena Centre | Milan, Italy | http://portale.unibocconi.it/wps/wcm/connect/Centro_Dondena/Home |
| Hamilton institute, National University of Ireland | Ireland | http://www.hamilton.ie/ |
| Max Planck Institute for the History of Science | Berlin, Germany | http://www.mpiwg-berlin.mpg.de/en/index.html |
| Berlin Social Science Research Center | Berlin, Germany | http://www.wzb.eu/default.en.asp |
| Max Planck Institute of Biochemistry | Munic, Germany | http://www.biochem.mpg.de/en/institute/index.html |
For those final 20 institutions, I collected the names and contact details of every researcher working for them [6] . The total number of researchers was 2,197. To create my final random sample, I used the same algorithm to select 25 percent of the total population (532 researchers). I sent e-mail to all of them, and collected 192 answered questionnaires (35.7 percent).
Based on the total volume of the population, the volume of the sample and the percentage of unanimity of the answers (for a confidence level set at 90 percent), the confidence interval is separately quoted for each question. In total, the research presents a confidence interval of 5.91 percent [7] .
The questionnaire was short, with six questions. The aim was to require a minimal time of completion, so that the participants would not be discouraged, while also capturing opinions regarding the use of and participation in OA repositories. I was interested in how often the subjects used OA journals and repositories, the degree of confidence they had in them, and their willingness to actively participate both as authors and as reviewers for OA repositories, under the condition that these would function under the same strict terms as subscription-based journals [8] .
The questions and corresponding answers are as follows:
It is obvious from the diagram that the vast majority of those who answered the questionnaire are regular users of OA journals and repositories. (25 percent OFTEN and 52 percent OCCASIONALLY.) This is very important, as the participants already seem to be comfortable with the idea of OA in general, and are experienced in the use of information beyond subscription based journals.
It seems that OA repositories are common in most of these institutions (teaching and research institutions alike). A total of 58 percent of the answers come from people who say they work in institutions that support or hold an OA repository [9] .
The majority of the respondents indicated that even though they used OA journals and repositories in their research, fewer than half of them have published in OA journals or submitted works to OA repositories. (As OA repositories do not have any standards for selection other than a connection with the institution supporting the repository, submission is tantamount to publication.).
The vast majority of the participants in the survey state that they would be open to contributing to OA repositories that followed the selection procedures used in high-reputation subscription-based journals. Still, 6 percent of those surveyed sternly refuse any participation. This could be due to the prejudice against OA repositories and the lax selection procedures and the implication that this is not considered a prestigious place to publish.
Here too, the majority states the belief that a repository running under stern reviewing terms can be considered an equally important means of publication as any other scientific journal. Of course, this question is highly theoretical, as such repositories do not currently exist.[10] However, a high percentage of researchers would trust and appreciate works from an open access repository if the repository had high standards for adding material. Still, 5 percent of respondents refuse to trust works published in a repository even if strict selection procedures were followed. There is no way to know why exactly these participants seem so reluctant to trust a repository, but some assumption could be made. Maybe they don't actually believe that equally strict methods can be used for an OA repository as for a subscription journal. Actually, in question four, 6 percent stated that they would never submit their works to an OA repository, and in fact all the people that answered No in question five, did so in question four, as well. Probably, these particular participants feel uncomfortable with the idea of OA in general and do not trust scientific publications that do not follow the traditional commercial channels.
Here, also, the majority of the participants seem to be well disposed towards acting as severe and strict reviewers for an OA repository (something that is considered a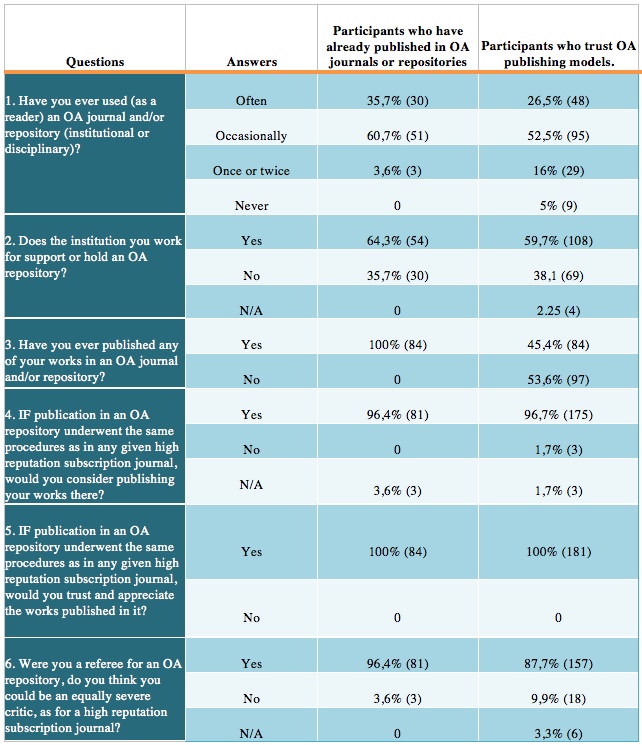 prerequisite for well-established subscription journals). But the percentage that gives a negative answer to this particular question is not totally immaterial. A total of 13 percent of the participants feel that they could not review submissions to OA repositories as strictly as they could review submissions to subscription journals. It seems that for some reason OA repositories fail to inspire the same degree of professionalism as the traditional methods of publishing. Much like open source software, OA repositories seem to register to the users as totally free and as a result somewhat inferior products. These are very common misconceptions [11] that are quite difficult to get rid of. But as OA implementations increase and improve, more and more users may change the way they feel about them.
In general, respondents are in favor of OA repositories and especially in having stricter acceptance procedures. This can be explained in many ways:
The majority of the participants are already familiar with the concept of OA, and their experience biases them in favor of OA implementations, augmenting their confidence in such publications.
An important percentage of the participants work for institutions that already support OA repositories. This means that they have first-hand knowledge of the subject.
OA applications are far more frequent now than a few years back. The increase of applications signifies the increase in usage (an unsuccessful product does not get replicated or imitated elsewhere). Increased usage means more users. And even if someone has not published in an OA medium, he or she surely appreciates the fact that a vast number of people use it. But the abundance of OA repositories in combination with the fact that there are no selection procedures (or at least these are vague to the end user) makes it difficult to find and use trustworthy information through them.
Almost half of the participants have already published some kind of work through OA journals or repositories. That, to some degree, has helped them form an opinion about the way these function (at least from the author's point of view).
Some researchers, especially those that come from poorer institutions, have benefited from OA by locating and obtaining access to published scientific information much faster and at lower cost than previously possible.
The most interesting part of this research is comparing the answers of those who state they have already used and published their work in some kind of OA publishing model, and those who state that they trust OA publishing (without, necessarily, having published in OA repositories or journal).
It is fairly obvious that these two groups of participants, those who have published in and those who trust OA publishing models, show some common ground in their answers. Their most important difference though, comes down to this: fewer than half of those that state they trust OA publishing have actually used any kind of OA model of publication to publish their work. It is clear, then, that while trust is necessary for publication, more than half of those who say they trust it still do not use it to publish their works, but only to gain access to other people's work. Apparently, more than trust is needed to establish a publishing medium. After all, the value of communication systems such as academic publishing increases by the number of people using the system. As the number of readers grows, the same happens to the number of authors, and vice versa[12].
Conclusions
This research examined how researchers view OA publications, and whether they want a more strict method of evaluation for scientific information published through OA repositories. The research focused on the scientific community (as opposed to general readers of scientific information) because it was important to know how people who need, use, and evaluate scientific information routinely feel about OA repositories. Additionally, active researchers need to publish, and therefore might participate in OA journals and repositories if they trusted them as legitimate outlets.
The majority of the participants in this survey have, at some point, used OA publications as readers, although not all of them seem to trust them as much as they trust traditional subscription journals. Of course, traditional subscription journals have been around for a longer time, and have established fairly good names for themselves. But even among those who state that they trust OA publishing, less than half of them have actually published any of their works through such a means.
The vast majority of the participants said they would welcome more strict acceptance procedures for institutional repositories. This would enhance their trust and they would feel much more inclined to submit their works for publication. They also said that, if asked, they could act as reviewers in the strict manner required.
Open access implementations have been around since 1969 [13], while the first OA repository was founded in 1991 [14]. While we would expect that the scientific community would be accustomed to the use of open access publications, scientists and researchers seem to still be a little cautious. However, this research shows that they welcome changes that might lead to more credible publications, even if that means that their own work will undergo scrutinizing reviews.
OA repositories are certainly far more established now than in the last few decades. But still, in order to win over the scientific community as a whole, we have to take some steps to ensure the quality of published information.
---
Notes
---
Bibliography
Crow, Raym. "The Case for Institutional Repositories: A SPARC Position Paper." ARL Bimonthly Report 223 (2002). http://works.bepress.com/ir_research/7.
Genoni, Paul. "Content in institutional repositories: a collection management issue." Library Management 25.6/7 (2004):300-306. doi:10.1108/01435120410547968.
Paul Ginsparg. "The global-village pioneers." Physics World October 1, 2008.http://physicsworld.com/cws/article/print/35983.
Goldman, Ron and Richard P. Gabriel. Innovation happens elsewhere: Open Source as business strategy. San Francisco: Morgan Kaufmann, 2005.
OpenDOAR, The Directory of Open Access Repositories. http://www.opendoar.org/.
Parker, Geoffrey and Marshall W. Van Alstyne. "Two-Sided Network Effects: A Theory of Information Product Design." Management Science 51.10 (2005): 1494-1504. http://ssrn.com/abstract=1177443.
RFC Editor. http://www.rfc-editor.org/index.html.
Wheatly, Paul. "Institutional Repositories in the context of Digital Preservation." DPC Technology Watch Series Report, 04-02. Presented at the Digital Preservation Coalition, March 2004.
---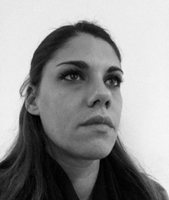 Roxana Theodorou is a guest lecturer at Ionian University (Corfu, Greece) in the department of Archive and Library Science ( http://tab.ionio.gr ). Although an academic carrier was not in her plans, she found that her librarianship studies in the University combine some of her passions; books, libraries, and teaching (the last one undiscovered until recently)! She is interested in publishing, open access, and the economics of publishing. She has studied Librarianship at the Ionian University, has obtained an MA in Electronic Publishing and Communication from UCL, and a PhD in Academic Electronic Publishing from the Ionian University.
Top of page