The December 2010 issue of the Journal of Electronic Publishing marks the end of Judith Turner's tenure as editor-in-chief of JEP. Judith has been JEP's editor since its third issue appeared in 1997 and was instrumental in building the publication and putting it on a regular publication schedule in those early years. Under her leadership, the journal became a premier venue for publishing about publishing. Throughout the journal's now fifteen-year lifetime, Judith has been its guiding hand, attentive to every detail, generous with her advice and her editorial correction, committed to ensuring the journal's relevance to both practitioners and scholars.
Despite its success with readers, JEP was put on indefinite hiatus in 2002, when the University of Michigan Press could no longer afford to publish a free journal (which is a story for JEP in and of itself!). Although it was in discussion with several potential partners, none of those materialized into a new home for the journal. I had spoken with Judith in 2002 about moving the journal to the University of Michigan Library, but our plans did not cohere at the time. When Judith called me in late 2005 and declared, "I miss JEP," I couldn't have agreed more. It was wonderful working with Judith in rethinking JEP and where it should go next. The opportunity to insure the vitality of this important community of discussion about the theory and practice of electronic publishing was equally exciting.
When Judith took the helm of JEP, she was working at the Chronicle of Higher Education where she pioneered many of the digital innovations of that publication in the late twentieth century. Her attention to electronic publishing as both a journalist and a practitioner gave her an informed perspective that was central to the JEP's success.
In the past five years, as we have worked closely together on JEP, Judith has always been an important conscience for the publication, keeping it readable, moving forward, and focused on real world concerns. Browsing the archives of JEP, I am impressed anew by the remarkable range of opinions and talent that are represented in its pages and that are a testament to Judith's attention to the field.
I have been particularly impressed by the succinct and engaging editor's notes with which Judith began each issue. As I look at her first note from September of 1997, entitled "Editor's Gloss: Silicon Snake Oil and Branding," I am inevitably struck by that feeling of "the more things change. . ." In 1997, we were concerned that the cheapness of electronic publishing would ultimately overwhelm us with junk and make quality material harder than ever to find. We were puzzling over whether strong branding would serve as a filtering mechanism and how the established brands of publishers would extend to the Internet. Could O'Reilly extend its franchise to the Internet, we wondered?
So, some questions raised in those early issues of JEP have been answered. O'Reilly seems to be doing okay online. But many of the other concerns that Judith was among the first to identify remain relevant and perplexing. We are still thinking about peer review, determinants of quality, sustainable economic models, and new roles for publishing professionals, and I suspect we will be for quite some time to come. As the publishing community continues to worry, debate, and develop these questions, we will certainly benefit from the substantial archive represented by JEP that was developed with Judith's guidance.
Judith leaves JEP strongly positioned to continue its contributions to both the publishing profession and the scholarly analysis of publishing. At the University of Michigan Library, we've been making plans to continue the good work of JEP over the next year or two, and we're beginning to take stock of the best directions for JEP in the future. Shana Kimball, who has been JEP's energetic and innovative managing editor, will step into the role of editor and coordinate a series of guest-edited issues. Already, our November issue was edited by Phil Pochoda, Director of the University of Michigan Press and contains a series of very thought-provoking essays on the future of the university press. In Spring 2011, we will release a special issue on digital poetry, edited by Aaron McCollough, an active scholar and poet, and the summer 2011 issue will be co-edited by Shana Kimball and John Maxwell, Assistant Professor in the Masters of Publishing Program at Simon Fraser University, to address the topic of training and education for new publishing professionals.
Judith is now a vice president at Turner Consulting Group working with federal government clients, as well as a relatively new grandmother, and, rumor has it, a great cook. We look forward to hearing about new developments in all of these areas, and to her ongoing contributions as a member of the JEP editorial board. On behalf of the Library, myself, and the readers of JEP over the years, I extend to Judith our deep appreciation for her leadership of JEP.
---
---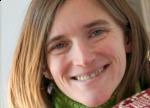 Maria Bonn is the Associate University Librarian for Publishing, a new position at the University of Michigan Library, created to oversee the Library's growing suite of publishing and scholarly communications initiatives, including the University of Michigan Press, the Scholarly Publishing Office, the institutional repository Deep Blue, the Copyright Office, and the Text Creation Partnership. In addition, she serves as an advisor to the University community on issues surrounding scholarly publishing and communication policy and support innovative projects in those areas both in and out of the Library.
Top of page