Abstract
This article describes the creation of OurBlook.com (http://www.ourblook.com), an online forum created for the exchange of research, information, and dialogue on today's national and global issues. The goal of the site is to gather opinions from today's leaders in the hopes of collaboratively finding tomorrow's solutions. The "blook" format aims to bridge the gap between a blog and book, combining the flexibility and accessibility of the Web with the strengths of traditional book publishing protocols focused on documentation and shelf life. The site also offers various Web 2.0 tools to the public through the use of its community center. To date, the Web site receives a little over 9,000 visitors a month, while the site's projects have begun receiving coverage by respected publications. The most recent project, the Future of Journalism, includes interviews with journalism and new media experts, and will be featured in the next issue of Media, a magazine published by the Canadian Association of Journalists.
The Story Behind OurBlook
OurBlook is a collaborative Web 2.0 site that allows readers to exchange research and information on national and global issues. The goal of the site is to gather and effectively organize opinions and information from today's leaders, in the hopes of collaboratively finding tomorrow's solutions.
To date, the site receives a little over 9,000 visitors a month, and features staff-written interviews with scholars and practitioners on six topic areas, with more topics scheduled for the future. OurBlook's target audience consists of highly educated, older individuals who are interested in public affairs and issues relating to the future of journalism and the media.
An Idea is Born
The "blook" format is the brainchild of Paul Mongerson, who retired in 1985 as Chair and CEO of Standadyne, Inc, a Fortune 500 company. Mongerson has a long history of philanthropy in journalism. In 2007, Mongerson began to pay attention to the effect the Internet was having on journalism and on information distribution in general.
During his research, Mongerson was surprised at how many blogs he encountered on the World Wide Web. Between 2002 and 2008, Technorati, a leading blog directory and search engine, indexed 133 million blogs.[1] He found blog content was scattered and often inaccurate.[2] Without a publisher or a third party working with an author, blogs offered little to no accountability. However, he soon began to compare blogs to traditional book publishing, and realized that the online format did offer many benefits. While books were highly documented and edited for accuracy and credibility, once published, the information was static, in contrast to the instant interaction and correction capabilities offered by blogs. Additionally, a book did not allow for the national and international reach that an online format could provide for relatively little money, compared to publishing, printing, and publicizing a print publication.
Mongerson realized that a better system could be created that combined the benefits of both formats. In addition to its benefits compared with traditional print books, such a system could serve as a model or case study in another area of publishing. To newspapers seeking to enhance their websites, it could demonstrate ways technology could be used to create value-added products using content that is already available to the newspaper. Creating online books that incorporate content they already have might benefit newspapers. Thus the idea of the blook was born.
In April 2008 Mongerson decided to put his idea for a blook into action. He hired a team consisting of a an editor, Gerry Storch, who worked 20 hours per week, and Sandra Ordonez, a Web consultant, who worked 10 hours per week. A retired journalist and editor who had worked at USA Today and the Miami Herald, among others, Storch brought solid editing skills and journalistic know-how to the project, while Ordonez, who had over 10 years of Internet experience as a producer and social media expert, contributed knowledge of design, social media, communications, and marketing.
As a philanthropist, Mongerson wanted to ensure that OurBlook was an educational gift and, to this date, funds the entire project. This includes the salaries of his two employees, freelancers who are used from time to time, and a minimal amount of online advertising.
The Beginning
The early months of OurBlook consisted mostly of experimentation—researching and identifying technology and processes that properly translated the idea of a blook into a Web format. Certain points were agreed upon by the OurBlook team: a) the website should be a research tool for individuals seeking expert opinions and information on the specific topics the website focused on; b) input and collaboration from Web users was essential (you can't have a Web 2.0 site without collaboration); and c) any article or online book created by the OurBlook team would be under a "copyleft" license, specifically a Creative Commons license.
Experimentation with various technologies was facilitated through the use of Joomla, an open-source content-management system. Not only did Joomla dramatically reduce the time required to install and test design templates and various powerful online applications, such as multi-user blog systems, but only basic programming knowledge was required for the production and launch of the site. This system has also reduced the time needed for the development or evolution of the site, and for updating the site with new material.
Joomla is a content-management system created for programmers by programmers, to reduce the amount of time that had to be invested in creating a site, and to give programmers a decent content management system for their clients. It is not only powerful, it can be broken apart easily if a programmer wants to customize modules. However, for common modules such as shopping carts, it's easy to install it and go. The biggest challenge the team encountered was navigating through the plethora of options and identifying the proper technology to bring Mongerson's vision online. Of course, when you build a site you simultaneously have to build for search engines. In other words, you can't use technology that makes it difficult for search engines to index your site. So for us the second obstacle was ensuring that our chosen technology also met the demands of search engines – namely, making sure they could access and index pages.
At the same time, the OurBlook team was experimenting with various ways to collect data and opinions from diverse groups of people. One option we tried was for the team to write posts, which we then expected readers to comment on. Another option was to post opinion pieces from readers and bloggers. However, both options proved to be too similar to a blog and produced the same type of obstacles the team was trying to avoid: the information lacked both authority and quality.
In December 2008, while we were trying to decide how to present ideas and information on the future of journalism, the team decided to interview experts in the field and publish those interviews online. This, they believed, would solve the authority and quality-of-information problems.
Additionally, the team decided to summarize the collected interviews in an online book, which solved the organization problem and provided the flexibility they were looking for. This is because an online book could be easily updated with new subtopics and interviews. The team also decided to create an article that would summarize the interviews, for those readers who did not want to invest the time in reading an online book. That helped us show how easily a book could be created online, with minimal administrative work.
The Future of Journalism endeavor provided us with the framework and processes by which we now handle all new topics. In other words, each topic section consists of a list of published interviews with experts in that particular field, an online book, and a summary article.
Currently OurBlook publishes both solicited and unsolicited interviews. In the latter, however, an individual's credentials are first reviewed to ensure he or she has the expertise necessary to comment on a specific topic. While it is difficult to determine exactly what makes a person an expert, there are certain things the team looks for. The individual should have advanced education in a specific field (e.g. a Ph.D.), should have held high-level positions in a particular field for a significant number of years, or should have been quoted on the subject by news outlets.
Most interviews are conducted through e-mail and are edited only for grammar. However, thanks to recent efforts by the OurBlook team and the use of Skype in combination with a Skype recorder, the team is starting to build a collection of video and audio interviews. Some experts chose to submit opinion pieces focusing on the topic being developed by the OurBlook team, rather than be interviewed. However, the OurBlook team discourages guest-written articles to avoid the possibility of self-promotion. Exceptions are more likely to be made for academics and journalists than for industrialists or business people. Also, we find we get more direct responses to the topic when we control the questions. To honor the people who contributed to OurBlook during the early months when we were still experimenting with formats and processes, certain opinion pieces from the general public are also kept on the site. At some point these pieces will be transferred over the community center, which I explain in more detail below.
The Experts and Topics
Over 140 interviews have been collected and posted on the site covering:
The Future of Journalism
Citizen Journalism
Social Media
Alternative Energy
Healthcare Reform
The Economy
Additionally, a section called Reporters and the Media is home to a collection of articles and interviews written by professional journalists who either recount their experience working in the business or discuss issues relating to their industry. To date, only one online book is available, which was created for the Future of Journalism project. The next book, which will be published about the time this article is published in JEP, will be for the Alternative Energy project.
Reporters and executives at major newspapers, including Richard Benedetto, retired USA Today White House correspondent; John Yemma, Christian Science Monitor editor; and Gordon Crovitz, have contributed to OurBlook, as have many scholars. A complete list of featured contributors can be accessed at http://www.ourblook.com/Blookers-in-the-Spotlight.html. Featured contributors are individuals who the OurBlook team find interesting either because of their experience or because we felt they gave a good interview.
Web 2.0 Tools—The Community Center
When the blook process was finally ironed out, the team began identifying ways to improve the participation of OurBlook's readership, which, up to that point, only had the ability to provide commentary at the bottom of each interview. In May 2009, a "community center" was created using the IDOBLOG Joomla module, which gives readers various Web 2.0 tools.
The most important tool in the community center is the ability to create both personal blogs and community blogs on any topics chosen by the creator. Community blogs allow numerous readers to contribute research, data, and commentary on the same blog. In this section, all blogs are created by readers. Only the official OurBlook blog, which is also featured on the home page and updates readers on new expert interviews and opinion articles, is written by the OurBlook staff.
Today the Community Center receives little traffic. However, we are working on getting more contributions. Most recently we discussed starting a community blog on including technology in courses, written by journalism professors for journalism professors.
Outreach
In April 2009 my hours were increased from 10 to 30 a week to let me spend more time on my communication and marketing efforts. In less than four months, the website traffic went from an average of 2,500 visitors a month to an average of 9,000 visitors a month. Additionally, the site's ranking increased to a page rank of 5. (PageRank is a value assigned by Google that represents how important a site or page is on the Web.) Most importantly, however, the site began getting featured in publications such as Media, the magazine of the Canadian Association of Journalists and blogs for Fast Company[3] and the Knight Digital Center.[4]
At first I focused on search engine optimization (SEO). There is an entire science behind SEO, but the essential goal is to improve the volume and quality of traffic to a Web site via organic search results. This means ensuring that your website's pages appear high in search engine result pages because of their relevance to search terms, versus appearing because they are pay-per-click advertisements.
At a minimum, a site must ensure that all pages have meta titles, meta descriptions, and meta keywords. Meta sections are placed in the HTML code and inform search engines what a particular page is about. How well these areas are written directly determines how high a page ranks in organic (as opposed to paid) search results.
After executing an SEO strategy, I created an aggressive Web promotion campaign for OurBlook. Given the number of high high-quality interviews we gathered for the Future of Journalism project, including those award-winning journalist Charlotte Grimes, award-winning known for her coverage of national elections, and Chris O'Brien, manager of the NexNewsRoom Project I chose that particular project as the basis for the campaign.
The most important tasks during this phase were creating relationships with bloggers and informing them of recent OurBlook projects. While many for-pay tools exist to facilitate this, such as press release distribution services, the lack of resources forced me to focus on old-school methods—simply finding blogs through search engines and individually contacting owners via e-mail. Additionally, I posted on others' blogs in response to posts that related to topics OurBlook was promoting. Other important tasks worth mentioning included submitting the site to online directories and registering with sites such as Technorati.com.
Thanks to the dynamism of the Internet, OurBlook and its projects were soon being mentioned by other sites. This was an intrinsic part of our growth, since the number of sites linking back to your site directly determines the Page Rank, or the level of authority, search engines give your site. Taking advantage of this momentum, the OurBlook team began building up their social media networks. Specifically, we created Facebook (http://www.facebook.com/ourblook) and Twitter (http://twitter.com/ourblook) accounts and, when time allowed, submitted the site and its interviews to social sites such as Stumble Upon (http://www.stumbleupon.com/) and Delicious (http://delicious.com/). Although online networks take time to build and develop, these efforts immediately began making a significant improvement in Web traffic.
The final step of the initial web promotion plan was to invest in Google Adwords (http://adwords.google.com). While various similar ad programs exist, there is one main reason a website's first online advertisement campaign should be with Google: it is the leading search engine. This advertising cost us between $150 and $500 per month and allowed us to introduce OurBlook to an average of 1,200 new people per month.
With all these items in place, we then took steps to promote the site in publications through traditional public relations efforts. This included creating lists of appropriate press contacts, writing press releases and sending them to the contacts, or calling reporters. A Web site needs a combination of public relations, traditional marketing, and online marketing to be successful. The best result for us is not the 5,500 new visitors, it's that every month our readership is growing by at least 1,000 new visitors. Plus, we now have tools in place that facilitate growth; every week we have more visitors than the previous week. This year, we had 3,634 visitors in April and 8,328 in July. Such an increase is exceptionally good, given that Web traffic tends to slow down in the summer while people are away from their computers when outdoors or on vacation.
The Future
OurBlook has many projects planned, including the creation of a university section where professors will be able to create class-specific blooks on the site. The OurBlook team is already talking to professors in the US who have expressed interest in this project. Each blook will be handled differently, based on the professor's preferences. However, all the professors we have spoken to have said their primary motivations for collaborating with OurBlook are to introduce technology in the classroom and teach students Web skills.
Additionally, the OurBlook team is working on fine-tuning the Web site, identifying and creating new topics and subtopics, and publishing two more online books before December 2009: Alternative Energy and Healthcare Reform. We are also looking for organizations that may wish to collaborate on new projects.
Currently, the website is funded solely by Mr. Mongerson. The OurBlook team has discussed the possibility of selling advertising on the site as a means to bring in revenue. An advertising module would be fairly easy to install with Joomla, and most ad programs are fairly simple and straightforward. However, we have been apprehensive about this because it might detract from the educational nature of the site. Another option would be to solicit contributions from visitors, as Wikipedia and other open source projects currently do. However, Mongerson's commitment to the website is solid, and we feel no need at this time to pursue other sources of funding.
---
---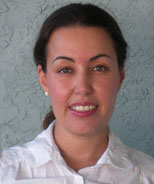 Sandra Ordonez has a B.A. in International Relations and Public Relations from American University. She has over 10 years of Internet experience, having worked as Communications Manager for Wikipedia and as Assistant Web Producer for Book-of-the-Month Club. She may be reached at sandy@ourblook.com.
Notes
Top of page