"You can't control the wind, but you can adjust your sails," a salty proverb tells us. In the world of electronic publishing, we've been frantically adjusting our sails for several years now, and still the winds keep pushing us off in unexpected directions.
This issue of JEP looks at some of those winds, and is replete with suggestions for how to set our sails to accommodate to them.
Joseph Esposito writes about sail adjustment for universities and university presses. His thesis is that the new media makes it possible for every institution to have its own university press, and suggests in The Wisdom of Oz: The Role of the University Press in Scholarly Communications that those university presses should have the same status as any academic department. That is, the press should be as much of a profit center as, say, the mathematics department, with as much involvement in academic decisions, as much focus on quality, and as much support. In essence, the university press should not be a boat on its own bottom.
Elsa Kramer explores the way barriers to protect intellectual property sometimes become barriers to access. In Digital Rights Management: Pitfalls and Possibilities for People with Disabilities, she cautions that the same digital rights management that has allowed publishers to expand their offerings in various media has made that information less available to readers with disabilities. Publishers need to avoid being backwinded[1] by "protecting" their intellectual property to the extent that it grounds them. This paper was refereed by The Journal of Electronic Publishing's peer reviewers.
Shawn Martin adds sheets[2] to the sails in Digital Scholarship and Cyberinfrastructure in the Humanities: Lessons from the Text Creation Partnership to get greater control of texts that are available electronically only in images (such as handwritten texts). The Text Creation Partnership, he writes, offers the possibility of profit for publishers with long-term lower costs for libraries, and creates a community of the scholars who use it.
David Solomon is another returning author. David is the editor of a sister e-journal, Medical Education Online. In The Role of Peer Review for Scholarly Journals in the Information Age, he writes about how he and other editors are exploring new tacks for peer. He evaluates what works and what is still to be proven, thanks to the electronic wind in our sails.
Roumen Vragov and Ilan Levine offer present an open peer-review system in Reviewing and Revamping the Double-blind Peer Review Process. Their system might avoid the lack of interest noted by the journal Nature in its experiment with open peer review: hardly anyone—author or reviewer—took advantage of it. Vragov and Levine's alternative could make open peer reviewing a breeze: pay reviewers. This paper was refereed by The Journal of Electronic Publishing's peer reviewers.
Everett Wiggins crafted JEP's first book review, on Books in the Digital Age by John Thompson. Thompson says that university presses can be economic lazyjacks[3], safety nets that can enhance a university's bottom line if they start publishing upper-level texts. That sail adjustment (also—forgive me!—"sale" adjustment) was Thompson's conclusion after studying 16 university presses in England and the United States. Wiggins thinks Thompson's suggestion makes a lot of sense, even though his presentation leaves something to be desired.
Kate Wittenberg is back on the pages of JEP with Credibility of Content and the Future of Research, Learning, and Publishing in the Digital Environment. Students today, she notes, enter our institutions, receive their degrees, and move into academe having known the Internet all their scholarly lives. What does it mean that they have not just electronic searching, but collaboration made possible by options like Facebook, MySpace, and wikis? These have the power to change the way people learn, thus must change the way people teach, and finally will influence the way people do research. This is a gale, she writes, a perfect storm.
Enjoy!
---
---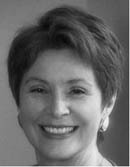 Judith Axler Turner, JEP's editor since 1997, pioneered the many electronic publishing innovations made by the
Chronicle of Higher Education
in the late twentieth century. She is now a vice president at Turner Consulting Group, working with federal government clients. Judith Axler Turner may be reached at
judith.turner@journalofelectronicpublishing.org
.
NOTES
When the wind pushes on the wrong side of the sail, causing it to be pushed away from the wind. If the lines holding the sail in place are not released, the boat could become hard to control and heel excessively. http://www.schoonerman.com/sailingterms/terms_b.htm

Pieces of line fastened to the sail and used to position it relative to the wind. http://www.schoonerman.com/sailingterms/terms_s.htm

Lines from topping lifts – which lift the boom — to under the boom, which act as a net to catch the sails when lowered. http://www.schoonerman.com/sailingterms/terms_l.htm
Top of page