Credibility of Content and the Future of Research, Learning, and Publishing in the Digital Environment

Skip other details (including permanent urls, DOI, citation information)
Journal of Electronic Publishing
This work is protected by copyright and may be linked to without seeking permission. Permission must be received for subsequent distribution in print or electronically. Please contact mpub-help@umich.edu for more information. :
For more information, read Michigan Publishing's access and usage policy.
Abstract
Publishers and Librarians need to understand the ways in which this generation of learners finds and evaluates information, and the environments in which these students work. Through a focus on these issues, we can begin to reconceive the role of information professionals in this new environment and the implications for scholarly communication and publishing.
What are the implications of the fact that most students arrive at college assuming that a Google search is the first choice in doing research, that MySpace and Facebook are models for building trusted communities with peers, and that the campus library is a space for doing team-based projects and group studying, rather than the place to consult a librarian? If this is how the majority of students are now finding, evaluating, and accessing information, what are the implications for information literacy and the role of information professionals in the lives and work of today's students and tomorrow's workforce? Do we need new ways of training students in how to assess the credibility of the information they are accessing, or are they developing effective strategies on their own for evaluating the vast amount of content to which they have access?
To answer these questions we need to understand the ways in which this generation of learners finds and evaluates information, and the real and virtual environments in which they socialize and do their academic work. If our students consist of technically skilled consumers of digital information with high expectations regarding its format, functionality, and delivery, we need to define the appropriate role for teachers, librarians, and publishers in their information environment. Should we attempt to replicate the peer-to-peer trusted networked environments to which students have become accustomed, or should we respond by directing students to more traditional methods for evaluating information? In fact, is a response by professionals even necessary, given the new systems that young people have already created for assessing the credibility of information that they encounter?
By focusing on these issues, we can begin to understand the strategies that young people use to assess the quality and relevance of online information, the evolving role of information professionals such as librarians and publishers, and the significance of this new behavior for the use of digital information in our society.
An important aspect of this subject involves the complex relationship between the "closed" world of the classroom, and the "open" world of the Web.
The vast amount of information now available can be either a benefit or an obstacle to effective research and learning, depending on how successfully users evaluate the quality of this information and its relevance to their own work. While students clearly want to explore freely the vast array of content and tools available through the Web, it is becoming equally clear that they need guidance in selecting and evaluating the information that they find. In their Web-based social environments, young people use sophisticated mechanisms to determine the credibility of an individual who wishes to gain access to a community. The community itself decides whether to allow a new participant the status that permits certain levels of access and its associated privileges (the ability to read and exchange profiles and messages, participate in conversations, edit previously posted content, etc.). Many high school and college students are comfortable with this method of evaluating credibility, which imitates, in many ways, the trusted-peer models used in evaluating social interactions (e.g., asking a friend to ask another friend whether someone likes you, what new bands are good, or whether someone can be trusted with a secret). The question of whether this model will translate to the assessment of scholarly and educational content, however, has yet to be answered.
Interestingly, this system for establishing credibility in a social networked environment exists in sharp contrast to the top-down peer review system used for years by the academic world. The traditional system leaves the user out of the quality assessment process, as it is handled before content ever appears in final, published form. Here, the authority to establish credibility rests with the publisher, who selects the peer reviewers, interprets their comments, and manages the author's revision process. Increasingly, this publisher-driven system may be in opposition to the community-based model of quality assessment. As students continue to use and develop networked environments, it may be the case that the status of being admitted into a community by its members exceeds the credibility gained through "outside" peer review. As this process evolves, we may see a broader transformation in which learning becomes a process of participation in a community rather than of receiving knowledge from an "expert." In this case we will have to confront the issue of how to allow peer networking, participation, and interaction to take on increasing value without lowering quality standards in scholarly or educational publication.
It is clear that mechanisms for establishing credibility are undergoing rapid development and change in the current digital environment. It is still unclear, however, who will create the new models. Will the traditional arbiters of content quality, such as libraries and scholarly publishers, step up to propose new mechanisms, or will users establish and implement systems for assessing credibility on their own? If the library and publishing communities can incorporate students' reliance on collaboration and community-based trust in designing new scholarly and educational resources, we may be in a much stronger position going forward. Developing these new resources, however, will require a change in mindset within the established library and publishing communities. Professionals in these fields will need to initiate conversations with new players and partners. Developers of Web-based social communities, commercial search engines, manufacturers of electronic devices, and students will necessarily become advisors and collaborators. Market research (for publishers) and outreach (for libraries) will now include arranging focus groups with teenagers, participating in online social networks, and observing college, high-school, and middle-school students socializing and studying in their digital communities in order to understand the world in which they live and work.
Navigating the changing methods by which users establish credibility will require innovation on the part of content producers and selectors. It will be crucial to test various models for use of information. A publisher might, for example, create Web-based resources that allow easy transitions between an instructor's teaching, a reference to the same material in a digital library, and a link to a collaborative community in which students, teachers, and librarians offer their perspective on the subject being studied. In such an environment, students might have a choice of reviewing class materials, searching or browsing resources in a digital collection, asking for guidance from a librarian, or communicating directly with peers regarding the value of resources and information. As students gain the ability to examine the provenance, authenticity, and the multiple contexts from which items in their educational environment arise, teachers, publishers, and librarians may come to understand what helps those students become more effective learners. Such an experiment might also help us understand the relative value that students attach to the evaluation of information by peers, teachers, librarians, and publishers. The conversation needs to include a focus on less technical but perhaps more intractable issues: changing assumptions about credibility of content, and acknowledging users—especially those representing the younger generation—as active collaborators in the creation of new kinds of educational resources and publications.
Going forward, librarians and publishers need to adopt new perspectives on how they do their work. They must see themselves as researchers who play a role in leading innovation by responding to the preferences and needs of younger users. Rather than scolding students for using Myspace and Google for communication with peers and finding information, they should instead try to understand the processes at work, and define their roles more broadly as leaders who integrate an understanding of the user, the learning process, and the value of selectivity and editorial development of digital information. While this does not mean catering to every preference expressed by students, it does mean seeing users as partners who can lead innovation because they understand the new ways in which people engage in research, communicate, and learn. By combining this user perspective with the expertise librarians bring to information organization, indexing, preservation, and access, and the experience publishers provide regarding peer review, content development, design, and dissemination, new models for information organization and delivery can be created. At times it will be difficult to grapple with the new assumptions and habits presented by younger information users. However, to dismiss their perspective or ignore the challenge will mean the loss of an opportunity to make an important contribution to the world of learning and information use that this generation will create.
---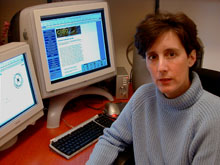 Kate Wittenberg is Director of the
Electronic Publishing Initiative at Columbia
(EPIC), where she directs the electronic publications
Columbia International Affairs Online
(CIAO),
Columbia Earthscape
, the
Gutenberg-e
online history project,
Digital Anthropology Resources for Teaching
, and the Core Integration for the
National Science Digital Library
. Her work focuses in particular on the creation of new models for scholarly communication, sustainable business plans for digital scholarly publishing, collaborative organizational models, and the evaluation of use and costs of scholarly and educational digital resources. EPIC develops relationships among scholars, technologists, publishers, librarians, and national and international partners that move beyond the organizational and disciplinary categories within the traditional university infrastructure. She writes and speaks frequently on the topics of scholarly communication in the online environment and digital publishing.
---
Top of page