It's exciting to bring JEP back, and I hope you will enjoy our new home as much as we are enjoying it. Certainly the excellent articles in this re-launch issue are some of the best we have ever published.
A lot of things have happened in the three and a half years since the last JEP issue, and we asked our authors to think about that period while writing about where we are, where we are going, and what we should know about the landscape we are passing through.
The last issue of the Journal of Electronic Publishing August, 2002 [formerly http://www.press.umich.edu/jep/08-01]. Back in those days we were worried about:
Peer review and the Internet: is peer review as good for e-journals, and will tenure and promotion committees recognize it?
Publishing scholarly works on the Internet: what can or should we do differently in the multimedia environment?
Archiving scholarship on the Internet: can it be done and who will do it?
The economics of electronic publishing: can publishers make money and can libraries keep costs down?
Self publishing and preprints: will they undermine the foundations of scholarship?
I don't think we have answered those questions, and we will revisit them in future JEP issues.
But this issue of JEP seems tied together by a subject that hardly caused a ripple in 2002: Google. In three and a half years, "google" has become both a verb (did you google anyone today?) and a way of life. Most of the authors in this issue refer to Google directly or indirectly, and some actually focus on Google as a model. In contrast, our last issue in August 2002 had two rather incidental mentions of Google.
What does this tell us about the change in the last three years? It tells us that we are thinking about the Internet differently. We use it as the first line of defense against not knowing, a shortcut to all knowledge.
But Google, Yahoo, AskJeeves, AOLsearch, and all other search engines are our own personal idiot savants, giving us data without intelligence, facts and not knowledge. That tells me that our next big challenge is to harness the power of the search engines to support real communication and meaningful sharing. I think this issue of JEP, with its new look, new publisher, and new lease on life, is beginning to do just that.
Here's what you have to look forward to in the current JEP issue:
Geoffrey Bilder takes on an important problem in scholarly online publishing — and indeed in all publishing, paper or electronic: how to ensure that what is published is believable. In Google We Trust proposes some models that go beyond peer review, and that may inspire some more experimentation online.
Daniel Downes wrote about intellectual property in the electronic environment for JEP four years ago, and in New Media Economy: Intellectual Property and Cultural Insurrection he brings us up to date on regulatory convergence and its effect on institutions from AOL to Napster. While he does't mention Google directly, Dan's lessons apply everywhere in the new media cosmos.
Joseph Esposito poses the provocative question What if Wal-Mart Ran a Library? and then looks at what libraries can learn from Wal-Mart about the economics of serving the public. It's no surprise that Joe even addresses the Google threat to libraries (and suggests how Sam Walton might handle it).
Frederick Friend, another author whose work has appeared in JEP, sees the new Google service for academe as a good example rather than a threat. In Google Scholar: Potentially Good for Users of Academic Information, he cautions Google to create and maintain close relationships with scholars as writers and readers.
Jeffrey Garrett's article, Human Cognition and the Claims of Full-Text Searching, probes the effect on scholarship of the availability of facts at the click of a mouse in Google and its peers.
Frank Menchaca, a poet himself, introduces us to poetry in a new form in the electronic environment in Varieties of Poetry Publishing and Aesthetics on the Internet. While he doesn't mention Google directly, I couldn't help thinking about how Google might be challenged by the non-linearity of the poetry Frank presents.
Finally, Maria Bonn gives us a definitively non-Google article, Why We Publish JEP. I'm indebted to Maria and the University of Michigan University Library Scholarly Publishing Office - and if this and future issues please you, you too are indebted. Thank you, Maria. Thank you, SPO. Thank you, University Library. Thank you, University of Michigan.
We're glad to be back.
Enjoy!
---
---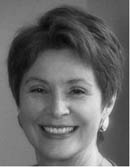 Judith Axler Turner, JEP's editor since 1997, pioneered the many electronic publishing innovations made by the
Chronicle of Higher Education
in the late twentieth century. She is now a vice president at Turner Consulting Group, working with federal government clients. Judith Axler Turner may be reached at
judith.turner@journalofelectronicpublishing.org
.
Top of page