Anniversaries always seem like apt times for reflection, so that's what I'm doing this issue. I began writing this column with the first issue of volume 3 of JEP; this issue marks the last of volume 7. With one exception of my own choosing, I've been granted this forum in every issue that has appeared over the last five years. In keeping with the idea of reflection, this time I'd like to start by looking back at a topic I addressed in my very first column, then turn my attention to what lies ahead.
My reflective mood began when I took a trip south last month to address a flock of student journalists at the Southeast Journalism Conference. Because many of the students who would be attending my presentation would be interested in putting college publications online, I decided that I should talk at least briefly about online design.
In my belief that one bad site is worth at least 1,000 words of lecture, I planned to feature a site that has for years been an object lesson in bad design: ZDNet.com. With its seemingly infinite number of options, it has long struck me and many other observers as one of the least user-friendly online publications.
But I hadn't looked at the site in some time and — lo and behold — when I called up the site to preview it, it had undergone a major redesign [see fig. 1]. Granted, there are still plenty of options, but they've been scaled way back, and the site design is much more streamlined. While it still might not be as easy as it could to find what you're looking for, it's a major improvement.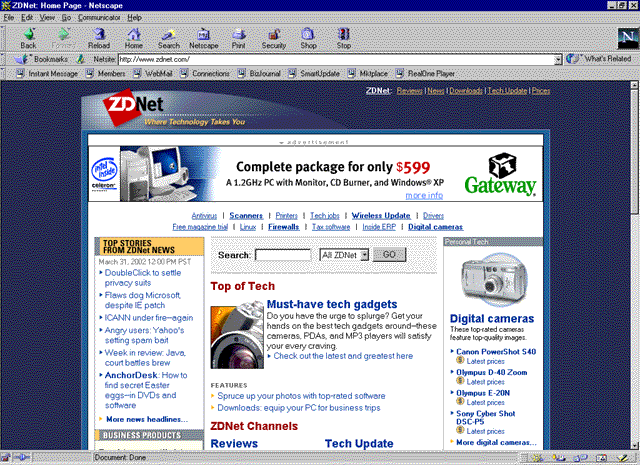 Fig. 1
Looking Back
Which led me to think back to my first column for JEP. In that column, written not long after many publishers — small and large — had taken their first dip into online publishing, I suggested that publishers could do well to heed the advice of designer David Siegel and build "third-generation" Web sites that attract "visitors through using metaphor and well-known models of consumer psychology."[1] I cited the electronic journal theory & event as one publication that was heading in this direction and should serve as the model for others.
"Little online writing has even made use of the concept of hypertext, which is, after all, the foundation of the Web"
For a contrast, take a look at the opening screen of USA Today [see fig. 2], which has won kudos for its current design. While the opening screen also looks clean and uncluttered, it offers links to all major articles and sections. And those links do not include just headlines: using as few as four words, the editors distill the contents so a reader knows in advance what he or she is clicking into.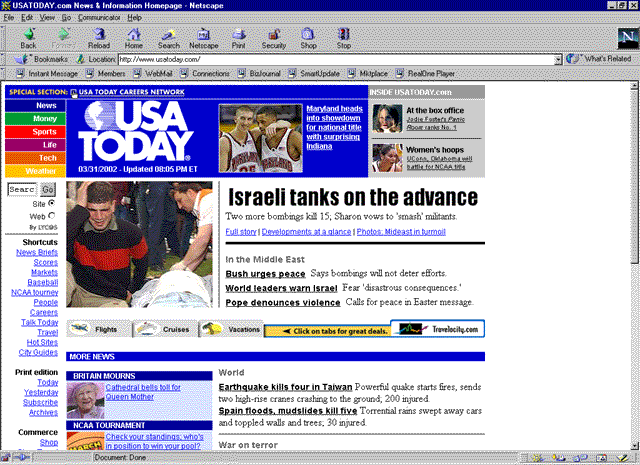 Fig. 2
Across the ocean, the Times Online offers more examples of useful ways to preview content for readers, ranging from five-word summaries in the Latest News section to fuller "abstracts" of the Top Stories.
In both cases, these designs reflect a reality of online publishing that has become increasingly evident in recent years (and possibly most evident in the months since September 11, 2001): online publications are no longer places where visitors go for leisurely exploration (if they ever were); instead, they are places where people go to get important information as quickly as possible. Online journals have to face this reality as much as online newspapers do.
I'm happy to say that JEP has been doing just that since my first outing, and this journal remains a model of what a useful opening screen should look like. Unfortunately, many online journals still look like the pre-1997 JEP: works put into a time capsule years back, then forgotten.
Does the Medium Matter?
Even the best-designed online journals and other publications, however, have done little in the last five years to exploit the strengths of this new medium. Aside from occasional subheads thrown in to break up long rivers of text, few online articles use any techniques that distinguish them from their print counterparts. Maybe it's still early in the game, the equivalent of the time when a movie was made by simply positioning a camera in a stationary spot in front of a stage, with the cuts, close-ups, and other unique techniques of the medium yet to be discovered.
It's not heartening, though, that little online writing has even made use of the concept of hypertext, which is, after all, the foundation of the Web. As Mindy McAdams and Stephanie Berger argued in this journal last year,
We believe it is not only desirable but also necessary to move journalistic, nonfiction, and even scholarly writing in a direction made possible by hypertext. ... hypertext forms improve the reader's experience of reading, and therefore, hypertext is better for telling particular nonfiction stories.[2]
McAdams and Berger's piece itself is one of the few models of hypertext writing available, and there are several reasons why it has not started a stampede. For one, in many cases online publications do no more than replicate print publications. In some cases, editors do not even take the trouble to activate hyperlinks that are mentioned in the text. For another, while higher definition monitors are in the wings, reading on screen still takes its toll, so many people prefer to print articles to read later — and printed hypertexts are notoriously difficult to read.
Show Us the Money
Without a doubt, one of the biggest obstacles to online publishing becoming a vehicle for showcasing the strengths of this new medium is a simple one: lack of money to do things as they should be done. There is no shortage of discussion among those in the online news community about the difficulties of "doing more with less." For the publishers of online journals, the challenge is more likely to be "doing more with absolutely nothing at all."
Compared to traditional publishing, online publishing is amazingly inexpensive. As little as $3,000 to $20,000 USD a year covers the costs of editorial, design, and technical staff for a journal that publishes three or four times a year. Yet years into the age of digital publishing, many journals — including this one — are still finding it hard to cover costs.
In order to move ahead, online publishers — from the largest commercial sites down to the smallest scholarly publishers — need to find funding. If you're not among the few who have no financial concerns, you might want to investigate methods that other publications are using to raise funds:
Subscriptions: One of the earliest ideas to emerge, subscriptions have mostly been a bust for online publications. Readers have long balked at paying for online content, especially if that content is no different from what's available in print. Publications that have successfully used the subscription model include scholarly journals with no history of making content available free, as well as commercial publishers who offer some content free but charge for premium services (for example, Salon Premium, which offers a wide variety of special content and services). For publications targeting individual readers, low subscription prices are a must — Salon charges as little as $2.50 USD a month if you pay for a year in advance. Most scholarly publications that use a subscription model, however, target institutions rather than individuals, with much higher prices (from $3,500 to $14,000 USD a year for the 167 full-text journal titles in the Project MUSE Full Database, for one example). In this era of institutional belt-tightening, this model might not generate as much revenue as it has in the past.

Pay-per-view archives: Popular among many commercial sites, pay-per-view allows you to read recent content free, but you must pay for anything more than a week or two old. While initially most sites charged a fee for each item accessed, more sites are moving to selling "passes" that let a user access a limited or unlimited number of articles over a given time period. The New York Times, for instance, offers four levels of access: 25 articles for $19.95, 10 articles for $9.95, four articles for $5.50 and single article for $2.50 USD. Editor & Publisher uses the VNU eMedia service, with unlimited access over one month ($9.95), three months ($24.95) or one year ($99.95).

Individual support: While publishers have encountered stiff resistance in forcing readers to ante up, many have conversely noted that readers may readily make voluntary contributions when asked. Soliciting just $10 each from a few hundred subscribers could float many a small publication; more money or more donors could actually turn a loss-leader into a profit-maker.

Issue/volume sponsorship: Institutions or corporations whose employees make regular use of a journal might be asked to sponsor one issue a year for a number of years. The trick to making this work is finding the right match so that the potential sponsor sees the advantage to supporting the publication. Some publications obviously will have a harder time attracting sponsors than others. Seeking funding from major grantmakers is another "sponsorship" option.
Moving Ahead
During the early years of the Web, things seemed to move at breakneck speed. Now, with the dotcom bust, the slow rollout of broadband and a recession taking their toll, things are moving more leisurely. While it is a time of challenges for online publishers, it is also a good time for taking stock and looking at how their publications look and read — and how they earn their keep. It is just this type of calm assessment that might propel online publishing to new heights in the coming years.
---
---

Thom Lieb is a professor of journalism and new media at Towson University in Baltimore. Among his courses is Writing for New Media. He is the author of Editing for Clear Communication and Building Basic News Sites. Lieb has written and edited for magazines, newspapers, newsletters and online publication. He holds a Ph.D. in Public Communication from the University of Maryland at College Park and a master's of science in Magazine Journalism from Syracuse University. You may contact him by e-mail at lieb@towson.edu.
---
Links from this article:
Editor & Publisher http://www.editorandpublisher.com
Foundation Center, Finding Funders http://foundationcenter.org/findfunders/
JEP, pre-1997 http://web.archive.org/web/20070208114411/http://www.press.umich.edu/jep/03-01/oldfront.html
Thom Lieb, "Basic Journal-ism: Tips for Electronic Publishers," Journal of Electronic Publishing, September 1997
New York Times http://www.nytimes.com
Salon Premium http://www.salon.com/premium/
theory & event http://muse.jhu.edu/journals/tae
The Times Online http://www.thetimes.co.uk
USA Today http://www.usatoday.com
VNU eMedia service http://www.vnuemedia.com/index.html
ZDNet.com http://www.zdnet.com
---
Notes
David Siegel, "Creating Killer Web Sites," Indianapolis: Hayden Books, 1996, pp. 26-27. See also the online site, http://www.killersites.com

Mindy McAdams and Stephanie Berger, "Hypertext."
Top of page