Electronic journals represent a significant and growing part of the academic library's offerings. As demand for e-journals increases, librarians are faced with a new set of decisions related to acquisitions and services. Must libraries retain both print and electronic copies? Is the price of the electronic copy justified by its use? Do usage patterns show that some journals will be as heavily used — or more so — in 20 years as when they are published? Answers to these and other questions require statistics on usage, and in the electronic realm, such statistics must come from the publishers.
Unfortunately, it has been difficult, if not impossible, for librarians to obtain meaningful usage data from publishers of electronic journals. The reason is not a simple matter of publishers being unwilling to provide such information, even though some complain that implementing a data collection function is costly and others fear that librarians will cancel subscriptions if they learn that usage is low. A more basic problem is that there is no agreement on how to produce data that can be compared and analyzed. It has been exceedingly difficult for librarians to know what to ask for when something as basic as the term "use" can have many meanings.
CLIR commissioned Judy Luther to review how and what statistics are currently collected and to identify the issues that must be resolved before librarians and publishers feel comfortable with the data and confident in using them. In her extensive interviews with librarians and publishers, the author found significant common ground on the types of concerns held.
We hope that, in identifying some of the critical issues, this white paper will provide a basis for discussion among publishers, librarians, and aggregators that will lead to effective cooperation in collecting and analyzing usage statistics. CLIR will continue to pursue the agendas that librarians and publishers share as they make the transition to the digital environment and they find new ways of meeting users' needs.
Deanna Marcum, President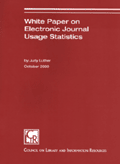 Introduction
Expenditures on journals comprise about 70 percent of the average academic library's budget for materials. Research libraries in the United States spend more than $500-million on journals annually, and several large libraries estimate that they spend 20 percent of their budgets on electronic materials.
When scholarly journals are converted to electronic form, they are frequently offered as part of a database hosted by a publisher or an aggregator and made accessible through the Web. As users shift from using local print materials to using remote files, librarians seek to collect usage data that justify the library's investment in electronic resources. Because the library licenses, but does not own, the content, it must depend on the provider for usage data.
Providing usage data is a new role for publishers and aggregators — one that requires not only much learning but also a financial investment. While it appears that the data would be as useful to publishers as to librarians, publishers must first develop the capability to serve their own purposes and then provide additional analyses and support to present the data so that librarians can use them.
Less than half of the publishers who offer journals in electronic form today are able to provide statistics on the usage of these journals. What is available varies widely among publishers, and librarians are often unclear about what to ask for and how they will use the data. Guidelines for compiling statistics are just emerging and have not been widely adopted.
Publishers are concerned that the data they share with librarians lack context. If, in the absence of such a context, usage data seem low, the publishers fear that librarians may use such information as a basis for canceling subscriptions. As both librarians and publishers become more familiar with the current state of usage statistics, the focus of the conversation will shift to what needs to be done to ensure consistency and to provide a valid context for understanding the data. There have been rapid developments in this area in the six months since this study began, and the author is encouraged by recent discussions with publishers who were previously reluctant to provide data to libraries and are now inquiring about what should be delivered.
This paper provides a snapshot of developments in the industry. It identifies issues that concern both publishers and librarians and suggests a context for further discussion between the providers and consumers of electronic journals.
Background
Since libraries that host electronic journal content locally face the same challenges in collecting usage statistics as do publishers, the author chose to interview librarians at OhioLINK, Los Alamos National Labs, and the Florida Center for Library Automation to determine how they provide such data to their consortia members. Publishers and providers were then interviewed to compare their approaches to collecting and presenting the data with those of the libraries. Finally, comments from both groups were solicited to identify their concerns and to establish a base for understanding and interpreting the data. Summaries of selected interviews are provided in Appendix A.
To provide a frame of reference for this study, current initiatives by other organizations on developing data-collection policies were reviewed. In addition to guidelines published by the International Coalition of Library Consortia (ICOLC), which were based on the JSTOR initiative, there is substantial work being done in this country by the Association of Research Libraries (ARL), the National Information Standards Organization (NISO), and the National Commission on Libraries and Information Science (NCLIS), and abroad by the European Commission. The ICOLC guidelines may be found in Appendix B; information on related industry initiatives appears in Appendix C. While some of the studies focus on defining data elements and collecting statistics, others examine data in light of factors used to assess performance, such as the percentage of user population being served.
Issues Affecting Librarians and Publishers
Among the most important findings of this study is that librarians and publishers share a significant number of concerns about the development and interpretation of statistics. Both are seeking agreement on core data that are needed and are exploring an appropriate context for interpretation. Once publishers and providers discover how to produce comparable and reliable data, it will be possible to continue discussions about usage and value to the user.
All indicators of usage are steadily rising, in part because of the continued growth of electronic content available on the desktop. However, in the electronic world, there are more variables that affect the analysis of statistics and an understanding of the results than there are in the print world. For a balanced picture, librarians and publishers will want to consider how the following variables affect their data, assessments, and conclusions.
Library Issues
While usage statistics validate the library's investment, they also provide insights into usage patterns that indicate the need to access a broader spectrum of titles than previously owned. This raises questions about the approach to building collections on a "just-in-case" basis compared with new models that incorporate on-demand acquisition.
Publisher Issues
Publishers who have experience with their own usage statistics are becoming less worried about cancellations because they see that librarians are still processing the data, rather than reacting to it. Many publishers are still concerned, however, that because there is no context for most usage data, it can be misunderstood.
What Are We Measuring?
Once publishers agree upon basic data elements to be collected, analyzed, and presented in a standard way, they will be able to produce the first generation of comparable statistics. Typically, what is being used (content), who is using it (user), and how the database is being used (activity) are measured. When the content is used and how the data will be presented are other questions of interest.
Once publishers have established a well-defined and consistent set of data, additional analysis will support exploration of data related to behavior and use and will attempt to address questions related to value.
Data Reliability
A standard methodology for collecting and analyzing data is necessary to ensure that both publishers and librarians have data that are comparable and reliable.
With a full-text journal database, the conversation centers on three measures: hits (equated to searches), sessions (equated to users), and documents used (equated to downloads). However, measuring hits or sessions can yield misleading information. The number of hits will vary, depending on network access and telecommunication factors. Likewise, the number of sessions will vary because of time-outs and other network protocols.
Conversations with the staff who implement the statistics function revealed a common process of learning related to the design and development of internal processes to produce valid data. Any given method of implementation can produce varied results, based on the software selected and the diverse nature of local systems architecture.
Caching: Caching allows frequently accessed Web pages to be stored on a server to improve performance. When users access cached materials, these actions are not counted as a hit on the host database. Consequently, for popular materials, statistics supplied by the host are likely to underestimate usage.
Log files: Web server log files are a good means of helping administrators gauge the demands on a server. Such logs measure requests for specific documents on a server, but they cannot show exact usage because caching is often employed and because users are assigned variable IP addresses (Bauer 2000).
Although log files are not designed to describe how people use a site, they do allow analysis of the source of links into a Web site and therefore can be used to determine which sites are generating traffic. Such information can be useful to publishers. For example, Science News Online learned that one of its articles, which had been cited on another Web site that was linked to the Science News Web site, had brought in a high volume of visitors to the publication's site. As a result, Science News decided to mount the full text of the cited article (Peterson 2000).
Software: Bridget Pairaudeau, who handles the statistics function for Institute of Physics Publishing, noted that an off-the-shelf package such as NetTracker can be used to screen out robot contamination as well as data from internal testing, demonstrations, training sessions, and trials that skew the usage data. It was found that NetTracker records HTML articles viewed rather than PDFs downloaded; this could be a concern for publishers that offer both functions.
Summary and Next Steps
The evolution of electronic journals to publisher-hosted databases of journal articles shifts the burden of measuring use from libraries to publishers. Although publishers need to collect data for their own purposes, the associated costs are considerable. Additional work is required to produce data that are meaningful and useful for librarians.
Fears of conflicting motivations between publishers and librarians are diminishing as publishers become familiar with their own data and focus on the challenge of producing useful statistics. Concerns about comparability are valid and need to be addressed in a meeting where publishers who have already implemented statistical functionality can share what they have learned. Issues to be discussed at such a meeting would include producing useful data and interpreting the data.
Publishers and librarians share concerns about the lack of standards for collecting and presenting data and the lack of context for drawing conclusions. Putting together a complete picture of use with data in multiple formats and from multiple sources is an additional challenge for both.
Given the variety of platforms and software packages, publishers need to learn from each other about the variables and to agree upon an approach that will produce consistent measures of use. If a group of individuals involved in producing statistics were to pool their intelligence and produce guidelines, it would greatly advance the state of the art. Once a critical mass of publishers is producing consistent data, it will be clear to others who are just beginning their work what data are needed and how to collect and deliver valid data.
The industry is at the first stage of creating the capability to gather statistics, establish standards, and deliver comparable and reliable data. In another year, new systems will emerge that rely upon data mining and analysis and that focus on understanding user behavior.
Users want and need access to a much broader range of material than that which can be owned affordably in print. Emerging pricing models and consortial arrangements that provide users with access result in data that show higher levels of use of non-owned titles. Interpretations of these data vary; for example, they include concerns that the right titles are not being bought as well as the recognition that the information industry is moving from a supply-driven model, with preselected packages of information, to a demand-driven model, where users choose what they need from a wide array of options. Making users aware of what is available and increasing the ease of access will require cooperation between publishers and librarians.
Librarians and publishers need to understand users and their information-seeking behaviors in ways that were not previously possible or necessary. As intermediaries between the author and the reader, publishers and librarians must learn how best to serve their users. Doing so will require further analysis.
Publishers are discovering what data they need to provide and how to provide it. There is no forum where staff working on statistics can share their understanding of the technology and make it easier for those who have just begun to tackle these issues. To facilitate the development of statistics in the industry, an organization such as the Council on Library and Information Resources might wish to sponsor an invitational meeting that would enable those involved in this area to discuss the issues they have encountered and to explore the development of guidelines for all participants.
Associations involved in creating standards and guidelines on data collection are focused on defining the data elements and determining what is currently being done. No one is working directly with publishers who have developed data, understand the variables, and are in a position to provide guidance so that those producing data can be consistent in their implementation. CLIR is well positioned to host such a meeting, which should include representatives from the publisher, vendor, and library communities. Preliminary feedback from publishers and aggregators has been favorable. The author welcomes additional input on the structure and desired results of such a forum.
Copyright The Council on Library and Information Resources, Washington, D.C. (October 2000). Republished with permission.
---
Judy Luther is president of Informed Strategies, a consulting firm in Ardmore, Pennsylvania. She specializes in researching and developing new products and companies, and introducing them to the library market. She has worked in the information field for 30 years and holds master's degrees in library science and in business administration. Her business experience includes 12 years in sales, sales management, and product development at Faxon and ISI. In her 13 years of library experience, she has held positions at Embry-Riddle Aeronautical University and Stetson University. Ms. Luther is active in program planning with the North American Serials Interest Group, the Society for Scholarly Publishers, and the American Library Association. Her articles frequently appear in Information Today, Against the Grain, and the Charleston Advisor. You may reach her by e-mail at judy.luther@informedstrategies.com.
Acknowledgments
The author wishes to thank the Council on Library and Information Resources, and particularly Deanna Marcum, for supporting this project. This white paper required the involvement of both librarians and publishers who spent considerable time contributing their ideas, explaining developments and technology, and exploring the issues. They include Denise Davis at the National Commission on Libraries and Information Science; Martha Kyrillidou at the Association of Research Libraries; Tom Peters at the Committee for Institutional Cooperation; Tom Sanville at OhioLINK; Michele Newberry at the Florida Center for Library Automation; Rick Luce at Los Alamos National Labs; Arnold Hirshon at NELINET; Charles Lowry at the University of Maryland; Sue Phillips at the University of Texas at Austin; Jill Emery at the University of Texas at Arlington; Louise Green and Jim Mullins at Villanova University; Tom Gilson at the College of Charleston; Christian Boissonnas at Cornell University; Kent Mulliner at Ohio University; Fannie Cox and Weilung Liu at the University of Louisville; Stephen Wiberley and Debbie Blecic at the University of Illinois-Chicago; Judith Hiott at the Houston Public Library; Chrysanne Lowe and Taissa Kusma at Academic Press; Kristen Garlock and Kevin Guthrie at JSTOR; Jim McGinty at Cambridge Scientific Abstracts; Simon Inger and Kirsty Meddings at Catchword; Bernard Rous at the Association of Computing Machinery; Doug LaFrenier at the American Institute of Physics; Adam Chesler at Kluwer; Karen Hunter, John Carroll, and Marthyn Borghuis at Elsevier; Bridget Pairaudeau and Lloyd Fletcher at the Institute of Physics; and Dominic Martinez at MCB University Press.
Appendix A: Interviews with Librarians and Publishers
OhioLINK, Los Alamos National Labs (LANL), and the Florida Center for Library Automation (FCLA) all host journal databases. They were selected for inclusion in this white paper because they had to develop the same capabilities being requested of publishers. Villanova University was included because it has closed stacks for its bound journals, which means that it has good measures of use. James Mullins, the university librarian at Villanova, was on the task force that created guidelines for the statistics that JSTOR delivers.
Academic Press, Elsevier, MCB, and the Institute of Physics (IOP) host their own journals and have experience with collecting statistics. The American Institute of Physics (AIP) and Association for Computing Machinery (ACM) are in the process of developing this capability.
JSTOR and Catchword both host content from a variety of publishers. JSTOR was part of the initial discussions about library requirements, while Catchword is further developing its statistics capability. Like the library hosts, these providers have a standard platform that provides consistent data to enable comparisons.
OhioLINK
Because OhioLINK staff developed the statistics capability when they designed the overall system, its initial set-up costs are not readily identifiable. Ongoing support is provided by two staff members who perform many other duties.
In addition to issuing regular usage reports, OhioLINK has taken advantage of the opportunity to perform further assessment of usage. According to Executive Director Tom Sanville, this assessment shows that, although every title in the database has been used, 40 percent of the titles represent 80 percent of the downloaded articles, while another 40 percent of the titles received only 10 percent of the use (Sanville 2000). This prompted David Kohl, director of the library at the University of Cincinnati and a member of OhioLINK, to suggest that low usage might make the latter titles candidates for lower pricing (Kohl 2000).
A surprising discovery is that more than half (58 percent) of the articles downloaded for all OhioLINK libraries were not held in print by the libraries (Sanville 2000). In each institution, patrons make use of a much wider number of journals than those held in print.
This finding speaks to limitations imposed by budgets on the selection process and the importance of letting the user choose from a larger file of material. In a paper presented at Oxford 2000, David Kohl noted that presenting users with a database of journal articles allows them to drive the selection process in a way that is similar to the current practice under which vendors supply librarians with books on approval.
Villanova University
Villanova University Library Director James Mullins noted that students today rely solely on electronic publications because of their ease of access and use; consequently, they have a limited view of the available content.
Villanova can track the usage of its bound print journals because they are in closed stacks. Use of print journal collections was growing until 1995 when electronic databases were made available to users, who also began to access the Web. Since then, the library has seen a dramatic decline in the use of print materials and a steady increase in the use of electronic resources.
In an attempt to collect some data locally on student and faculty use of remote databases, Villanova analyzed its log summaries which show the total number of times a database is accessed. These data are put into a spreadsheet as a frame of reference along with vendor-supplied data and are compared with the prior year's totals. Assistant Director for Public Services Louise Green noted that training usage should be counted separately so as not to skew the totals.
Appendix B: ICOLC Guidelines — Statistical Measures of Usage of Web-Based Indexed, Abstracted, and Full Text Resources (November 1998)
1. Requirements
Each use element defined below should be able to be delineated by the following subdivisions:
by specific database provider

by each institutionally defined set of IP addresses/locators to subnet level

by total consortium

by special data element passed by subscriber (e.g., account or ID number)

by time period. Vendor's system should minimally report by month. For each month, each type of use should be reported by hour of the day, and vendor should maintain 24 months of historical data.
Use elements that must be provided are:
Number of queries/searches categorized as appropriate for the vendor's information. A search is intended to represent a unique intellectual inquiry. Typically a search is recorded each time a search form is sent/submitted to the server. Subsequent activities to review or browse among the records retrieved or the process of isolating the correct single item desired do not represent additional searches, unless the parameter(s) defining the retrieval set is modified through resubmission of the search form, a combination of previous search set, or some other similar technique.

Number of menu selections categorized as appropriate to the vendor's system. If display of data is accomplished by browsing (use of menus), this measure must be provided (e.g., an electronic journal site provides alphabetic and subject-based menu options in addition to a search form. The number of searches and the number of alphabetic and subject menu selections should be tracked).

Number of sessions (logins), if relevant, must be provided as a measure of simultaneous use. It is not a substitute for either query or menu selection counts.

Number of turnaways, if relevant, as a contract limit (e.g., requests exceed simultaneous user limit).

Number of items examined (viewed, marked or selected, downloaded, e-mailed, printed) to the extent these can be recorded and controlled by the server rather than the browser.

Citations displayed for A & I databases

Full text displayed by title, ISSN with title listed or other title identifier as appropriate.

Tables of Contents displayed

Abstracts displayed

Articles or essays, poems, chapters, etc., as appropriate viewed (e.g., ASCII or HTML) or downloaded (e.g., PDF, e-mail)

Other (e.g., image/AV files, ads, reviews, etc., as appropriate)
2. Privacy and user confidentiality
Statistical reports or data that reveal confidential information about individual users must not be released or sold by information providers without permission of the consortium and its member libraries.
3. Institutional or consortial confidentiality
Providers do not have the right to release or sell statistical usage information about specific institutions or the consortium without permission, except to the consortium administrators and member libraries. Use of institutional or consortium data as part of an aggregate grouping of similar institutions for purposes of comparison does not require prior permission as long as specific institutions or consortia are not identifiable. When required by contractual agreements, information providers may furnish institutional use data to the content publishers.
4. Comparative statistics
Information providers should provide comparative statistics that give consortia a context in which to analyze statistics at the aggregate institutional (consortium member) level. For example, a grouping for purposes of comparison should be compiled by the information provider (e.g., statistics from an anonymous selection of similar institutions), or it might be a grouping composed on demand (e.g., statistics from all campuses in a consortium, presented either anonymously or not, as desired by the participating institutions).
5. Access / Delivery mechanisms / Report formats
Access to statistical reports should be provided via Web-based reporting systems and be restricted by IP address or another form of security such as passwords. Institutions should be able to authorize access to their data by other institutions in the consortium if they desire. Information providers should maintain access to tabular statistical data through their web site (updated monthly) which a participant can access, aggregate and manipulate on demand. When appropriate, these data also should be available in flat files containing specified data elements that can be downloaded and manipulated locally. Information providers are also encouraged to present data as graphs and charts.
Appendix C: Related Industry Initiatives
National Commission on Libraries and Information Science (NCLIS)
http://www.nclis.gov/libraries/lsp/statist.html
Denise Davis at the NCLIS has commissioned John Bertot and Charles McClure of Florida State University to undertake a project entitled the "2000 Internet Connectivity Study." The authors will measure the level of connectivity, public access, training support, and technology available for the staff and patrons of public libraries. Focusing primarily on aggregators of indexes that include full text, the study authors are gathering information on the ability of public libraries to report electronic database use.
Association of Research Libraries (ARL)
http://www.arl.org/stats/newmeas/newmeas.html
Martha Kyrillidou manages ARL's New Measures Initiative, which includes E-Metrics, a major project that began in June 2000. E-Metrics focuses on the development of statistics and performance measures for the delivery of networked information resources and services. Twenty-three ARL member libraries are participating in a study led by Charles McClure and Wonsik (Jeff) Shim from the Information Management Use and Policy Institute at Florida State University.
Scheduled for completion in December 2001, the E-metrics project has three phases. In the first phase, information will be gathered on ARL libraries' best practices in statistics, measures, processes, and activities that pertain to networked resources and services. In the second stage, a methodology will be developed to assess the degree to which such data collection is possible and collected data are comparable among member libraries. In the third phase, a set of refined measures with data descriptions and guidelines for data collection, analysis, and use will be proposed. A separate task force within the project will focus on vendors' statistics, i.e., the definition of data elements and terms, specific data that can be collected, and methods for reporting data to libraries.
National Information Standards Organization (NISO)
Patricia Wand, director of the library at American University, and Denise Davis, director of statistics and surveys at the NCLIS, are leading the planning process for a review of the current standard on Library Statistics. This revision will address areas such as performance measures and the measurement of electronic services and resources, which were not dealt with in the last review. Formal discussions will begin at a workshop to be held in February 2001.
EQUINOX
http://equinox.dcu.ie./reports/pilist.html
Funded by the European Commission, EQUINOX is designed to gain agreement on performance measures for the electronic library and develop an integrated software tool for use by European librarians. Building on earlier projects that focused on tools for book collections (e.g., EQLIPSE, MINSTREL), EQUINOX will take the lead in developing electronic performance indicators.
The indicators in this project are defined either in an International Standards Organization (ISO) document or by the project team. Team members use several methods to identify the percentage of a library's target population that is served and trained to use materials. These include on-site and remote sessions, downloads, cost per session and per download, level of workstation usage and number of rejected sessions, and percentage of the acquisitions budget spent on electronic resources.
LibEcon 2000
[formerly http://www.libecon2000.org]
Funded by the Directorate General X (DG X) of the European Commission, this three-year project is nearing completion. It is focused on gathering consistent information about the libraries' development as information resources within European countries. The LibEcon 2000 Web site was established to test and then generate an automatic means of collecting data from respondents in twenty-nine countries.
Project staff are working closely with the United Nations' Educational, Scientific, and Cultural Organization (UNESCO); the International Federation of Library Associations and Institutions (IFLA); the European Commission's central statistical agent (Eurostat); the European Bureau of Library, Information, and Documentation Associations (EBLIDA); and the appropriate committees of the ISO.
References
Association of Research Libraries. 2000. New Measures: Developing Statistics and Performance Measures to Describe Networked Information Services and Resource for ARL Libraries: Discussion Prospectus. Washington, D.C.: Association of Research Libraries.
Bauer, Kathleen. 2000. Who Goes There? Measuring Library Web Site Usage. Online. (January). Available from [formerly http://www.onlineinc.com/onlinemag/OL2000/bauer1.html].
Bertot, John. 2000. Developing National Library Network Statistics & Performance Measures. Available from http://portal.acm.org/citation.cfm?id=352040.354085.
Bishop, Ann Peterson. 1998. Logins and Bailouts: Measuring Access, Use, and Success in Digital Libraries. The Journal of Electronic Publishing 4(2). [doi: 10.3998/3336451.0004.207]
Guthrie, Kevin. 2000. Revitalizing Older Published Literature: Preliminary Lessons from the Use of JSTOR. Paper presented at the Economics and Usage of Digital Library Collections, Ann Arbor, Michigan, March 23-24.
Haar, John. 2000. Project PEAK: Vanderbilt's Experience with Articles on Demand. From Carnegie to Internet2: Forging the Serials Future, Proceedings of the North American Serials Interest Group, 14th Annual Conference (Carnegie Mellon University, Pittsburgh, Pennsylvania, June 10-13, 1999). Binghamton, N.Y.: Haworth Information Press.
International Coalition of Library Consortia (ICOLC). 1998. Guidelines for Statistical Measures of Usage of Web-Based Indexed, Abstracted, and Full Text Resources. Available from http://www.library.yale.edu/consortia/webstats.html.
Kohl, David. 2000. Shifting Approaches to Collection Development: Should We Bother Selecting Journals at All? Paper presented at Oxford 2000: The Fiesole Collection Development Retreat Series, Oxford, England, July 20-22.
Peterson, Ivars. 2000. Beyond Hits and Page Views. The Journal of Electronic Publishing 5(3). [doi: 10.3998/3336451.0005.305]
Public Library Association. 2000. PLA Tech Note: Electronic Statistics: Counting Crows. Available from [formerly http://www.pla.org/technotes/electronicstats.html.
Rothman, Joel B. 2000. Establish an Effective Privacy Policy. e-Business Advisor (March): 34.
Sanville, Tom. 2000. A Method Out of the Madness: OhioLINK's Collaborative Response to the Serials Crisis, Three Years Later-Progress Report. Paper presented at the North American Serials Interest Group Conference, University of California, San Diego, June 22-25.
Townley, Charles, and Leigh Murray. 1999. Use-Based Criteria for Selecting and Retaining Electronic Information: A Case Study. Information Technology and Libraries 18(1):32-9.
Links from this article
Academic Press http://www.academicpress.com/
American Institute of Physics http://www.aip.org/
Association for Computing Machinery http://www.acm.org/
Catchword http://www.catchword.com/
Elsevier Science http://www.elsevier.com/
Florida Center for Library Automation http://www.fcla.edu/
Institute of Physics http://www.iop.org/
JSTOR http://www.jstor.org/
Los Alamos National Labs http://www.lanl.gov/worldview/
MCB University Press http://www.mcb.co.uk/
NetTracker http://netinsight.unica.com/Products/NetTracker.cfm
Ohio Link http://www.ohiolink.edu/
Science Direct http://www.sciencedirect.com/
Science News Online http://www.sciencenews.org/
Villanova University http://www.villanova.edu/servlet/Web2000
White Paper on Electronic Journal Usage Statistics http://www.villanova.edu/servlet/Web2000
Judy Luther may be reached by e-mail at judy.luther@informedstrategies.com.
Top of page