This article, presented at a July, 2000 conference, "Freedom of Information - the impact of open access on biomedical research," was published first in BioMed Central.
When shall we be free?
Only when incentives in science are designed to reward rather than penalize open access publication.
In the past year, we have witnessed the creation of exciting new vehicles for disseminating health research, including the Open Archives Initiative, PubMed Central, British Medical Journal's NetPrints, The Lancet eprint server in international health, BioMed Central, and others. These initiatives have the potential to "free the literature," which would be wonderful for researchers around the world, and might accelerate the pace of health research.[1] However, use of these vehicles in academic science and medicine will not be optimized — and the literature will not be truly free — until incentives are realigned to reward, or at least not penalize, their use.
The goal of health research is presumably to generate new knowledge that will benefit patients and improve public health. The existing incentive system in academic medicine tries to promote this goal through a complicated cluster of financial and non-financial rewards. At the heart of this system are university promotion committees, granting-agency review committees, and award committees that make judgments about the quality of research and reward researchers with promotion, grants, and prestigious prizes. These committees usually focus on researchers' publications. The more publications, and the more prestigious the journals in which they appear, the better.
Into this established incentive system come the new electronic-dissemination vehicles. Proponents of these new vehicles face a fundamental question: if they build them, will researchers come? The tremendous growth of the Los Alamos physics archive (see article by Paul Ginsparg), suggests that researchers will come. However, the physics experience may not be generalizable to medicine. For example, early experience with BMJ NetPrints has not matched the growth of the Los Alamos archive. Why?
Barriers to Freedom
The problem is that the existing incentive system in academic medicine is not designed to encourage researchers to participate in these new electronic vehicles. For example, if I post this article as an electronic pre-print (on a server participating in the Open Archives Initiative or on BMJ NetPrints), I cannot subsequently publish it in The New England Journal of Medicine. I have limited my options. Because of their embargo policies, some prestigious journals (along with some not-so-prestigious ones) will not accept articles that have been published as electronic pre-prints on the Internet.[2] If I publish in a prestigious brand-name journal that decides not to join PubMed Central or otherwise make its full-text articles freely available, my published article will not be part of the "free" literature. Except in the case of the BMJ, I must also transfer copyright to the journal.
"Focus not on the messenger but on the message, not on the dissemination vehicle but on whether the research generates new knowledge"
If, as I have done, I decide to publish in BioMed Central, a new peer-reviewed open-access journal that has no impact factor but allows me to retain the copyright of my work, members of university promotion committees, granting-agency review committees, or committees considering me for prestigious prizes will look quizzically at the entry on my curriculum vitae, scratch their heads, and say, "Hmmm. BioMed Central. What's that? Let's pass him over and promote/fund/honour his colleague, whose seminal work on the association between making widgets and carpal tunnel syndrome was published in The New England Journal of Medicine."
Unfair, you cry, that a few folks in Boston control my academic fate and possibly dissuade me from posting eprints or publishing on BioMed Central — venues in which my work would be more widely available to colleagues, including those in developing countries who must choose between subscribing to The New England Journal of Medicine and feeding their families. For large numbers of researchers to change their behaviour — to begin using new electronic vehicles of dissemination and effectively free the literature — the incentive system in academic medicine must be modified to reward, or at least not punish, this behaviour.
It is important to stress that the primary problem does not lie in the well-deserved recognition for a journal brand. Rather, it lies in the coupling of some prestigious brands (with important exceptions such as the BMJ, which makes its full content available free on its Web site) with practices that impede free access to literature, such as subscription fees for accessing primary research, embargo policies that restrict unrefereed pre-prints, and copyright policies that restrict dissemination of post-prints.
What Needs to Change?
We need changes in policy, culture, and measures of quality. Change in policy is perhaps the easiest to accomplish, because it requires only the stroke of a pen (and some lobbying). The policy of a university, granting agency, or prize committee could simply state that the work itself, rather than where it gets published, should be the focus of attention. Granting agencies could require researchers to retain copyright of articles describing funded research,[3] and to publish that research in an open-access forum .
Cultural change is also necessary, but more difficult. Even if the policy says, "judge the work," the people around the table will still spend a great deal of time counting articles and looking up impact factors of the journals in which they are published. One way to change the culture is for the leaders of these decision-making bodies — the chairs of the university promotions committees, granting-agency review committees, or prize committees — to demonstrate a different set of values by publishing their own work in open-access journals. If senior academics embrace open access, they will embolden their junior colleagues to follow.
How Should we Measure Quality?
Underlying these changes in culture and policy is a need to decrease our reliance on journal brand, so that authors can be recognized appropriately for their work wherever it is published. We need to develop better measures of quality. But this presents us with a standard problem in social science: how to measure a construct (in this case, quality) for which there is no reference standard. A social scientist would approach this problem using triangulation:
the comparison of the results from either two or more different methods of data collection (for example interviews and observation) or, more simply, from two or more data sources (for example, interviews with members of different interest groups). The researcher looks for patterns of convergence to develop or corroborate an overall interpretation. Triangulation is generally accepted as a means of ensuring the comprehensiveness of a set of findings. It is more controversial as a genuine test of the truthfulness or validity of a study. The latter test relies on the assumption that any weaknesses in one method will be compensated by strengths in another.[4]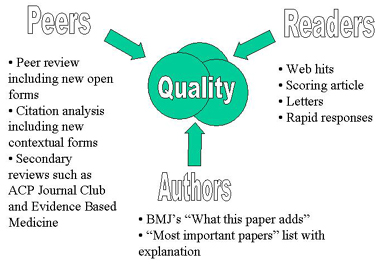 This figure offers a conceptual framework to guide this research. Quality is represented in the middle as the construct to be measured. The three circles signify that quality is a fuzzy construct with different but related meanings, presumably related to the goal of health research to improve health. The framework shows that there are three evaluative perspectives to be triangulated — peers, readers, and the authors. Key measures are listed under each of these perspectives. The concept of triangulation suggests that better quality assessment will require not only refinement of individual measures (such as open peer review or contextual citation analysis) but also research to examine the inter-relationships among measures that evaluate quality from different perspectives.
Ultimately, a robust assessment of quality may require a tool kit of several different measures from different perspectives — peers, readers, and authors — used simultaneously. Using more valid measures of quality will allow universities, granting agencies, and prize-review committees to decrease their reliance on the brand names of journals. As a result, researchers will no longer be rewarded for avoiding the new electronic dissemination vehicles and publishing in brand-name journals that restrict access.
What Can You Do?
So what can you do to help free the literature? The next time you are on a university promotion, grant-review, or prize committee, encourage your colleagues to focus not on the messenger but on the message, not on the dissemination vehicle but on whether the research generates new knowledge that may ultimately benefit patients or improve public health.
---
Acknowledgments
I am grateful to Stevan Harnad for critiquing my ideas about incentives on his discussion forum http://amsci-forum.amsci.org/archives/september98-forum.html, Althea Blackburn-Evans for editing the manuscript, and the Canadian Institutes of Health Research for supporting my research through an Investigator award.
(Dr. Singer is an associate editor of the Canadian Medical Association Journal, which makes its full content freely available on its Web site.)
---
---

Peter A. Singer, M.D., is the Sun Life Chair in Bioethics and Director of the University of Toronto Joint Centre for Bioethics. He is also professor of medicine and practices internal medicine at Toronto Western Hospital. He studied internal medicine at the University of Toronto, medical ethics at the University of Chicago, and clinical epidemiology at Yale University. A Canadian Institutes of Health ResearchiInvestigator, he has published over 100 peer-reviewed articles on medical ethics, especially in the areas of organ transplantation, ethics education, end of life care, and priority setting. He is an associate editor of the Canadian Medical Association Journal. His evolving interest is in global health ethics. He may be reached by e-mail at peter.singer@utoronto.ca.
---
References
---
Links from this article
BioMed Central http://www.biomedcentral.com/
BioMed Central's version of this article http://www.biomedcentral.com/info/singer-ed.asp
British Medical Journal's NetPrints http://clinmed.netprints.org/
Canadian Medical Association Journal http://www.cma.ca/cmaj/
Paul Ginsparg's Creating a global knowledge network http://www.biomedcentral.com/info/ginsparg-ed.asp
The Lancet E-Print Server http://www.thelancet.com/
The Los Alamos e-Print Archive http://xxx.lanl.gov/
Open Archives Initiatives http://www.openarchives.org
PubMed Central http://www.pubmedcentral.nih.gov/
Top of page