The Journalist in the Chat Room: An Analysis of Washingtonpost.com's Live Online
Skip other details (including permanent urls, DOI, citation information)
Journal of Electronic Publishing
This work is protected by copyright and may be linked to without seeking permission. Permission must be received for subsequent distribution in print or electronically. Please contact mpub-help@umich.edu for more information. :
For more information, read Michigan Publishing's access and usage policy.
Scholarly publishers hoping to add new interactive features to their Web sites would do well to look to the live chat sessions run by major on-line newspapers. A growing number of newspapers are setting up virtual auditoriums where readers can pose questions to reporters about recent articles. Though these chat events are usually limited to an hour in length, transcripts from the sessions can be archived to add a rich supplement to the original article. Such chat events could be compared to the letters to the editor that so many journals crave — the ones that elicit a stream of reactions over a period of months and sometimes even years. But the live nature of chat events give them the spontaneous quality of a call-in show. The following analysis of one newspaper's on-line chat events is provided as a way for academic publishers to think about how such a feature could enliven scholarly publishing.
Perhaps the most extensive real-time chat effort by a major U.S. newspaper is the Washingtonpost.com's Live Online, which as of December 1999 regularly offer some 30 hour-long chats per week. In many cases, the Washingtonpost.com uses its own journalists as the 'stars' of these chats, touting the reporters' knowledge of selected topics and giving readers a chance to tap into this expertise in an interactive forum. Such real-time interactions may bring tangible economic benefits to newspaper publishers, as a way to keep people tuned in to the Web site longer, and thus expose them to advertisements for a longer time. [1] But the interactive events affect more than just eyeball time. This arrangement can alter the relationships between the journalists who write the stories and the readers who peruse them — at least during the chat event.
On-line newspaper chat events like Live Online recognize the complicated manner in which The News is created and consumed. Though a great deal of media-communications research employs a sender-receiver model, linguist Ron Scollon argues that such a model is overly simplistic.[2] The sender-receiver model assumes that journalism establishes a direct interaction between the reporter and the reader. In other words, it assumes that journalists position themselves as talking directly to readers when writing newspaper articles. But Scollon's analysis of news discourse considers the way journalists spend their time, and he concludes that instead of talking to readers, journalists primarily interact with other journalists, with editors, and with sources. Thus newspaper articles largely replay those interactions, though with the intent of "producing a spectacle for the observation of readers and viewers."[3] The reader is not addressed directly, then, but is imagined as the spectator on the sidelines for whom the game of the article is played out. Readers, for their part, often engage in social interactions with other readers as they scan newspaper articles. A reader might, for instance, recite part of a newspaper article to his spouse at the breakfast table and comment about or question the material presented. Or, a reader might have an emotional reaction to the information presented by an article, and seek out others who have read the article to discuss it. One can imagine many more ways in which readers incorporate newspaper articles into their daily lives, and yet this aspect of news-in-use is not often taken into account in media studies.
Newspaper chat rooms provide a space for readers to hold these news-related interactions without leaving the editorial territory of the newspaper's Web site. The Web-based chats allow direct interactions between readers and journalists, and it allows these interactions to serve as a spectacle for other readers. The chat rooms also play on the belief that journalists have more to say about the topics of their stories than what is presented in the articles themselves. Readers who believe there is more to the story may also go beyond the story itself to ask questions about or to criticize the news-gathering process. An examination of specific interactions in Live Online chat rooms suggests that such interactions among journalists, readers (and occasionally, sources) can provide an important way for all parties to learn about one-anothers' views.
"You can think of it as sort of a call-in show that's typed"
What happens in an interactive chat that doesn't happen between reader and writer in typical publishing — and is it worthwhile? To find out, I reviewed a dozen transcripts of Live Online events between September 1 and November 15, 1999. All of the chats featured Post journalists as guests, and they covered a range of topics, including political, national, and international news.
Although many scholars have attempted to analyze what goes on in a chat event, I have used Scollon's mediated-discourse framework to examine brief moments of interaction that took place during Live Online chat events. This framework merges a number of diverse analytical approaches. An important aspect of the mediated-discourse approach is its focus on discreet moments of action rather than broader classes of interactions. The mediated-discourse framework recognizes the complex way that people draw on previously learned conventions to construct any social situation and to establish their identities in these interactions. "Situations (contexts) do not just exist," as James Paul Gee notes. "They are actively created, sustained, negotiated, resisted, and transformed moment by moment through ongoing work."[4]
My analysis pays special attention to how the journalist, reader, and source are positioned in the mediated interactions of both a Washingtionpost.com story and a Live Online chat event. The paper concludes with a discussion of how Live Online expands the traditional role of the journalist by institutionalizing regular public discussions among journalists and readers.
How Do Chats Work?
The issue of learning how to act is more striking in chat events such as Live Online, where the technology of the Web restricts the amount of communication cues participants have access to. In a Web chat room, participants see only text and graphics on their computer screens. Joshua Meyrowitz says people merge conventions from in-person social situations when faced with electronic media.[5] Indeed, participants in Live Online events describe the environment as a blend of social situations. As Post journalist Jim Naughton said, "I guess you can think of it as sort of a call-in show that's typed."[6] Mr. Naughton, who said he has participated in radio call-in shows and regularly types electronic communications, brings knowledge of both practices to this new environment. In one of the chats considered for this paper, another journalist began as if he were participating in a radio or television program, typing, "Welcome to our show."[7]
The roles of editors, journalists, and sources are different in Live Online events than in the newspaper articles that serve as the background for the events. To signal this, the events usually begin with a headline that indicates that this is a "talk," "discussion," or "Q& A." An October 20 event on military issues opened with:
<headline> Q & A With Post Pentagon Reporter Dana Priest
<dateline> Wednesday, October 20, 1999
<picture of author with caption> Dana Priest
<opening> The Dept. of Defense released a study detailing the lessons learned from NATO's air war against Yugoslavia. Dana Priest, the Post's military projects reporter, recently wrote a series of articles on the subject.
Priest was online to discuss the latest military news.
A Post reporter for 13 years, Priest started out as an assistant foreign editor and then became a Metropolitan staff reporter. After joining the National staff nine years ago, Priest covered federal regulatory issues and went to Baghdad to write about American hostages being held in Iraq.
Priest has covered the Pentagon for the past four years. Her reporting has taken her to Bosnia to write about U.S. troops stationed there and on overseas trips with defense secretaries William Perry and William Cohen. She has also written extensively about the Army's efforts to integrate women into the work force.
Read the transcript below: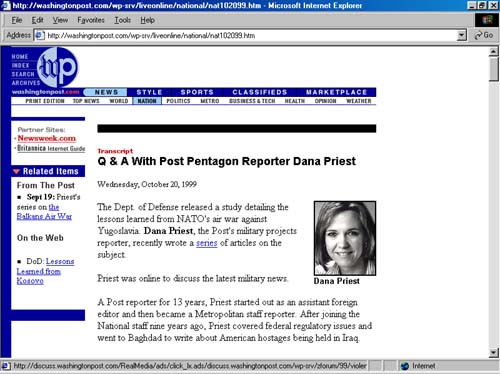 Rather than being limited to a single mention in the by-line (as it is in an article), the reporter's name appears many times — in the headline, in the caption under the author's photograph, and five times in the opening. And the use of a photo of the author further emphasizes the authority of the journalist in this interaction. Meanwhile, the Post is mentioned by name only once in the headline and twice in the opening. Neither the editor who wrote this opening, nor the editor who moderates the event that follows is identified by name, further emphasizing that the journalist is the authority in this interaction.
Note the way the discussion itself begins:
Washingtonpost.com: Welcome to our monthly discussion with the Post's Dana Priest. Thank for joining us again Dana. A presidential panel has recommended that the Navy resume bombing on the Puerto Rican island of Vieques despite the protests of the island's residents. Can you foresee the outcome of this debate?
The unnamed Post.com editor takes the floor and addresses the audience directly. That implied "you" being welcomed to the "monthly discussion" is not Dana Priest but the audience, who is expected to be reading these words as they appear on the Web site. The Post.com editor then turns to the author to thank her for participating, using her first name only, helping to set an informal and inviting tone for participants.
Now that the channel and participants have been established, the topic is introduced and the Post.com editor asks a question to get the discussion started. Here it is important to note how the transcript used above differs slightly from the Web page during the live event. During the hour when the event is taking place, a link appears at the end of the opening frame inviting readers to "Submit your questions." By clicking on the link, readers are taken to a Web page where they can enter their location and a question or comment. In this way, readers are able to ratify their position in the interaction explicitly and in real time. The "Submit your questions" link also serves as a standing invitation to the readers, reminding them that they can participate directly in the chat event.
Chat participants who choose to comment are identified by a geographic location, which they are asked to provide. Some participants in the examples studied also chose to identify themselves by name or initials within their comment or question, always at the end of their text, such as in this example from a September 1 event with Vernon Loeb, The Post's national security reporter:
Pearl Harbor, HI: Mr Loeb,
I just missed the deadline last time you were on with this question....
In the initial A.Ames revelations the POST reported the CIA developed an early "short" list of 200+ people that had access to the same info Ames passed on to the bad-guys. That number seemed incredibly high, considering the potential for screw-up. I bet future agents must think twice when told they are only 200 people that know your identity. Think the CIA has cleaned up its act yet?
Thanks, RH
The comments of participants such as RH are given the floor more directly than sources in the newspaper article considered earlier. Instead of the journalist telling an editor what a source said (for the benefit of participating readers), the source talks to the journalist live in front of the editor and readers. Even though the journalist or Post.com editor has the option of not taking a question posted during the live event (and even has the option to edit a question), Mr. Naughton reported that editors rarely take those options.[8]
Role reversal?
In live chat events, readers are explicitly invited to pose questions to Post reporters. In fact, this is most often phrased as a command, "Submit your questions." This interaction is therefore a reversal of roles for the reporter, who is used to posing questions to others when researching an article.
In a study of turn-taking in broadcast news interviews in England, John Heritage and David Greatbatch note that news interviews follow a very rigid formula: the journalist asks a question, the source answers, the journalist asks a question, the source answers, and so on — with little variation. The researchers found that this structure serves to ratify the audience as the overhearers of the interaction.[9] It also largely constrains the source from posing questions or introducing new topics. And, perhaps more importantly, it allows the journalist to maintain a neutral stance, because the journalist never presents his or her own views on the topic, but is instead always asking the source to present views. Though they do not use these terms, taking a neutral stance can be thought of as a social practice of the community of journalists.
In the Live Online events considered for this paper, however, this formula is reversed. Now it is the reader asking the questions and the journalist who must respond. On one hand, this turn-taking structure again ratifies audience as overhearer. But as Heritage and Greatbatch note, this reversal threatens the neutral stance of the reporter, who must now provide statements in front of an audience.
That can cause tension for the journalist as he tries to maintain neutrality under the pressure of real-time direct questioning, as seen in the Live Online event on November 15:
washingtonpost.com: In your article, you spoke about the lack of community these commuter colleges feel. Are there any attempts to reverse this? Should there be?
Jim Naughton: I'm not exactly sure how you can build a sense of community at a college where so many people work full-time. Any thoughts?
In this example, the journalist is asked both for concrete examples that might not have been published in the story, and also to give a judgement of whether there "should be" a certain practice in community colleges. Mr. Naughton says he is "not exactly sure" how this practice could be done, so he shifts back to his traditional role of asking questions, saying, "Any thoughts?" This question seems to be addressed to the audience. In this case, no one responded to Mr. Naughton's question during the event, but readers certainly could have.
It is interesting to note that it is a Post.com editor asking for Mr. Naughton's opinion, suggesting that the Post.com is giving the journalist permission to forgo the social practice of neutrality during the chat event. On at least one occasion, the journalist does state an opinion:
Springfield, VA: Also, Jim, what's your opinion about what community colleges need to do -if anything- to improve their visibility and academic reputation in their local communities?
Jim Naughton: I'd like to see comm colleges promote their alumni more heavily. It seems to me that having kids go on to UVA or Wm and Mary or some other prestigious institution is a real coup for them and they ought to trumpet it. Also, if I am not mistaken, research shows that comm college grads have just as high a graduation rate at four year institutions as students who spent all four years at that institution. But this isn't widely known. Comm colleges need to get that fact out there.
Mr. Naughton unambiguously offers his opinion, by saying "I'd like to see..." Though he bases his opinion on "research," suggesting his normal role of neutral searcher of specific examples, he uses the data to make a personal conclusion, that "Comm colleges need to get that fact out there." This opinion is not stated in the article, though it can be said to be a premise of the piece, since the article deals with the "rising importance of community colleges," and says that "Community colleges, no matter how large and no matter how vital, have profiles so low as to be almost invisible." Even so, the author does not state his opinion about these facts in the space of the article. In fact, standard journalism practice would seem to prevent such a statement of opinion. In this Live Online chat event, the journalist is not just presenting neutral expertise, but also something new - his opinions about the subject matter.
Conclusion
Online chat events let people do what all authors hope they will do — interact with the material in a way that authors can see. That happens to some extent with letters to the editor, but the stultifying effect of the limited page space, the need to be provocative and interesting, and the long lag time between thought and publication prevent all but the most committed to write. Online chat events cut through all those barriers, and increase both the interaction between reader and author, and the interest of other readers, who might have more of a stake in a question or statement they make.
In the process, chat events can alter the roles of journalists (and, by extension, scholarly writers). As Jane Singer notes, "The traditional senders of media messages — the journalists — are faced not just with a new delivery method but with what may be a fundamental shift in their role in the communication process."[10] Perhaps, Singer suggests, journalists might increasingly foster the practice of "interpreter" of information, "rather than mere gatherers and disseminators."
And scholars who have moved away from interpreting information for any but a rarified group of colleagues could also use that dose of reality in which their methods and reporting are challenged. The live chat is a technology worth exploring both for its ability to extend the reach of the information on the Web, and to bring new life to scholarly journals.
---
---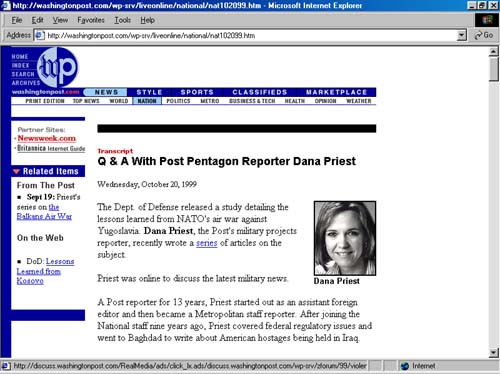 Jeffrey R. Young is an assistant editor at The Chronicle of Higher Education. He writes about technology and helped develop a live chat area of the Chronicle's Web site (http://chronicle.com/colloquylive/). He is also a graduate student at Georgetown University, pursuing a Master's degree in Communication, Culture, and Technology. You may contact him by e-mail at jeff.young@chronicle.com or via his website at http://www.pressroom.com/~screenager/
---
Notes:
1. Stone, M. (1997). Chat Rooms Gain New Respectability. Editor & Publisher. 6 December.

2. Scollon, R. (1998). Mediated Discourse as Social Interaction: A Study of News Discourse. Longman: London.

3. Scollon, 75.

4. Gee, J.P. (1997). The New Literacy Studies: From 'Socially Situated' to the Work of the Social. Conference on 'Situated Literacies.' Lancaster, July 8-10.

5. Meyrowitz, J. (1985). No Sense of Place: The Impact of Electronic Media on Social Behavior. New York: Oxford University Press.

6. Personal interview with Jim Naughton, 5 December 1999.

7. "Africa Journal," Washingtonpost.com, 4 November 1999, http://washingtonpost.com/wp-srv/liveonline/inatl/afrjourn991104.htm (10 December 1999).

8. Personal interview with Jim Naughton, 5 December 1999.

9. Heritage, J. and Greatbatch, D. (1991). On the Institutional Character of Institutional Talk: The Case of News Interviews. In Boden, D. and Zimmerman, D.H., eds. Talk and Social Structure: Studies in Ethnomethodology and Conversations Analysis. University of California Press: Berkeley. 109.

10. Singer, J.B. (1998). Online Journalists: Foundations for Research into Their Changing Roles. Journal of Computer-Mediated Communication 4(1). [formerly http://www.ascusc.org/jcmc/vol4/issue1/singer2.html]

Top of page