How to Succeed in Online Markets: National Academy Press: A Case Study
Skip other details (including permanent urls, DOI, citation information)
Journal of Electronic Publishing
This work is protected by copyright and may be linked to without seeking permission. Permission must be received for subsequent distribution in print or electronically. Please contact mpub-help@umich.edu for more information. :
For more information, read Michigan Publishing's access and usage policy.
This article is adapted from a presentation at the 1999 National Electronic Publishing Seminar sponsored by the University of Virginia and the Library of Congress.
Let me give you a quick overview of what we publish — and for whom — to set the stage for answering why and how the National Academy Press went on line, how we use the Web to serve our markets, and whether or not we were successful. NAP publishes for the National Academy of Science, the National Academy of Engineering, the Institute of Medicine, and the National Research Council, all of whom make up the National Academies. We have dual and sometimes competing missions: To disseminate the books of the National Academies as widely as possible through market mechanisms (publishing) and to break even doing so. We receive no subsidies. We publish about 170 books a year, from those that sell as few as 100 and as many as 150,000 copies over their lifetime.
We publish all of our books in paper format and electronic format simultaneously. The text is up on the Web free for anyone who wants to read it. At the moment, our business model is to use our content-rich site as a major marketing and dissemination tool for hard-copy books. We have a complete e-commerce interface for selling hard copies of our books so that when you go on line and tire of reading on screen, you are a click away from ordering it.
Why NAP Went On Line in 1994
The main reason that NAP went on line with free full text in 1994 was that Scott Lubeck, our director at the time, saw the Internet as having the potential to revolutionize publishing. The team working on the Net eventually agreed with Scott that it was a good idea to give away all of our content, absolutely free, to anyone, at anytime.
We believed that the electronic medium would give publishers like us unprecedented exposure in our specific markets. Allowing people to read the entire book on line would be like having all of our books in a bookstore, ready for anyone to look at to make informed buying decisions. Brick-and-mortar bookstores do carry our books, but they carry only a very small number of our 1,800 titles in print. We realized that the Internet would become a major marketing device to reach the majority of our end readers. And our readers happen to be those who invented the Internet and who tend to be first adopters — researchers, scientists, and engineers — so this was really going to be an exceptional medium for getting the word out.
The second (and quite convincing) reason for going on line was that our authors — those creating our content who work at the National Academies, who own the NAP — told us to start posting full-text on the Web or they would individually take control of their products and begin posting content themselves. In fact, the division that produces the studies on computers and telecommunications had already started doing that using FTP and Gopher. We decided that it would behoove us to centralize that function before it got completely out of control.
We also saw the Web as a method of content delivery. As early as 1994, Scott Lubeck was talking about using the Internet to push files to printing systems to allow printing on demand. To show you how visionary he was, here in 1999, those on-demand printing systems still aren't widely accepted and used. At least on-demand printing is further along than micro-payments. We viewed the Web as integral to any delivery system for all of our books, whether in hard copy or digital, and we still do.
NAP's 1997 Web Design
How NAP Went On Line
We started in 1994 with just a bookstore on the Web, offering titles, bibliographic information, and descriptions. We also had a few full-text books in FTP and gopher. And then in 1996 we released a fully designed Web site with many functions and the full text of hundreds of books in image format. We have just unveiled a major renovation, a complete overhaul of the site. Instead of books in image format only, we will have all the GIFs converted to raw text and stored for a fully searchable collection of the complete text of the 125,000 pages of 1,350 books, backed by a fast and powerful database. That transforms our bookstore-like collection into a major research engine for our target markets.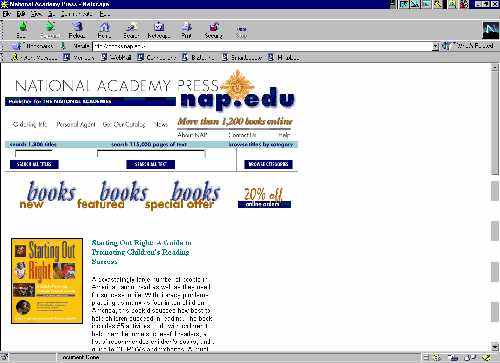 NAP's 1999 Web Design at http://www.nap.edu
So here is our history on line:
1994: Bookstore plus a few full-text books
1994: FTP, WAIS, Gopher
1995: WWW — hundreds of books full-text with an e-commerce interface
1997: WWW design revision
1999: New site — 1,800 books for sale, 1,350 on line, 125,000 pages of fully searchable text
Marketing NAP's Web Site
We consider the Web site to be a major marketing tool, and that means we have to bring people to the site. We have one person in charge of general site maintenance and all the site marketing. In addition to the marketing coordinator, there are six people who conceive of new site designs and features, write software programs, perform site administration, implement database solutions, and post full-text books to the Web.
The site has an automated personal agent. You fill out a form identifying your areas of interest and then you may choose to receive automated e-mail each week with new books in the areas you choose, or the list is saved under your profile, and you can check it when you come to the site.
We also post messages to listserves and newsgroups about coming to our site to read a book related to the discussion. Because reading our books is free, listservs and newsgroups don't consider that advertising, and welcome our posts. Sometimes discussion-group members come to our site, look at the book, like it, and buy a hard copy. We do some banner advertising on other sites, we register with search engines, and we e-mail press releases to online journals, magazines, and newspapers. We also ask for links from our authors' sites.
From the beginning of the launch of the first site, we've also used traditional marketing methods. We have been sponsoring NPR's Morning Edition since 1996 — telling people about the site. That has been very effective. All traditional direct-mail pieces carry the URL for each book, and we invite people to go on the Web and read the book before they buy it. In fact, every single printed piece of marketing literature has at least the main URL for our site — and has had it since 1996. We do some space advertising for the site and have tote bags with the URL that we give away at professional meetings and exhibits.
How NAP Has Been Successful
In September 1996 we were taking about seven orders a day on the Web and we were happy with that. Now, we are taking as many as seventy orders a day. The percentage of orders taken on the Web is running at about 25 percent of all orders and at about 10 percent of total revenue. (Web orders tend to be smaller; libraries, for instance, order on paper.)
The vision of our director and the push of our parent institution put us in an excellent spot, despite our early misgivings. Giving away all of our content was very risky, but it is paying off both in terms of disseminating the work of the National Academies and in breaking even. The risk was so high when we started that we called ourselves the Bungee Jumpers. We have held onto that name, but as experienced jumpers, we know that now the cord is short enough and strong enough to keep us from getting injured.
While we don't have data to prove that our sales have increased because of the Web site, we know sales have increased, and people tell us that the Web site makes a difference. And our authors are happy, our audience is happy, and our auditors are happy. That spells success for us.
---
---
Barbara Kline Pope is director of the National Academy Press—publisher for the National Academies (National Academy of Sciences, National Academy of Engineering, Institute of Medicine, National Research Council). Prior to her director position, she was NAP's marketing director for 15 years—using the Web as a marketing tool since its inception. She holds a M.S.(1990) in textile marketing from the University of Maryland and a B.S. (1981) from Indiana University of Pennsylvania. She may be reached at Bkline@nas.edu.
---
Links from this article
National Academies http://nationalacademies.org/
National Academy Press http://www.nap.edu
National Academy of Engineering http://www.nae.edu/
Top of page