A version of this paper was delivered as "Electronic Publishing: Investigating a New Reference Frontier" at the Twelfth International Electronic Commerce Conference, Bled, Slovenia, June 1999.
Over the last few years it has become clear that online publishing is not just paper in digital format. It is, rather, a means of publication in its own right, with its own strengths and weaknesses, and its own ineluctable logic. Some content seems to be ideal for online publication (reference works, resource bases, and highly interconnected information), while other information is not. Publishing companies are just discovering the potential of the new medium [1]. Selling directory information via the Internet is a special form of electronic commerce in which the full commercial cycle —offer, negotiation, order, delivery, payment — can be conducted via a network such as the Internet [2].
This case study of Krak, a Danish directory publisher, analyzes the situation and the business implications of a traditional, medium-sized company at the verge of entering the new era of electronic publishing. Directory publishers like Krak are somewhat different from other publishers that are considering going on line, in that their traditional business model relies heavily on advertising-based income.
Company Overview
Krak's core business since 1770 has been business information, starting with basic trade information that is now enriched with more detailed information such as names of board members and directors, key figures, and customers. Another important product line is city and country maps from all over Denmark, and a complete street-name index.
Company History
In 1770, Hans Holck published the first directory in Denmark, which included a list of the inhabitants of Copenhagen and statistics on citizens and taxes. It was a major success, and Holck published it annually until his death in 1783. In l862, Thorvald Krak took over the publication of the directory, and passed the business down to his son Ove in 1902, who expanded the directory beyond Copenhagen, and hired a staff to sell advertisements. Since Ove's death in 1923, the publishing company (now called Krak's Forlag AS) has been owned by the Krak foundation.
Krak's Product Lines
Today, although Krak's Forlag publishes in a wide range of areas, almost every Dane associates Krak with its city maps.
Over the years the original business directory, Krak's Vejviser, has grown tremendously. Despite heavy competition, the directory — with more than 60,000 companies in it — is by far the largest business directory in Denmark. It contains information about the board members and managers, and three years of key economic figures, for the 30,000 largest enterprises. The directory still accounts for about 50 percent of Krak's total income. [3] Its CD-ROM version Krak Direct, extends the coverage to more than 400,000 Danish enterprises, including retailers. If the CD-ROM were printed, it would be eight volumes. The CD-ROM can connect directly to Krak's Internet site and thus provides access to the related maps for each of the businesses. The CD-ROM also serves as a high-quality, professional marketing tool that allows users to print labels and address lists.
"Repurposed information must be rethought for the Web"
Krak's Export Directory of Denmark is produced in cooperation with the Danish Chamber of Commerce and the Confederation of Danish Industry. It contains information about 5,500 Danish export companies, and is published in five languages. In 1998, about 23,000 copies were distributed to embassies, sector associations, and similar organizations. A distribution of about 17,000 is foreseen for 1999. In October 1999, the current Export Directory will be replaced by a new book, Export Directory of Denmark: Danish Exporters 2000. That book combines the Danish Foreign Ministry's Danish Exporters and Krak's Export Directory of Denmark. The ministry is responsible for finding addresses of the relevant enterprises for the book, and Krak will publish it. The government hopes that the collaboration will strengthen the global marketing of Danish export enterprises.
Krak also publishes sector-oriented catalogs for the metal industry, construction, graphics and marketing, data/IT, textiles, and transportation. Those catalogues, often considered to be the bible of a sector, are spin-offs of the business directory: They contain exactly the same information, just compiled in a different format. Krak's newest directory, covering the machine industry, VFM, listing suppliers, products and trademarks, overlaps with the more traditional catalogue for the metal sector.
Other directories include:
The Foundation Directory, available on CD-ROM and in print, lists about 10.000 foundations in Denmark.

Information in print and on CD-ROM about the 10,000 largest farms and forest units.

A coupon catalog for business customers providing them with the opportunity to advertise their products.

Krak's Blue Book ("Who's Who") contains biographies of 8,200 successful Danish people.

For tourists, Krak offers city guides in English, Japanese, and Scandinavian.

Krak markets and distributes about 400 different videotapes sponsored by various companies. The tapes can be ordered free for school courses and seminars.
Of those product lines, only the maps, Krak Direct (the CD-ROM version of the business directory), the foundation directory, the farms and forests directory, and Krak's Blue Book are sold. The other products are given away. For the free products, the business model relies on advertising in the reference guides to cover costs and profits.
Business Model
In the business year 1997-98, Krak lost DKK 1.7 million on income of DKK 98 million [4]. That was the first loss ever to be reported in the company's history, and it is due to the investment in the Internet. It is already beginning to pay off: For 1998-99, Krak's income is anticipated to reach DKK 120 million, and the company will break even.
Krak publishing is built on a database that is repurposed to create the various different product lines. Today the database consists of both "self-gathered" and purchased data. Of the 60,000 data records documented in the printed version of the business directory, only about 10 percent are purchased. Out of the 400,000 records represented in the online version, almost 80 percent are acquired externally and then improved internally by Krak. That differentiation is crucial when it comes to developing a sustainable business model for specialized publishing on the Web. Repurposed information must also be rethought for the Web; and indeed Krak has greatly supplemented its database to meet the demands of Web users.
While the content base is Krak's most important business asset, the company credits four other factors for its position in the Danish market:
the company's tradition,

their brand name and reputation,

their sales force, and

the quality of their information.
Move Toward the Internet
In June 1995, Krak published first editions of their directories on CD-ROM, and in August 1995 Krak established its Export Directory and the Business Directory (Krak's Vejviser) on the Internet. Krak became the first directory publisher in Scandinavia with directory information on the Web.
In January 1997 Krak began selling its expertise, establishing a business-to-business "Webhotel" where the company hosted Web sites, sold domain names, and produced Web sites for others. By the fall of that year the company realized it had established a new business, and a year later had split off the Internet section. (see Figure 1).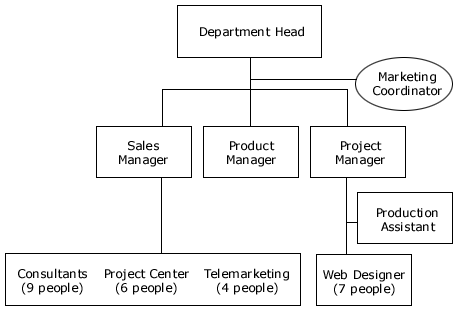 Figure 1. Organization of Krak's Internet Section (Source: Krak)
Creating a new unit implied a dramatic change in Krak's organizational structure. The number of employees had to be increased by nearly 50 percent (135 to 190) in the course of a few months. The company's new services required the development of advanced competencies in order to be able to handle the variety of problems connected with selling and running Web-related services.
Today 25 percent of Krak's total income is generated from new media (CD-ROM and Internet). About 35 percent of that amount comes from selling information goods — either packaged on CD-ROM or paper-based — and processing those transactions directly over the Web. Of the remaining 65 percent of Krak's new-media related income, 30 percent stems from selling ads on the Web, and 70 percent from designing and maintaining home pages for business customers (see Figure 2).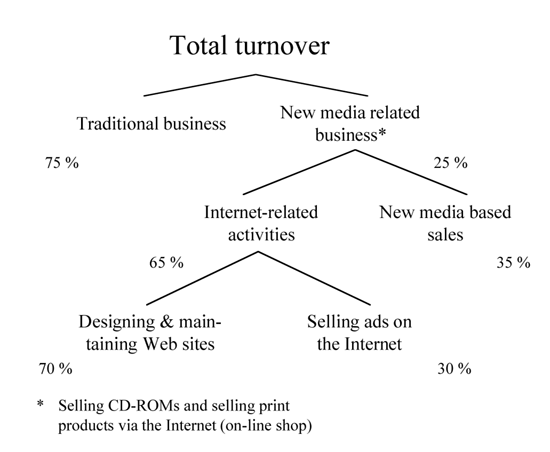 Figure 2. Krak's Income Structure (Source: Krak)
Important business areas of Krak's Internet section include Internet-related activities such as
in-house production of Web sites,

in-house development of Internet services under the domain http://www.krak.dk

in-house development of customer database solutions, and

in-house development of electronic-commerce sites for customers.
Of those, the business focus of the newly established section currently lies in developing dynamic and integrated Web sites.
The change in business focus from selling content and ads to selling Web site design and maintenance seemed to come about naturally. The business concept of traditional directory publishing has always been to sell advertising space in the publications. The online-advertising sales, however, presented a business opportunity for Krak. When the directories were put on the Internet, some of the ads had to be readied for the Web, i.e. they had to be made Web-site compatible. Soon Krak's advertisers realized that once their ads appear on the Web, they should also be linked to professional company home pages, and they began to ask Krak for design suggestions, and soon for programming and maintenance.
In addition to its Web services, Krak still sells ads in its electronic directories. The income that is generated from those sales has three components:
Selling banner ads and thus offering marketing for business customers. The price for having a banner is either a fixed price per year based on the location of the banner, or DKK 0.15 per click (page impression).

Selling links, i.e. having those companies pay DKK 1,000 per year to link from their sites to Krak maps.

Showing business locations on the Krak maps, for DKK 40,000 per company per year.
Krak's Internet section also offers several of Krak's products — maps, the business directory, the export directory, and the coupon catalog — directly on the Web. Currently the company makes about DKK 1 million from selling their traditional printed products on its online shop. The site accepts Giro, Visa, and Diners Club credit cards, and other credit cards are expected to be added soon. That direct selling saves Krak the commission usually paid to bookstores and other retail outlets. So far, the Internet business has not led to decreasing sales in traditional outlets. On the contrary, actual sales via traditional channels have increased slightly since the products have also been sold via the online storefront.
"The items Krak sells are still sold in significant numbers in bookstores even though they are available free on the Web"
The additional distribution channel for Krak information services has several other implications for the company. Initially, Krak updated the Internet site only once a month. It had outsourced the Web design and database design, and Krak's sales force sold Internet ads to be placed in special sub-domains under Krak's home page. As the company began selling products on the Web, the yearly information update that had sufficed for paper, and the monthly update that worked when Krak began its Internet service, had to be changed into an almost instant one. New figures are incorporated and visible on the Web maps once a month. Directories are updated once a week. Needless to point out, that requires a significantly higher level of manpower. Also, that almost constant updating puts additional pressure on the approximately 20 employees who are involved in maintaining the core database, but are not in the Internet section.
Current Status
So far, the company has been successful with its timing and with managing the challenge. It is today one of the leading companies in its field and its map service is Denmark's best on the Web. In December 1998, Krak's Internet unit was one of the three largest Internet service providers in Denmark. The company's Web services have been expanded on the basis of a well-planned strategy and according to schedule.
Looking at Krak's Web history, it is quite clear that the company has experienced significant success with their Internet-based activities (see Figures 3, 4, and 5). For instance, in 1998, page impressions have more than tripled, from about 320,000 to 1.4 million in the last half of the year. (An impression is defined as a click to a new page.) Similarly, the number of user sessions[5] has increased from 40,000 to 154,000 during the same time period. Even more interesting, and to the business more relevant, is the length of user sessions. Krak's site visitors spend an average of about ten minutes and thirty seconds on the site, which makes the Krak site one of the "stickiest" in Denmark. (A "sticky" site is one that visitors stay on for a long time.)That is important, as the length of user sessions determines prices of advertisements. Furthermore, in January 1999, the number of page impressions and user sessions surpassed the respective forecasts by nearly 100 percent.
It is also interesting to note the significant drop in page impressions and user session around Christmas. That clearly indicates that the users of Krak's information goods are business customers (who are off work during Christmas holidays).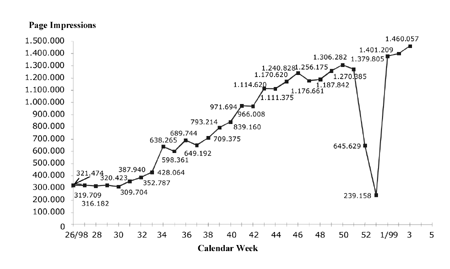 Figure 3. Number of Page Impressions (www.krak.dk)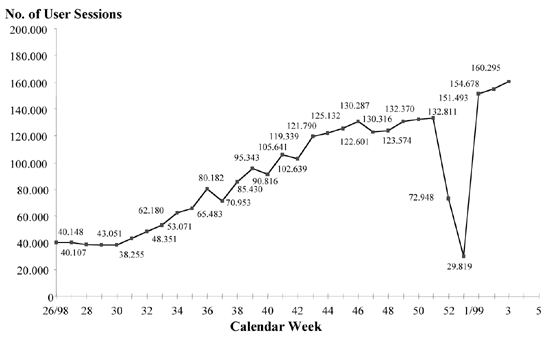 Figure 4. Number of User Sessions (www.krak.dk)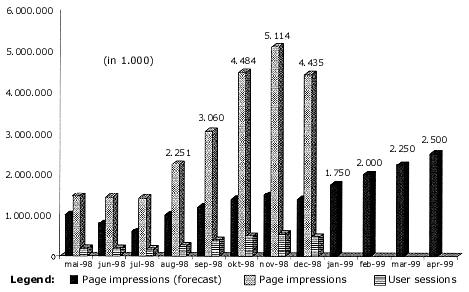 Figure 5. Forecasts, Page Impressions, and User Sessions (www.krak.dk)
As the company's products are mainly given away free (with the income generated from selling advertisements), moving to the Internet has been relatively easy for Krak. What surprised Krak and observers, however, is that the items Krak sells — printed versions and CD-ROMs of city maps — are still sold in significant numbers in bookstores even though they are available free on the Web.
Plans
Krak's next product will be different from its traditional wares. The company has developed a search engine that is integrated into their Web site. That search engine can make the Krak site a portal to the business sites linked to it through its Internet services business and through its advertising sales. Krak plans a major marketing campaign to herald the benefits of the search engine, bringing users to the site and from the search engine to the businesses connected to it. The original business concept was to finance such a marketing campaign and the follow-up maintenance of the search service by charging for featured search words and banner ads. However, Krak has over time recognized that that approach will not work because of an insufficient number of listings.
Lessons
One crucial difference between directory publishers and other publishers has to be kept in mind: In most instances, directory publishers give their printed products away free, based on a business model that generates income from selling advertising space. Hence the shift to the Internet could be considered to be comparatively minor. Today most content on the Web is provided free, and where cost recovery is anticipated, it is expected through advertising income [6].
Although I've already noted that Krak is different from some publishers, the lessons to be learned from our example may apply even to publishers who charge for their content.
Timing of Electronic Publishing Activities

There are two basic options for the timing of a company's entry into electronic publishing: (1) to be an innovator and early adopter, which would suggest the need to become active on the Internet as soon as possible, or (2) to wait and learn from the experiences of other companies before designing one's own strategy. (For a slightly more differentiated list of alternatives see, for example, Kalakota and Whinston 1997.) [7].

Most experts suggest going on the Internet as early as possible, even if in the first phase it is mainly for learning purposes. Publishers that ignore electronic publishing are thought to endanger their long-term survival, losing expansion and growth potential Already it is difficult to put up only a "starter" site; new sites must be sophisticated and must be backed by experienced staff. That entry barrier is exacerbated by the difficulty of establishing a sufficient customer base if others have already captured the market. On the other hand, early investment in electronic publishing should allow publishers to gain and develop a certain degree of know-how and to slowly build up a customer base. That would then make them more attractive for the most important source of revenue, advertising. [8]

Krak went ahead with Internet activities rather early for two reasons. First of all, it wanted to take advantage of the marketing opportunity of being the first publisher in Scandinavia to be on the Web. Second, it was convinced that the earlier it started, the more experience would have been gained before potential competitors joined it on the Web. Third, Krak anticipated the emerging market boom of the Internet. As Ib Topholm, Managing Director of Krak said, "time was up to become more active and to strengthen one's efforts."

Several Krak divisions — not unexpectedly — were not keen on in-house competition. They feared cannibalizing their successful paper-based business. (An unanticipated problem has been the competition for Krak-trained Internet experts by Krak's competitors. Those latecomer companies have been raiding Krak's ranks for the ready-made expertise. Krak has not been able to solve that problem directly; it has instead sought to keep its valuable employees by maintaining its good working conditions.)

Gaining the Critical Mass

Advertising is based on access to an audience. Krak had to reach a critical mass of site visitors in order to make its advertising possibilities attractive. [9] It is really a chicken-and-egg problem. A publisher will create the content to build an electronic business if there is enough demand, but the demand is based on the quality of the content. In economics that conundrum is known as "network externalities." According to that concept, a good (an electronic directory, for instance) exhibits network externalities if an individual's appreciation for the product depends on how many other people use it. Telephones, faxes, and e-mail all have network externalities. Electronic directories exhibit an indirect form of network externalities: The users' value depends on how many records are listed, and the number of records depends in part on how many users there are. [10], [11] Krak solved the problem by jumping in with a large investment and a commitment of quality content, which brought along the users.

Managing In-House Cannibalization

Once the critical mass for the electronic products has been reached, companies have to deal with in-house cannibalization. Krak created its electronic products — on CD-ROM and the Internet — by converting published multi-volume sets that have already had a long life in print. Clearly they are concerned about cannibalizing print sales with their electronic products, even though there is evidence that many directory publishers world-wide duplicate content in different formats. Krak discovered that free distribution on the Internet does not seem to harm sales of the same information on CD-ROM and paper. Indeed, other publishers outside the directory-publishing sector report the same phenomenon. Several publishers put up on the Internet the full text of nearly all their books in HTML or in page images, not charging anything, and see no drop in sales. They report that sales go up — the "selling more by giving it all away" approach. For instance, that has been experience at the National Academy Press. (See Barbara Kline Pope's article in this issue of JEP.)

The risk of print-sales cannibalization fades when we note that print and electronic products do not necessarily correspond one to one. Electronic directories can be used to supply innovative content, especially differently packaged, more targeted information. Electronic delivery combines communication with the content, leading to higher quality and thus to added value to customers. Furthermore,in the electronic environment customers are much more in control of how much and what kind of directory information they want to obtain. Indeed, it can be expected that when publishers complement print products with electronic ones, customers will request additional value such as availability (newest information, access to data from any location), presentation (multimedia, such as video clips and sound), interactivity (user-friendly downloading and search functions), and innovative content. (Figure 6)

Figure 6. Dimensions of Added Value in Electronically Offered Information [7][sic]

When converting a print reference product to an electronic reference product, publishers create enormous opportunities by considering the content of the books as a database and each data set as an entry in that database. Smaller databases can be combined to create larger ones, in which entries and groups of entries are linked to each other in useful ways. Publishers need to consider how they can add to an electronic database to make it more useful. Certainly a large database can be unwieldy unless it is organized properly both for searching and for display. Publishers need to think through how the user will approach the content, and whether every search should give 300+ results — and if so, what the user is supposed to do next. Those are questions that do not challenge print publishers. The electronic environment creates new issues that can reinvigorate a publisher's thinking, and — if treated right — revitalize a publisher's bottom line.

The print product's usefulness has to be adapted and enhanced in electronic form. The context of a large information database is one way to meet that demand. [12] It is important when targeting print content for conversion [13] to make sure that the combined database is not only needed in the marketplace but also has the potential, with enhancements, to become a cohesive, stand-alone product. [14],[15]

Publishers should also reflect on the most appropriate technology for electronic directories. That includes knowing what kind of equipment the potential customers are using, and what competition a product will face. Although some people argue that CD-ROM technology will soon be superseded by Web-based products, there could be a swing back to CD-ROMs. Companies recognize the technological limits of the Web in manipulating large databases (speed is certainly a problem), and realize that with some products they have paid for access, not content. It seems likely that CD-ROMs will continue to sell, especially in combination with Web-based services. [14]

Focusing on Value Adding Activities: Content Creation Versus Access Provision

When electronic directories become stand-alone products independent of their printed counterparts, an increasingly relevant issue for developing a sustainable business with directory publishing is whether to focus on creating content or on providing access.

Krak's success over the last two centuries has been based on its company tradition, its brand name, and its sales force, but none of those is as important as Krak's focus on creating content. However, in the era of the Internet, when information is publicly available on the Web, the content is at risk because of the ease of copying. Trading information electronically on the net raises concerns about version control, authentication of the product, and control over intellectual property rights. Therefore, in electronic-directory publishing it seems likely that providing access may prove to be more important than creating content.

Pricing

Conventional pricing and transaction mechanisms are barely suitable for capturing the economic value of electronically traded goods. [16],[17] The price a product is sold fornormally consists of three elements: production costs, coordination costs, and profit margin. [18] Coordination costs include the transaction (or governance) costs of all the information processing necessary to manage the work of people and machines that perform the primary processes. [19] With marginal production costs near zero, drastically reduced transactions costs in using information technology and communication technology, and questionable profit margins in current business models, new concepts have to be put in place for analyzing prices of electronic information.
Traditionally, the price of a book depends heavily on its printing quality and the number of pages. Indeed, the price for an excellent book is almost the same as for a poor one. In the electronic environment content can be unbundled and priced separately from its physical structure, allowing for price discrimination based on the value of the content. The unbundling also raises problems, however. Administration becomes more complex and cross-subsidies diminish between profitable and non-profitable (but nonetheless desirable) content. Indeed, publishers faced with the possibility of pricing on the basis of content quality must come up with new metrics for setting prices. Production costs cannot be used as a guideline, since there is no link between input and output. Mass consumption does not require mass production. Publishers are just starting to investigate the range of possible cost-recovery and economic-sustainability models. [20] In the end, models will become rather complex and will have to take into account the trajectories of organizational mission, frangibility, and reusability of content, and the desires of the audience, and each variable will have its own set of imperatives. [21]
Outlook
While offering content on-line has become extremely popular in the Internet era, only a few companies are prepared to take advantage of their vast content archives to participate in electronic trading. In the near future, new market structures will emerge as a consequence of the Internet (or whatever may succeed it) and of the feasibility of providing electronic content commercially. The field of directory and reference publishing provides enormous opportunities for originality and creativity. Although competition is growing all the time and the field is populated with more publishers and products than ever, new products may still be invented.
The endless possibilities of electronic formats have opened the reference frontier anew. In acknowledging these new possibilities it is very important not to lose sight of market needs and of the editorial function, both of which have brought success in the past. Technology will continue to change and today's electronic formats will look archaic in future years. The challenge is to create content for the future inspired by the current technology. Krak has done that, and its lessons are worth heeding.
---
---

Claudia Loebbecke holds the Chair of Electronic Commerce at Copenhagen Business School. She received a Masters and a Ph.D. in Business Administration from University of Cologne, Germany, and an MBA from Indiana University, Bloomington, USA. Her research focus is on electronic commerce, media management, new organizational forms and information management. Claudia Loebbecke worked at Erasmus University, Rotterdam, Netherlands, McKinsey & Co. (Germany), INSEAD (Fontainebleau, France), Hong Kong University of Science and Technology (HKUST), and the University of New South Wales, Sydney, Australia. She has over 80 internationally, peer-reviewed journal articles and conference papers, and contributed to the development of more than fifteen in-depth case studies in eight different countries. You may contact her by e-mail at Loebbecke@CBS.DK.
Claudia Loebbecke may be reached by e-mail at Loebbecke@CBS.DK.
---
References
1. Gerdy, G. 1996. Dow Jones Business Information Services on the Internet. In The Internet Strategy Handbook. Edited by M. Cronin. Boston, Mass.: Harvard Business School Press, 51-68.

2. Loebbecke, C. 1999. Electronic Trading in On-line Delivered Content, Proceedings of the Thirty-Second Hawaii International Conference on System Sciences (HICSS-32). "Internet and the Digital Economy" Track. Edited by A. Dennis and D.R. King.

3. Currently, the Business Directory consists of eight volumes: two cover "who lives where in Copenhagen," and thus are a direct continuation of the original piece printed in 1770. One volume briefly lists all 400,000 officially registered companies in Denmark. Another three volumes provide more detailed information on 60,000 business-to-business companies. The seventh volume offers sophisticated information on 30,000 companies, such as names of board members. The last volume covers the public sector. That volume is one of the most-used books in Danish libraries. Only the volumes covering the public sector, and the one providing detailed information on 30,000 companies are sold; the others are given away free.

4. 1 Euro is about DKK 7.5.

5. User sessions mean accesses from an IP address within 30 minutes; new accesses more than 30 minutes after the first one, even from the same IP address, are counted as a second session.

6. Choi, S.-Y., D. Stahl, and A. Whinston. 1997. The Economics of Electronic Commerce. Indianapolis, Ind.: Macmillan Technical Publishing.

7. Kalakota, R., and A. Whinston. 1997. Electronic Commerce, A Manager's Guide. Reading, Mass.: Addison-Wesley.

8. Loebbecke, C., and P.Powell. 1999. Electronic Publishing: Assessing Opportunities and Risks, International Journal of Information Management.

9. Armstrong, A., and J. Hagel III, 1996. The Real Value of Online Communities. Harvard Business Review May-June 1996:134-41.

10. Varian, H. 1998. The Future of Electronic Journals, The Journal of Electronic Publishing 4(1). [doi: 10.3998/3336451.0004.105]

11. Parker, M., and R. Benson. 1988. Information Economics. Englewood Cliffs, N.J.: Prentice Hall.

12. European Commission DG XIII/E, ed. 1996. Strategic Developments for the European Publishing Industry towards the Year 2000, Europe's Multimedia Challenge, Brussels/Luxembourg.

13. Conversion, as used in this context, refers to taking a print product and turning it into a digital file, which can in turn be manipulated to become part of a CD-ROM database or a new print product. Development would then refer to taking those digital files and creating a new product, usually electronic.

14. Miller, S. 1998. Transforming Print Encyclopedias into Successful Electronic Reference Products, The Journal of Electronic Publishing, 3(4). [doi: 10.3998/3336451.0003.402]


15. Wang, R., Y. Lee, L. Pipino, and D. Strong. 1998. Manage your information as a product. Sloan Management Review Summer:95-105.

16. Goldfinger, C. 1997. Intangible Economy and its Implications for Statistics and Statisticians. International Statistical Review 65(2): 191-220.

17. Coase, R. 1974. The Market for Goods and the Market for Ideas, American Economic Journal, May.

18. Benjamin, R., and B. Wigand. 1995. Electronic Markets and the Virtual Value: Chains on the Information Superhighway. Sloan Management Review Winter:62-72.

19. Malone, T., J. Yates, and R. Benjamin. 1987. The Logic of Electronic Markets. Harvard Business Review May-June:166-72.

20. Clarke, R. 1997. Electronic Publishing: A Specialised Form of Electronic Commerce, Tenth International Electronic Commerce Conference, Global Business in Practice. Edited by D. Vogel, J. Gricar, and J. Novak. Bled, Slovenia, June, 335-52.

21. Jensen, M. 1998. Developing the Appropriateness Matrix. The Journal of Electronic Publishing 4(1). [doi: 10.3998/3336451.0004.101]

Top of page