What Was Tad Lincoln's Speech Problem?
Skip other details (including permanent urls, DOI, citation information)
Copyright © Board of Trustees of the University of Illinois. For permission to reuse journal material, please contact the University of Illinois Press (UIP-RIGHTS@uillinois.edu). Permission to reproduce and distribute journal material for academic courses and/or coursepacks may be obtained from the Copyright Clearance Center (www.copyright.com). :
For more information, read Michigan Publishing's access and usage policy.
Thomas "Tad" Lincoln (1853–1871), the fourth son of the sixteenth president, had a speech problem. This came to my attention shortly after assuming the presidency of Lincoln College. In an effort to find out more about the man for whom the college is named, I visited the Abraham Lincoln Presidential Library and Museum in Springfield, Illinois. In the rotunda of the museum are life-sized sculptures of the Lincolns and three of their sons, Robert, William, and Thomas (Tad), which present accurate likenesses of the family as they appeared during the White House years. As I examined the sculptures, I was intrigued by the sculptor's creation of a small fissure just to the left of the midline on the upper lip of Tad Lincoln (see Figure 1). As an academically trained speech/language pathologist who has taught courses in cleft palate and served on interdisciplinary cleft-palate teams, I recognized that such a deformity often signals other midface anomalies, including some form of cleft palate.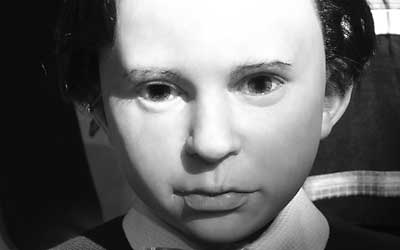 Figure 1.
A cursory inspection of the literature reveals many references to both communicative and cranio-facial deformities in Tad Lincoln. For example, Benjamin P. Thomas makes several references to Tad's speech, contending that "he had a cleft palate and lisped."[1] Thomas also avers that Tad's speech was marked by a rapid rate and low intelligibility. [2] David Herbert Donald attributes the reduced intelligibility, in part, to dental abnormalities [3] that were severe enough to require special dietary preparations.[4] Other authors have described the speech problem as "baby words,"[5] "baby tongue," [6] "tongue-tied,"[7] "stammering utterances," [8] "stuttering,"[9] "mix[ing] words in a lisp,"[10] and a fluency pattern described as "words fairly tumbling over each other." [11] Added to these descriptions are a number of references to other developmental, behavioral, and medical problems. There is agreement among biographers that Tad was slow in learning to read and write, signaling a possible generalized delay in speech and language development.[12] Some have suggested that Tad's communication problems resulted from intellectual delays and limitations.[13] He has been described as impulsive, hyperactive, and slow in reaching certain developmental milestones (e.g. learning to dress himself). [14] Finally, Milton H. Shutes, upon examination of photographs of Tad and Willie, concluded that "the post-nasal cavities of the two younger boys were fairly well occluded with adenoids."[15]
From the perspective of the clinical discipline of speech/language pathology, the aforementioned array of descriptors creates a confusing, uncertain, and potentially inconsistent assessment of Tad Lincoln's communicative problems. This is understandable because most of the descriptions have been offered by historians unfamiliar with terminology in speech/language pathology or by eyewitnesses and family members who lived prior to the development of speech/language pathology as a discipline during the twentieth century. Nevertheless, based upon descriptions in the literature, it is possible to establish with some degree of confidence Tad Lincoln's communication problems.
Categorization of speech and language disorders
Before conducting a more thorough examination of the speech and language problems presented by Tad Lincoln, it is helpful to provide a brief overview of the different types of communication disorder. For purposes of this study the following simple six-fold categorization scheme will be used:
Disorders of language. A disorder of language occurs when a child or adult exhibits some level of incapacity in encoding or decoding the symbolic structure and content of his/her native language at the highest central nervous system level. Such disorders may result from limitations in brain development and/or maturation, inadequate environmental stimulation, disease, hearing loss, or trauma to the brain. Language disorders may involve difficulties in semantic (meaning), syntactic (grammatical structure), and/or phonemic (sound unit) processing. Often speech/language pathologists distinguish between receptive language disorders in which the patient cannot process incoming language symbols and expressive language disorders where the person cannot produce appropriate language, even though it may be understood. In childhood language development, expressive language competence lags behind receptive language ability.
Disorders of programming. In some cases, a person may be able to understand language and encode a message but cannot translate the centrally generated message into a motor program that can be executed by the peripheral speech mechanism (lungs, larynx, tongue, jaws, soft palate, etc.). Disorders of programming are referred to as apraxia, which means inability to use a tool. For example, a patient might know intellectually what a table fork is used for and may have the muscular capacity to manipulate a fork but cannot translate the central understanding into muscular patterning that will allow proper use of the utensil. Similarly, when one has apraxia of speech, he/she cannot translate the centrally coded message into meaningful patterns of speech. Thus, a patient with apraxia may look at the picture of a tornado and call it variously a "tornoodie," a "nortado," or a "tednado." In a case of pure apraxia, the patient will know that such attempts are in error.
Disorders of fluency. A disorder of fluency occurs when the "flow" of speech is disturbed in some way. Historically, three terms have been used to describe disorders of fluency: stuttering, stammering, and cluttering. Stuttering is a generic term referring to either a complete stoppage in the flow of speech or a repetition of a sound, syllable, word, or phrase that has no linguistic purpose. In the United States, the term stammering is archaic. However, in Europe and elsewhere stammering may refer narrowly to speech blockages as opposed to stuttering, which is reserved for repetitions. Cluttering is characterized by a rapid speech rate, articulation (pronunciation) errors, repetitions, and "telescoped speech" wherein the last portion of an utterance may be produced with an accelerated rate and less precision. Cluttering is typically one component of a broader syndrome with other behavior disturbances.
Disorders of the voice. Vibration of the vocal folds (cords) within the larynx produce a buzzing sound that generates the voiced portion of speech. Certain sounds require voicing (all vowels, the nasal consonants /m, n, η/, and other orally articulated consonants such as /z/, /v/, /b/, /l/, /r/, etc.), whereas other sounds are unvoiced (e.g. /s/, /t/, /p/, etc.). When a condition causes a disturbance in the vibration of the vocal folds, a disorder of the voice may result. Terms such as "strained," "hoarse," "tense," and "breathy" are often used to describe a voice disorder.
Disorders of articulation. The stream of voiced and unvoiced air emanating from the lungs and larynx is modulated as it enters the oral cavity (mouth). This modulation gives rise to the distinctive sounds of speech (vowels and consonants) and is accomplished by the articulators (tongue, jaw, lips, palate, and to a lesser extent the throat or pharynx). Any disturbance in the proper placement of the articulators gives rise to a disorder of articulation. Sounds may be substituted one for another (such as /w/ for /r/ in "wed wobin"), added, distorted, or deleted.
Disorders of resonance. In the English language, three sounds are produced with the soft palate in a lowered position. These are the so-called nasal consonants /m, n, η/ and involve resonance of the nasal cavities. All other English sounds are produced with the soft palate in an elevated position, which occludes the opening to the nasal cavities. If there is a deformity or malfunctioning of the soft palate (such as a cleft palate), the nasal cavity may not be properly closed off and a nasal quality pervades the person's speech. Alternatively, if there is some obstruction in the nasal cavity, it cannot properly resonate for the nasal consonants, which gives a cold-in-the-nose quality to the speech. Properly speaking, disorders of resonance are disorders of articulation, but for purposes of this study, they will be classed separately.
Cleft lip and palate
Because there is incontrovertible photographic evidence that Tad Lincoln had some form of notching just to the left of the midline on his upper lip (see Figure 2), a brief overview of cleft lip and palate, as it occurs in human beings, is warranted. Cleft lip can occur with or without a cleft of the palate. Clefts of the palate may be partial, involving a portion or the entirety of the uvula, soft palate, hard palate, and/or alveolus (gum ridge). Some children are born with complete clefts of the uvula, soft palate, hard palate, alveolus, and lip. One form of partial palatal cleft is the so-called submucous, occult, or occult submucous cleft. With a submucous cleft, the peripheral tissue of the palate may be complete but the underlying muscle and/or bone is incomplete. As with clefts of the palate, clefts of the lip can be partial or complete. With rare exception, clefts of the lip occur to left or right of the midline. Cleft lip alone and cleft lip + cleft palate are much more common in males, while cleft of the palate alone is more common in females. Left-sided clefts of the lip are more common than right-sided clefts.[16]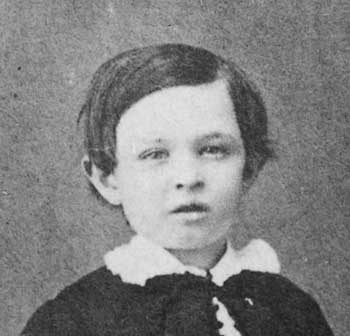 Figure 2.
Cleft lip and/or palate can result from a variety of etiological factors both genetic and environmental. Of particular importance is the heritability of the disorder. There is mounting evidence that clefts of lip and palate run in families, with a high probability of recurrence in first-degree relatives (siblings, parents, offspring) and a rapidly decreasing frequency with decreasing degrees of relationship. [17] It would appear that cleft lip and cleft lip + cleft palate constitute a qualitatively different disorder than cleft palate only.[18]
Tad Lincoln's speech and language problems
The six-fold categorization provides a framework for analyzing Tad Lincoln's speech and language problems. Special attention will be devoted to the probable cranio-facial anomalies and consequent speech problems signaled by the left-sided lip fissure shown in Figures 1 and 2.
Tad Lincoln's cleft lip (and palate)
Re-examination of Figure 2 reveals that the notching or fissure to the left of the midline runs from the lower margin of the upper lip up to the left naris or nostril. It is not a complete cleft of the lip and, using contemporary parlance, would be termed a microform cleft or forme fruste. Figure 3 depicts a clear image of the forme fruste pattern of clefting, and one can see the clear similarity of this example with that in the photograph of Tad Lincoln shown in Figure 2. Without question, the forme fruste is a less severe variant of cleft lip and has sometimes been referred to as a "congenital healed cleft lip," suggesting spontaneous and nearly complete closure of the cleft lip in utero.[47]

Figure 3.
Of particular significance is the suggestion in the literature that this particular phenomenon runs in families.[48] Close inspection of a photograph presumed to be that of Tad's grandfather and namesake, Thomas Lincoln, shows the same forme fruste of the upper lip on the left side (see Figure 4). Though there are too few cases upon which to base firm conclusions, it would appear that forme fruste clefts have a higher degree of heritability than open cleft lip and/or palate. Thus, the grandfather-grandson recurrence in the Lincoln family points to an almost certain inheritance that skipped the sixteenth president.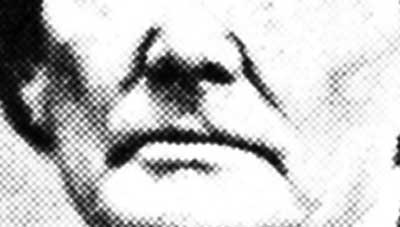 Figure 4.
It should be noted that the presence of cleft lip often signals deeper anomalies involving the alveolus and palate. There are repeated references in the literature of a cleft palate or partial cleft palate in the case of Tad Lincoln. In addition, there is ample evidence of dental abnormality. For example, in the January 1868 letter from Robert Todd Lincoln to David Davis, reference is made to an early form of orthodontic appliance that had been placed in Tad's mouth to straighten his teeth. Dental anomalies, particularly in the upper jaw, are common in children with cleft palate. In addition, with more severe clefts of the palate, the child has difficulty chewing and swallowing. The previously mentioned reference to preparing Tad's food so that he could more easily consume it might imply not only dental problems but a cleft palate as well. It should be noted that the forme fruste variant of cleft lip is associated with a lower heritability of cleft palate than open variants of cleft lip. This would suggest that Tad's forme fruste lip problem was more likely to have been an isolated anomaly than if it had been an open deformity. Of course, it is impossible to know if he had a cleft of the palate and/or alveolus and, if so, to what extent.
Conclusion
Table 1 provides a summary of the various forms of communicative disorder and their respective likelihood in the case of Tad Lincoln. Inspection of Table 1 reveals a developmental articulation disorder to be the only certain pathology. This certainty is derived from the evidence of multiple firsthand accounts of Tad's speech difficulties. It is also highly probable that Tad had a language problem. Developmental articulation problems and delayed literacy are both associated with delayed language. The co-occurrence of articulation and literacy disorders renders delayed language much more probable. If Tad Lincoln had an overt or submucous cleft of the soft and/or hard palate, the possibility of a cleft-related articulation problem, along the lines suggested by Whipple, would be possible. In addition, as noted earlier, cluttering cannot be ruled out, nor can the possibility of a laryngeal voice disorder or a resonance problem. It is unlikely that Tad stuttered or had childhood apraxia of speech.
Table 1. Probabilities of the occurrence of speech and language problems in the case of Tad Lincoln
Disorder
Certain
Probable
Possible
Unlikely
Language Disorder (Delayed Development)
X
Programming Disorder (Childhood Apraxia)
X
Fluency Disorder
Stuttering
X
Cluttering
X
Voice Disorder
X
Developmental Articulation Disorder
X
Disorder of Resonance
X
Table 2 summarizes the likelihood that Tad suffered from one of the several forms of oral cleft. The only certain form, based upon the photographic evidence and the heritability of the problem, is the forme fruste notching in the lip. Because of the frequency of citations in the literature regarding clefting, dental problems, and chewing/swallowing difficulties, it is likely that Tad also had some form of cleft palate, more probably a partial cleft of the soft and hard palate.
Table 2. Probabilities of the occurrence of cleft lip and palate in the case of Tad Lincoln
Deformity
Certain
Probable
Possible
Unlikely
Cleft Lip (Forme Fruste Variant)
X
Cleft Alveolus
Partial
X
Complete
X
Cleft of the Hard Palate
Partial (Including Submucous)
X
Complete
X
Cleft of the Soft Palate
Partial (Including Submucous)
X
Complete
X
Given the evidence reviewed in this study, it is probable that Tad Lincoln had a complex speech and language disorder that today would have necessitated early and extensive intervention by a speech/language pathologist to address, at a minimum, a delay in language development and the developmental articulation problem. In addition, today, his cleft would have been repaired within the first few years of life by a plastic surgeon; special educators and child psychologists could have helped with potential learning differences or attention deficit/hyperactivity disorder; an orthodontist could have substantially improved the alignment of his teeth with considerably less pain and interference with speech. In a larger sense, today's dramatically improved medical care would no doubt have given the child of a prominent American citizen such as Tad Lincoln a much longer life span with possibility for greater fulfillment of his potential, including normal speech.
Notes
Top of page