Mary Todd's 1835 Visit to Springfield, Illinois
Skip other details (including permanent urls, DOI, citation information)
Copyright © Board of Trustees of the University of Illinois. For permission to reuse journal material, please contact the University of Illinois Press (UIP-RIGHTS@uillinois.edu). Permission to reproduce and distribute journal material for academic courses and/or coursepacks may be obtained from the Copyright Clearance Center (www.copyright.com). :
For more information, read Michigan Publishing's access and usage policy.
Every biographer of Mary Todd Lincoln asserts that her first visit to Springfield, Illinois, occurred in 1837. The common source for these claims is William Herndon's notes of a meeting with Mary that took place in Springfield at the St. Nicholas Hotel on September 5, 1866. Of the three sets of notes recounting the meeting, none are verbatim texts, and it is unclear how much time passed between the time of the meeting and the writing of the notes. A recently discovered entry in Sangamon County Record Book H reveals that sisters Frances Todd and Mary Todd witnessed a sales transaction between their brother- in-law, Ninian Wirt Edwards, and Samuel Wiggins on May 16, 1835. The entry clearly places both Todd sisters in Springfield much earlier than previous biographers had thought. [1]
For two hundred dollars, Samuel Wiggins of Cincinnati, Ohio, purchased land in an area of Springfield known as the Edwards Addition. Wiggins is probably the Cincinnati businessman who was a director of the Franklin Bank. [2] The sale provided useful income for the Edwardses, who were still establishing themselves in Springfield. Although Ninian Wirt Edwards was the son of Ninian Edwards—Illinois territorial governor and one of Illinois' first senators after statehood in 1818 and its third governor—he had yet to make his mark in the world. He attended Transylvania University in Lexington, Kentucky, where he courted and married Elizabeth Todd, daughter of wealthy businessman Robert Smith Todd on February 29, 1832. Graduating the following year, Edwards took his bride to Springfield where he began the practice of law. In 1834, Governor John Reynolds appointed Edwards to be Illinois attorney general, most likely as a favor to Ninian's illustrious father. Like his father, Ninian Wirt Edwards so conveyed an air of an aristocrat that fellow attorney Usher Linder recalled that Edwards "was naturally and constitutionally an aristocrat, and he hated democracy when I first knew him, as the devil is said to hate holy water."[3]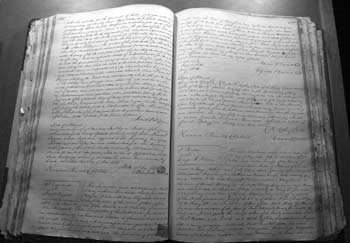 Figure 1. Mary Todd and her sister Frances witnessed an 1835 sales transaction recorded in Sangamon County Record Book H. The entry places the Todd sisters in Springfield two years earlier than previously thought.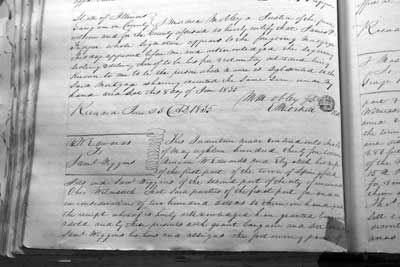 Figure 2. The May 16, 1835, land transaction between Mary Todd's brother- in-law, Ninian Wirt Edwards, and Samuel Wiggins is recorded on pages 310 and 311 of Sangamon County Record Book H.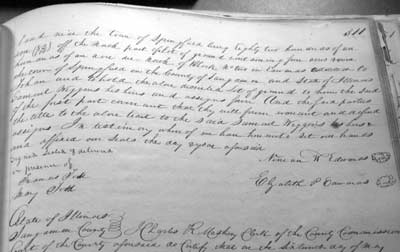 Figure 3. Page 311 records the witnessing signatures of Mary Todd and her sister Frances.
The Edwardses lived in a fine house in an area known as Aristocracy Hill because of all the large homes that stood in sharp contrast to the two- or three-room cottages that dotted Springfield's landscape. The spaciousness of their home allowed them to entertain guests, often for lengthy periods of time. It is clear that Elizabeth Todd Edwards used the spare bedrooms to invite her sisters to visit for extended periods, always with an eye to finding a suitable spouse. The strategy worked, for all three of Elizabeth's younger sisters married Springfield residents.[4]
Historians have also cited the Springfield visits of the Todd sisters as evidence of the strained relations between the offspring of Robert Smith Todd's first wife, Eliza Ann Parker, and his second wife, Elizabeth "Betsey" Humphreys. Springfield became an avenue of escape from the overcrowded Todd home in Lexington. Why Frances and Mary were in Springfield in May 1835 can only be conjectured. Perhaps it was merely a social visit, or it could have been an opportunity to escape the worries of Lexington. Katherine Helm, Mary's niece, recalled that "Ever since his eldest daughter Elizabeth had married Ninian Edwards, Robert S. Todd had gone to Springfield always once, sometimes twice, a year to visit his daughters and his nephew John Todd Stuart." [5] That might explain how the teenage girls were able to travel from Lexington to Springfield and back. What is also unclear is when Frances and Mary arrived and then left Springfield. Frances may have stayed in town even longer than her younger sister Mary. This is based upon another land sale one month later on June 15, 1835, with Frances Todd as the witness while Mary's name is absent.[6] Clearly, these entries in the record books present a very interesting puzzle for historians to solve.
Notes
Top of page