Invocation (Abraham Lincoln Association Annual Banquet)
Skip other details (including permanent urls, DOI, citation information)
Copyright © Board of Trustees of the University of Illinois. For permission to reuse journal material, please contact the University of Illinois Press (UIP-RIGHTS@uillinois.edu). Permission to reproduce and distribute journal material for academic courses and/or coursepacks may be obtained from the Copyright Clearance Center (www.copyright.com). :
For more information, read Michigan Publishing's access and usage policy.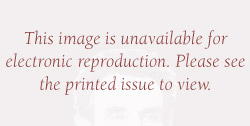 Gelatin silver print of a lost contemporary print of the lost presumed daguerreotype made in Chicago by Johan Carl Frederic Polycarpus Von Schneidau, in 1854.Page  [End Page 6]
ABRAHAM LINCOLN ASSOCIATION ANNUAL BANQUET
February 12, 1986
Because he is our ancient and old beyond years
and yet was always boyish
Because he was plain-black simple
and yet unspeakably elegant in phrase and thought
Because his sadness was inconsolable
and his loneliness was desolate
and yet his laughter fills us still
and lives on in irony and humor.
Because he was our humble obedient servant
and yet asks us continually for more than we can give.
Because he believed that slavery was an abomination
and that each person was afforded dignity and honor
and that God was in control of all of history
We give You the thanks for Abraham Lincoln this night
an instrument of Your peace.
For Him who continuously and profoundly sought to do Your will
who chose compassion over vindictiveness
effective and faithful government service over patronage
and privilege
and tolerance for all people.
"It breaks his heart that kings must murdernstill,
That all his hours of travail here for [us]
Seem yet in vain. And who will bring white peace
That he may sleep upon his hill again?"
[1]
For the inconsolable man of Springfield
may finally come here to rest
We will continue to speak of his saintliness
while bigotry and oppression and war abide
and above all enjoy his spirit
and the comfort his dear memory brings.
Feed us this night with Your grace
and keep us with Your favor.
Amen.
Howard L. Milkman, Jr. Ph.D Page  [End Page 7]
Notes
Top of page