Add to bookbag
Authors :

Josh Radinsky, Ben Loh, Jason Lukasik

Title:

GIS tools for historical inquiry: Issues for classroom-centered design

Publication info:

Ann Arbor, MI: MPublishing, University of Michigan Library
August 2008

Rights/Permissions:

This work is protected by copyright and may be linked to without seeking permission. Permission must be received for subsequent distribution in print or electronically. Please contact mpub-help@umich.edu for more information.

Source:

GIS tools for historical inquiry: Issues for classroom-centered design
Josh Radinsky, Ben Loh, Jason Lukasik

vol. 11, no. 2, August 2008

Article Type:

Article

URL:

http://hdl.handle.net/2027/spo.3310410.0011.204
GIS tools for historical inquiry: Issues for classroom-centered design
University of Illinois at Chicago
Inquirium LLC
University of Illinois at Chicago
Josh Radinsky, Assistant Professor of the Learning Sciences
Learning Sciences Research Institute
University of Illinois at Chicago
1040 W. Harrison St. M/C 147, Chicago, IL 60607
fax: 312-355-3930
This material is based in part on work supported by a "We the People" grant from the National Endowment for the Humanities (NEH), Grant # EE-50023-04, and also by the National Science Foundation (NSF) under Grant # 0337598. Any opinions, findings, conclusions, or recommendations expressed in this material are those of the author, and do not necessarily reflect those of the National Endowment for the Humanities, nor of the National Science Foundation.
Abstract
As the community of history educators interested in using geographic information systems (GIS) grows and seeks standardization of methods, there are design considerations unique to educational settings in which students use GIS to learn history. A classroom-centered approach to the design of GIS tools is proposed, in which decisions of representation and functionality are based on the mode and context of classroom work for which the GIS is intended. The design of the web site GIS for History (http://www.gisforhistory.org) is examined as an example of such design decisions, and how they relate to the intended mode of classroom use of the site for learning U.S. history. Two such decisions are: (1) how to "place" historical documents in space, time, and contextual data, and (2) how to represent historical census population values visually in a GIS map. The design analysis suggests that attention to the intended mode of student inquiry, learning objectives of constructing historical arguments, and the realities of classroom logistics yields representational decisions that may be quite different from the design of GIS tools for other uses.
Introduction: GIS, historical inquiry, and history education
Geographical information systems (GIS) have been used as research tools by a small but growing group of historians in recent years [ [2],  [3],  [4],  [12]]. GIS enables examination of historical questions using spatial and temporal analyses of map images and geo-referenced data sets that would be difficult or impossible without these tools. As such, it suggests not only new methods and data sources, but also new questions and analytical approaches for historians examining past times, places and events.
History educators, at both secondary and collegiate levels, can also expand their practices using GIS [ [1],  [9]], though the community of teachers and professors using GIS for teaching history is still quite small. GIS offers these educators and their students the opportunity to be active investigators of historical phenomena, and the excitement of examining these phenomena in a dynamic environment in which multiple temporal and spatial perspectives can be adopted and compared.
These adventuresome history educators can look to the emergent work of historians using GIS for direction and inspiration, but may find that the tools used for intensive historical research with GIS do not translate easily to the classroom. They may also look to the somewhat larger community of environmental science educators who use GIS in their classrooms, but may find that the kinds of questions and analyses students do in these classes are not relevant to teaching and learning history. Finally, they may look to general-use GIS tools available to the public, such as Google Maps or Google Earth, and seek ways to adapt these tools to examining historical questions. While full of potential, these general-use GIS were not created with historical inquiry in mind, and as such may not offer tools for representing time, space, or place in ways that afford the kinds of historical learning teachers are seeking.
Designing GIS tools for learning history
As the community of history educators interested in using GIS grows and seeks standardization of methods [ [8],  [10]], we suggest that there are design considerations unique to educational settings in which students use GIS to learn history. We propose that a "classroom-centered" approach [ [5]] to the design of GIS tools for historical inquiry may lead to different decisions about software functionality and data representation (e.g., of time, space, place, and specific data) than the considerations that guide professional-use GIS design. In this paper we use examples from the design of our GIS for History web site (http://www.gisforhistory.org) to explore these design issues.
To build GIS tools for history education, we must know something about the people who will use them, and the kinds of learning activities we want to support. Like any tool, our GIS for History site is designed to support a particular mode of use. We have based the design, and our vision of use, on our experiences in high school and undergraduate history classrooms conducting a variety of historical inquiry projects using computer technologies. Rather than try to build tools to maximize GIS functionality for the user, or to support the widest possible range of uses, we instead have tailored the functionality and resources of the site to a mode of use that we think is feasible for many history classrooms, while taking advantage of some of the strengths of GIS to deepen and expand the history that students can experience in these projects.
The users for whom we have designed the site are teachers and students in American history classes conducting investigations of a particular historical theme, topic, or research question, for a period of one to five class sessions. We assume that these users have no specialized knowledge of GIS tools or data. The site is designed for use in an average urban public high school setting, with access to an Internet-connected computer lab for one to three class sessions during the unit. The only specialized aspect of the setting is the requirement of having the curricular leeway and willingness to dedicate this amount of time (up to a week) to an inquiry project on a particular historical topic. The site will only be useful for those teachers and administrators who subscribe to the value of such short-term but in-depth inquiry experiences as a valuable part of learning history.
The materials we have created for each curriculum unit include a set of links to selected historical documents from online archives, organized to provide "case studies" that highlight a particular historical theme relevant to the high school U.S. History curriculum. In addition to the selected "case study" documents, the site provides a customized GIS map for each unit, associating each "case" with a particular geographic location  [9]. These maps include historical geographies (historical state and county boundaries, and point-data locations of the largest cities) at ten-year intervals for a particular range of decades between 1790 and 2000. These geographies are used to display a small subset of historical census data variables for each decade, to be used to contextualize students' reasoning about the case studies. The census data variables selected for each curriculum unit are meant to afford particular kinds of observations and comparisons, in the service of building students' skills and habits for constructing historical arguments. (See  [9] for a more detailed description.)
The coordination of these two very different types of informational resources—historical documents and mapped census data—is meant to give students opportunities to practice the skills of contextualizing historical narratives in particular times and places. We have found that students are intrigued by the ability to explore the complexities of the data available in the GIS maps, and that teachers value the combination of this freedom to explore with the focus on particular concepts, questions, and documents. Different teachers and students take advantage of these resources differently, and in our classroom studies we are examining examples of the range of instructional possibilities and challenges these resources afford.
The use of GIS for History that we have designed for is quite different from some other modes and purposes of GIS that will be familiar to some JAHC readers. We have not provided students access to many of the statistical and spatial analysis tools that GIS is often used for, electing instead to give them simple map browsing, zooming, and look-up tools to query for single-record values of a limited set of variables. We have chosen not to give users access to tools for manipulating the color/shape/size representational schemes, query design, advanced labeling functions, or other options for constructing specialized map images or data tables.
In this paper we describe some of these design decisions we have made in developing this GIS environment for historical inquiry, and how they relate to our vision of the mode of classroom use we intend to support. In particular we focus on two design decisions:
how to "place" historical documents in space, time, and contextual data; and
how to represent population values visually in the map.
For each decision we highlight some of the different approaches and tradeoffs considered, and explain how our design choices are intended to support students' learning to engage in particular kinds of observations, comparisons, and historical argumentation.
Two curriculum examples: "Slavery in America" and "The Great Migration"
Giving students opportunities to use geographical, temporal, and demographic information to contextualize their readings of historical documents is a primary goal of GIS for History. The intent is for students to explore and examine the maps and documents, and to build their own understandings of these historical contexts themselves, rather than to simply illustrate specific facts or interpretations for them. Whereas historians bring deep contextual knowledge to their examination of documents, high school students need support for developing background understandings with which to make sense of them. GIS for History is designed to combine the human and particularized historical perspectives found in primary source documents with the demographic and mathematized context provided by mapped census data. A brief overview of two of the site's six curriculum modules will illustrate this intended mode of use of the site, before moving on to discussing the design decisions.
"Slavery in America" is a five-lesson curriculum unit that overviews the evolution of the institution of slavery, from early colonial laws through the entrenchment of racialized slavery, and examines the nature of slavery by focusing on the agency of people held in bondage. The GIS investigation materials provide eight "case studies" for students to investigate and compare the ways enslaved individuals in different regions, life circumstances, and times exhibited agency in spite of, and in opposition to, enslavement.
The "Great Migration" unit consists of five lessons in which students learn concepts of migration, push and pull forces, racism, and urbanization, in an exploration of the nature of, and explanations for, the exodus of African Americans from the rural South to urban areas and the North in the early 20th century. The GIS investigation materials provide 12 Southern towns as case studies of the varied motivations and life circumstances of migrants, grounding the inquiry in letters written to the Chicago Defender from each town (see  [9] for a fuller description of this investigation).
Both of these units attempt to engage students in the histories by combining document study of each "case study" with contextualizing examinations of historical census data in the GIS map. We use historical documents as a way of anchoring each inquiry project in particular places, and we use a "case-study" model of assignment as a way to engage students in comparative and contextualizing reasoning about historical events, actors and places.
Design decision 1: How to "place" historical documents in space, time, and data
There are many possible ways to combine a GIS map with links to online documents. One way, which we used, is to have a page with links to documents, organized thematically or by document type. Another affordance of the GIS map, however, is to embed links to documents within the map itself. This raises a host of design decisions: how to represent the document link visually? How to place each document in time—in which decades to show or hide the link? Where to place each document-link icon? What is the status of these documents? Whereas the census data sets implicitly make some claim to "coverage" of the counties represented (i.e., to represent all persons in certain categories living in those areas at that time, by definition of census), the documents are a small set that can make no claim to representativeness of a population, a concept, nor a time.
We chose to collect for each unit a set of "case study" documents, as described above, compiled from on-line historical document archives like History Matters, American Memory and others. Each case study is associated with one place, identified with a location in the GIS map. We placed a "document" icon in the map at each such location, and opted to have it remain visible at all decades, to afford easy comparisons of places over time (rather than having to refer back to a particular year to see where the case was placed). For example, in the "Slavery in America" unit, each of the eight case studies includes a small collection of historical accounts related to one person or event, linked in the map from a specific location—a town or city. One such case study is that of Denmark Vesey, whose case study documents are linked from an icon located in Charleston, South Carolina (see Figure 1).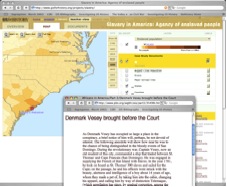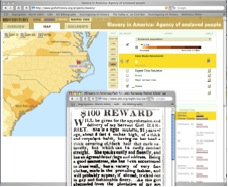 Figure 1.
Two case-study links for the "Slavery in America" unit: cases of Denmark Vesey, in Charleston, SC (top) and Harriet Jacobs, in Edenton, NC (bottom).
The GIS map was intended to help students contextualize the information found in the documents with observations of geographic characteristics of each place, and demographic characteristics of that place as it changed over time. The documents are accompanied by a set of "observation questions" to establish key events, as well as some "interpretation and inference questions" such as:
How did Denmark Vesey take control of his life?
Why do you think Denmark Vesey chose to lead a slave revolt after he had secured his own freedom?
Why might some enslaved people have chosen to leak information about the revolt to the white enslavers?
While considering these kinds of questions through the documents, students are asked to examine the contextual information included in the GIS map of census data. Understanding Vesey's case involves not only interpreting the events and decisions he made, but also examining the historical context of Charleston, South Carolina, in the early 19th century. Looking at the census data for 1810 through the GIS map (see Figure 2), Charleston stands out in a number of ways:
the city of Charleston, the fifth largest city in the United States in 1810 with a population of 24,711, was the only big city in the deep South;
the city was located in the most populous county in the South, Charleston County, with 63,179 inhabitants counted in the 1810 census;
there were more than twice as many enslaved people in Charleston County—45,385—than in any other American county in 1810;
the county's enslaved population in that year vastly outnumbered its white population of 16,011; and
the non-enslaved African American population of the county, 950, was larger than that of any other county south of Maryland.
These observations about the county Vesey lived in are the kinds of things we want students to notice and reflect on in their investigations. We constructed the map precisely to afford these kinds of observations, providing these census variables (total population, white population, African American population, enslaved population, free African American population) and other map layers (biggest cities, rivers, and major railroad lines) for this reason. Figure 2 shows the interface of the GIS during an investigation of these data, with the "Query History" (lower right) displaying the information mentioned above.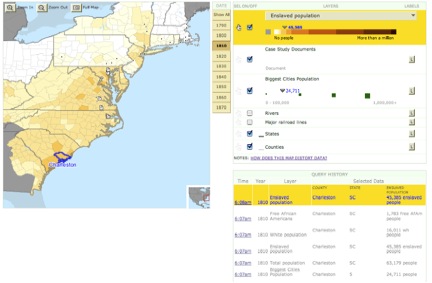 Figure 2.
GIS map with the "Vesey's Rebellion" case study link selected, and census information about Charleston city and county listed in the Query History.
As students read the documents and work with the map, we hoped these observations would stimulate reflections about Vesey's experiences and choices, both as an enslaved person and later as a free African American living in Charleston County. Having obtained his freedom, why might he have decided to remain living in such a county? What might life have been like for a freed African American in Charleston? How might these numbers of free and enslaved people help us understand the nature of the agency Vesey showed in his apparent planning for a rebellion against the government of Charleston to free others?
Problems with "placing" a case study in a location
For the design of an archive of documents, however, there are some problems with equating a "case study" with a location on an interactive map. Consider Harriet Jacobs, another of the case studies. Jacobs' home at the time of her upbringing, before her escape from slavery, was in the home of an enslaver in the coastal town of Edenton, in Chowan County, North Carolina. This county's population of 6,424 was approximately half enslaved, with 156 free African Americans counted by the census in 1820 (see Figure 3). The map shows Edenton to be on an inlet from the Atlantic coast. By representing Jacobs' case study with an icon on a map (see Figure 3), we implicitly suggest a meaningful relationship between the location of Jacobs' home and the characteristics of the surrounding county and coast. Students might be expected to infer, for example, that Jacobs could have escaped by sea; or that she could have fomented a rebellion (as Vesey may have attempted to do) by recruiting the enslaved people, who were half of the Chowan County population, to rise up.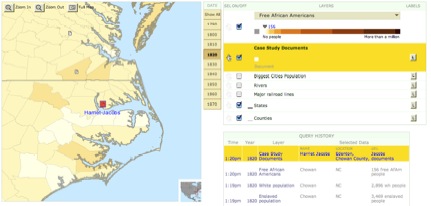 Figure 3.
GIS map with the "Harriet Jacobs" case study link selected, and census information about Chowan County, NC, listed in the Query History.
All such arguments would be based on the assumption that the data we happen to have are the right data for the historical reasoning we are doing. Yet the documents suggest that the place that most shaped Jacobs' enslavement was neither Edenton nor Chowan County per se, but rather the localized place of her enslaver's home. In fact, Jacobs' lament about the dangers of rape at the hands of her master within his house specifically compares the brutalities of slavery in larger "spaces"—even on the larger geography of the plantation's cotton fields—to the crueler abuses of the small confines of the enslaver's house:
I was compelled to live under the same roof with him—where I saw a man forty years my senior daily violating the most sacred commandments of nature. He told me I was his property; that I must be subject to his will in all things....
My master met me at every turn, reminding me that I belonged to him, and swearing by heaven and earth that he would compel me to submit to him. If I went out for a breath of fresh air, after a day of unwearied toil, his footsteps dogged me. If I knelt by my mother's grave, his dark shadow fell on me even there. The light heart which nature had given me became heavy with sad forebodings. The other slaves in my master's house noticed the change. Many of them pitied me; but none dared to ask the cause. They had no need to inquire. They knew too well the guilty practices under that roof; and they were aware that to speak of them was an offense that never went unpunished.
...I would rather drudge out my life on a cotton plantation, till the grave opened to give me rest, than to live with an unprincipled master and a jealous mistress.
Thus the smaller geography of the house appears to be a more relevant place for understanding the nature of Jacobs' remarkable agency, in the face of enslavement, rape, and emotional and physical abuse, than Chowan County, Edenton, or even the larger plantation.
The creation of a "case" that combines a historical actor with a particular location (as the map-with-documents does) also belies the fact that people move, and that places change. Jacobs escaped from the house in Chowan County, first to Philadelphia, and later to New York. In designing the GIS map to provide a geographic site for each case study, we decided to limit ourselves to only one location per case, in order to simplify the interface of the map, and to avoid the complexity of deciding how many locations would be appropriate for each case. Jacobs' case study is represented by a symbol on Chowan County NC, but not on Philadelphia, New York, nor any other location she lived or visited in her life. By doing this, we created the visual message that a narrative about the agency of Harriet Jacobs belongs to the county where she was enslaved, rather than the places where she lived free, the routes of her escapes, or the place where she succeeded in publishing The Life of a Slave Girl—a remarkable narrative that arguably constitutes her greatest agency in the fights against slavery, racism, and the domination of women.
Adding additional sites for each case (e.g. for New York where Jacobs published her book) could resolve this problem of geographic under-representation, but it would create a different one: students finding Jacobs' case-study location in New York would likely initially draw the wrong inference that the experiences she documented took place in New York. This could be avoided by providing a much larger set of links, documents and places for each case, each one associated with a particular year and map location, represented so as to visually communicate the connectedness of multiple locations to the same case (e.g., by use of color coding, or lines connecting same-case locations). These designs, however, would make the map much more difficult to read, or would require multiple maps for the unit (e.g., a full map for each case study).
While arguably better for representing an individual's history, this design would undermine the mode of use intended: for students to make observations and comparisons across cases, to better understand the larger historical phenomenon of slavery through the case studies. The cases selected for this unit include individuals from different regions (Northern, border, and Southern; coastal and interior), living in different decades, with varied life experiences. The examples include male and female historical figures, and examples of agency that range from escape to rebellion, from political to military to societal agents of change. The cases are meant to be considered as a whole, for students (as novice historians) to better understand the institution of slavery and the concept of agency.
These design options and tradeoffs for placing document links in the map for each case study are summarized in Table 1.
| | |
| --- | --- |
| Design options | Tradeoffs |
| Link documents from an icon in the map [CHOSEN] | Enables cross-case geographic comparisons, but may over-emphasize or distort the geographic significance of a particular location for understanding each case or document |
| Link documents from a separate links page for each case [CHOSEN] | Affords scanning all available documents for each case, one case at a time |
| One map icon (link) per document, with multiple icons for each case-study [REJECTED] | Better communicates the time and place in which each document has relevance, and better represents multiple sites for each case-study, but clutters the map with many more icons, and makes it harder for students to find the entirety of each case's document collection |
| One map icon (link) per case-study, from which to access a document collection on a separate page [CHOSEN] | Simplifies each case by associating it with one location, obscuring the importance of multiple places for each history, but affording cross-case comparisons; provides easier examination and navigation of a less-cluttered map |
| Links visible and selectable only in decade(s) documents were written [REJECTED] | Better communicates the temporal context of each document, but requires a "hunt-and-peck" mode of searching for documents for each case |
| Links visible and selectable in all decades [CHOSEN] | Can suggest that documents written in one decade are actually from another, but gives easier access to all documents at all times, and affords cross-case reasoning by keeping all cases always visible |
Summary
GIS provides tools for combining archives of digital documents with a geographic interface. While this combination can be powerful for creating environments for learning history, the design of such an environment is itself an interpretive and creative process. Such simple decisions as where to place a link, under what circumstances it should be visible, what to name it, or how to combine multiple links, are not only interface design decisions, but also impact the kinds of historical interpretations that novice historians might make. What is created is both a learning environment and an historical text.
We now turn from representational choices for document links to the visual language of the map image itself as a text.
Design decision 2: How to represent the most relevant census data visually in the map
All maps distort the world in some ways: for example, they make it look flat and tiny, and they take away all of the visual information that you see when you look at the real world. Similarly, all representations of data (graphs, tables, charts) distort the things they represent, in order to make it easier to see some mathematical relationship. One of the cardinal rules of geographic data representation is to minimize distortions of the representational scheme. Perhaps the most-cited distortion that can be made with thematic maps of states or counties (choropleth maps) is to represent population values directly as colors  [7].
The problem with this representational scheme is that a bigger shape of a given color on the map appears to represent more people than a smaller shape of the same color: the geographic size of a county distorts the color-as-number representation. For example, look at the populations of San Franscisco County, California, and Alameda County, California, in 1940 in Figure 4. Judging by the image, you would think there were more people in Alameda County, because it is a much larger brown area. However, the populations are quite similar, and in fact San Francisco County (population 634,536) had more people than Alameda County (population 513,011). This spatial distortion of the represented quantity is the reason choropleth maps are generally not used to directly represent population values.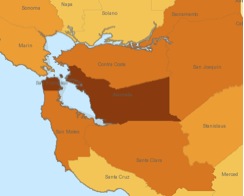 Figure 4.
Color = population number.
In designing GIS for History, we have opted to commit precisely this distortion of the data, in order to engage students in the kind of reasoning intended. Before examining this decision in detail, we describe other possible representations for giving students access to population data without committing this representational sin. Several other statistically-preferable representations were tested and rejected, based on the affordances and constraints they exhibited in the classroom for our intended mode of inquiry and learning. Three such representations, described briefly below, are: (1) color-as-density, (2) dot density, and (3) graduated symbol size (see Figure 5).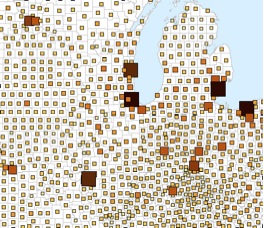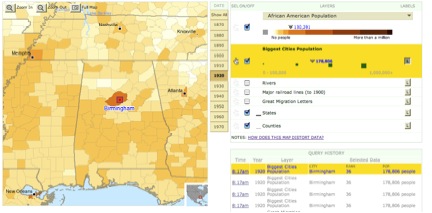 Figure 5.
Three alternative representations of population.
Color as population density
The most common solution to this choropleth mapping problem, recommended by Tufte  [11], Monmonier  [7], and many others, is to use color ranges to represent not the population number, but the population density—such as the number of people per square mile in a county (Figure 5, left frame). This population density map shows San Francisco County in a much darker color (representing 13,589.1 persons/mi2) than the larger but less-populated Alameda County (representing the much less dense 695.5 persons/mi2). The color range represents density values rather than total population values. As an image representing the data, this map is less misleading, because it divides the population number by the area of the shape.
However, we have found that population density values can be confusing for students doing the type of history investigation for which GIS for History is designed. When a student finds that the population density of San Francisco County in 1940 was 13,589.1 persons/mi2, he or she is likely to be confused, or at least distracted, by the meaning of that number. Students often read a density number as a population value, at least initially. Even when the number is understood correctly, it is difficult to articulate relevant comparisons between counties or states using the density number, unless density is an explicit focus of the inquiry. Interpreting this number becomes a non-trivial task in the context of a quick survey of changes in population. While the population density image better conveys the relative populations of two areas, the number introduces complexity and distracts from a likely historical question being investigated: the fact that 634,536 people lived in that county in 1940 is more likely to be understandable and relevant.
For students learning geography, demography, or statistics, this confusion could provide a "teachable moment" for learning about a key concept or method. In a history classroom, though, dealing with the mathematics of population density actually detracts from the students' learning. It distorts the data in another way—not visually or spatially, but by mathematizing the referent of the symbol rather than humanizing it. As a database tool for history investigations in schools, density values take students farther away from the history, and the real-world referents of the data: people.
Dot density representations of population
A way to solve this representation problem without using colored county shapes is to use a smaller symbol (a dot) to represent a certain number of people, and to randomly distribute the correct number of dots within each shape. For example, the dot density map (Figure 5, center frame) shows the populations of the same counties by representing every 1,000 persons with one dot. This shows density visually, as the distribution of dots across the county, while still directly representing raw population numbers on the map.
After trying this representation out in some early classroom projects, we found that the dot density maps often misled students in different ways. For example, the dots are randomly distributed within each county, but they appear to the user to have been placed intentionally, i.e., showing where people actually lived in that county. This becomes particularly troublesome when students zoom in very close, to see exactly where the dots are located. Also, dot density maps make it much harder to estimate the population of a given county than do color ranges, which can be referenced to the color legend. Whereas the color ranges give a visual clue about the actual value, the dots just appear more-crowded or less-crowded, making it hard to estimate a problem that is aggravated by differences in visual density of dots at different zoom levels.
Again, this difficulty introduces possibilities for teaching about population density, but for a history classroom trying to complete an investigation in one week, our goal is to engage students in higher-order thinking about the history (e.g., making claims, comparing evidence), and to scaffold lower-order thinking about the visualization itself (e.g., evaluating density maps).
Symbol size (and color) as population number
Another way to show the density of a county's population while still representing the raw number is to use one shape—such as a square—located in the center of each county, and graduate the size of that square to represent the population of the county. Thus a bigger square in the county shows a bigger population, and it sits inside the geographic boundaries of the county on the map, thus avoiding the distortion of coloring that county's shape to represent population number. One can improve this by also using the color of the square to represent population number (Figure 5, right frame), enabling easier estimation of values using a color legend, as described above. This approach (graduated symbol size and color) is used by Dr. William Bowen in his Electronic Map Library of GIS atlases of census data (http://130.166.124.2/page1/page1.html). This kind of representation helps the student to estimate the population of the county using both visual cues: size and color.
However, there are problems with this representation for a history classroom too. By placing the square in the center of each county, to a novice user this map seems to show a different entity located within the county, rather than an attribute of the county itself. These squares located in the center of each county appear to be cities within counties. For a novice user, this representation is far less intuitive than a colored county shape.
Also, since the GIS is an interactive map rather than a static map, different zoom levels can create problems with this representation. The squares on this map can cover each other up in some views, so that some of the data are hidden by others (see Figure 6). This map appears to be showing shapes that are different from counties, and that in some cases are inside counties, but in others extend beyond the county's boundaries. This representation, though, does have the advantage that (geographically) small counties with very big populations, like New York City's counties, do not get lost in the zoomed-out map—as they do when represented only by colored county shapes.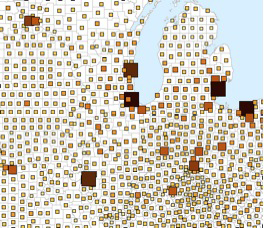 Figure 6.
Population as graduated-size and color-range centroid squares; map zoomed out so that shapes overlap county boundaries and each other.
Students can learn how to interpret and use these maps. But the process of learning how to use this particular map representation is of less importance to us for this unit than students' ability to make historical claims, and support those claims with data. While there are "better" representations for designing map images to represent numbers, the question is "better for what?" In our case, solutions such as representing population density, or using dots or symbols to represent population, obscure the important information students need for their investigation. The problems with each of these other options lies not in the representational schemes per se: each of them is superior to the distorted representation of population-number-as-color in the choropleth map, statistically speaking. Rather, the problems lie in their utility as tools for browsing and querying the database, and making clear and relevant observations and comparisons.
Students using GIS for History are not crafting images to use in statistical analyses, but rather learning to coordinate images with numbers, and those numbers with the real-world referents of the data. The distancing from these real-world referents that occurs with each of the other representational choices, in the context of classroom inquiry, constitutes a distortion that we have found to be more problematic than the "lie" of the choropleth value map. We have found that students using the GIS are not confused by the color-as-number, even in the case of very large or very small counties, because their tendency is to check population values by clicking a county of interest and finding the population number, so that any misinterpretation of the value is corrected quickly. As a tool for browsing a set of population values, the misleading aspects of the color-as-population-number representation do not interfere with students' use of the map in these investigations, whereas color-as-density, dot density, and centroid-shape-by-size representations do interfere with the reasoning process.
For example, consider a student examining changes in African American populations during the first wave of the Great Migration. A scan of the map of the South in 1920 shows Jefferson County, Alabama, to clearly have the largest African American population in the region (see Figure 7). A click on that county reveals the population to have been 130,291 African American people, while clicks on other high-population counties help the student place this number in perspective (e.g., it is nearly twice that of Fulton County, Georgia [with 70,200], and one-third larger than Shelby County, Tennessee [with 98,962]). Turning on the "Biggest cities" layer reveals the fact that these Southern counties with the largest African American populations in 1920 are homes to the three largest cities in the region: Birmingham, Atlanta, and Memphis, respectively (shown in Figure 7). Changing the year of the map reveals that Jefferson County's African American population increased rapidly each decade, while the smaller counties immediately surrounding it saw decreases in African American population. The same holds true for the other two big-city counties.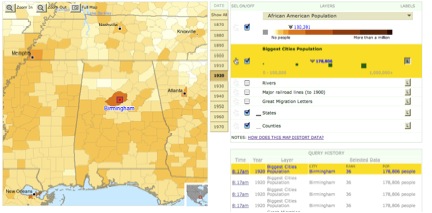 Figure 7.
A Great Migration unit map of African American population in the South in 1920, with Jefferson County, AL, selected.
Summary
These are the kinds of observations that we want students to make, as they piece together specific observations with inferences drawn from document analyses and class discussions. The goal is for them to construct historical arguments with the data. For example, students in pilot-study classrooms have used the kinds of observations noted above to argue that not all African American migration during this period was South-to-North; that some was internal to the South; and that rural-to-urban was another dimension of this migration, within and across regions.
Confusion about the meaning of numbers or ambiguities in the mapped images serves only to make this kind of reasoning more difficult. Population density number values in the query results would stymie students as to what their observations meant. Dot density or centroid-square representations would make the observations of cities within counties nearly impossible to notice or understand. The distortion of color-as-population-number is minimized by the reporting of the meaning of the number in two places in the interface, visible at all times in the same window as the map. These design options and tradeoffs are summarized in Table 2.
| | |
| --- | --- |
| Design options | Tradeoffs |
| Color as population density [REJECTED] | Better represents population values over geographic space, but introduces density values that are confusing for students and difficult to work with in constructive historical narratives about places |
| Dot density map [REJECTED] | Better represents population values over geographic space without confusing density numbers, but difficult to estimate values visually, and introduces misleading dot locations |
| Symbol size and/or color as population [REJECTED for county map layer; CHOSEN for cities map layer] | Better represents population values over geographic space, but introduces confusion of shape-within-county, problems of shape overlap at some zooms, and conflicts with representation of city populations as symbol size |
| Color as population value [CHOSEN] | Distorts population values by size of county shape, but affords visual estimation of values, direct representation of an understandable value (population), and ease of value look-up counteracts the distortion of the color map |
Conclusions: Tradeoffs and design rationale for teaching history with GIS
This analysis of design decisions related to (1) representing historical documents in geographic and demographic contexts, and (2) representing populations in a map visualization for purposes of inquiry, suggests that designing GIS for learning history requires addressing questions about the learner. During the design process, we must clarify the kinds of thinking we want students to be doing; kinds of thinking we want to avoid or scaffold; and the sets of skills for historical reasoning that we believe our data should support. We take seriously the limitations of time that dominate teachers' decision-making, while still envisioning and promoting ambitious and meaningful engagement with inquiry.
To support this mode of work, GIS for History needs to provide tools and representations with which students can make these kinds of observations and construct these kinds of arguments. This involves non-trivial cognitive work by the students, for whom making sense of these documents, numbers, and patterns is usually an unfamiliar and challenging task. The GIS needs to scaffold and support students so that the logistics of asking and answering these kinds of questions do not overwhelm them, and do not require too much external help (e.g. in the form of worksheets or teacher intervention). We have found that students often find these data interesting and engaging, but that they can quickly lose track of what they are doing if each observation or query involves too many steps. The tools need to support reflective engagement in the investigation  [6].
Each of these design decisions highlights the relationship among tools, texts, and sense-making in the history classroom. As designers of learning environments, even minor logistical decisions can impact the understandings that students develop about the histories to which we introduce them. We argue that the design challenge is not to over-simplify historical records nor to "spoon-feed" students particular interpretations, but rather to design representations and tools that enable students to engage in particular modes of historical thinking, within the realities of schools and classrooms. Addressing these design challenges may lead us to some unorthodox representational or curricular choices, but ignoring them simply ensures that our designs will miss the mark and prove unworkable. We see this as the ongoing work of curricular and instructional design for meaningful history learning.
Notes
1. Alibrandi, M. (2003). GIS in the Classroom: Using Geographic Information Systems in Social Studies and Environmental Science. Portsmouth, NH: Heineman.
2. Ashbrook, J. E. (2006). Using Geographic Information Systems (GIS) as an analytical tool in the analysis of politics in Eastern Europe: Istria in the 1990s. Journal of the American Association for History and Computing, 2005
3. Cunfer, G. (2005). On the Great Plains: Agriculture and Environment. Texas A&M University Press.
4. Knowles, A. K., ed. (2002). Past Time, Past Place: GIS for History. Redlands, CA: ESRI Press.
5. Loh, B., Radinsky, J., Russell, E., Gomez, L. M., Reiser, B. J., & Edelson, D. C. (1998). The Progress Portfolio: Designing Reflective Tools for a Classroom Context. In Human Factors in Computing Systems: Proceedings of CHI '98: 627-634. Reading, MA: Addison-Wesley.
6. Loh, B., Reiser, B. J., Radinsky, J., Edelson, D. C., Gomez, L. M., and S. Marshall. (2001). Developing Reflective Inquiry Practices: A case study of software, the teacher, and students. In K. Crowley, C. Schunn, & T. Okada (Eds.), Designing for Science: Implications from Everyday, Classroom, and Professional Settings. Mahwah, NJ: Erlbaum.
7. Monmonier, M. (1991). How to Lie with Maps. University of Chicago Press: Chicago IL.
8. National Research Council (2006). Learning to think spatially. Washington, DC: National Academies Press.
9. Radinsky, J. (2008). GIS for History: a GIS learning environment to teach historical reasoning. In Alibrandi, M. & A. Milson (Eds.), Digital Geography: Geo-spatial Technologies in the Social Studies Classroom. Greenwich, CT: Information Age Publishing.
10. Sinton, D. S., & Lund, J. L. (2007). Understanding Place: GIS and Mapping Across the Curriculum. ESRI Press.
11. Tufte, E. R. (1986). The Visual Display of Quantitative Information. Cheschire CN: Graphics Press.
12. Young, J. R. (2006). With digital maps, historians chart new way into the past. Chronicle of Higher Education, 53:12 (A33-A39).