Add to bookbag
Author:

Deborah Vess

Title:

The Toys are Really Cool, But Will the Kids Play With Them?

Publication info:

Ann Arbor, MI: MPublishing, University of Michigan Library
April 2006

Rights/Permissions:

This work is protected by copyright and may be linked to without seeking permission. Permission must be received for subsequent distribution in print or electronically. Please contact mpub-help@umich.edu for more information.

Source:

The Toys are Really Cool, But Will the Kids Play With Them?
Deborah Vess

vol. 9, no. 1, April 2006

Article Type:

Article

URL:

http://hdl.handle.net/2027/spo.3310410.0009.101
The Toys are Really Cool, But Will the Kids Play With Them?
Professor of History and Interdisciplinary Studies
Department of History, Geography, and Philosophy
Georgia College & State University
.01 Abstract
Historians generally have used the Internet to distribute traditional materials converted to digital form. Larry Cuban has recently noted that computers have not changed the way instructors teach, and this study suggests they have not changed the way students learn either. This study examines student usage patterns for digital text and multimedia resources in fully asynchronous environments and in hybrid courses. Students in asynchronous courses make more consistent use of digitized text than do hybrid students, but both groups failed to significantly engage interactive multimedia resources. Information-gathering behavior and the desire for efficient use of time online accounts for lack of engagement. Usage patterns are also correlated to the complexity of the application. Students tend to use and benefit from multimedia applications that provide short verbal summaries more than they use more complex applications, which may produce cognitive overload for students. The most used and effective multimedia applications are precisely those that promote the lowest levels of learning. Student paradigms of learning, such as a preference for chronological materials in historical contexts and information-gathering behavior near exam times, remain unchanged by the multimedia environment. As long as the multimedia applications used by historians remain at the stage described here, this study confirms suspicions that digital resources may not be promoting higher order learning. Research suggests that the most powerful forms of learning occur in social contexts, whether in the classroom or in asynchronous discussions or other multi-user formats online, and here, the online environment holds more promise.
.02 Introduction
In Oversold and Underused: Computers in the Classroom, Larry Cuban has noted that the ubiquitous presence of computers in schools has had little impact on the way that most instructors, even the most adventurous early adopters of technology, actually teach. Cuban's study indicates that teachers on all levels of the educational spectrum tend to use the computer to enhance methods they already successfully employ. [1] Historians are no different, as most tend to use the computer as simply another tool to deliver traditional resources converted to digital format. [2] Although such practices can enhance the teaching and learning of history, [3] more research needs to be done on how students learn with digital materials, especially multimedia applications that create a more direct context for interactivity. The data presented here suggest that computers do not significantly change the way that students approach learning. Indeed, students tend to use only those multimedia applications that cater to lower levels of learning, and this presents challenges for those who wish to capitalize on the most innovative features of computers as educational tools.
To date we have very little data on student learning in digital environments, and this may be partly due to the reluctance of historians to engage in the scholarship of teaching and learning.  [4] Attempts to assess the efficacy of digital projects often rely on qualitative analyses of student work produced in multimedia environments, [5] or on student responses to surveys, which provide interesting anecdotal evidence but no direct confirmation of actual student behavior. [6] Few historians, however, have made use of these techniques in combination with data mining, which provides yet another interesting way for educators to explore actual student behavior online.  [7] In conjunction with surveys and qualitative methods, data mining uncovers patterns that educators can use to enhance the learning experience. Course packages, such as WEBCT, offer instructors a powerful arsenal of built-in tools that generate significant quantities of data. Patterns revealed by these data reveal much that is surprising about student behavior in digital environments.
This article explores some of the data generated by students in a fully asynchronous world history course and in a face-to-face world history course supplemented by an online course package in WEBCT. The data generated by students in both environments challenges assumptions that students who may be "digital natives" will naturally choose to immerse themselves in multimedia environments. [8] Further, the research suggests that students prefer human-to-human interactions over immersive multimedia environments, whether the interactions occur online or in the classroom.
The materials here illustrate the need for historians to do some serious thinking about the design and goals of enhancing course with online resources. E. H. Carr once remarked that history a "continuous process of interaction between the historian and his facts...".  [9] This research suggests that multimedia or other online resources do not always successfully develop more active student inquiries. While innovative figures such as David Staley have challenged historians to think about the possibilities of the computer as a visualization tool [10] and other scholars have touted the potential of hypertext to expand the boundaries of the text-as-a-given, [11] not only are most historians far from recognizing the potential of computers in this respect, but research suggests that so are their students.  [12] Although many fear that glitzy digital multimedia resources cater to the MTV generation at the expense of traditional forms of learning, the materials here suggest that students are very selective as to when and for what purposes they use them, and their choices often run counter to the demands of higher level learning.
.03 The Context of the Asynchronous and Hybrid Courses
In 1999, the University System of Georgia, the third largest university system in the United States, began the creation of an electronic core curriculum, known as the eCoreTM. This project was a team effort directed by the Office of Instructional and Informational Technology of Board of Regents of the University System of Georgia. OIIT staff recruited faculty to write the content for the courses from among the thirty-four institutions in the system. A team of technical specialists created the flash and other technological applications according to faculty specifications. Another technical specialist supervised the entire process. This author was the sole content specialist for the eCoreTM World Civilization to 1500 C.E. course.
The course was designed to function as a stand-alone, in-depth narrative text and as a complement to the required hard copy traditional textbook. The narrative text attempted to hook the students through a dramatic presentation of a moment in history for each unit. Students read narrative text on screens that did not require scrolling. While images were often included, the text itself did not often contain hyperlinks.  [13] The online course approached the issue of text from the traditional "text as a given" standpoint, and while students could move forwards and backwards through the content pages of the course, search for keywords, or choose to enter or exit the text at any one of a number of points within each chapter, hypertext was not used within narrative text chapters to create any kind of links with the "docuverse" outside of the course or within other course chapters.  [14] Students could access hyperlinks to web resources on a "further explorations" page at the end of each module and in fact completed analytical papers based on electronic texts not contained within the course chapters. The narrative text did often contain links at the end of files that launched interactive maps and images in a separate window.
The course attempted to develop critical ability by modeling effective historical reasoning on difficult interpretive, analytical, and integrative issues and through sample analyses of primary sources. The text followed the chapter structure of the required hard copy narrative text, but also reinforced and presented materials in an alternative fashion through creative use of state-of-the-art technology. Many modules featured advanced Flash applications, such as interactive maps, timelines, and images, as well as audio, Quick Time movies and VR files. During the semester-long course, students completed numerous written projects using digital primary sources and also participated in weekly discussion board assignments in which they interacted with faculty and peers.
I also used the content resources of the asynchronous course to supplement a face-to-face world civ course on campus. Students met twice weekly for two-and-a-half hours, and used the WEBCT materials to supplement their readings in traditional hard copy texts. Students only spent two of those periods in the computer lab and primarily used the online resources to complete assignments outside of class. Therefore, the on-campus course represented a fairly low level of hybridity.  [15] Students in the hybrid course did not complete as many content modules as did the asynchronous students in the eCoreTM course, and they also had the benefit of the instructor's lecture presentations enhanced with multimedia and the in-class discussions. I listed online modules as required readings on the syllabus and clearly linked content modules to class presentations and discussions. Students also completed asynchronous role-playing discussion exercises and wrote papers based on digitized primary sources included in the online course package. [16]
.04 How the Data Was Collected
I collected data for this project through the WEBCT course delivery package, which provides, among other things, tracking information that reveals student access, time of access, resources used, and length of time spent on each page. WEBCT also keeps a complete record of a student's output in the form of their electronic submissions to assignments, discussion board postings, e-mails to the instructor and to other students, and chat room comments. I tracked student usage patterns in the asynchronous course in the fall of 2002. I also sent out surveys via the e-mail function in WEBCT for the asynchronous course during the fall 2002 semester as a result of questions that arose for me in light of student performance on the first exam. I collected student responses to three separate surveys. The survey questions solicited student comments on their usage of various materials in the WEBCT package and also on their backgrounds in history and online learning. I also contacted the registrars at the various institutions through which students enrolled in the asynchronous course, and compiled a profile of the students based on age and class standing.
I also collected tracking data provided by the WEBCT course package for students in the hybrid course in the fall of 2005. In addition, I administered surveys to students in a face-to-face course in the fall of 2005. The survey was a set of fifteen questions that required students to rate various kinds of Internet resources as more or less valuable, but also to provide narrative responses to pointed questions that arose as a result of reviewing the tracking information. I used various formula functions in Excel to develop the profiles and patterns noted below.
.05 Usage Patterns for Text-Based Resources
Students in the asynchronous course were generally diligent about reading the content pages or narrative text in the various modules, and there were numerous hits for most of the text-based pages (see figure 1). The few pages not visited by these students were, with one exception, from one of the last modules of the course that students did not use that semester. However, the average time spent on each page was less than two minutes. While it is possible to quickly read some of the page screens and to print them out in that length of time, usage patterns clearly confirm reports that few students want to spend lengthy amounts of time online engaging materials. [17]
Track Page Use

Totals:

Pages

Hits

Time

Time/Hit

Posts

625
22947
733:58:41
01:55
0
The problem was even more pronounced in the hybrid environment. Students in the hybrid course in general showed a marked indifference to the online narrative text. Since the eCoreTM students had, for the most part, thoroughly explored the online textbook, I worried that hybrid students would use the resources to substitute for classroom attendance, especially since the content modules essentially represented my own lecture material, complete with images and other resources. Only 3 of the 35 students in the fall 2005 course, however, spent considerable amounts of time reading the course text, and these students logged over 400 content page hits during the term.
Figure 3:

Sample student distribution report, fall 2005
Note that even this student visited only 152 different pages, less than one-half of the total content of the course, but that he did revisit some of the content pages. Aside from these 3 students, other students ranged from a low of zero content page hits to a high of 217 hits, again less than one-half of the content pages in the course. Only ten students (30.3 percent) visited more than 100 content pages. While the average number of hits for content pages was 96, most fell on the lower end of the spectrum, with nineteen students (57.57 percent) visiting less than fifty-five content pages in the course of an entire semester. Thirteen of those students (30.3 percent) visited less than ten content pages. A comparison of the number of hits in the hybrid course with the number of hits in the asynchronous course (figure 2) is very telling indeed. There were 35 students in this course as compared to 22 in the eCoreTM course, and they registered less than one-fourth as many hits on the content pages.
Track Page Use
Totals

Pages

Hits

Time

Time/Hit

Posts

529
5684
307:59:29
03:15
0
Students never visited many pages in the course, as seen from Figure 5, even though these materials were assigned, discussed, and used as the basis for role-playing debates. Significantly, students almost universally reported on the fall 2005 survey that they accessed what few content pages they viewed immediately before an exam or other due date, and this was evident in the access patterns generated through WEBCT tracking data:
| | | | | | | | | | | |
| --- | --- | --- | --- | --- | --- | --- | --- | --- | --- | --- |
| Dates | August | September 1-25 | September 24-29 | October 1-16 | October 17-31 | 1-Nov | Nov 2-6 | Nov 7-10 | Nov 17-29 | December 1-6 |
| Discussion postings | 5 | 20 | | | 18 | | | | | |
| Exam I | | | 41 | | | | | | | |
| Exam II | | | | | | 10 | 4 | 25 | | |
| No due dates | | | | 2 | | | | | 5 | |
| Final Exam | | | | | | | | | | 62 |
Over 1400 of the hits to the content pages were recorded in the last week of class leading up to the final exam, and students accessed the materials during the course when there were no impending due dates only seven times. Though 2 of the 23 respondents to the fall 2005 survey indicated that they accessed the course chapters on a regular basis, there was certainly no evidence for this in the access data. The most visited page and all the pages that had more than 20 hits were directly related to exam essays or discussion board assignments or were lists of unit objectives (see figure 5).
Students made regular use of only one study tool in the course, and this was the ungraded self-quiz available in every unit. Students accessed half the quizzes over forty times each, indicating repeat visits. Grade-seeking behavior was also indicated by the frequency with which all the students, even those who never viewed content pages, consulted the "my grades" tool. Course materials here functioned primarily as supplemental study aids for exams and discussion assignments, and in this context students displayed nothing more than information seeking behavior and desire for low-level rote mastery of facts. Though I provided instructions on how to use the advanced learning tools of the course, many of them, such as "search content" or "take notes," went unused. Only eight students in the hybrid course made use of the note taking function, and of these, the highest number of uses of the tool by any one student was four times. Clearly the sort of deep and ongoing engagement with assigned materials the instructor hoped to achieve for weekly class sessions did not occur, at least not out of the classroom. [18]
Traditional approaches to learning online were also indicated by responses to the survey I administered in fall 2005. Hybrid students most often ranked primary resources and academic articles as second or third on the list of resources they wished to have available in the online course. These results suggest that both fully online and hybrid students see the Internet as a place to quickly gather information needed for course projects rather than as an open vista for exploration. In fact, on the survey administered in 2005, the most frequent rating on a scale of 1 to 10 that hybrid students gave to pages with hyperlinks marked for further exploration was tenth in usefulness among the ten types of resources they were asked to rank, although the average rating was 6.2 (figure 7). Asynchronous students reported that they used resources marked for further exploration only when the assignment demanded it, [19] and tracking information revealed that they rarely visited the resource pages not required for an analytical paper (see figure 1). Usage patterns and surveys reflect a desire among students for a focused and controlled environment online, one that quickly delivers desired information without requiring the user to search far for it.
| | | | |
| --- | --- | --- | --- |
| Resource | Mode | Average | Median |
| Interactive Timeline | 1 | 1.869565 | 1 |
| Static Timeline | 0 | 6.565217 | 8 |
| Interactive Map | 4 | 3.217391 | 3.5 |
| Static Map | 9 | 9.608696 | 8 |
| Primary Source | 2 | 3.086957 | 2 |
| Academic Article | 3 | 4.826087 | 4 |
| Interactive Image | 5 | 4.782609 | 5 |
| Static Image | 10 | 7.043478 | 8 |
| Audio | 7 | 4.73913 | 5.5 |
| Set of hyperlinks for further research | 10 | 6.217391 | 6 |
Hybrid students also reported that they consulted the online resources more frequently than their narrative text. Of the 23 students in the hybrid course who completed the fall 2005 survey, only 2 said that they used the hard copy textbooks as much or more frequently than their online materials. This raises the possibility that use of online narrative materials may actually discourage students from exploring traditional hard copy resources, [20] especially given the focused nature of their use of digital materials. One wonders whether providing easily available, focused resources may reinforce the kind of dualistic thinking and fact-gathering characteristic of students in the first two years of college, even if the content itself may contain many examples of higher order thought. The availability of these resources may also reinforce a mistaken conflation of information gathering with knowledge.  [21] Studies suggest that ease of access may detract from the need to turn raw information into knowledge, [22] which is processed, interrelated among its various components, and actively applied. [23]
All of the hybrid students reported that they did not see the online materials as a substitute for the instructor's presentations, suggesting that the most powerful form of engagement for these students continues to be the classroom. This should not surprise anyone, as learning theorists have often advocated that "all the higher functions originate as actual relationships between individuals." [24] It is likely that students in the asynchronous course made more use of the online content because they did not have the benefit of on-campus instruction. These students were also more mature and experienced learners, with an average age of 33.95 and often several other asynchronous courses behind them. In contrast, the average age of the students in the hybrid course was 19.93. Those in the hybrid course fell into the generation often described as "digital natives," and though they tended to spend more time per hit than the asynchronous students, they were far less likely to seek out digital resources when the classroom was around the corner. Given the body of literature that suggests that students can attain active engagement and high orders of cognitive growth though asynchronous discussion projects, [25] the research presented here leads one to conclude that human-to-human interactions, whether online or not, promote far more learning than does use of digitized narrative resources. Creative use of in-class debates, asynchronous role-playing assignments on discussion boards and other requirements that demand analysis of materials and ongoing engagement of them is necessary to maximize the impact of digital resources. Otherwise, students may continue to remain rooted in dualistic attitudes that regard the fact byte as king.
Usage patterns analyzed here provide little evidence that traditional narrative text transplanted into the digital environment serves the interests and needs of most students nor the general aims of the profession. While advanced uses of hypertext offer many potentially powerful possibilities for learning beyond what the narrative text in this course offered, [26] the patterns exhibited by my students suggest that it will be difficult to move them beyond an information seeking mentality simply by providing supplemental resources online, no matter how good the resources. Most hybrid students never accessed the majority of the text resources, and surprisingly, even fewer of the students in both environments made use of the advanced multimedia resources in the course.
.06 Usage Patterns and Design Considerations for Interactive Multimedia
David Staley has suggested that visualizations may provide another way of thinking about relationships between past and present. Other researchers report more significant learning outcomes when verbal representations are combined with visual ones. [27] Flash, Shockwave, and similar interactive applications provide another kind of context in which students can explore maps, timelines, or other resources at their own pace. User action determines the feedback provided. These applications have the potential to create a new understanding of relationships between the various elements represented. GIS maps, for example, may organize a complex array of information previously thought to be unrelated in such as a way as to create new understandings about the materials represented. [28] Interactive digital maps, like GIS maps, have the potential to embed much more information in a tiny area of the map than previously possible with earlier cartographic techniques. Creating interactive maps in cyberspace presents the possibility of completely altering a given knowledge base by juxtaposing it with less commonly associated materials.
Maps and other visuals have a powerful function as signs and they demand interpretation. As Gavriel Salomon has noted, "the symbol systems of media affect the acquisition of knowledge in various ways… they highlight different aspects of content … and differ with respect to how much processing they demand or allow …[and] with respect to the kinds of mental processes they call on." Different media produce different learning outcomes, [29] so it is crucial that historians attempt to understand what students do with these resources and what they may learn from them.
Both the hybrid and the eCoreTM asynchronous course made extensive use of interactive state-of-the art Flash maps. While one intent was to develop the students' geographical skills, the maps were also a mechanism to prompt integration of course materials through delivery of textual and visual materials linked to hot spots. In the interactive map below of the medieval world (figure 8), clicking on each region provides commentary about important issues affecting those areas in this time period. It is often very difficult to teach a truly global version of world civilization without degenerating into a merely sequential presentation of cultures, and interactive maps enable cross-comparisons and visualizations of cultural exchanges. Since this map and others like it contained a great deal of information, the technical team provided an option to print out the entire text file linked to the hot spots.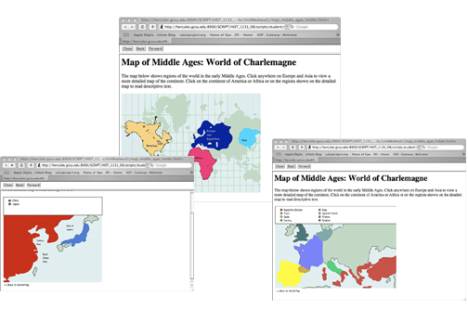 Figure 8:

Interactive map of the medieval world, showing embedded "hot" maps linked to hot spots, from the eCore

TM

World Civilization course. Copyright Board of Regents of the University System of Georgia, 2002.
As I have reported in an earlier article, asynchronous students did not demonstrate geographical skills on exams. Each map page had an ungraded self-test providing immediate feedback in each map module, but even these mini-quizzes did not promote mastery of geographic locations. This was largely because students spent very little time with maps, staying on average only 46 seconds on the map of Europe and Asia during the Middle Ages. This map is very detailed; clicking on various areas of Europe either produces text or another map with hot spots and embedded text. It would be impossible to explore this sequence of maps and their hyperlinked text in 46 seconds or even to look very closely at them. Over half the students who responded to the e-mail survey reported that they were downloading the text embedded in these maps through the "print text" option and not otherwise exploring the application. Only 3 of the 21 respondents attributed failure to use the maps to frustrations with the technology. [30] Although technicians designed every resource in the course to ensure short download times of no more than five minutes, students were not willing to wait for the maps to download or simply had no interest in exploring them when they could get the text through an alternate venue.
In fact, in the fall 2002 asynchronous world civ course, it was not just that students did not take time to fully explore maps, but that they often failed entirely to visit pages containing interactive maps. Only three of the twenty-four students explored the "spread of Christianity map exercise;" only two the interactive map of the Islamic world, and only eight the interactive map of Africa. The Islamic world map contained, in essence, a history of the spread of Islam (figure 9). It would take at least five or more minutes to fully explore the map, yet the two students who did explore it spent less than two minutes on it. It contained some of the most important content of the unit.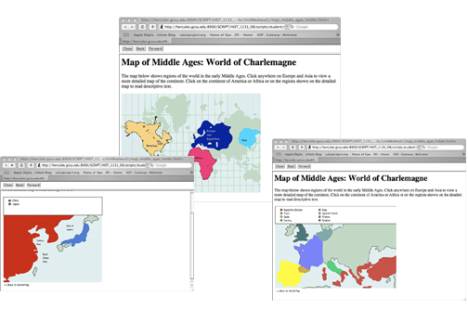 Figure 9:

Interactive Map of the Islamic World. Copyright Board of Regents of the University System of Georgia, 2002

.
In general, the more complex the map exercise, the less likely the students were to explore it online.  [31] These exercises likely created a less than optimal situation in terms of cognitive load, given that several hot spots led to yet other complex maps which themselves had embedded text and images. [32] Other research suggests that text and image must be contiguous in order for the learner to benefit, [33] and text popped up in a new window after hot spots were clicked, thereby separating the graphic from the narrative. Similarly, the principle of contiguity may also explain student use of the animated map of the conquests of Alexander the Great, which they visited 59 times, or slightly more than twice per person. Here again they failed to spend enough time to explore the hot areas linked to embedded text (see figure 1), which appeared in a separate window. Recent research also suggests that animations may function better with audio narrations as opposed to standard printed text, since attention is not split between visual and verbal processing systems. [34]
Students did, however, tend to spend more time on maps with limited numbers of hot spots leading to very short text excerpts, also presented in separate windows, such as the interactive battles of the Persian wars map (figure 10), for example, with 66 visits and an average stay of 3:09. Similarly, students visited the Greek age of colonization map 58 times with an average stay of 5:25 minutes. Student behavior here affirms the effectiveness of what John Sweller calls redundancy and R.E. Mayer calls coherence;  [35] less may be better than more when it comes to multimedia.  [36] This was certainly true of the virtual tour of the Ocmulgee Mounds, which included narrative text, still photos, and sophisticated Quicktime VR panoramas of the site.  [37] Students spent only an average of one minute and nineteen seconds there, not enough time to explore the panoramas and read the text. Still photos provided an overview of the complex without the realistic feel of the VR simulation; that was enough for most.
If this is true, usage patterns here might lead us to question how we would ever implement a 3D visualization project such as David Staley has described that might involve a meaningful level of historical complexity, one that goes well beyond short fact bytes. We could design such a project, but would the students have the sophistication and patience to use it? As several commentators have noted, undergraduate students often lack the skill to "read" images; [38] in this case, students simply abandoned the attempt to explore multi-layered maps in favor of traditional linear methods.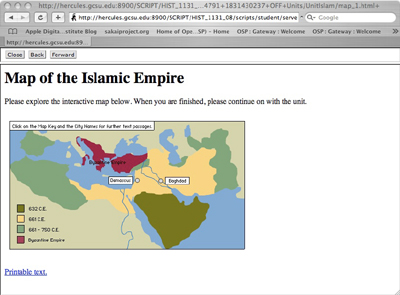 Figure 10:

Interactive map of the battles of the Persian Wars. Copyright Board of Regents of the University System of Georgia, 2002

.
Tracking data also shows diminishing returns in terms of multimedia usage. In the early part of the asynchronous course, students tended to visit the map pages repeatedly. For example, the interactive map of agricultural centers in the module on the prehistoric area got 72 hits, or slightly more than 3 hits per student. In subsequent units, the hits on map pages declined markedly. Asynchronous students decided early in the course that the maps did not accomplish anything traditional narrative text, downloaded for reading offline, could not do alone. The juxtaposition of image and narrative through hot linked maps was simply ineffective and students sought the most efficient way to gather information in order to complete course requirements. Though the course demanded synthesis of complex ideas and trends, the students failed to see the connection of their analytical assignment to the geographic representations. Despite increasing fears that visual modes of learning threaten to supplant the traditional, text-based academic culture, it would appear students remain as wedded to the hard copy text as their history professors often are.
That it is difficult to move students from their initial learning paradigms is also demonstrated by the fact that the most popular multimedia resources were the interactive timelines, such as the one for Mesopotamian cultures below (figure 11). These timelines were intended to develop mastery of comparative chronology, which students often find difficult. The time lines also had the advantage of allowing students to easily go back and review specific information within a certain era without having to access the entire text at once.
Figure 11:

Screen capture of the Mesopotamian Empires time line from the eCoreTM World Civ I course. Copyright 2002 Board of Regents of the University System of Georgia.
Asynchronous students indicated in response to the e-mail surveys that timelines were among the resources that most enabled them to learn and of all the interactive applications, the timeline of Mesopotamian empires was the one most used by students in the fall of 2002 with 84 hits, almost four times the number of students in the course. Students spent an average of 2:19 minutes each on the Mesopotamia timelines. Though the time students spent here was not sufficient to have read all the embedded text, it was sufficient to click on all the hot areas, read the short summaries that initially appear superimposed on the image, and then to follow hyperlinks, where they could download more extensive text. This may confirm again the efficacy of designs that take the principles of contiguity and coherence or redundancy into account, and indeed, surveys in the fall 2005 hybrid course provided some insight into this aspect of student usage patterns. Students commented that they liked timelines because they did not have to search for material in many places and the timelines provided it quickly and in small segments.
Coherence and contiguity alone do not account for greater use of these resources, and usage patterns suggest other significant aspects of student approaches to learning. Among the few maps that students accessed repeatedly was the interactive map depicting the spread of the plague, which was organized chronologically. Clicking on various dates highlighted various regions (see figure 12). Students accessed this map fifty-seven times, though their average stay of one minute and twenty seconds was again not enough time to read the embedded text. In general, students tended to spend much more time with materials they perceived as chronological than with those that were geographic in nature, and this attitude perhaps reflects a common misconception of history as largely a chronological parade of facts. There were no more questions on chronology in the unit quizzes than there were on map skills, yet students continued to favor chronologically oriented resources. [39]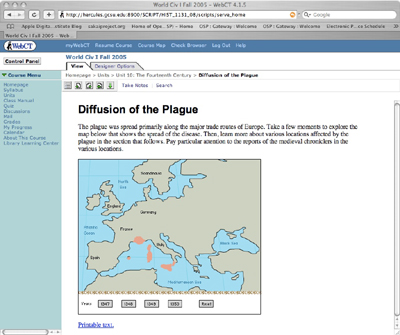 Figure 12:

Interactive map of the black death, showing pop-up text for hot spots. Copyright Board of Regents of the University System of Georgia, 2002.
Students in the hybrid course showed a similar usage pattern, and their responses to the fall 2005 survey confirmed my suspicions about student attitudes towards history. Of the 23 students who completed the survey at the end of the fall 2005 term, 14 of them rated interactive chronologies most useful of ten other multimedia resources. The other 9 rated interactive timelines among the top four most useful resources, and the class average rating was 1.86 out of ten, the highest average of any resource (see figure 6). Typically, many students cited the importance of dates to history as the reason for their number one rating, despite the fact that the course was taught from a thematic rather than a chronological perspective. Student behavior not only confirms reports in the literature about the difficulties of attempting to change the paradigms of students, [40] but along with the other evidence, it also suggests that electronic resources as described are not going to change student approaches to learning either. Student use of multimedia resources no less than their use of narrative text tended to be for information gathering purposes and, as Julie Kimmel has remarked, "many students are not only looking for "right answers," they want these answers all in one place." [41]
Despite the younger average age of the hybrid students, they were even less attuned to multimedia resources than were the asynchronous students. Hybrid students made much less use of timelines than did their asynchronous counterparts, with only 13 visits to the interactive chronology of Mesopotamian empires. Hybrid students made little or no use of the interactive maps in the hybrid course, but patterns described above continued to recur, as students tended to visit in greater numbers the more chronologically oriented maps, though in this case the emphasis was on the map of spread of Islam, [42] and the animated "conquests of Alexander map," even if there were far fewer hits in both cases than in the asynchronous course, which had a much lower enrollment. Similarly, hybrid students tended to log more visits to the less complex maps in the course, but again in far fewer numbers than the asynchronous students (figure 13).
| | | | | |
| --- | --- | --- | --- | --- |
| Map | Visits in the asynchronous Course | Time per hit in the asynchronous course | Visits in the hybrid course | Time per hit in the hybrid course |
| Battles of the Persian Wars | 66 | 5:09 | 16 | 2:33 |
| Greek Colonization | 58 | 5:25 | 11 | 1:19 |
| Spread of Islam | 2 | 1:52 | 21 | 1:10 |
| Animated map of the conquests of Alexander the Great | 59 | 3:49 | 28 | 5:00 |
While the asynchronous students recorded nearly two to three times as many visits to these pages as there were students, the hybrid course logged fewer visits than there were students. In contrast to the asynchronous course, hybrid students rarely made use of interactive maps even in the earliest phases of the course, as only 7 of the 33 students chose to explore the spread of agriculture map in the first unit of the course. While the most frequent ranking the hybrid students gave to interactive maps was fourth most useful among 10 resources, with an average rating of 3.21, only 8 of the 23 students who responded to the fall 2005 survey reported seeking graphic resources while on the Internet for either academic or non-academic purposes. Narrative responses to surveys indicated that students thought visuals enhanced interest level, but it would appear that these "digital natives" were not attuned to the possibility that visual resources might be carriers of significant meaning.
Although the principle of split attention dictates that students learn best when visual resources are not combined with standard text but with audio narrations,student use of Quick Time slide shows with audio narratives, such as the tour of a peasants' village in China, again tended to confirm their reluctance to explore multimedia resources. [43] The page with this resource also included narrative text, but no "print text" option was included for the audio slide show. As indicated by the table below (figure 14), asynchronous students accessed the pages in greater numbers than did hybrid students, but the asynchronous students did not spend enough time to listen to the Quick Time videos.
| | | | | |
| --- | --- | --- | --- | --- |
| Resource | Visits in the Asynchronous Course | Average Time Per Hit | Visits in the Hybrid Course | Average Time Per Hit |
| QuickTime Audio Slide Show of Peasants' Village in China | 41 | 34 seconds | 10 | 5:00 |
Diminishing returns are again evident, as the more mature and experienced asynchronous students clearly knew exactly what they were looking for on the page and it was not the immersive multimedia. Far fewer hybrid students (less than one-third of the class) made use of the QuickTime application, despite the fact that 12 of the 23 respondents to the fall 2005 survey reported using online audio resources and 6 used other multimedia for entertainment purposes. Clearly entirely different "rules of acquisition" govern student behavior in academic contexts, and they rather resemble those of the Ferengi on Star Trek, always in search of the quickest, most efficient path to the payoff. The evidence clearly suggests that no matter how glitzy the application, the majority of students are not going to engage it just for the sheer joy of exploring visual, audio, or virtual reality resources. Salomon noted in the 1970s that "symbol systems partly determine who will acquire how much knowledge from what kinds of messages."  [44] This is true in a much deeper sense than even Salomon realized, as many students choose not to even engage interactive media online, even those applications that support the most recent learning theories.
Applications that demand large amounts of time, a willingness to explore, and the need to integrate vast amounts of material generally do not attract student interest. While students may have benefited in the asynchronous course from reading text embedded in the maps and other applications, it would be difficult to say that the visual representation of this material itself prompted any kind of meaningful integration. This is especially true for students in hybrid courses, who often failed to even access the resources. While intuitively most historians can see the value of the interactive maps or the other multimedia resources described above, this data suggests we need to find other ways to integrate complex materials that promote higher order thinking into our classes.
This study provides little comfort for those who wish to supplement their face-to-face courses with multimedia resources. Student engagement of these resources does not appear to be significant and is dramatically less than in fully asynchronous environments. While learning theory may partially enable us to understand student usage patterns, the greater maturity level of students attracted to asynchronous courses may also be a factor in their higher levels of engagement. This is unfortunate, as much research indicates that those with lower levels of prior knowledge, such as the students in hybrid environments, may benefit more from multimedia.  [45] Even in asynchronous environments, however, information-seeking behavior often negates the potential impact of immersive multimedia, and certainly it makes it nearly impossible to foster integration of visual and verbal processing on anything but the level of the short fact byte.
.07 Conclusions
While this study highlights the difficulties associated with distributing online multimedia applications or digital text, I would not want to suggest that technology can play no useful role in teaching history. In fact, I am one of the enthusiastic early adopters Cuban describes and, as mentioned earlier, my own research and that of others shows some very significant cognitive gains made by students in asynchronous discussion in both fully online and hybrid environments. Human-to-human interactions, even when mediated by an online environment, may remain one of the most effective models for the use of technology. In fact, the most commonly reported online activity outside of class on the fall 2005 survey was checking e-mail or using Face Book. Interacting with other people online may better capture the preferred learning style of our students than immersive multimedia experiences one navigates alone.  [46]
This study suggests that multimedia or other digital resources are not going to function as self-sufficient signs that will automatically point students to higher level cognitive processes. Applications such as those described cannot alone create a constructivist environment,  [47] especially when studies suggest that multimedia information must be presented in short bytes to be effective. While there may be considerably more promise in multimedia environments where the learner functions as a designer in a problem-solving environment [48] and has what Janet Murray calls agency, [49] our discipline is only in its infancy when it comes to the use of digital multimedia. We may have to endure some growing pains before we can escape the problems inherent in our current use of electronic resources.
Given the issues raised here, historians are rightly concerned about the proliferation of electronic resources, and they are not alone. The philosopher Albert Borgmann has noted that the more abundant the sign system, the more superficial and ambiguous may be the construct of meaning.  [50] Indeed, this study shows that the more information we attempt to convey through maps and other visualizations, the further we distance students from the meaning we wish to convey. Our students are not yet willing to immerse themselves in unfamiliar multi-dimensional terrain, especially when they cannot see any signposts that point the way out.
For students in the first two years of college whose thought processes are still predominantly dualistic, the sort of multimedia resources described here will not change their essential approach to learning. Information technology has allowed the student to "become the sovereign who can choose the material [and] the method of presentation."  [51] As indicated by this study, we may not always like the choices the student makes. Unless we design creative environments and assignments that prompt students to transform their online explorations into something beyond the fact byte, students will continue to see our most sophisticated multimedia applications as mere toys. At this point, they are going to be the toys still sitting on the aisle after Christmas. When the students cannot understand the rules that govern play time, they cannot construct meaning. In the absence of clearly defined rules, students will apply their own rules from familiar terrain and, unlike the fictitious Ferengi, who have attained a level of complexity represented by 285 or more different "rules of acquisition," our students have only three: find only the information you absolutely need; find the most efficient path to it, and find it in the simplest possible form. Meet the virtual reality version of Occam's razor. [52]
Rumors about the multimedia learning preferences of the "digital natives" generation evaporate when one confronts student behavior in online course packages. Students may have to become "digital immigrants" in the sense of embracing new ways of learning history, just as our colleague David Staley urges professionals to contemplate new digital ways of expressing historical thinking. In this case, those of us from the "digital immigrants" generation may have a thing or two to teach the "natives," but first we have to figure out for ourselves what the new rules are.
.08 Notes
1. Larry Cuban, Oversold and Underused (Cambridge: Massachusetts: Harvard University Press, 2001).
2. Dennis A. Trinkle, "Technology and the History Classroom: Where Are We? Where Are We Headed?" in History.edu: Essays on teaching with Technology (Armonk, New York: M.E. Sharpe, 2001), xii.
3. See, for example, T. Mills Kelly, "For Better or Worse? The Marriage of the Web and Classroom," in The Journal of the Association for History and Computing Vol. III, No. 2 (August 2000). Available online at http://mcel.pacificu.edu/JAHC/JAHCIII2/ARTICLES/kelly/kelly.html, last accessed December 5, 2005.
4. See Lendol Calder, William W Cutler III, and T. Mills Kelley, History Lessons: Historians and the Scholarship of Teaching and Learning, in Disciplinary Styles in the Scholarship of Teaching and Learning: Exploring Common Ground, eds. Mary Taylor Huber and Sherwyn Morreale (Washington. D.C.: American Association for Higher Education and the Carnegie Foundation for the Advancement of Teaching, 2002): 45-67. The authors report that only as few articles in their review of teaching journals in history made use of theoretically sophisticated resources on teaching and learning. See also David Pace, "The Amateur in the Operating Room: History and the Scholarship of Teaching and Learning," in The American Historical Review Vol. 109, No. 4 (October 2004); available online [ http://www.historycooperative.org/journals/ahr/109.4/pace.html], last accessed December 7, 2005.
5. See Stephen Robertson, "Doing History in Hypertext," in the Journal of the Association of History and Computing Vol. 7, No. 2 (August 2004), available online http://mcel.pacificu.edu/jahc/JAHCVII2/ARTICLES/robertson/robertson.html], last accessed November 30, 2005.
6. See, for example, Kelly, "For Better or Worse."
7. For a description of data mining and the way it differs from statistics, see David J. Hand, "Data Mining: Statistics and More," in The American Statistician Vol. 52, No. 2 (May 1998): 112-188, and David J. Hand, Gordon Blunt, Mark G. Kelly, and Niall M. Adams, "Data Mining for Fun and Profit," in Statistical Science Vol. 15, No. 2 (2000): 111-131.
8. See Mark Prensky, "Digital Natives, Digital Immigrants," in On the Horizon Vol. 9, No. 5 (2001); available online http://www.marcprensky.com/writing/....], last accessed November 30, 2005.
9. E. H. Carr, What is History? (New York: Viking Books, 1961), 35.
10. See David Staley, Computers, Visualization, and History: How New Technology Will Transform Our Understanding of the Past (Armonk, New York: M.E. Sharpe, 2003) and "Designing and Displaying Historical Information in the Electronic Age," in the Journal for the Association of History and Computing Vol. 1, No. 1 (June 1998), available online http://mcel.pacificu.edu/jahc/jahcI1/Staley/design.htm], last accessed November 30, 2005.
11. Among the many works on this topic, see Janet Murray, Hamlet on the Holodeck: The Future of Narrative in Cyberspace (New York: The Free Press, 1997); George P. Landow, "Hypertext, Metatext, and the Electronic Canon," in Literacy Online: The Promise and Peril of Reading and Writing with Computers (Pittsburgh: University of Pittsburgh Press, 1992), 67-94.
12. Robertson, for example, reports that students often had difficulty seeing ways to implement hypertextual history.
13. Many historians have used this approach to create online courses; see for example, Skip Knox, "The Pedagogy of Web Site Design," in ALN Magazine Vol. 1, Issue 2 (August 1997); available online http://www.sloan-c.org/publications/magazine/v1n2/knox.asp], last accessed November 30, 2005.
14. The distinction between hypertext and hard copy text in these respects may not be as great as many historians assume. Landow points out that even a standard text is already linked to a "docuverse" simply in terms of being placed within the canon, for example, while Janet Murray (27-29) notes that people can just as easily flip back and forth between chapters, which are themselves artificial ways of organizing material that date back to the advent of the printing press.
15. Margie Martyn, "The Hybrid Online Model: Good Practice," Educause Quarterly Vol. 26, No. 1 (2003): 18-/23; available online http://www.educause.edu/ir/library/pdf/eqm0313.pdf], last accessed November 30, 2005.
16. Asynchronous discussion proved to be a valuable learning tool, and I have described in greater detail the course and the success of this project, in "History in the Digital Age: A Study of the Impact of Interactive Resources in Student Learning," in The History Teacher Vol. 37, No. 3 (May 2004): available online http://www.historycooperative.org/journals/ht/37.3/vess.html#FOOT6], last accessed November 28, 2005; and in "Asynchronous Discussion and Communication Patterns in Online and Hybrid World History Courses," in Communication Education Vol. 54, Issue 4 (October 2005): 355-364. Similarly, I also reported in "History in the Digital Age" that analytical paper assignments based on searchable electronic sources prompted significant levels of cognitive growth among students in the asynchronous course.
17. James Longhurst, "World History on the World Wide Web: A Student Satisfaction Survey and a Blinding Flash of the Obvious," The History Teacher Vol. 36, No. 3 (May 2003); available online http://www.historycooperative.org/journals/ht/36.3/longhurst.html], last accessed November 30, 2006.
18. This may even be true for scholars, as there are reports that the availability of primary source texts on Perseus and other web sites has contributed to less in-depth study and fewer attempts to read texts repeatedly. See Albert Borgmann, Holding on to Reality: The Nature of Information at the Turn of the Millennium (University of Chicago Press, 1999), 209; see also Sven Birkerts, The Gutenberg Elegius: The Fate of Reading in the Electronic Age (New York: Fawcett, 194); Karen Ruhleder, "Reconstructing Artifacts, Reconstructing Work: From Textual Edition to On-line Databank," Science, Technology and Human Values Vol. 20, No. 1 (1995): 39-64.
19. See my "History in the Digital Age" for a more detailed discussion of student responses on this topic.
20. Patrick Cavaliere has also suggested that digital resources may promote lower levels of cognitive processing. See "Socratic Method, Multimedia Courseware and History: The Case of Mussolini Illustrato," in The Journal of the Association for History and Computing Vol. VIII, No. 1 (May 2005), available online http://mcel.pacificu.edu/jahc/JAHCVIII1/articles/caviallre.html], last accessed December 5, 2005.
21. See Gavriel Salomon, "Higher Education Facing the Challenges of the Information Age," available online http://construct.haifa.ac.il/~gsalomon/new/], last accessed December 5, 2005.
22. See Stephen Acker, "Space, Collaboration, and the Credible City: Academic Work in the Virtual University," Journal of Computer Mediated Communication 1 (1995) , 4; available online [ http://jcmc.huji.ac.il ] .
23. D.N. Perkins, "Person Plus: A Distributed View of Thinking and Learning," in Gavriel Salomon, ed., Distributed Cognitions (New York: Cambridge University Press, 1993): 88-110.
24. L.S. Vygotsky, Mind in Society (Cambridge, MA: Harvard University Press, 1978), 57. For applications to modern educational technology, see G. Salomon and D.N. Perkins, "Individual and Social Aspects of Learning," available online http://construct.haifa.ac.il/~gsalomon/indsoc.htm]; last accessed November 30, 2005.
25. See Robert Heckman and Hala Annabi, "A Content Analytic Comparison of Learning Processes in Online and Face-to-face Case Study Discussions," Journal of Computer Mediated Communication Vol. 10, Issue 2 (2005), article 7; available online http://jcmc.indiana.edu/vol10/issue2/heckman.html], last accessed November 30, 2005; R. Benbunan-Fich, and R. Hiltz, "Impacts of Asynchronous Learning Networks on Individual and Group Problem Solving: A Field Experiment," Group Decision and Negotiation Vol. 8 (1999): 409-/426; and Vess, "Asynchronous Discussion and Communication Patterns."
26. Reports on hypertext applications are also mixed. See, for example, Helen J. Schwartz, "'Dominion Everywhere': Computers as Cultural Artifacts," in Literacy Online, 95-108. Schwartz admits that hypertext programs designed to teach interpretive techniques often help to develop student ability, but they only go so far, as computers are limited by their programming. Schwartz's subjects were able to abandon the computer after only a few lessons and in the end, she concludes its usefulness was limited. The Intermedia Project at Brown has shown more positive results in this area, suggesting that hypertext prompts dramatic changes in student reading habits prompting more integration of texts and themes. See William O. Beeman, Kenneth T. Anderson, Gail Bader, James Larkin, Anne P. McClard, Patrick McQuillan, and Mark Shields, Intermedia: A Case Study of Innovation in Higher Education (Providence, Rhode Island: Office of Program Analysis, Institute for Research in Information and Scholarship, 1988). Even so, much more research needs to be done, especially in the context of teaching history.
27. R.E.Mayer and R.B Anderson, "Animations Need Narrations: An Experimental Test of a Dual-Coding Hypothesis," Journal of Educational Psychology 83 (1991): 484-490; Mayer and Anderson, "The Instructive Animation: Helping Students Build Connections Between Words and Pictures in Multimedia Learning," Journal of Educational Psychology 84 (1992): 444-452; R.E. Mayer, "Systematic Thinking Fostered by Illustrations in Scientific Text, Journal of Educational Psychology 81 (1989): 240-246; R.E. Mayer and J.K. Gallini, "When Is an Illustration Worth Ten Thousand Words?", Journal of Educational Psychology 82 (1990): 715-726.
28. Borgmann, chapter thirteen, 166-178.
29. Gavriel Salomon, Interaction of Media, Cognition, and Learning (San Francisco: Jossey Bass, 1979), 226-227. Salomon also argues that visual media, like television, produce lower levels of learning. There are a number of monographs that explore the topic of digital media from a more contemporary perspective. All of them recognize that digital media have the power to transform the way we process knowledge. See Ron Burnett, How Images Think (Cambridge, MA: MIT Press, 2004); B.N. Hansen, New Philosophy for New Media (Cambridge, MA: MIT Press, 2004).
30. See "History in the Digital Age," paragraph 22.
31. George Miller's work suggests that specialists and less well-versed users have radically different notions of what constitutes a workable "chunk" of information in terms of cognitive overload. Very complex 3D visualizations, for example, might be more effective for advanced students or specialists. See "The Magical Number Seven, Plus or Minus Two," Psychological Review63 (1956): 81-97.
32. Paul Chandler and John Sweller, "Cognitive Load Theory and the Format of Instruction," Cognition and Instruction 8 (1991): 293-332. John. Sweller, Paul Chandler, P. Tierney, and Martin Cooper, "Cognitive Load as a Factor in the Structure of Technical Material," Journal of Experimental Psychology: General 119 (1990): 176-192. For an excellent summary of the cognitive load theory as it relates to multimedia, see R. E. Mayer and Roxana Moreno, "9 Ways to Reduce Cognitive Load in Multimedia Learning," Educational Psychologist Vol. 38. No. 1 (March 2003): 43-52.
33. Chandler and Sweller, "Cognitive Load Theory"; John Sweller and Paul Chandler, "Why Some Material is Difficult to Learn," Cognition and Instruction 12 (1994): 185-233; Sweller, Chandler, Tierney and Cooper; F.G.W. Paas and J.G. Van Merrienboer, "Instructional Control of Cognitive Load in the Training of Complex Cognitive Tasks," Educational Psychology Review 6(1994): 351-372; Mayer and Anderson, "Animations Need Narrations,"; Mayer and Anderson, "The Instructive Animation,"; Mayer; Mayer and Gallini.
34. See Chandler and Sweller, "Cognitive Load Theory;" Seyed Mousavi, Renae Low, and John Sweller, "Reducing Cognitive Load by Mixing Auditory and Visual Presentation Modes," Journal of Educational Psychology 87 (1995): 319-334.; Sweller, Chandler, Tierney and Cooper. Audio slide shows also address Howard Gardner's notion of multiple intelligences. See Frames of Mind: The Theory of Multiple Intelligences, 10th edition (New York: Basic Books, 1993).
35. R.E. Mayer, W. Bove, A. Bryman, R. Mars, L. Tapangco, "When Less is More: Meaningful Learning From Visual and Verbal Summaries of Science Textbook Lessons," Journal of Educational Psychology 88 (1996): 64-73; Chandler and Sweller, "Cognitive Load Theory."
36. The successful results I have obtained from multimedia exercises were, in fact, examples of coherence, as they were simple geographic drills designed to teach mastery of location through point-and-click routines or chronological exercises. See Deborah L. Vess, "Socrates On-line: A Multimedia Tool for the Development of Critical Thought," in Proteus: A Journal of Ideas. Special Issue on Technology in Education (March 1997): 13–22.
37. Readers can explore the virtual tour of Ocmulgee, including the panoramas, through my World Civ Virtual Library web site at http://www.faculty.de.gcsu.edu/%7Edvess/ids/amtours/.../ocmwciv.htm
38. See Cavaliere, whose remark was in reference to another study by R.J. Morris, "Urbanization in Britain: 1780-1914A Teaching and Learning Technology Programme (TLTP) Unit," available online http://www.h-net.msu.edu/~urban/teach/syllabi/morris1995meth1.htm]; last accessed November 30, 2005.
39. The one exception to this was the interactive map of Islam, which was organized chronologically, but which was accessed only twice. During that week of the course, students had to complete an analytical paper on the treatment of women in the Qur'an as well as the standard unit quiz, which might explain why they neglected the resource.
40. For an excellent example of just how tenacious paradigms can be, even those based on completely inaccurate notions of the world, see Ken Bain, What the Best College Teachers Do (Cambridge, MA: Harvard University Press, 2004), 22-23.
41. Julie Kimmel, "Web Evaluation in the History Classroom: Reconsidering the Checklist," in the Journal for the Association of History and Computing Vol. VIII, No. 2 (August 2005), p. 16.
42. Hybrid students did not cover the unit with the spread of the Black Death map, but the material on the map of Islam was included on the online portion of the final exam.
43. Readers can access the QuickTime tours of the peasants' village through my Global Issues website at http://www.faculty.de.gcsu.edu/~dvess/gissues/tradch.htm.
44. Salomon, Interaction of Media, 227.
45. SeeMayer & Gallini; Mayer, Steinhoff, Bower, and Mars. Note that when hybrid students actually accessed the resources, they tended to spend more time on them than did the asynchronous students, as for example the Quicktime audio slide show of the Chinese peasants' village and the animated map of Alexander the Great's conquests. This may confirm at least part of the assumptions behind Prensky's digital natives hypothesis.
46. See Murray's discussion of MUDs in Hamlet on the Holodeck, part II; and also the discussion in Borgmann, 187-188.
47. Stephen Gance, "Are Constructivism and Computer-Based Learning Environments Incompatible?" in The Journal of the Association for History and Computing Vol. 5, No. 1 (May 2002).
48. Gavriel Salomon, D.N. Perkins, and T. Globerson, "Partners in Cognition: Extending Human Intelligence with Intelligent Technologies," Educational Researcher 20 (1991): 2-9.
49. Murray, 126-153.
50. Borgmann, 179-187.
51. Borgmann, 205.
52. Interestingly, computational learning theory relies very heavily on Occam's razor. See Michael J. Kearns and Umesh Vazirani, An Introduction to Computational Learning Theory (Cambridge: MIT Press, 1994); and Pedro Domingos, "The Role of Occam's Razor in Knowledge Discovery," Data Mining and Knowledge Discovery Vol. 3, No. 4 (1999): 409-425.
Figure 1
| | | | | |
| --- | --- | --- | --- | --- |
| Page Name | Hits | Time | Time/Hit | Posts |
| | 43 | 01:23:21 | 01:56 | 0 |
| | 110 | 13:20:46 | 07:16 | 0 |
| Content Guide, Study Guide | 46 | 01:04:51 | 01:24 | 0 |
| A Brief Chronological History of the Hebrews | 47 | 55:32 | 01:10 | 0 |
| A Han Commentary on Women | 39 | 31:04 | 00:47 | 0 |
| Abelard's Rule | 15 | 09:58 | 00:39 | 0 |
| Academic Policies | 24 | 01:01:35 | 02:33 | 0 |
| Achilles | 56 | 44:11 | 00:47 | 0 |
| Africa | 32 | 01:01:55 | 01:56 | 0 |
| Akhenaton: The Heretic King | 62 | 02:08:10 | 02:04 | 0 |
| Anselm | 17 | 13:00 | 00:45 | 0 |
| Anti-Clericalism | 52 | 44:56 | 00:51 | 0 |
| Archaeological ruins | 29 | 08:40 | 00:17 | 0 |
| Areas of Agricultural Development | 72 | 03:09:38 | 02:38 | 0 |
| Arian Heresy | 40 | 01:04:30 | 01:36 | 0 |
| Art and Learning | 24 | 06:24 | 00:16 | 0 |
| Art in Greek Society | 48 | 27:09 | 00:33 | 0 |
| Art of Akhenaton's reign | | 00:00 | 00:00 | 0 |
| Arts as Propaganda in the Time of Augustus | 32 | 32:06 | 01:00 | 0 |
| Asking Questions or Requesting Help | 35 | 01:49:30 | 03:07 | 0 |
| Assessment | 28 | 03:25 | 00:07 | 0 |
| Assessment | 23 | 01:33 | 00:04 | 0 |
| Assessment | 31 | 18:31 | 00:35 | 0 |
| Assessment | 39 | 05:07 | 00:07 | 0 |
| Assessment | 23 | 04:05 | 00:10 | 0 |
| Assessment | 19 | 01:05 | 00:03 | 0 |
| Assessment | 27 | 05:01 | 00:11 | 0 |
| Assessment | 43 | 03:47 | 00:05 | 0 |
| Assessment | 13 | 00:50 | 00:03 | 0 |
| Assessment | 24 | 01:47 | 00:04 | 0 |
| Assessment | 14 | 01:07 | 00:04 | 0 |
| Assessment | 40 | 10:00 | 00:15 | 0 |
| Assessment | 71 | 42:50 | 00:36 | 0 |
| Assessment | 21 | 05:28 | 00:15 | 0 |
| Assessment | 27 | 02:46 | 00:06 | 0 |
| Assessment | 56 | 56:38 | 01:00 | 0 |
| Assessments | 27 | 03:07 | 00:06 | 0 |
| Assignment 1: Compose an Introduction to Yourself | 55 | 01:46:42 | 01:56 | 0 |
| Assignment 2: Read the Syllabus | 53 | 29:49 | 00:33 | 0 |
| Assignment 3: Read the Student Guide | 73 | 02:11:46 | 01:48 | 0 |
| Assignment 4: Use the Discussions Tool | 58 | 02:25:28 | 02:30 | 0 |
| Assignment 5: Use the Mail Tool | 47 | 05:08:07 | 06:33 | 0 |
| Assignments for Tools Orientation | 38 | 12:25 | 00:19 | 0 |
| Athens, Birthplace of Democracy | 69 | 01:11:33 | 01:02 | 0 |
| Attendance and Participation | 61 | 02:53:30 | 02:50 | 0 |
| Augustus's Achievements | 29 | 28:26 | 00:58 | 0 |
| Babylonian Captivity | 45 | 01:09:54 | 01:33 | 0 |
| Battle Abbey: A Brief History and Virtual Tour | 30 | 48:21 | 01:36 | 0 |
| Benedictine and Scholastica | 36 | 01:03:06 | 01:45 | 0 |
| Benedictine Monastic Life | 40 | 43:35 | 01:05 | 0 |
| Biography | | 00:00 | 00:00 | 0 |
| Biography | 17 | 08:54 | 00:31 | 0 |
| Biography | 22 | 13:45 | 00:37 | 0 |
| Biography | 23 | 20:54 | 00:54 | 0 |
| Brendan The Navigator | 28 | 06:37 | 00:14 | 0 |
| Brief Chronology of Anasazi History | 43 | 53:37 | 01:14 | 0 |
| Buddhism | 49 | 43:15 | 00:52 | 0 |
| Byzantium | 33 | 35:56 | 01:05 | 0 |
| Byzantium | 21 | 11:18 | 00:32 | 0 |
| Caesar and Cleopatra | 36 | 01:30:06 | 02:30 | 0 |
| Caesaropapism and the Theodosian Code | 43 | 01:10:00 | 01:37 | 0 |
| Campaigns in Gaul | 41 | 01:28:17 | 02:09 | 0 |
| Causes of the French Defeat | 46 | 16:11 | 00:21 | 0 |
| Cave Paintings | 74 | 01:34:17 | 01:16 | 0 |
| Cave Venus Figures | 60 | 36:19 | 00:36 | 0 |
| Celtic Monasticism | 31 | 09:40 | 00:18 | 0 |
| Cenobitic Monasticism | 42 | 22:49 | 00:32 | 0 |
| Centers of Culture in Africa | 31 | 40:05 | 01:17 | 0 |
| Chants | 21 | 11:18 | 00:32 | 0 |
| Characteristics of Feudal Society | 23 | 09:05 | 00:23 | 0 |
| Charles Homer Haskins | 28 | 11:21 | 00:24 | 0 |
| Chartres Cathedral, France | 23 | 13:37 | 00:35 | 0 |
| Chichen Itza | | 00:00 | 00:00 | 0 |
| China From the Prehistoric Era Through the Han | 43 | 09:31 | 00:13 | 0 |
| Chinese Creation Myth | 47 | 34:25 | 00:43 | 0 |
| Cistercian Ideals | 37 | 56:14 | 01:31 | 0 |
| Cistercians Found Rievaulx and Inspire a Crisis at St. Mary's | 31 | 53:44 | 01:44 | 0 |
| Columba, Founder of Iona | 27 | 38:14 | 01:24 | 0 |
| Communicating Online | 28 | 13:39 | 00:29 | 0 |
| Communicating Online and Composing Messages | 25 | 13:05 | 00:31 | 0 |
| Completing Lessons Successfully | 41 | 02:20:03 | 03:24 | 0 |
| Conclusion | | 00:00 | 00:00 | 0 |
| Conclusion | 18 | 04:03 | 00:13 | 0 |
| Conflict of the Dynasties | 35 | 32:12 | 00:55 | 0 |
| Confucianism and Legalism | 46 | 01:46:19 | 02:18 | 0 |
| Confucius | 40 | 46:47 | 01:10 | 0 |
| Connecting the Past to the Present: Later Commentators on Sparta | 58 | 21:43 | 00:22 | 0 |
| Conquests of Alexander | 59 | 03:45:32 | 03:49 | 0 |
| Constantine's Vision | 38 | 44:54 | 01:10 | 0 |
| Content Guide, Study Guide | 32 | 19:14 | 00:36 | 0 |
| Content Guide, Study Guide | 26 | 16:29 | 00:38 | 0 |
| Content Guide, Study Guide | 16 | 03:46 | 00:14 | 0 |
| Content Guide, Study Guide | 23 | 28:55 | 01:15 | 0 |
| Content Guide, Study Guide | 24 | 06:34 | 00:16 | 0 |
| Content Guide, Study Guide | 38 | 01:25:09 | 02:14 | 0 |
| Content Guide, Study Guide | 50 | 18:56 | 00:22 | 0 |
| Content Guide, Study Guide | 27 | 19:27 | 00:43 | 0 |
| Content Guide, Study Guide | 15 | 02:24 | 00:09 | 0 |
| Content Guide, Study Guide | 26 | 08:06 | 00:18 | 0 |
| Content Guide, Study Guide | 37 | 18:00 | 00:29 | 0 |
| Content Guide, Study Guide | 15 | 40:51 | 02:43 | 0 |
| Content Guide, Study Guide | 10 | 03:36 | 00:21 | 0 |
| Content Guide/Study Guide | 18 | 02:42 | 00:09 | 0 |
| Content Guide/Study Guide | 14 | 02:30 | 00:10 | 0 |
| Content Guide/Study Guide | 13 | 05:36 | 00:25 | 0 |
| Controversial Arguments | 17 | 18:29 | 01:05 | 0 |
| Controversial Pharaohs of the New Kingdom | 42 | 23:51 | 00:34 | 0 |
| Coronation of William the Conqueror | 28 | 32:15 | 01:09 | 0 |
| Course Description | 15 | 04:33 | 00:18 | 0 |
| Course Objectives | 49 | 01:13:56 | 01:30 | 0 |
| Course Outline | 85 | 11:19:39 | 07:59 | 0 |
| Course Structure | 32 | 43:43 | 01:21 | 0 |
| Critical Thinking | 29 | 14:31 | 00:30 | 0 |
| Cultural Contributions of Mesopotamia | 76 | 03:42:43 | 02:55 | 0 |
| Current Concerns | 34 | 35:23 | 01:02 | 0 |
| Daily Life | 51 | 26:35 | 00:31 | 0 |
| Daily Life in Ancient Rome | 31 | 43:50 | 01:24 | 0 |
| Daily Life in Medieval Europe | 23 | 56:18 | 02:26 | 0 |
| Death of Muhammad | 43 | 49:06 | 01:08 | 0 |
| Decline and Dissolution | 25 | 13:45 | 00:33 | 0 |
| Decline and Renewal | 25 | 12:41 | 00:30 | 0 |
| Decline and Revival | 27 | 18:47 | 00:41 | 0 |
| Decline of Scholasticism | 14 | 05:15 | 00:22 | 0 |
| Delphi | 44 | 57:16 | 01:18 | 0 |
| Democracy Under Cleisthenes | 63 | 01:43:29 | 01:38 | 0 |
| Descendents of Abraham | 55 | 57:52 | 01:03 | 0 |
| Design of the Cities | | 00:00 | 00:00 | 0 |
| Detachment leads to Nirvana | 48 | 20:34 | 00:25 | 0 |
| Devastating Effects of the Plague | 60 | 01:35:42 | 01:35 | 0 |
| Diffusion of the Plague | 57 | 01:16:37 | 01:20 | 0 |
| Diodotus's Argument | 52 | 12:07 | 00:13 | 0 |
| Discussion | 63 | 06:30:50 | 06:12 | 0 |
| Discussion assignment | 66 | 05:47:57 | 05:16 | 0 |
| Discussion Assignment | 35 | 01:13:04 | 02:05 | 0 |
| Discussion Assignment | 28 | 03:03:26 | 06:33 | 0 |
| Discussion Assignment | 57 | 07:24:14 | 07:47 | 0 |
| Discussion Assignment | 67 | 07:59:32 | 07:09 | 0 |
| Discussion Assignments | 48 | 01:01:44 | 01:17 | 0 |
| Discussion Format for Assignments | 26 | 13:13 | 00:30 | 0 |
| Disintegration of the Hebrew Kingdom of Solomon | 48 | 01:18:33 | 01:38 | 0 |
| Dissolution | 24 | 08:53 | 00:22 | 0 |
| Divine Beauty and The Artist's Creation | 22 | 06:50 | 00:18 | 0 |
| Divisions of Purusha | 60 | 01:39:29 | 01:39 | 0 |
| Early Indus River Valley Civilization | 59 | 02:06:24 | 02:08 | 0 |
| Early Years | 49 | 01:20:54 | 01:39 | 0 |
| Eastern Europe | 39 | 16:14 | 00:24 | 0 |
| Effect on Art | 61 | 02:33:48 | 02:31 | 0 |
| Egyptian Culture and the Old Kingdom Pharaohs: The Pyramids | 61 | 52:19 | 00:51 | 0 |
| Emerging Monarchies: France and Germany | 44 | 01:15:03 | 01:42 | 0 |
| Emigration to Medina | 50 | 45:23 | 00:54 | 0 |
| Empire of Mahmud Ghazni | 27 | 10:07 | 00:22 | 0 |
| England | 26 | 17:23 | 00:40 | 0 |
| Epilogue | 28 | 15:09 | 00:32 | 0 |
| Epilogue: The Plague After the Fourteenth Century | 39 | 27:54 | 00:42 | 0 |
| Eras of the Hans | 44 | 44:35 | 01:00 | 0 |
| Essay and Short Answer Assignments | 80 | 04:47:03 | 03:35 | 0 |
| Exploring the Ruins of Pompeii | 27 | 20:23 | 00:45 | 0 |
| Fact or Interpretation? | 49 | 01:16:19 | 01:33 | 0 |
| Feudal Society | 24 | 40:23 | 01:40 | 0 |
| First Revelation | 51 | 50:16 | 00:59 | 0 |
| Folk Remedies | 49 | 47:21 | 00:57 | 0 |
| Footbinding | 38 | 12:34 | 00:19 | 0 |
| Formative Years | 31 | 39:01 | 01:15 | 0 |
| Foundation of Fountains Abbey | 30 | 36:52 | 01:13 | 0 |
| Fountains Abbey: A Brief History | 34 | 11:14 | 00:19 | 0 |
| Four Great Sights | 48 | 01:22:41 | 01:43 | 0 |
| Four Noble Truths | 45 | 16:19 | 00:21 | 0 |
| Further Exploration | 11 | 11:26 | 01:02 | 0 |
| Further Exploration | 85 | 09:09:00 | 06:27 | 0 |
| Further Exploration | 36 | 02:25:43 | 04:02 | 0 |
| Further Exploration | 53 | 02:44:30 | 03:06 | 0 |
| Further Exploration | 84 | 12:08:13 | 08:40 | 0 |
| Further Exploration | 40 | 05:09:34 | 07:44 | 0 |
| Further Exploration | 29 | 01:36:48 | 03:20 | 0 |
| Further Exploration | 13 | 19:48 | 01:31 | 0 |
| Further Exploration | 73 | 06:54:04 | 05:40 | 0 |
| Further Exploration | 52 | 08:56:54 | 10:19 | 0 |
| Further Exploration | 11 | 25:52 | 02:21 | 0 |
| Further Exploration | 42 | 01:38:00 | 02:20 | 0 |
| Further Exploration | 31 | 26:29 | 00:51 | 0 |
| Further Explorations | 23 | 01:19:34 | 03:27 | 0 |
| Further Explorations | 22 | 19:56 | 00:54 | 0 |
| Further Explorations | 35 | 03:24:13 | 05:50 | 0 |
| Further Explorations | 14 | 01:07:47 | 04:50 | 0 |
| Geography, Agriculture, the Family, and the Peasant in Ancient China | 41 | 23:37 | 00:34 | 0 |
| Governing Bodies | 32 | 01:06:57 | 02:05 | 0 |
| Government and Religion | 76 | 01:18:03 | 01:01 | 0 |
| Grading Information | 110 | 09:06:27 | 04:58 | 0 |
| Greco-Roman Influences | 16 | 18:15 | 01:08 | 0 |
| Greek Aesthetics | 51 | 34:41 | 00:40 | 0 |
| Guidelines for Good Electronic Communication (Netiquette) | 20 | 10:42 | 00:32 | 0 |
| Guidelines for Good Posts | 26 | 04:51:53 | 11:13 | 0 |
| Guidelines for Group Work | 30 | 25:57 | 00:51 | 0 |
| Hannibal and the Second Punic War | 38 | 02:09:14 | 03:24 | 0 |
| Harold is Slain - Or is He? | 33 | 30:26 | 00:55 | 0 |
| Hatshepsut | 69 | 03:14:12 | 02:48 | 0 |
| Hebrew Origins | 56 | 01:51:30 | 01:59 | 0 |
| Heinrich Schliemann and the Excavation of Hisarlik | 52 | 33:59 | 00:39 | 0 |
| Hellenistic Art | 53 | 01:09:15 | 01:18 | 0 |
| Heloise | 20 | 25:07 | 01:15 | 0 |
| Hild's Whitby | 26 | 11:35 | 00:26 | 0 |
| Hildegard of Bingen | 28 | 21:57 | 00:47 | 0 |
| HIST 1111 Course Instructor | 80 | 08:48:43 | 06:36 | 0 |
| Historic Peregrini | 33 | 19:12 | 00:34 | 0 |
| Historic View | 30 | 14:21 | 00:28 | 0 |
| Holy Roman Empire | 23 | 10:00 | 00:26 | 0 |
| Homer and Virgil as Historic Sources | 53 | 34:13 | 00:38 | 0 |
| Hominids | 85 | 01:35:27 | 01:07 | 0 |
| Humanism | 14 | 11:13 | 00:48 | 0 |
| Humans as the Center of Creation | 23 | 05:52 | 00:15 | 0 |
| Hymn to Purusha | 56 | 31:28 | 00:33 | 0 |
| Impact of the Hundred Years War | 44 | 01:27:22 | 01:59 | 0 |
| Impact of the Plague | 55 | 01:27:23 | 01:35 | 0 |
| Imperator Caesar | 32 | 54:37 | 01:42 | 0 |
| Importance of Geography | 44 | 31:56 | 00:43 | 0 |
| Influential Humanists | 20 | 01:04:53 | 03:14 | 0 |
| Inheritance Laws, Coinage, and Calligraphy | 48 | 56:25 | 01:10 | 0 |
| Interactive Map of Africa | 8 | 12:08 | 01:31 | 0 |
| Introduction | 22 | 01:09:09 | 03:08 | 0 |
| Introduction | 16 | 30:25 | 01:54 | 0 |
| Introduction | 18 | 01:17:51 | 04:19 | 0 |
| Introduction | 55 | 01:38:06 | 01:47 | 0 |
| Introduction | 26 | 11:14 | 00:25 | 0 |
| Introduction | 40 | 03:15:44 | 04:53 | 0 |
| Introduction | 16 | 18:37 | 01:09 | 0 |
| Introduction | 32 | 03:42:37 | 06:57 | 0 |
| Introduction | 18 | 58:33 | 03:15 | 0 |
| Introduction | 21 | 33:31 | 01:35 | 0 |
| Introduction | 29 | 01:41:21 | 03:29 | 0 |
| Introduction | 40 | 58:34 | 01:27 | 0 |
| Introduction | 16 | 49:58 | 03:07 | 0 |
| Introduction | 21 | 45:22 | 02:09 | 0 |
| Introduction | 34 | 01:36:12 | 02:49 | 0 |
| Introduction | 25 | 35:59 | 01:26 | 0 |
| Introduction | 19 | 37:45 | 01:59 | 0 |
| Introduction | 32 | 01:40:20 | 03:08 | 0 |
| Introduction | 52 | 03:15:11 | 03:45 | 0 |
| Introduction | 25 | 17:43 | 00:42 | 0 |
| Introduction | 40 | 01:34:06 | 02:21 | 0 |
| Introduction | 25 | 06:12 | 00:14 | 0 |
| Introduction of the Caste System | 57 | 46:59 | 00:49 | 0 |
| Invincible Alexander | 49 | 01:28:22 | 01:48 | 0 |
| Islam After Muhammad | 8 | 40:30 | 05:03 | 0 |
| Jacob Burckhardt | 33 | 24:17 | 00:44 | 0 |
| Japan | | 00:00 | 00:00 | 0 |
| Jesus's Ministry and Death | 31 | 52:08 | 01:40 | 0 |
| Jews at Qum'ran | 27 | 20:51 | 00:46 | 0 |
| Julius Caesar | 38 | 28:29 | 00:44 | 0 |
| Key Battles | 53 | 01:08:22 | 01:17 | 0 |
| Kieran of Clonmacnois | 28 | 32:13 | 01:09 | 0 |
| King Solomon and the Ark of the Covenant | 49 | 39:14 | 00:48 | 0 |
| Lao Tzu | 39 | 21:48 | 00:33 | 0 |
| Last Years | 18 | 31:59 | 01:46 | 0 |
| Later History | 26 | 09:38 | 00:22 | 0 |
| Later History | 30 | 16:18 | 00:32 | 0 |
| Lesson Features | 29 | 14:10 | 00:29 | 0 |
| Life in a Medieval City: A Virtual Tour of York | 30 | 18:55 | 00:37 | 0 |
| Linking the Past to the Present: Women in Modern China | 37 | 26:23 | 00:42 | 0 |
| Machiavellian Politics | 20 | 10:18 | 00:30 | 0 |
| Major Anasaz Centers | 47 | 55:49 | 01:11 | 0 |
| Major Battles of the Persian War, 490 - 479 B.C.E. | 66 | 03:28:24 | 03:09 | 0 |
| Map of Europe and Asia During the Middle Ages | 31 | 24:01 | 00:46 | 0 |
| Map of Renaissance Europe circa C.E. 1500 | 20 | 20:46 | 01:02 | 0 |
| Map of the Americas | 19 | 01:11:13 | 03:44 | 0 |
| Map of the Islamic Empire | 2 | 03:45 | 01:52 | 0 |
| Map Showing Locations of Hominid Skeletal Remains | 20 | 01:19:20 | 03:58 | 0 |
| Medieval York | 29 | 14:00 | 00:28 | 0 |
| Megiddo: Historical Background | 44 | 55:28 | 01:15 | 0 |
| Meritocracy | 39 | 29:13 | 00:44 | 0 |
| Mesopotamian Empires | 84 | 03:15:06 | 02:19 | 0 |
| Migration Patterns | 65 | 46:04 | 00:42 | 0 |
| Modern Day Contrasts | 34 | 26:15 | 00:46 | 0 |
| Moment in history | 45 | 32:11 | 00:42 | 0 |
| Moment in History | 40 | 49:33 | 01:14 | 0 |
| Moment in History | 31 | 01:07:32 | 02:10 | 0 |
| Moment in History | 45 | 36:57 | 00:49 | 0 |
| Moment in history | 53 | 01:30:55 | 01:42 | 0 |
| Moment in History | 22 | 49:07 | 02:13 | 0 |
| Moment in History | 33 | 01:14:09 | 02:14 | 0 |
| Moment in History | 72 | 01:26:24 | 01:12 | 0 |
| Moment in History | 42 | 41:04 | 00:58 | 0 |
| Moment in History | 62 | 43:33 | 00:42 | 0 |
| Moment in History | 34 | 25:41 | 00:45 | 0 |
| Moment in History | 27 | 30:19 | 01:07 | 0 |
| Moment in history | | 00:00 | 00:00 | 0 |
| Moment in history | 23 | 29:05 | 01:15 | 0 |
| Moment in History | 31 | 49:01 | 01:34 | 0 |
| Moment in History | 29 | 14:56 | 00:30 | 0 |
| Moment in History | 55 | 01:06:42 | 01:12 | 0 |
| Monk Without a Home | 18 | 24:44 | 01:22 | 0 |
| Monte Alban | | 00:00 | 00:00 | 0 |
| Moses | 56 | 39:18 | 00:42 | 0 |
| Myceneans | 51 | 50:15 | 00:59 | 0 |
| Native American Ruins of Mesoamerica | 43 | 23:33 | 00:32 | 0 |
| Navigating in a WebCT Lesson | 15 | 10:02 | 00:40 | 0 |
| Need for Self Direction | 36 | 22:51 | 00:38 | 0 |
| Neoplatonism | 25 | 11:54 | 00:28 | 0 |
| Neoplatonism and the Art of Michelangelo | | 00:00 | 00:00 | 0 |
| Neoplatonism vs. Realism | 22 | 11:40 | 00:31 | 0 |
| Norman Invasion | 31 | 25:14 | 00:48 | 0 |
| Objectives | 24 | 05:12 | 00:13 | 0 |
| Objectives | 33 | 43:05 | 01:18 | 0 |
| Objectives | 26 | 02:48 | 00:06 | 0 |
| Objectives | 9 | 00:34 | 00:03 | 0 |
| Objectives | 39 | 13:05 | 00:20 | 0 |
| Objectives | 13 | 10:08 | 00:46 | 0 |
| Objectives | 13 | 04:35 | 00:21 | 0 |
| Objectives | | 00:00 | 00:00 | 0 |
| Objectives | 43 | 23:15 | 00:32 | 0 |
| Objectives | 12 | 01:16 | 00:06 | 0 |
| Objectives | 32 | 07:04 | 00:13 | 0 |
| Objectives | 19 | 01:50 | 00:05 | 0 |
| Objectives | 16 | 04:32 | 00:17 | 0 |
| Objectives | 15 | 02:51 | 00:11 | 0 |
| Objectives | 25 | 29:58 | 01:11 | 0 |
| Objectives | 48 | 01:05:19 | 01:21 | 0 |
| Objectives & Task List | 49 | 05:00:00 | 06:07 | 0 |
| Octavian Defeats Antony | 37 | 58:30 | 01:34 | 0 |
| Orientation: An Overview | 46 | 01:05:22 | 01:25 | 0 |
| Origin of the State and Rule by the Prince | 23 | 27:20 | 01:11 | 0 |
| Origins of the Cistercian Order | 34 | 30:43 | 00:54 | 0 |
| Origins of the Conflict | 41 | 01:15:10 | 01:50 | 0 |
| Origins of the Decline | 40 | 01:14:06 | 01:51 | 0 |
| Other Anasazi Sites in the Southwest | 48 | 23:09 | 00:28 | 0 |
| Other Burial Sites | 57 | 36:25 | 00:38 | 0 |
| Other Inhabitants of the Sparta Region | 55 | 32:16 | 00:35 | 0 |
| Other Monastic Orders | 37 | 01:39:35 | 02:41 | 0 |
| Other Paintings | 27 | 01:00:48 | 02:15 | 0 |
| Other Smaller Mounds | 38 | 16:26 | 00:25 | 0 |
| Other Tombs of Mycenae | 48 | 15:35 | 00:19 | 0 |
| Overview of WebCT 3x | 17 | 19:04 | 01:07 | 0 |
| Palenque | 47 | 59:29 | 01:15 | 0 |
| Pathogen and Carriers | 62 | 01:53:20 | 01:49 | 0 |
| Paths to Moksha | 47 | 01:14:30 | 01:35 | 0 |
| Paul Oscar Kristeller | 25 | 14:10 | 00:34 | 0 |
| Peasants, Serfs and Women | 17 | 06:17 | 00:22 | 0 |
| Peregrination in Art | 27 | 08:47 | 00:19 | 0 |
| Periods of Egyptian History | 27 | 01:39:11 | 03:40 | 0 |
| Persecution of Minorities | 31 | 29:15 | 00:56 | 0 |
| Peter Abelard | 21 | 30:22 | 01:26 | 0 |
| Petrarch's Writings | 22 | 22:50 | 01:02 | 0 |
| Pictorial Tour of Clonmacnois | 25 | 27:06 | 01:05 | 0 |
| Pillar 1: Declaration of Faith (Shahada) | 37 | 20:45 | 00:33 | 0 |
| Pillar 2: Prayer (Salah) | 36 | 01:30:17 | 02:30 | 0 |
| Pillars 3, 4, and 5 | 33 | 36:46 | 01:06 | 0 |
| Planning Activities to Manage Time | 35 | 12:38 | 00:21 | 0 |
| Points of View | 59 | 03:29:34 | 03:33 | 0 |
| Points of View | 37 | 25:38 | 00:41 | 0 |
| Points of View | 38 | 01:00:10 | 01:35 | 0 |
| Points of View | 38 | 01:17:28 | 02:02 | 0 |
| Points of View | 21 | 04:56 | 00:14 | 0 |
| Points of View | 18 | 11:50 | 00:39 | 0 |
| Points of View: Joan of Arc | 48 | 13:37 | 00:17 | 0 |
| Political and Economic Power | 23 | 10:53 | 00:28 | 0 |
| Politics in Sparta | 62 | 01:46:13 | 01:42 | 0 |
| Postscript: Women's Struggles for Equal Rights in the Twentieth and Twenty First Century | 37 | 16:39 | 00:27 | 0 |
| Primary Traditions of Buddhism | 45 | 42:40 | 00:56 | 0 |
| Proctored Exams | 10 | 36:14 | 03:37 | 0 |
| Public Buildings and Streets | 24 | 25:59 | 01:04 | 0 |
| Pyramid Construction | 54 | 51:21 | 00:57 | 0 |
| Pyramid of Chefren | 55 | 43:24 | 00:47 | 0 |
| Questions About Constantine's Conversion | 42 | 01:32:31 | 02:12 | 0 |
| Ramses II | 59 | 01:40:46 | 01:42 | 0 |
| Reactions to the Plague | | 00:00 | 00:00 | 0 |
| Readings, Activities, and Assignments | 69 | 05:15:22 | 04:34 | 0 |
| Readings, Activities, and Assignments | 29 | 01:52:06 | 03:51 | 0 |
| Readings, Activities, and Assignments | 137 | 09:28:42 | 04:09 | 0 |
| Readings, Activities, and Assignments | 95 | 06:05:55 | 03:51 | 0 |
| Readings, Activities, and Assignments | 36 | 54:52 | 01:31 | 0 |
| Readings, Activities, and Assignments | 33 | 02:48:13 | 05:05 | 0 |
| Readings, Activities, and Assignments | 47 | 12:05:03 | 15:25 | 0 |
| Readings, Activities, and Assignments | 28 | 01:58:46 | 04:14 | 0 |
| Readings, Activities, and Assignments | 49 | 01:20:09 | 01:38 | 0 |
| Readings, Activities, and Assignments | 76 | 02:03:51 | 01:37 | 0 |
| Readings, Activities, and Assignments | 45 | 01:07:22 | 01:29 | 0 |
| Readings, Activities, and Assignments | 56 | 01:13:31 | 01:18 | 0 |
| Readings, Activities, and Assignments | 33 | 48:41 | 01:28 | 0 |
| Readings, Activities, and Assignments | 91 | 06:10:40 | 04:04 | 0 |
| Readings, Activities, Discussion Assignments | 65 | 11:09:21 | 10:17 | 0 |
| Relationship Between Lord and Vassal | 24 | 23:35 | 00:58 | 0 |
| Religion and Art | 17 | 11:09 | 00:39 | 0 |
| Religion in the Roman Empire | 33 | 01:13:05 | 02:12 | 0 |
| Religious Revolution | 62 | 01:39:29 | 01:36 | 0 |
| Renaissance Europe | 18 | 03:29 | 00:11 | 0 |
| Renaissance in Art | 16 | 11:02 | 00:41 | 0 |
| Required Course Textbooks | 28 | 02:49:45 | 06:03 | 0 |
| Return from Exile | 47 | 01:10:43 | 01:30 | 0 |
| Review Terms and Questions | 29 | 02:11:53 | 04:32 | 0 |
| Review terms and Questions | 38 | 26:01 | 00:41 | 0 |
| Review Terms and Questions | 37 | 01:33:18 | 02:31 | 0 |
| Review Terms and Questions | 23 | 47:17 | 02:03 | 0 |
| Review Terms and Questions | 77 | 01:00:39 | 00:47 | 0 |
| Review Terms and Questions | 43 | 02:08:45 | 02:59 | 0 |
| Review Terms and Questions | 37 | 02:12:27 | 03:34 | 0 |
| Review Terms and Questions | 19 | 17:27 | 00:55 | 0 |
| Review Terms and Questions | 17 | 01:11:46 | 04:13 | 0 |
| Review Terms and Questions | 22 | 04:25 | 00:12 | 0 |
| Review Terms and Questions | 32 | 59:55 | 01:52 | 0 |
| Review Terms and Questions | 12 | 08:49 | 00:44 | 0 |
| Review Terms and Questions | 73 | 01:33:22 | 01:16 | 0 |
| Review Terms and Questions | 3 | 00:55 | 00:18 | 0 |
| Review Terms and Questions | 52 | 01:43:33 | 01:59 | 0 |
| Review Terms and Questions | 54 | 03:44:27 | 04:09 | 0 |
| Review Terms and Questions | 42 | 01:18:19 | 01:51 | 0 |
| Rise and Fall of the Zhou | 51 | 52:42 | 01:02 | 0 |
| Rise of the Carolingian Dynasty | 34 | 01:15:07 | 02:12 | 0 |
| Role of Women | 46 | 26:59 | 00:35 | 0 |
| Rome After Augustus | 32 | 36:08 | 01:07 | 0 |
| Rome Becomes Master of the Mediterranean | 41 | 01:22:07 | 02:00 | 0 |
| Russia | 31 | 16:28 | 00:31 | 0 |
| Saint Patrick | 29 | 19:37 | 00:40 | 0 |
| Scandinavia | 32 | 01:03:57 | 01:59 | 0 |
| Scholasticism | 22 | 20:50 | 00:56 | 0 |
| Scientist and Inventor | 30 | 20:02 | 00:40 | 0 |
| Scriptures as Historical Sources or Primary Texts | 32 | 34:00 | 01:03 | 0 |
| Self Assessment Page | 11 | 15:16 | 01:23 | 0 |
| Self Assessment Page | 40 | 02:45:02 | 04:07 | 0 |
| Self Assessment Page | 30 | 01:34:52 | 03:09 | 0 |
| Self Assessment Page | 59 | 05:35:55 | 05:41 | 0 |
| Self Assessment Page | 11 | 01:32:01 | 08:21 | 0 |
| Self Assessment Page | 9 | 01:17:55 | 08:39 | 0 |
| Self Assessment Page | 49 | 06:54:59 | 08:28 | 0 |
| Self Assessment Page | 28 | 01:43:51 | 03:42 | 0 |
| Self Assessment Page | 19 | 03:38:52 | 11:31 | 0 |
| Self Assessment Page | 29 | 01:42:12 | 03:31 | 0 |
| Self Assessment Page | 9 | 28:41 | 03:11 | 0 |
| Self Assessment Page | 21 | 47:30 | 02:15 | 0 |
| Self Assessment Page | 37 | 04:31:15 | 07:19 | 0 |
| Self Assessment Page | 11 | 01:37:11 | 08:50 | 0 |
| Self Assessment Page | 9 | 11:05 | 01:13 | 0 |
| Self Assessment Page | 28 | 03:12:01 | 06:51 | 0 |
| Self Assessment Page | 27 | 03:15:51 | 07:15 | 0 |
| Shi Huang Ti's New Philosophy: Legalism | 43 | 01:02:54 | 01:27 | 0 |
| Shi Huang Ti's Quest for Immortality | 43 | 56:11 | 01:18 | 0 |
| Shi'ites and Sunni | 33 | 01:18:25 | 02:22 | 0 |
| Solon as Archon | 66 | 51:25 | 00:46 | 0 |
| Source Studies in Hinduism: The Bhagavad Gita and the Upanishads | 55 | 02:23:24 | 02:36 | 0 |
| Source Studies in Hinduism: The Rig Veda | 55 | 01:02:50 | 01:08 | 0 |
| Source Studies: Four Renaissance Humanists | 20 | 03:30 | 00:10 | 0 |
| Source Studies: The Role of the Assembly | 60 | 37:04 | 00:37 | 0 |
| Spain | 20 | 05:52 | 00:17 | 0 |
| Spartan Society | 57 | 01:12:00 | 01:15 | 0 |
| Spartan Victory | 42 | 01:05:41 | 01:33 | 0 |
| Spread of Buddhism | 43 | 34:54 | 00:48 | 0 |
| Spread of Islam in Africa | 29 | 19:51 | 00:41 | 0 |
| St. Columban | 28 | 07:25 | 00:15 | 0 |
| St. Kieran, Founder of Clonmacnois | 28 | 19:56 | 00:42 | 0 |
| St. Thomas Aquinas | 19 | 28:44 | 01:30 | 0 |
| Struggles for Power | 40 | 01:21:45 | 02:02 | 0 |
| Student Strategies for Success | 37 | 02:35:55 | 04:12 | 0 |
| Suffering comes from attachment to things not permanent | 48 | 35:57 | 00:44 | 0 |
| Surrender of Mecca | 43 | 30:29 | 00:42 | 0 |
| Sworn Sisters: Hunan Province | 38 | 12:19 | 00:19 | 0 |
| Symptoms of the Disease | 59 | 01:42:27 | 01:44 | 0 |
| Tamerlane's Empire | 27 | 06:42 | 00:14 | 0 |
| Teachings of Lao Tzu | 42 | 50:17 | 01:11 | 0 |
| Technical Requirement and Abilities | 21 | 35:38 | 01:41 | 0 |
| Technical Requirements | 47 | 41:09 | 00:52 | 0 |
| Temple of Sulis Minerva | 27 | 20:28 | 00:45 | 0 |
| Ten Lost Tribes of Israel | 44 | 29:18 | 00:39 | 0 |
| Teotihuac?n | | 00:00 | 00:00 | 0 |
| The Abbey Church | 25 | 31:58 | 01:16 | 0 |
| The Acropolis | 50 | 01:31:15 | 01:49 | 0 |
| The Age of Colonization | 58 | 05:14:19 | 05:25 | 0 |
| The Age of Pericles | 58 | 01:04:16 | 01:06 | 0 |
| The Age of the Reformers | 38 | 01:35:19 | 02:30 | 0 |
| The Americas in a Global Context | 28 | 10:02 | 00:21 | 0 |
| The Anasazi Ruins of the Southwest | 32 | 20:27 | 00:38 | 0 |
| The Ascent of Mont Ventoux on April 26, 1336 | 21 | 15:43 | 00:44 | 0 |
| The Athenian Debate | 56 | 01:03:04 | 01:07 | 0 |
| The Babylonian Captivity | 41 | 28:46 | 00:42 | 0 |
| The Battle of Hastings Background | 31 | 55:54 | 01:48 | 0 |
| The Big Picture | 37 | 24:11 | 00:39 | 0 |
| The Big Picture | 23 | 39:47 | 01:43 | 0 |
| The Big Picture | 44 | 01:40:09 | 02:16 | 0 |
| The Big Picture | 31 | 42:22 | 01:22 | 0 |
| The Big Picture | 27 | 01:06:55 | 02:28 | 0 |
| The Big Picture | 34 | 01:39:59 | 02:56 | 0 |
| The Big Picture | 57 | 18:26 | 00:19 | 0 |
| The Big Picture | 17 | 21:15 | 01:15 | 0 |
| The Big Picture | 42 | 01:48:51 | 02:35 | 0 |
| The Big Picture | 44 | 02:19:49 | 03:10 | 0 |
| The Big Picture | 44 | 01:14:47 | 01:41 | 0 |
| The Big Picture | 17 | 10:04 | 00:35 | 0 |
| The Big Picture | 19 | 11:41 | 00:36 | 0 |
| The Big Picture | 64 | 01:35:34 | 01:29 | 0 |
| The Big Picture | 51 | 19:17 | 00:22 | 0 |
| The Big Picture | 31 | 46:54 | 01:30 | 0 |
| The Big Picture | 29 | 01:42:48 | 03:32 | 0 |
| The Black Death | 57 | 02:39:07 | 02:47 | 0 |
| The Body as a Reflection of the Divine | 25 | 06:49 | 00:16 | 0 |
| The Boy Pharaoh, King Tut | 57 | 32:07 | 00:33 | 0 |
| The British Isles and Ireland | 34 | 56:48 | 01:40 | 0 |
| The Ch'in Empire | 48 | 44:30 | 00:55 | 0 |
| The Chinese Peasantry: The Other Forgotten Class | 35 | 21:03 | 00:36 | 0 |
| The Cinematic Joan | | 00:00 | 00:00 | 0 |
| The Citadel of Mycenae | 51 | 42:38 | 00:50 | 0 |
| The Civil War and the Rise of Octavian | 38 | 01:48:50 | 02:51 | 0 |
| The Code of Hammurabi | 31 | 01:17:59 | 02:30 | 0 |
| The Course Calendar | 34 | 51:45 | 01:31 | 0 |
| The Crisis of the Sixth Century B.C.E. | 64 | 33:15 | 00:31 | 0 |
| The Crusades | 45 | 01:49:21 | 02:25 | 0 |
| The Cultural Contributions of Egypt | 54 | 26:39 | 00:29 | 0 |
| The Cultural Contributions of the Hebrews: Judaism | 42 | 51:01 | 01:12 | 0 |
| The David | 25 | 11:35 | 00:27 | 0 |
| The Decline and Fall of the Roman Empire in the West | 42 | 02:11:03 | 03:07 | 0 |
| The Decline of the Church | 36 | 35:54 | 00:59 | 0 |
| The Decline of the Harappan Civilization | 52 | 25:34 | 00:29 | 0 |
| The Destruction of Pompeii | 30 | 19:04 | 00:38 | 0 |
| The Earthlodge | | 00:00 | 00:00 | 0 |
| The Emperor Constantine: First Christian Emperor of Rome | 38 | 44:11 | 01:09 | 0 |
| The Epic of Gilgamesh | 75 | 03:34:02 | 02:51 | 0 |
| The Exodus | 54 | 01:02:20 | 01:09 | 0 |
| The Fall of Troy | 58 | 01:08:05 | 01:10 | 0 |
| The Final Siege | 33 | 01:15:41 | 02:17 | 0 |
| The First Conflicts | 40 | 47:07 | 01:10 | 0 |
| The First Emperor of Rome | 39 | 02:32:16 | 03:54 | 0 |
| The First Human Artists | 80 | 01:19:42 | 00:59 | 0 |
| The Five Pillars | 31 | 15:07 | 00:29 | 0 |
| The Flagellants | 57 | 56:02 | 00:58 | 0 |
| The Foundation and Brief History of Clonmacnois | 26 | 13:55 | 00:32 | 0 |
| The Great Bath | 29 | 14:34 | 00:30 | 0 |
| The Great Pyramid of Cheops | 54 | 01:08:50 | 01:16 | 0 |
| The Great Schism | 36 | 44:59 | 01:14 | 0 |
| The Great Wall | 44 | 52:16 | 01:11 | 0 |
| The Han Empire | 41 | 53:15 | 01:17 | 0 |
| The Hellenistic Empire | 60 | 03:57:48 | 03:57 | 0 |
| The Heresy Controversy and Fall of Boniface | 40 | 34:58 | 00:52 | 0 |
| The Historiography of the Medieval Period | 29 | 28:44 | 00:59 | 0 |
| The Holy Roman Empire | 36 | 41:52 | 01:09 | 0 |
| The Hsia (Xia) Dynasty | 52 | 55:03 | 01:03 | 0 |
| The Hundred Schools of Chinese Philosophy | 41 | 22:14 | 00:32 | 0 |
| The Hundred Years War | 39 | 19:58 | 00:30 | 0 |
| The Illuminations of Hildegard | 21 | 12:28 | 00:35 | 0 |
| The Intellectual and Artistic Life of Medieval Europe | 27 | 04:54 | 00:10 | 0 |
| The Jewish Revolts | 33 | 49:09 | 01:29 | 0 |
| The Judges and the Formation of the Hebrew Monarchy | 56 | 39:17 | 00:42 | 0 |
| The Labyrinth | 18 | 03:55 | 00:13 | 0 |
| The Legend of the Maid of Orleans | 55 | 01:00:55 | 01:06 | 0 |
| The Legends of the Trojan War | 53 | 34:50 | 00:39 | 0 |
| The Letters of Heloise and Abelard | 18 | 21:48 | 01:12 | 0 |
| The Mauryan Empire | 44 | 58:25 | 01:19 | 0 |
| The Medicis | 17 | 07:02 | 00:24 | 0 |
| The Medieval World | 31 | 08:42 | 00:16 | 0 |
| The Minoans | 49 | 01:01:42 | 01:15 | 0 |
| The Mississippian Culture: The Mound Builders at Ocmulgee | 44 | 58:20 | 01:19 | 0 |
| The Mona Lisa | 32 | 18:58 | 00:35 | 0 |
| The Mosaic Covenant | 58 | 01:00:14 | 01:02 | 0 |
| The Natural Path of Things | 39 | 44:21 | 01:08 | 0 |
| The Nature of Virtue | 41 | 01:37:04 | 02:22 | 0 |
| The Nave | 19 | 16:48 | 00:53 | 0 |
| The Neolithic era and the development of agriculture | 73 | 02:33:41 | 02:06 | 0 |
| The Nicene Creed | 43 | 01:40:30 | 02:20 | 0 |
| The Night Journey | 57 | 40:54 | 00:43 | 0 |
| The Olympics | 46 | 37:51 | 00:49 | 0 |
| The Outcome and Continuing Questions | 49 | 01:08:44 | 01:24 | 0 |
| The Paleolithic Era-- 2,500,000 to 10,000 B.C.E. | 35 | 01:17:15 | 02:12 | 0 |
| The Pantheon | 28 | 17:04 | 00:36 | 0 |
| The Path to Nirvana | 45 | 36:29 | 00:48 | 0 |
| The Pathogen Debate | 63 | 05:09:45 | 04:55 | 0 |
| The Peloponnesian War (431-404 B.C.E.) | 53 | 01:04:08 | 01:12 | 0 |
| The Persian Wars | 58 | 01:10:28 | 01:12 | 0 |
| The Prehistoric Era | 48 | 02:16:10 | 02:50 | 0 |
| The Prince | 24 | 24:57 | 01:02 | 0 |
| The Punic Wars Begin | 39 | 37:46 | 00:58 | 0 |
| The Rise of Christianity | 27 | 18:34 | 00:41 | 0 |
| The Rise of Sparta | 57 | 02:07:48 | 02:14 | 0 |
| The Royal Portal | 21 | 15:14 | 00:43 | 0 |
| The Rule for Monastic Life | 46 | 48:22 | 01:03 | 0 |
| The Shang Dynasty | 59 | 01:11:22 | 01:12 | 0 |
| The Sistine Chapel Ceiling | 30 | 26:46 | 00:53 | 0 |
| The Spread of Christianity | 43 | 01:51:46 | 02:35 | 0 |
| The Spread of Christianity Map | 3 | 13:21 | 04:27 | 0 |
| The Stage is Set for War | 36 | 33:11 | 00:55 | 0 |
| The Sumerians | 88 | 04:55:12 | 03:21 | 0 |
| The Teachings of Islam | 35 | 01:05:33 | 01:52 | 0 |
| The Third Punic War | 40 | 49:15 | 01:13 | 0 |
| The Torah or Pentateuch | 39 | 33:05 | 00:50 | 0 |
| The Transmission of the Plague | 62 | 01:41:13 | 01:37 | 0 |
| The Tumulus of the Emperor | 42 | 01:04:45 | 01:32 | 0 |
| The Victims of Vesuvius | 22 | 10:43 | 00:29 | 0 |
| The Warring States | 49 | 35:17 | 00:43 | 0 |
| The Windows of the West Fa?ade | 19 | 06:27 | 00:20 | 0 |
| The York Minster | 27 | 09:56 | 00:22 | 0 |
| The Zealots | 32 | 01:04:19 | 02:00 | 0 |
| The Zhou Dynasty | 23 | 04:16 | 00:11 | 0 |
| Tibetan Buddhists | 43 | 42:18 | 00:59 | 0 |
| Time Commitment | 28 | 36:47 | 01:18 | 0 |
| Timeline | 36 | 48:44 | 01:21 | 0 |
| Tour of Modern Village Life | 37 | 25:34 | 00:41 | 0 |
| Traditores and the Donatists | 40 | 01:38:57 | 02:28 | 0 |
| Troy's Later History | 53 | 01:55:46 | 02:11 | 0 |
| Unit Quiz | 12 | 01:07:54 | 05:39 | 0 |
| Unit Quiz | 24 | 05:42:04 | 14:15 | 0 |
| Unit Quiz | 5 | 01:16:05 | 15:13 | 0 |
| Unit Quiz | 18 | 49:36 | 02:45 | 0 |
| Unit Quiz | 9 | 01:21:45 | 09:05 | 0 |
| Unit Quiz | 8 | 36:06 | 04:30 | 0 |
| Unit Quiz | 13 | 01:53:56 | 08:45 | 0 |
| Unit Quiz | 29 | 10:05:57 | 20:53 | 0 |
| Unit Quiz | 23 | 05:56:12 | 15:29 | 0 |
| Unit Quiz | 17 | 01:53:35 | 06:40 | 0 |
| Unit Quiz | 6 | 01:32:53 | 15:28 | 0 |
| Upanishads | 46 | 01:00:16 | 01:18 | 0 |
| Using and Navigating the Internet | 18 | 29:50 | 01:39 | 0 |
| Using Institutional Research Resources | 17 | 10:08 | 00:35 | 0 |
| Using WebCT Tools | 21 | 36:01 | 01:42 | 0 |
| Uxmal | 42 | 15:16 | 00:21 | 0 |
| Victory over the Vritra | 54 | 35:28 | 00:39 | 0 |
| Viking York | 31 | 10:22 | 00:20 | 0 |
| Virtual Tour of Bath, England | 34 | 28:28 | 00:50 | 0 |
| Virtual Tour of Megiddo | 44 | 02:10:08 | 02:57 | 0 |
| Virtual Tour of Pompeii | 33 | 01:30:28 | 02:44 | 0 |
| Wandering Monks and Nuns | 36 | 01:11:22 | 01:58 | 0 |
| Weapons and Armor of the Knight | 24 | 11:21 | 00:28 | 0 |
| WebCT Tools Orientation: An Introduction | 32 | 11:53 | 00:22 | 0 |
| Whitby Abbey | 26 | 21:50 | 00:50 | 0 |
| Who are the Hebrews? | 40 | 27:53 | 00:41 | 0 |
| William's Sweep Across England | 31 | 01:06:52 | 02:09 | 0 |
| Wisdom of Confucius | 40 | 18:05 | 00:27 | 0 |
| Women Hold up Half the Sky: An Exploration of Ancient and Modern Women's Issues in China | 40 | 19:38 | 00:29 | 0 |
| Works Cited in this Section | 17 | 13:36 | 00:48 | 0 |
| World of Charlemagne | 27 | 49:07 | 01:49 | 0 |
| World View | 46 | 53:55 | 01:10 | 0 |
| Yuan China | 38 | 35:09 | 00:55 | 0 |
Figure 5
| | | | | |
| --- | --- | --- | --- | --- |
| Page Name Sorted in ascending order. | Hits | Time | Time/Hit | Posts |
| A Brief Chronological History of the Hebrews | 4 | 00:18 | 00:04 | 0 |
| A Han Commentary on Women | 8 | 12:26 | 01:33 | 0 |
| Abelard's Rule | n/a | n/a | n/a | n/a |
| Achilles | 60 | 01:13:55 | 01:13 | 0 |
| Africa | 19 | 01:57:06 | 06:09 | 0 |
| Akhenaton: The Heretic King | 16 | 01:21:08 | 05:04 | 0 |
| Anselm | n/a | n/a | n/a | n/a |
| Anti-Clericalism | n/a | n/a | n/a | n/a |
| Archaeological ruins | 2 | 00:07 | 00:03 | 0 |
| Areas of Agricultural Development | 7 | 04:52 | 00:41 | 0 |
| Arian Heresy | 13 | 21:16 | 01:38 | 0 |
| Art and Learning | n/a | n/a | n/a | n/a |
| Art in Greek Society | 2 | 01:05 | 00:32 | 0 |
| Art of Akhenaton's reign | 10 | 07:38 | 00:45 | 0 |
| Arts as Propaganda in the Time of Augustus | 22 | 39:39 | 01:48 | 0 |
| Athens, Birthplace of Democracy | 19 | 02:11:00 | 06:53 | 0 |
| Augustus's Achievements | 23 | 02:27:47 | 06:25 | 0 |
| Babylonian Captivity | 9 | 20:19 | 02:15 | 0 |
| Battle Abbey: A Brief History and Virtual Tour | n/a | n/a | n/a | n/a |
| Benedict and Scholastica | n/a | n/a | n/a | n/a |
| Benedictine Monastic Life | n/a | n/a | n/a | n/a |
| Biography | n/a | n/a | n/a | n/a |
| Biography | n/a | n/a | n/a | n/a |
| Biography | n/a | n/a | n/a | n/a |
| Biography | n/a | n/a | n/a | n/a |
| Brendan The Navigator | n/a | n/a | n/a | n/a |
| Brief Chronology of Anasazi History | 1 | 00:09 | 00:09 | 0 |
| Buddhism | 37 | 01:40:52 | 02:43 | 0 |
| Byzantium | n/a | n/a | n/a | n/a |
| Byzantium | n/a | n/a | n/a | n/a |
| Caesar and Cleopatra | 17 | 14:13 | 00:50 | 0 |
| Caesaropapism and the Theodosian Code | 16 | 32:06 | 02:00 | 0 |
| Campaigns in Gaul | 17 | 34:17 | 02:01 | 0 |
| Causes of the French Defeat | n/a | n/a | n/a | n/a |
| Cave Paintings | 23 | 53:22 | 02:19 | 0 |
| Cave Venus Figures | 9 | 08:16 | 00:55 | 0 |
| Celtic Monasticism | n/a | n/a | n/a | n/a |
| Cenobitic Monasticism | n/a | n/a | n/a | n/a |
| Centers of Culture in Africa | 21 | 24:30 | 01:10 | 0 |
| Chants | n/a | n/a | n/a | n/a |
| Characteristics of Feudal Society | n/a | n/a | n/a | n/a |
| Charles Homer Haskins | n/a | n/a | n/a | n/a |
| Chartres Cathedral, France | n/a | n/a | n/a | n/a |
| Chichen Itza | n/a | n/a | n/a | n/a |
| China From the Prehistoric Era Through the Han | 27 | 11:31 | 00:25 | 0 |
| Chinese Creation Myth | 31 | 28:38 | 00:55 | 0 |
| Cistercian Ideals | n/a | n/a | n/a | n/a |
| Cistercians Found Rievaulx and Inspire a Crisis at St. Mary's | n/a | n/a | n/a | n/a |
| Columba, Founder of Iona | n/a | n/a | n/a | n/a |
| Conclusion | n/a | n/a | n/a | n/a |
| Conclusion | n/a | n/a | n/a | n/a |
| Conflict of the Dynasties | n/a | n/a | n/a | n/a |
| Confucianism and Legalism | 40 | 02:24:30 | 03:36 | 0 |
| Confucius | 61 | 03:20:04 | 03:16 | 0 |
| Connecting the Past to the Present: Later Commentators on Sparta | 4 | 28:00 | 07:00 | 0 |
| Conquests of Alexander | 28 | 02:20:05 | 05:00 | 0 |
| Constantine's Vision | 6 | 03:34 | 00:35 | 0 |
| Controversial Arguments | n/a | n/a | n/a | n/a |
| Controversial Pharaohs of the New Kingdom | 11 | 05:45 | 00:31 | 0 |
| Coronation of William the Conqueror | n/a | n/a | n/a | n/a |
| Cultural Contributions of Mesopotamia | 13 | 03:21 | 00:15 | 0 |
| Current Concerns | n/a | n/a | n/a | n/a |
| Daily Life | 8 | 13:28 | 01:41 | 0 |
| Daily Life in Ancient Rome | 6 | 00:34 | 00:05 | 0 |
| Daily Life in Medieval Europe | n/a | n/a | n/a | n/a |
| Death of Muhammad | 24 | 28:57 | 01:12 | 0 |
| Decline and Dissolution | n/a | n/a | n/a | n/a |
| Decline and Renewal | n/a | n/a | n/a | n/a |
| Decline and Revival | n/a | n/a | n/a | n/a |
| Decline of Scholasticism | n/a | n/a | n/a | n/a |
| Delphi | 41 | 02:33:45 | 03:45 | 0 |
| Democracy Under Cleisthenes | 23 | 01:25:00 | 03:41 | 0 |
| Descendents of Abraham | 6 | 21:10 | 03:31 | 0 |
| Design of the Cities | 14 | 25:58 | 01:51 | 0 |
| Detachment leads to Nirvana | 7 | 05:02 | 00:43 | 0 |
| Devastating Effects of the Plague | n/a | n/a | n/a | n/a |
| Diffusion of the Plague | n/a | n/a | n/a | n/a |
| Diodotus's Argument | 3 | 01:19 | 00:26 | 0 |
| Disintegration of the Hebrew Kingdom of Solomon | 5 | 12:46 | 02:33 | 0 |
| Dissolution | n/a | n/a | n/a | n/a |
| Divine Beauty and The Artist's Creation | n/a | n/a | n/a | n/a |
| Divisions of Purusha | 12 | 11:45 | 00:58 | 0 |
| Early Indus River Valley Civilization | 21 | 02:35:15 | 07:23 | 0 |
| Early Years | 37 | 16:49 | 00:27 | 0 |
| Eastern Europe | n/a | n/a | n/a | n/a |
| Effect on Art | 1 | 01:08 | 01:08 | 0 |
| Egyptian Culture and the Old Kingdom Pharaohs: The Pyramids | 10 | 10:07 | 01:00 | 0 |
| Emerging Monarchies: France and Germany | n/a | n/a | n/a | n/a |
| Emigration to Medina | 33 | 32:02 | 00:58 | 0 |
| Empire of Mahmud Ghazni | n/a | n/a | n/a | n/a |
| England | n/a | n/a | n/a | n/a |
| Epilogue | n/a | n/a | n/a | n/a |
| Epilogue: The Plague After the Fourteenth Century | n/a | n/a | n/a | n/a |
| Exploring the Ruins of Pompeii | 3 | 02:20 | 00:46 | 0 |
| Fact or Interpretation? | 15 | 18:58 | 01:15 | 0 |
| Feudal Society | n/a | n/a | n/a | n/a |
| First Revelation | 40 | 40:26 | 01:00 | 0 |
| Folk Remedies | n/a | n/a | n/a | n/a |
| Footbinding | 26 | 18:41 | 00:43 | 0 |
| Formative Years | 4 | 14:16 | 03:34 | 0 |
| Foundation of Fountains Abbey | n/a | n/a | n/a | n/a |
| Fountains Abbey: A Brief History | n/a | n/a | n/a | n/a |
| Four Great Sights | 11 | 18:08 | 01:38 | 0 |
| Four Noble Truths | 7 | 03:14 | 00:27 | 0 |
| Further Exploration | 7 | 28:18 | 04:02 | 0 |
| Further Exploration | 56 | 21:15:45 | 22:46 | 0 |
| Further Exploration | 75 | 13:12:15 | 10:33 | 0 |
| Further Exploration | n/a | n/a | n/a | n/a |
| Further Exploration | 3 | 14:14 | 04:44 | 0 |
| Further Exploration | 12 | 16:46 | 01:23 | 0 |
| Further Exploration | n/a | n/a | n/a | n/a |
| Further Exploration | 4 | 04:55 | 01:13 | 0 |
| Further Exploration | 7 | 04:10 | 00:35 | 0 |
| Further Exploration | 9 | 01:54:24 | 12:42 | 0 |
| Further Exploration | 14 | 40:16 | 02:52 | 0 |
| Further Exploration | n/a | n/a | n/a | n/a |
| Further Exploration | n/a | n/a | n/a | n/a |
| Further Explorations | 10 | 14:32 | 01:27 | 0 |
| Further Explorations | 8 | 01:50 | 00:13 | 0 |
| Further Explorations | n/a | n/a | n/a | n/a |
| Further Explorations | n/a | n/a | n/a | n/a |
| Geography, Agriculture, the Family, and the Peasant in Ancient China | 10 | 51:24 | 05:08 | 0 |
| Governing Bodies | 26 | 50:27 | 01:56 | 0 |
| Government and Religion | 48 | 02:19:50 | 02:54 | 0 |
| Greco-Roman Influences | n/a | n/a | n/a | n/a |
| Greek Aesthetics | 3 | 02:15 | 00:45 | 0 |
| Hannibal and the Second Punic War | 26 | 28:52 | 01:06 | 0 |
| Harold is Slain - Or is He? | n/a | n/a | n/a | n/a |
| Hatshepsut | 18 | 02:42:05 | 09:00 | 0 |
| Hebrew Origins | 9 | 09:31 | 01:03 | 0 |
| Heinrich Schliemann and the Excavation of Hisarlik | 16 | 01:49:24 | 06:50 | 0 |
| Hellenistic Art | 17 | 02:27:08 | 08:39 | 0 |
| Hellenistic Schools of Philosophy | 34 | 02:18:03 | 04:03 | 0 |
| Heloise | n/a | n/a | n/a | n/a |
| Hild's Whitby | n/a | n/a | n/a | n/a |
| Hildegard of Bingen | 1 | 00:31 | 00:31 | 0 |
| Historic Peregrini | n/a | n/a | n/a | n/a |
| Historic View | 2 | 00:24 | 00:12 | 0 |
| Holy Roman Empire | n/a | n/a | n/a | n/a |
| Homer and Virgil as Historic Sources | 17 | 01:21:05 | 04:46 | 0 |
| Hominids | 70 | 02:10:22 | 01:51 | 0 |
| Humanism | n/a | n/a | n/a | n/a |
| Humans as the Center of Creation | n/a | n/a | n/a | n/a |
| Hymn to Purusha | 15 | 09:03 | 00:36 | 0 |
| Impact of the Hundred Years War | n/a | n/a | n/a | n/a |
| Impact of the Plague | 1 | 00:26 | 00:26 | 0 |
| Imperator Caesar | 10 | 36:22 | 03:38 | 0 |
| Importance of Geography | 16 | 30:36 | 01:54 | 0 |
| Influential Humanists | n/a | n/a | n/a | n/a |
| Inheritance Laws, Coinage, and Calligraphy | 25 | 21:48 | 00:52 | 0 |
| Interactive Map of Africa | 12 | 06:34 | 00:32 | 0 |
| Introduction | 59 | 02:32:07 | 02:34 | 0 |
| Introduction | 1 | 03:40 | 03:40 | 0 |
| Introduction | 43 | 02:25:08 | 03:22 | 0 |
| Introduction | 71 | 04:38:40 | 03:55 | 0 |
| Introduction | 35 | 01:21:04 | 02:18 | 0 |
| Introduction | n/a | n/a | n/a | n/a |
| Introduction | 41 | 01:58:36 | 02:53 | 0 |
| Introduction | 24 | 01:06:26 | 02:46 | 0 |
| Introduction | 19 | 29:24 | 01:32 | 0 |
| Introduction | 54 | 03:50:38 | 04:16 | 0 |
| Introduction | n/a | n/a | n/a | n/a |
| Introduction | 9 | 04:14 | 00:28 | 0 |
| Introduction | 42 | 47:22 | 01:07 | 0 |
| Introduction | 1 | 01:08:25 | 01:08:25 | 0 |
| Introduction | n/a | n/a | n/a | n/a |
| Introduction | n/a | n/a | n/a | n/a |
| Introduction | 39 | 01:28:16 | 02:15 | 0 |
| Introduction | n/a | n/a | n/a | n/a |
| Introduction | n/a | n/a | n/a | n/a |
| Introduction | 12 | 13:07 | 01:05 | 0 |
| Introduction | n/a | n/a | n/a | n/a |
| Introduction of the Caste System | 30 | 01:37:05 | 03:14 | 0 |
| Invincible Alexander | 38 | 40:52 | 01:04 | 0 |
| Islam After Muhammad | 42 | 01:01:58 | 01:28 | 0 |
| Jacob Burckhardt | n/a | n/a | n/a | n/a |
| Japan | 1 | 00:50 | 00:50 | 0 |
| Jesus's Ministry and Death | 2 | 01:23 | 00:41 | 0 |
| Jews at Qum'ran | 4 | 01:32 | 00:23 | 0 |
| Julius Caesar | 25 | 39:29 | 01:34 | 0 |
| Key Battles | n/a | n/a | n/a | n/a |
| Kieran of Clonmacnois | n/a | n/a | n/a | n/a |
| King Solomon and the Ark of the Covenant | 5 | 06:34 | 01:18 | 0 |
| Lao Tzu | 23 | 52:32 | 02:17 | 0 |
| Lascaux PowerPoint | 5 | 28:48 | 05:45 | 0 |
| Last Years | n/a | n/a | n/a | n/a |
| Later History | 7 | 02:56 | 00:25 | 0 |
| Later History | n/a | n/a | n/a | n/a |
| Life in a Medieval City: A Virtual Tour of York | n/a | n/a | n/a | n/a |
| Linking the Past to the Present: Women in Modern China | 2 | 00:34 | 00:17 | 0 |
| Machiavellian Politics | n/a | n/a | n/a | n/a |
| Major Anasazi Centers | n/a | n/a | n/a | n/a |
| Major Battles of the Persian War, 490 - 479 B.C.E. | 16 | 41:01 | 02:33 | 0 |
| Map of Europe and Asia During the Middle Ages | n/a | n/a | n/a | n/a |
| Map of Renaissance Europe circa C.E. 1500 | n/a | n/a | n/a | n/a |
| Map of the Americas | 6 | 13:25 | 02:14 | 0 |
| Map of the Islamic Empire | 21 | 24:37 | 01:10 | 0 |
| Map Showing Locations of Hominid Skeletal Remains | 21 | 04:13:57 | 12:05 | 0 |
| Medieval York | n/a | n/a | n/a | n/a |
| Megiddo: Historical Background | 3 | 08:48 | 02:56 | 0 |
| Meritocracy | 49 | 01:24:17 | 01:43 | 0 |
| Mesopotamia PowerPoint | 17 | 08:44:54 | 30:52 | 0 |
| Mesopotamian Empires | 13 | 41:57 | 03:13 | 0 |
| Migration Patterns | 12 | 18:25 | 01:32 | 0 |
| Modern Day Contrasts | 2 | 00:55 | 00:27 | 0 |
| Moment in History | 17 | 31:14 | 01:50 | 0 |
| Moment in History | 9 | 10:22 | 01:09 | 0 |
| Moment in history | 13 | 01:06:04 | 05:04 | 0 |
| Moment in history | n/a | n/a | n/a | n/a |
| Moment in history | 29 | 53:38 | 01:50 | 0 |
| Moment in History | n/a | n/a | n/a | n/a |
| Moment in History | 24 | 12:35 | 00:31 | 0 |
| Moment in History | n/a | n/a | n/a | n/a |
| Moment in History | 13 | 10:02 | 00:46 | 0 |
| Moment in History | 1 | 00:27 | 00:27 | 0 |
| Moment in History | 10 | 04:17 | 00:25 | 0 |
| Moment in History | 24 | 26:25 | 01:06 | 0 |
| Moment in History | 17 | 13:42 | 00:48 | 0 |
| Moment in History | 10 | 02:21 | 00:14 | 0 |
| Moment in History | n/a | n/a | n/a | n/a |
| Moment in history | 3 | 00:52 | 00:17 | 0 |
| Moment in History | 22 | 37:42 | 01:42 | 0 |
| Monk Without a Home | n/a | n/a | n/a | n/a |
| Monte Alban | n/a | n/a | n/a | n/a |
| Moses | 10 | 22:14 | 02:13 | 0 |
| Myceneans | 79 | 04:01:06 | 03:03 | 0 |
| Native American Ruins of Mesoamerica | n/a | n/a | n/a | n/a |
| Neoplatonism | n/a | n/a | n/a | n/a |
| Neoplatonism and the Art of Michelangelo | n/a | n/a | n/a | n/a |
| Neoplatonism vs. Realism | n/a | n/a | n/a | n/a |
| Norman Invasion | n/a | n/a | n/a | n/a |
| Objectives | 25 | 04:00 | 00:09 | 0 |
| Objectives | 19 | 04:44 | 00:14 | 0 |
| Objectives | 1 | 00:50 | 00:50 | 0 |
| Objectives | n/a | n/a | n/a | n/a |
| Objectives | 52 | 02:32:43 | 02:56 | 0 |
| Objectives | 18 | 01:31:57 | 05:06 | 0 |
| Objectives | 6 | 02:12 | 00:22 | 0 |
| Objectives | 27 | 15:37 | 00:34 | 0 |
| Objectives | 1 | 00:47 | 00:47 | 0 |
| Objectives | 39 | 08:13 | 00:12 | 0 |
| Objectives | 29 | 15:52 | 00:32 | 0 |
| Objectives | 25 | 04:26 | 00:10 | 0 |
| Objectives | 49 | 32:06 | 00:39 | 0 |
| Objectives | 13 | 07:38 | 00:35 | 0 |
| Objectives | 10 | 03:14 | 00:19 | 0 |
| Objectives | 1 | 00:52 | 00:52 | 0 |
| Objectives | n/a | n/a | n/a | n/a |
| Octavian Defeats Antony | 11 | 19:34 | 01:46 | 0 |
| Origin of the State and Rule by the Prince | n/a | n/a | n/a | n/a |
| Origins of the Cistercian Order | n/a | n/a | n/a | n/a |
| Origins of the Conflict | n/a | n/a | n/a | n/a |
| Origins of the Decline | n/a | n/a | n/a | n/a |
| Other Anasazi Sites in the Southwest | 1 | 00:04 | 00:04 | 0 |
| Other Burial Sites | 7 | 02:50 | 00:24 | 0 |
| Other Inhabitants of the Sparta Region | 14 | 12:11 | 00:52 | 0 |
| Other Monastic Orders | n/a | n/a | n/a | n/a |
| Other Paintings | n/a | n/a | n/a | n/a |
| Other Smaller Mounds | n/a | n/a | n/a | n/a |
| Other Tombs of Mycenae | 5 | 01:58 | 00:23 | 0 |
| Palenque | 1 | 00:08 | 00:08 | 0 |
| Pathogen and Carriers | n/a | n/a | n/a | n/a |
| Paths to Moksha | 12 | 28:59 | 02:24 | 0 |
| Paul Oscar Kristeller | n/a | n/a | n/a | n/a |
| Peasants, Serfs and Women | n/a | n/a | n/a | n/a |
| Peregrination in Art | n/a | n/a | n/a | n/a |
| Periods of Egyptian History | 15 | 01:24:40 | 05:38 | 0 |
| Persecution of Minorities | n/a | n/a | n/a | n/a |
| Peter Abelard | n/a | n/a | n/a | n/a |
| Petrarch's Writings | n/a | n/a | n/a | n/a |
| Pictorial Tour of Clonmacnois | n/a | n/a | n/a | n/a |
| Pillar 1: Declaration of Faith (Shahada) | 18 | 01:28:20 | 04:54 | 0 |
| Pillar 2: Prayer (Salah) | 20 | 27:35 | 01:22 | 0 |
| Pillars 3, 4, and 5 | 15 | 09:49 | 00:39 | 0 |
| Points of View | n/a | n/a | n/a | n/a |
| Points of View | n/a | n/a | n/a | n/a |
| Points of View | 14 | 33:05 | 02:21 | 0 |
| Points of View | n/a | n/a | n/a | n/a |
| Points of View | 2 | 07:08 | 03:34 | 0 |
| Points of View | 16 | 53:01 | 03:18 | 0 |
| Points of View: Joan of Arc | n/a | n/a | n/a | n/a |
| Political and Economic Power | n/a | n/a | n/a | n/a |
| Politics in Sparta | 37 | 01:09:33 | 01:52 | 0 |
| Postscript: Women's Struggles for Equal Rights in the Twentieth and Twenty First Century | 1 | 00:01 | 00:01 | 0 |
| Primary Traditions of Buddhism | 8 | 22:00 | 02:45 | 0 |
| Public Buildings and Streets | 5 | 14:33 | 02:54 | 0 |
| Pyramid Construction | 6 | 06:36 | 01:06 | 0 |
| Pyramid of Chefren | 8 | 06:08 | 00:46 | 0 |
| Questions About Constantine's Conversion | 5 | 02:17 | 00:27 | 0 |
| Ramses II | 7 | 19:13 | 02:44 | 0 |
| Reactions to the Plague | n/a | n/a | n/a | n/a |
| Relationship Between Lord and Vassal | n/a | n/a | n/a | n/a |
| Religion and Art | n/a | n/a | n/a | n/a |
| Religion in the Roman Empire | 6 | 06:18 | 01:03 | 0 |
| Religious Revolution | 12 | 42:22 | 03:31 | 0 |
| Renaissance Europe | n/a | n/a | n/a | n/a |
| Renaissance in Art | n/a | n/a | n/a | n/a |
| Return from Exile | 4 | 05:47 | 01:26 | 0 |
| Review Terms and Questions | n/a | n/a | n/a | n/a |
| Review Terms and Questions | 36 | 01:53:01 | 03:08 | 0 |
| Review Terms and Questions | 30 | 01:27:32 | 02:55 | 0 |
| Review Terms and Questions | n/a | n/a | n/a | n/a |
| Review Terms and Questions | 12 | 44:11 | 03:40 | 0 |
| Review Terms and Questions | 5 | 01:28 | 00:17 | 0 |
| Review Terms and Questions | 12 | 19:02 | 01:35 | 0 |
| Review Terms and Questions | 11 | 05:20 | 00:29 | 0 |
| Review Terms and Questions | 4 | 11:46 | 02:56 | 0 |
| Review Terms and Questions | n/a | n/a | n/a | n/a |
| Review Terms and Questions | n/a | n/a | n/a | n/a |
| Review Terms and Questions | 16 | 01:07:42 | 04:13 | 0 |
| Review Terms and Questions | n/a | n/a | n/a | n/a |
| Review Terms and Questions | 26 | 02:20:52 | 05:25 | 0 |
| Review Terms and Questions | 6 | 33:53 | 05:38 | 0 |
| Review Terms and Questions | 9 | 26:59 | 02:59 | 0 |
| Review terms and Questions | 3 | 01:50 | 00:36 | 0 |
| Rise and Fall of the Zhou | 12 | 13:46 | 01:08 | 0 |
| Rise of the Carolingian Dynasty | 2 | 01:30 | 00:45 | 0 |
| Role of Women | 13 | 01:11:07 | 05:28 | 0 |
| Rome After Augustus | 17 | 47:40 | 02:48 | 0 |
| Rome Becomes Master of the Mediterranean | 28 | 48:19 | 01:43 | 0 |
| Russia | n/a | n/a | n/a | n/a |
| Saint Patrick | n/a | n/a | n/a | n/a |
| Scandinavia | n/a | n/a | n/a | n/a |
| Scholasticism | n/a | n/a | n/a | n/a |
| Scientist and Inventor | n/a | n/a | n/a | n/a |
| Scriptures as Historical Sources or Primary Texts | 17 | 20:54 | 01:13 | 0 |
| Self Assessment Page | 1 | 01:07 | 01:07 | 0 |
| Self Assessment Page | 6 | 23:28 | 03:54 | 0 |
| Self Assessment Page | 2 | 16:12 | 08:06 | 0 |
| Self Assessment Page | 11 | 01:07:39 | 06:09 | 0 |
| Self Assessment Page | 42 | 01:47:45 | 02:33 | 0 |
| Self Assessment Page | n/a | n/a | n/a | n/a |
| Self Assessment Page | 49 | 04:11:57 | 05:08 | 0 |
| Self Assessment Page | n/a | n/a | n/a | n/a |
| Self Assessment Page | 2 | 14:04 | 07:02 | 0 |
| Self Assessment Page | n/a | n/a | n/a | n/a |
| Self Assessment Page | 27 | 47:12 | 01:44 | 0 |
| Self Assessment Page | n/a | n/a | n/a | n/a |
| Self Assessment Page | n/a | n/a | n/a | n/a |
| Self Assessment Page | 36 | 10:22:17 | 17:17 | 0 |
| Self Assessment Page | 49 | 04:24:21 | 05:23 | 0 |
| Self Assessment Page | 3 | 40:19 | 13:26 | 0 |
| Self Assessment Page | n/a | n/a | n/a | n/a |
| Shi Huang Ti's New Philosophy: Legalism | 44 | 02:48:02 | 03:49 | 0 |
| Shi Huang Ti's Quest for Immortality | 17 | 01:29:22 | 05:15 | 0 |
| Shi'ites and Sunni | 32 | 01:17:35 | 02:25 | 0 |
| Solon as Archon | 25 | 01:24:05 | 03:21 | 0 |
| Source Studies in Hinduism: The Bhagavad Gita and the Upanishads | 35 | 03:45:41 | 06:26 | 0 |
| Source Studies in Hinduism: The Rig Veda | 18 | 01:05:27 | 03:38 | 0 |
| Source Studies: Four Renaissance Humanists | n/a | n/a | n/a | n/a |
| Source Studies: The Role of the Assembly | 10 | 12:18 | 01:13 | 0 |
| Spain | n/a | n/a | n/a | n/a |
| Spartan Society | 31 | 58:21 | 01:52 | 0 |
| Spartan Victory | 7 | 18:51 | 02:41 | 0 |
| Spread of Buddhism | 9 | 07:34 | 00:50 | 0 |
| Spread of Islam in Africa | 31 | 34:27 | 01:06 | 0 |
| St. Columban | n/a | n/a | n/a | n/a |
| St. Kieran, Founder of Clonmacnois | n/a | n/a | n/a | n/a |
| St. Thomas Aquinas | n/a | n/a | n/a | n/a |
| Struggles for Power | 10 | 26:03 | 02:36 | 0 |
| Suffering comes from attachment to things not permanent | 5 | 03:25 | 00:41 | 0 |
| Surrender of Mecca | 18 | 16:13 | 00:54 | 0 |
| Sworn Sisters: Hunan Province | 2 | 00:01 | 00:00 | 0 |
| Symptoms of the Disease | n/a | n/a | n/a | n/a |
| Tamerlane's Empire | n/a | n/a | n/a | n/a |
| Teachings of Lao Tzu | 35 | 01:52:34 | 03:12 | 0 |
| Temple of Sulis Minerva | 6 | 00:48 | 00:08 | 0 |
| Ten Lost Tribes of Israel | 5 | 02:38 | 00:31 | 0 |
| Teotihuac?n | 2 | 06:10 | 03:05 | 0 |
| The Abbey Church | n/a | n/a | n/a | n/a |
| The Acropolis | 39 | 01:47:23 | 02:45 | 0 |
| The Age of Colonization | 11 | 14:38 | 01:19 | 0 |
| The Age of Pericles | 17 | 41:43 | 02:27 | 0 |
| The Age of the Reformers | 60 | 05:15:21 | 05:15 | 0 |
| The Americas in a Global Context | 3 | 01:02 | 00:20 | 0 |
| The Anasazi Ruins of the Southwest | 1 | 00:04 | 00:04 | 0 |
| The Ascent of Mont Ventoux on April 26, 1336 | n/a | n/a | n/a | n/a |
| The Athenian Debate | 7 | 13:10 | 01:52 | 0 |
| The Babylonian Captivity | n/a | n/a | n/a | n/a |
| The Battle of Hastings Background | n/a | n/a | n/a | n/a |
| The Big Picture | 1 | 00:34 | 00:34 | 0 |
| The Big Picture | 1 | 00:09 | 00:09 | 0 |
| The Big Picture | 16 | 01:19:16 | 04:57 | 0 |
| The Big Picture | 7 | 15:44 | 02:14 | 0 |
| The Big Picture | 14 | 49:30 | 03:32 | 0 |
| The Big Picture | 4 | 03:12 | 00:48 | 0 |
| The Big Picture | 12 | 51:48 | 04:19 | 0 |
| The Big Picture | 8 | 05:53 | 00:44 | 0 |
| The Big Picture | n/a | n/a | n/a | n/a |
| The Big Picture | 5 | 13:48 | 02:45 | 0 |
| The Big Picture | 28 | 01:31:02 | 03:15 | 0 |
| The Big Picture | 1 | 26:41 | 26:41 | 0 |
| The Big Picture | 4 | 33:09 | 08:17 | 0 |
| The Big Picture | n/a | n/a | n/a | n/a |
| The Big Picture | 5 | 24:24 | 04:52 | 0 |
| The Big Picture | 5 | 01:54:10 | 22:50 | 0 |
| The Big Picture | 13 | 19:34 | 01:30 | 0 |
| The Black Death | 1 | 00:47 | 00:47 | 0 |
| The Body as a Reflection of the Divine | n/a | n/a | n/a | n/a |
| The Boy Pharaoh, King Tut | 10 | 23:24 | 02:20 | 0 |
| The British Isles and Ireland | n/a | n/a | n/a | n/a |
| The Ch'in Empire | 24 | 33:20 | 01:23 | 0 |
| The Chinese Peasantry: The Other Forgotten Class | 3 | 01:23 | 00:27 | 0 |
| The Cinematic Joan | n/a | n/a | n/a | n/a |
| The Citadel of Mycenae | 16 | 01:07:05 | 04:11 | 0 |
| The Civil War and the Rise of Octavian | 11 | 23:12 | 02:06 | 0 |
| The Code of Hammurabi | 21 | 02:48:46 | 08:02 | 0 |
| The Crisis of the Sixth Century B.C.E. | 7 | 03:23 | 00:29 | 0 |
| The Crusades | n/a | n/a | n/a | n/a |
| The Cultural Contributions of Egypt | 5 | 02:03 | 00:24 | 0 |
| The Cultural Contributions of the Hebrews: Judaism | 4 | 06:55 | 01:43 | 0 |
| The David | n/a | n/a | n/a | n/a |
| The Decline and Fall of the Roman Empire in the West | 16 | 32:57 | 02:03 | 0 |
| The Decline of the Church | n/a | n/a | n/a | n/a |
| The Decline of the Harappan Civilization | 15 | 49:05 | 03:16 | 0 |
| The Destruction of Pompeii | 3 | 00:23 | 00:07 | 0 |
| The Earthlodge | 1 | 00:11 | 00:11 | 0 |
| The Emperor Constantine: First Christian Emperor of Rome | 8 | 07:06 | 00:53 | 0 |
| The Epic of Gilgamesh | 17 | 01:19:31 | 04:40 | 0 |
| The Exodus | 10 | 01:06:31 | 06:39 | 0 |
| The Fall of Troy | 26 | 01:03:11 | 02:25 | 0 |
| The Final Siege | 3 | 01:47 | 00:35 | 0 |
| The First Conflicts | n/a | n/a | n/a | n/a |
| The First Emperor of Rome | 16 | 42:41 | 02:40 | 0 |
| The First Human Artists | 36 | 01:59:37 | 03:19 | 0 |
| The Five Pillars | 12 | 01:38 | 00:08 | 0 |
| The Flagellants | n/a | n/a | n/a | n/a |
| The Former and Later Han | 13 | 14:16 | 01:05 | 0 |
| The Foundation and Brief History of Clonmacnois | n/a | n/a | n/a | n/a |
| The Great Bath | 6 | 05:24 | 00:54 | 0 |
| The Great Pyramid of Cheops | 9 | 06:38 | 00:44 | 0 |
| The Great Schism | n/a | n/a | n/a | n/a |
| The Great Wall | 16 | 30:02 | 01:52 | 0 |
| The Han Empire | 24 | 41:29 | 01:43 | 0 |
| The Hellenistic Empire | 42 | 03:36:09 | 05:08 | 0 |
| The Heresy Controversy and Fall of Boniface | n/a | n/a | n/a | n/a |
| The Historiography of the Medieval Period | n/a | n/a | n/a | n/a |
| The Holy Roman Empire | n/a | n/a | n/a | n/a |
| The Hsia (Xia) Dynasty | 38 | 01:59:24 | 03:08 | 0 |
| The Hundred Schools of Chinese Philosophy | 13 | 03:33 | 00:16 | 0 |
| The Hundred Years War | n/a | n/a | n/a | n/a |
| The Illuminations of Hildegard | n/a | n/a | n/a | n/a |
| The Intellectual and Artistic Life of Medieval Europe | n/a | n/a | n/a | n/a |
| The Jewish Revolts | 2 | 01:12 | 00:36 | 0 |
| The Judges and the Formation of the Hebrew Monarchy | 7 | 44:16 | 06:19 | 0 |
| The Labyrinth | 2 | 00:51 | 00:25 | 0 |
| The Legend of the Maid of Orleans | n/a | n/a | n/a | n/a |
| The Legends of the Trojan War | 29 | 01:25:10 | 02:56 | 0 |
| The Letters of Heloise and Abelard | n/a | n/a | n/a | n/a |
| The Mauryan Empire | 9 | 12:56 | 01:26 | 0 |
| The Medicis | n/a | n/a | n/a | n/a |
| The Medieval World | 1 | 05:48 | 05:48 | 0 |
| The Minoans | 117 | 10:13:49 | 05:14 | 0 |
| The Mississippian Culture: The Mound Builders at Ocmulgee | n/a | n/a | n/a | n/a |
| The Mona Lisa | n/a | n/a | n/a | n/a |
| The Mosaic Covenant | 6 | 07:34 | 01:15 | 0 |
| The Nature of Virtue | 24 | 48:56 | 02:02 | 0 |
| The Nave | n/a | n/a | n/a | n/a |
| The Neolithic era and the development of agriculture | 23 | 01:11:08 | 03:05 | 0 |
| The Nicene Creed | 11 | 24:20 | 02:12 | 0 |
| The Night Journey | 38 | 41:03 | 01:04 | 0 |
| The Olympics | 42 | 04:38:30 | 06:37 | 0 |
| The Outcome and Continuing Questions | 2 | 01:04 | 00:32 | 0 |
| The Paleolithic Era-- 2,500,000 to 10,000 B.C.E. | 19 | 27:08 | 01:25 | 0 |
| The Pantheon | 6 | 02:54 | 00:29 | 0 |
| The Path to Nirvana | 11 | 19:47 | 01:47 | 0 |
| The Pathogen Debate | n/a | n/a | n/a | n/a |
| The Peloponnesian War (431-404 B.C.E.) | 21 | 37:50 | 01:48 | 0 |
| The Persian Wars | 42 | 01:23:05 | 01:58 | 0 |
| The Prehistoric Era | 59 | 02:05:35 | 02:07 | 0 |
| The Prehistoric Era PowerPoint | 9 | 42:16 | 04:41 | 0 |
| The Prince | n/a | n/a | n/a | n/a |
| The Punic Wars Begin | 26 | 29:36 | 01:08 | 0 |
| The Rise of Christianity | 5 | 03:22 | 00:40 | 0 |
| The Rise of Sparta | 39 | 01:09:29 | 01:46 | 0 |
| The Royal Portal | n/a | n/a | n/a | n/a |
| The Rule for Monastic Life | n/a | n/a | n/a | n/a |
| The Shang Dynasty | 22 | 24:21 | 01:06 | 0 |
| The Sistine Chapel Ceiling | n/a | n/a | n/a | n/a |
| The Spread of Christianity | 1 | 00:56 | 00:56 | 0 |
| The Spread of Christianity | 7 | 02:39 | 00:22 | 0 |
| The Stage is Set for War | n/a | n/a | n/a | n/a |
| The Sumerians | 65 | 05:58:12 | 05:30 | 0 |
| The Tao of All Things | 26 | 03:19:15 | 07:39 | 0 |
| The Teachings of Islam | 31 | 01:13:49 | 02:22 | 0 |
| The Third Punic War | 23 | 53:46 | 02:20 | 0 |
| The Torah or Pentateuch | 14 | 01:00:09 | 04:17 | 0 |
| The Transmission of the Plague | n/a | n/a | n/a | n/a |
| The Tumulus of the Emperor | 16 | 37:23 | 02:20 | 0 |
| The Victims of Vesuvius | 3 | 01:14 | 00:24 | 0 |
| The Warring States | 20 | 19:17 | 00:57 | 0 |
| The Windows of the West Fa?ade | n/a | n/a | n/a | n/a |
| The York Minster | n/a | n/a | n/a | n/a |
| The Zealots | 4 | 01:11 | 00:17 | 0 |
| The Zhou Dynasty | 22 | 52:32 | 02:23 | 0 |
| Tibetan Buddhists | 7 | 14:11 | 02:01 | 0 |
| Timeline | n/a | n/a | n/a | n/a |
| Tour of Modern Village Life | 3 | 03:40 | 01:13 | 0 |
| Traditores and the Donatists | 24 | 03:01:55 | 07:34 | 0 |
| Troy's Later History | 16 | 45:32 | 02:50 | 0 |
| Unit Quiz | n/a | n/a | n/a | n/a |
| Unit Quiz | n/a | n/a | n/a | n/a |
| Unit Quiz | 14 | 47:13 | 03:22 | 0 |
| Unit Quiz | 4 | 00:49 | 00:12 | 0 |
| Unit Quiz | n/a | n/a | n/a | n/a |
| Unit Quiz | 2 | 00:10 | 00:05 | 0 |
| Unit Quiz | 24 | 15:24 | 00:38 | 0 |
| Unit Quiz | n/a | n/a | n/a | n/a |
| Unit Quiz | n/a | n/a | n/a | n/a |
| Unit Quiz | 5 | 02:40 | 00:32 | 0 |
| Unit Quiz | n/a | n/a | n/a | n/a |
| Upanishads | 32 | 02:10:22 | 04:04 | 0 |
| Uxmal | 1 | 00:04 | 00:04 | 0 |
| Victory over the Vritra | 13 | 08:03 | 00:37 | 0 |
| Viking York | n/a | n/a | n/a | n/a |
| Virtual Tour of Bath, England | 6 | 10:58 | 01:49 | 0 |
| Virtual Tour of Megiddo | 1 | 03:00 | 03:00 | 0 |
| Virtual Tour of Pompeii | 5 | 04:43 | 00:56 | 0 |
| Wandering Monks and Nuns | n/a | n/a | n/a | n/a |
| Weapons and Armor of the Knight | n/a | n/a | n/a | n/a |
| Whitby Abbey | n/a | n/a | n/a | n/a |
| Who are the Hebrews? | 8 | 08:14 | 01:01 | 0 |
| William's Sweep Across England | n/a | n/a | n/a | n/a |
| Wisdom of Confucius | 28 | 01:12:36 | 02:35 | 0 |
| Women Hold up Half the Sky: An Exploration of Ancient and Modern Women's Issues in China | 4 | 01:14 | 00:18 | 0 |
| Works Cited in this Section | n/a | n/a | n/a | n/a |
| World of Charlemagne | n/a | n/a | n/a | n/a |
| World View | 12 | 14:37 | 01:13 | 0 |
| Yuan China | n/a | n/a | n/a | n/a |