Add to bookbag
Author:

Peter Gray

Title:

EPPI: Enhanced British Parliamentary Papers in Ireland, 1801-1922

Publication info:

Ann Arbor, MI: MPublishing, University of Michigan Library
December 2004

Rights/Permissions:

This work is protected by copyright and may be linked to without seeking permission. Permission must be received for subsequent distribution in print or electronically. Please contact mpub-help@umich.edu for more information.

Source:

EPPI: Enhanced British Parliamentary Papers in Ireland, 1801-1922
Peter Gray

vol. 7, no. 3, December 2004

Article Type:

Article

URL:

http://hdl.handle.net/2027/spo.3310410.0007.302
EPPI: Enhanced British Parliamentary Papers on Ireland, 1801-1922
University of Southampton
The British Parliamentary Papers on Ireland (BPPI) are an indispensable primary source for virtually every historian (and many non-historians) working in most fields of Irish history, and the history of Anglo-Irish relations, during the period of the Union (1801-1922). We have identified some 13,700 official publications relating to Ireland from the House of Commons  [1] Sessional Indexes for this period, ranging in scale from short bills of a few pages and reports, to the massive social inquiries with volumes of minutes of evidence exemplified by the decennial censuses, the Poor Inquiry Commission (1836) and Devon Commission (1845) reports, each of which were multi-volume documents covering thousands of pages.
Subjects covered by BPPI range from government, politics and administration, to finance, agriculture and industry, communications, emigration, social conditions, poor relief and health, population, law and order, education, cultural institutions, religion and language. The types of evidence contained are extremely varied, from statistical series and accounts to lightly- or unedited transcripts of emigrants' letters and witness interviews from across the social spectrum.
Obviously the BPPI are elite documents, created by the Government, Parliament and state agencies for the purposes of governance, administration, and the creation of official knowledge. This naturally implies an official bias in what was thought relevant of observation, what data was collected, and what was selected for publication. The principal value of the BPPI might thus be taken to lie in what they tell us about governing knowledge, preoccupations, strategies and ideologies – all crucial in themselves for an understanding of the British-Irish relationship in the period between the Act of Union and the Irish Revolution and the partition of the island in 1919-22.
But the BPPI can also provide us with much more than the 'official view'. British governance of Ireland took place in the context of executive responsibility to Parliament, a body which contained growing numbers of oppositional and nationalist Irish members who could demand returns of official data and serve on committees and commissions of inquiry, and beyond Parliament (however imperfectly) to an Irish as well as a British public opinion, increasingly conscious through the burgeoning popular press of the proceedings of Parliament. Irish newspapers, for example, carried not only verbatim accounts of parliamentary debates, but long extracts from the BPPI, and debated their findings and implications in editorials. The BPPI were very much part of the public life of 19th and early 20th-century Ireland.
Two further 19th-century developments characterize the Irish papers. Firstly, with the growth of central government (especially in Ireland) and the development of Benthamite  [2]www.bopcris.ac.uk. The BOPCRIS base has providing technical expertise for EPPI, especially through technical co-ordinator Simon Brackenbury. Development work by BOPCRIS allowed the EPPI funding bid to be built on proven methodologies. BOPCRIS is currently undertaking a parallel project to digitise a selection of key British (non-Irish) Parliamentary Papers 1688-1995; this has facilitated some economies of scale with EPPI and when complete the two projects will permit integrated searches.
Underlying BOPCRIS, EPPI and Southampton's most recent project, to digitize all the 18th-century British Official Publications, lies a virtually unique resource - the Ford Collection of British Official Publications. This is one of the major national collections in UK, and contains a virtually complete run of documents relating to Ireland for 1801-1922. The collection was put together by Percy Ford, who was head of the Economics Department and then Professor of Economics at Southampton between 1926 and 1959, and devoted much of his life to collection and analysis of Official Publications. With his wife Grace, Ford set standards for scholarship in the classification and analysis of government publications through their series of Select Lists and Breviates. These publications, along with the later breviate of nineteenth-century Irish papers by Arthur and Jean Maltby, have been the building blocks for the EPPI database. Abstracts drawn from these publications (available for about 10% of the total) have been integrated into the EPPI database.
Nothing happens without money, and we were fortunate that the UK's Arts and Humanities Research Board (AHRB) decided to make available a competitive award scheme for arts digitization projects in the early 2000s just as the expertise to undertake such a project became available. In 2001 the Southampton team prepared a bid under this Resource Enhancement Scheme competition that was successful and was awarded nearly the maximum sum of £290,000 ($530,000) over three years.
Undertaking the project meant dividing it into two phases. Phase 1, the creation of a bibliographic database of the 13,700 BPPI, is now complete and available to users via the URL www.eppi.ac.uk. Much of this work undertaken by our Project Officer Martina Fitzgerald, who has created a comprehensive searchable and browsable catalogue based on the existing print sources, adapted to the uniform bibliographic norms of the Library of Congress Subject Headings (LCSH) – thereby allowing integration of the EPPI materials with other databases.
Phase 2 is currently ongoing and scheduled for completion by early spring 2005. All 13,700 documents identified in the database are being scanned as full-text files and progressively integrated with the EPPI catalogue (many are already available as browsable page-image jpegs). Once complete, all documents will be fully searchable at individual word level using proven Optical Character Recognition (OCR) software, which allows a digitized page to be held behind the page image making every word searchable online (we are currently finalising the user interface for text searching, employing Zylab software). In addition to the textual digitization of over 350,000 pages, some 10,000 pages have been selected for numerical digitization by CDDA, Belfast. This slower and more expensive process involves translation of numerical tables into manipulable Excel spreadsheets for number crunching. Given the very large amounts of numerical data in the BPPI, we have opted to prioritize the digitization of the Irish Census Reports for 1821-1911.
The intention of the EPPI project has been to enhance this massive but still under-used resource for modern Irish history, firstly by drawing all the relevant titles together into a comprehensive and user-friendly catalogue, allowing researchers to identify which documents will be useful to their projects and get a sense of what they contain. Then, secondly, by making the documents universally available as a searchable full-text digital library, we hope to effect an innovation that will open up many of these monumental documents to new questions, readings and interpretations.
EPPI is available online at www.eppi.ac.uk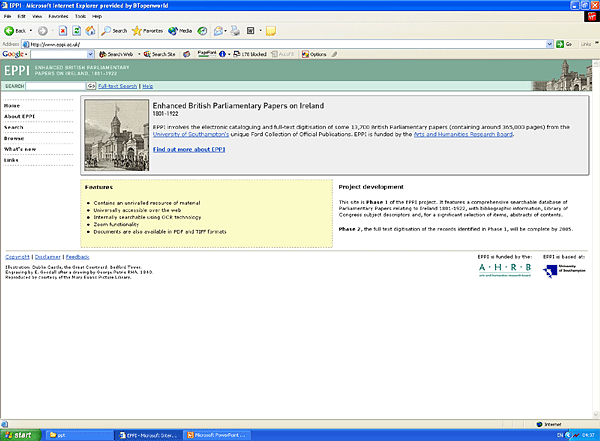 Image 1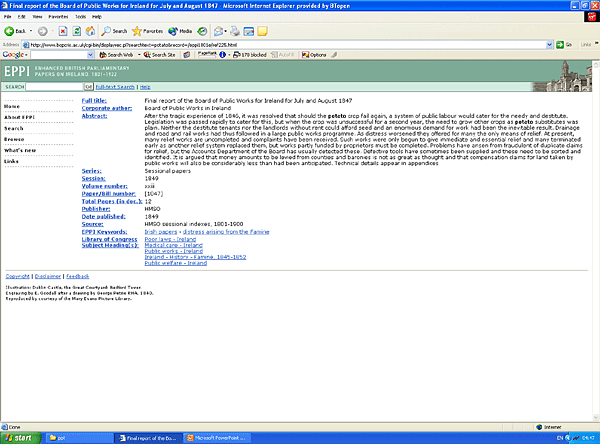 Image 2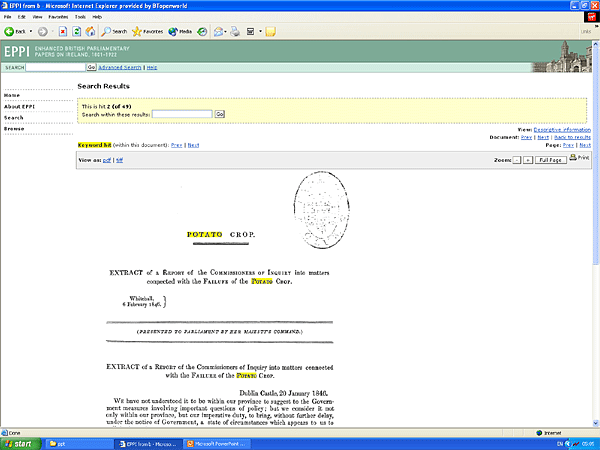 Image 3
Notes
1. The lower house of the United Kingdom's parliament.
2. Jeremy Bentham (1748-1832) was the founder of Utilitarianism, a philosophical movement part of the influence of which can be seen in the rigorous official investigation of mid nineteenth-century social problems prior to attempts to pass laws regarding such problems. The voluminous official papers of the era are a significant product of Bentham's influence.