Add to bookbag
Author:

John I., III Brooks

Title:

Implementing an Internet-Enhanced History Teaching Environment

Publication info:

Ann Arbor, MI: MPublishing, University of Michigan Library
November 2001

Availability:

This work is protected by copyright and may be linked to without seeking permission. Permission must be received for subsequent distribution in print or electronically. Please contact mpub-help@umich.edu for more information.

Source:

Implementing an Internet-Enhanced History Teaching Environment
John I., III Brooks

vol. 4, no. 3, November 2001

Article Type:

Report of Teaching Practices

URL:

http://hdl.handle.net/2027/spo.3310410.0004.308
Implementing an Internet-Enhanced History Teaching Environment
Introduction
Studies have been done of web enhancements to specific classroom-based courses. [1] There is also an entire literature on web-based courses and online degree programs. [2] However, the most common situation facing the individual instructor interested in using the Internet to enhance classroom-based courses is also the least well-addressed: namely, how to introduce the Internet into a range of courses in a context of either indifference or reluctance on the part of students and colleagues alike. While it may be prudent to try out enhancements in individual courses, there are also compelling reasons to implement them in more than one course. The learning curve involved in mastering any new educational technology means that the investment of time and energy is better rewarded if one can apply the fruits of one's labor as widely as possible. If you build a website for one course, you might as well build one for the others. On the other hand, if one teaches at a small to medium-sized university, as I do, implementing such a multi-course Internet environment can insinuate a de facto technology requirement into a history program. Because I am the only European historian in our department, and because a specific two-semester survey of modern European history is required of all majors, students have little choice but to take courses with me. This is both an opportunity for technological engagement and a source of possible resistance.
Which it becomes depends on how one designs, implements, and assesses a project of Internet enhancement. The following report discusses how I introduced such a project into the history program at Fayetteville State University (FSU) in Fayetteville, North Carolina over the academic years 1998-1999 and 1999-2000. I found that a mandatory but limited approach with careful attention to local conditions and continuous assessment yields success as measured by student usage and surveys. I will outline the goals and concerns I had for this project, the enhancements I introduced, and the results of student assessment.
Goals
When I arrived at FSU in the fall of 1998, I was determined to bring the educational potential of the Internet to my history courses. My experience at my previous institution, Teikyo Loretto Heights University (TLHU) in Denver, had convinced me that the Internet could
increase student access to course materials and student interaction with the course;
make available resources that are unavailable in a traditional classroom environment; and
improve students' computer skills in ways that enhance their educational experience and their career prospects.
However, the differences between TLHU and FSU required that I rethink my approach.  These differences can be sorted into Facilities, Students, and Courses.
Facilities
TLHU had been an early adapter of technology.  I had access to a state-of-the-art laptop computer and multimedia classrooms.  Students were required to purchase laptops and had network access from their dorm rooms. Technology use was limited only by my ability to develop learning projects.
FSU in 1998 was very different. When I arrived, faculty had networked computers and Internet access. However, the computers were getting old.  I inherited a 486-era computer with 8MB of RAM and a 270MB hard drive. There were no multimedia classrooms. Internet use was in its infancy as an educational tool.  The University had a Distance Education Center, but it was devoted to a limited number of telecourses. Web-based courses did not exist, and only a handful of instructors had a web presence.  There was relatively little precedent among my colleagues in the Department of Government and History for integrating the Internet.  A couple of members of my department had posted syllabi on web pages, but they reported that students seldom accessed the sites. In most cases, web sites duplicated material available in class. The University had several computer labs funded by and restricted to specific departments. Some of the residence halls had computers available for student use, and the campus lib
Despite these limited resources, FSU was working hard to improve its technology infrastructure and to encourage faculty use of educational technology. The school had embarked upon an upgrade of its network capacity, and a major purchase of computers would bring a current-generation PC to the desktop of every faculty member by Summer 2000. FSU also invested in new web servers and bought a site license for Microsoft Office products, including Microsoft FrontPage. The University increased its computer support staff, hired several instructional technologists, and funded workshops on web page design, online course development, and other technology-related issues. Last but not least, FSU provided stipends for instructors interested in developing either web-enhanced or web-based courses. Clearly, the administration was making an effort to promote the use of educational technology. I felt I could count on my institution to support whatever initiatives I might undertake.
Students
One of the biggest contrasts with my previous institution was in the student population. TLHU was a private undergraduate college with no significant student aid. As a result, most students necessarily came from families that could afford the substantial costs. By contrast, many FSU students come from economically disadvantaged backgrounds. As one indication, FSU has the second highest percentage of students receiving Pell Grants in the University of North Carolina (UNC) system. [3] In addition, as a historically black college or university (HBCU), FSU attracts students who are disproportionately on the wrong side of the Digital Divide. [4]
Access to computers reflects the difference in socio-economic background. Whereas all students at TLHU owned computers, a survey of FSU freshmen in 1998 revealed that less than half did. [5] My own Computer Utilization Survey, discussed below, showed somewhat higher percentages—around two-thirds overall reported that they had access to computers at home  [5].  However, there were substantial differences among different classes of students. Freshmen and sophomores reported significantly less home access to computers than juniors, seniors, and graduate students. This may reflect differences in wealth between traditional-aged and transfer students, although I have not been able to locate data to support this hypothesis.  Whatever the cause, the fact of differential access led me to design my enhancements with caution.
The FSU students I teach share other characteristics as well. Many of them will become public school teachers. FSU was founded as a normal school, and the School of Education remains fundamental to the university's identity. Nearly forty-two percent of my students are Education majors with a concentration in history—Social Studies Secondary Education, Middle Grades Education, or Elementary Education. [6] Another quarter are History majors. Even though they are not technically part of the Education program, many History majors are transfers from Education who hope to find jobs in public education. The teacher shortage ensures that History majors who successfully complete the program will be offered teaching positions, even though they have not taken all of the required Education courses and are not licensed. Taking into account the different majors, about two-thirds of my students are aspiring teachers.
This means that educational technology is of particular importance to them. The North Carolina Department of Public Instruction has developed a set of technology competencies that all teachers are expected to meet. [7] Education majors are required to take a course in Computers in Education, but reinforcement of these skills throughout the curriculum will help ensure that students continue to develop their computer skills throughout their education at FSU. I hoped to address these competencies in my Internet enhancements.
Another characteristic of my students is that most of them do not live on campus. [8] Many are older students with careers and families. I discovered through the Survey that most of these students had computers and an Internet Service Provider. [9] I hoped to entice such students with course materials and e-mail into accessing the course remotely. At the same time, I did not want to alienate the substantial number of students who did not have computer access at home.
Courses
My primary responsibility at FSU is to teach European history.  Every history major is required to take HIST 311, Modern Europe, 1648-1848, and HIST 312, Modern Europe, 1848-Present. These courses are also on a fairly short list of options for Education majors with a concentration in history. Since I am the only European historian in our department, offering enough sections of these required courses takes up a considerable part of my teaching load of four courses each semester. Elective courses in European history are offered as time permits, and these offerings are further limited by the insatiable need for sections of World History (HIST 110-120), which is not only required for the History and History Education majors, but also a popular option in the University Core curriculum. [10]
My position was unique in the department.  World, American, and non-Western history are also required of majors, but each of those areas has more than one faculty member. Students can avoid any other instructor and her/his teaching style. However, no history major can avoid me, and therefore any technology enhancements I introduce become a de facto requirement of the history program. This presented me with an opportunity to enhance the technology skills of all majors, but it also imposed upon me a responsibility to do so in a way that would not discriminate against students with limited access and skills.
FSU has about 4,000 students, and classes are capped at thirty-five students. My classes averaged about twenty-nine students. This limited class size allows instructors to assess students individually, an important consideration in any technology project. I felt I could identify and remediate students who did not have the computer skills needed to succeed in the technology-enhanced environment I was trying to establish.
These considerations of facilities, students, and courses led me to formulate the following guidelines for Internet usage:
Students should be required rather than exhorted to use the Internet.
Internet enhancements should add something to the class not otherwise available.
Internet projects would have to be designed so as not to disadvantage students who do not own computers. My rule of thumb was that students should have to access the Internet no more than once for every major section of the course—three to four times over the term, depending on the course.
These goals and guidelines may seem overly conservative, but I decided that it was more important to succeed with modest goals than to fail with more ambitious projects. It should also be remembered that when I began in 1998, I had very limited resources—a 486 computer, Netscape Navigator Gold (which would often freeze because of memory and processor limitations), and the 16-bit version of Pegasus Mail.
Enhancements
With these goals, concerns, and guidelines in mind, I began to create a set of Internet enhancements for my courses. Those enhancements are summarized in Table 2. [11] They fall into two general categories, Web and E-Mail. The most basic level of enhancement consisted of putting syllabi, study guides, assignment guidelines, and other course materials on course web sites. The first semester (Fall 1998), many of these materials were duplicated as handouts, but starting with Spring 1999, I no longer handed out any course materials in class. Students were forced to go to the web site to retrieve course materials. I generally did not place all the materials on the site at once; instead, I uploaded the materials for each section of the course at the beginning of that section. I did this for pedagogical and practical reasons. The pedagogical reason was that I wanted students to access the web site more than once during the term, on the assumption that greater contact with the site would lead to greater use. The practical reason was, of course, that I was often developing materials for the next part of the course during the preceding section.
The next level of Internet enhancement required students to access the web site to link to required readings. I made extensive use of web-based primary source collections such as the Internet History Sourcebooks and the Avalon Project, as well as sites for specific topics or places, such as the Chateau de Versailles website. [12] Students were required to browse such sites before class and to come to class prepared to discuss the assigned readings and/or visual material. This allowed me to create an online course packet that I could tailor to the needs of each specific course.
Once the University adopted Microsoft FrontPage in the Summer of 1999, I was able to increase the sophistication of web enhancements. I introduced a variety of forms for students to provide feedback to the instructor: a Student Information Form for students to give background information about themselves, a Spotcheck form for students to give anonymous feedback on anything related to the course, the Computer Utilization Form, and the Course Evaluation Form, which allowed students to provide an informal evaluation of courses during the summer, when the University does not administer the normal course evaluations.  I also introduced discussion lists, which allowed me to supplement class discussions and even to replace them when I was unable to hold class. [13]
I also encouraged students to correspond with me by e-mail.  I constructed distribution lists and e-mailed announcements and reminders to students. I encouraged students to submit their assignments as attachments to e-mail messages. The encouragement became a requirement in Fall 1999, when I first required students to accompany all work submitted outside of class with an electronic version, either an e-mail attachment or a floppy disk. When it became known that I would accept electronic versions of written assignments up to midnight of the due date if the written version followed the next day, e-mail submissions increased dramatically.
In the Senior Seminar and the Graduate Historiography classes, I posted drafts of student term papers and required the rest of the class to read and critique them. Students would give research presentations after posting their papers and would use the critiques to improve their final drafts. The quality of rough drafts improved dramatically, and students were able to see examples of both strong and weak papers.
To ensure that students had the skills necessary to manipulate the Internet course environment, I created a simple Internet Skills assignment that was due the first week of the term. This assignment, which constituted a small percentage of the grade for the course, requires students to complete a Student Information Form linked from the course web site and to give me an electronic file with a paragraph of speculation about the most important event in the time period to be covered in the course. The only penalty is for failure to complete the assignment or some portion of it. Though seemingly trivial, this assignment forced all students to access the course web site at the beginning of the semester. It also allowed me to identify students with poor computer skills quickly, so that I could help them before they got behind in the class. [14]
Assessment
I accompanied the introduction of web enhancements with a substantial set of assessment tools. It was important that I identify areas of success and failure quickly, to expand the former and remedy the latter. Because I decided to implement the enhancements in all my courses at the same time, I did not have that standard tool of comparison, the controlled experiment. Instead, I used three other means of assessment: records of web site usage, an inventory of e-mail received from students, and the Computer Utilization Survey administered toward the end of each semester during the academic years 1998-1999 and 1999-2000.
Web site usage increased over the four semesters of the period studied, as measured by hits per student enrolled. [15] This measure is somewhat imprecise. Because of the limitations of hit counters used (the free version of LinkExchange in 1998-1999, Microsoft FrontPage thereafter), I could not track individual students. Anecdotal evidence suggests that some students accessed the sites more than others. However, as a rough indication of popularity and usefulness, the hit counters suggested a generally upward trend.  More importantly, after the first semester, every class surpassed the threshold level of five hits/student that I had set as the minimal level of success. I designed the enhancements so that students would have to access the site at least once during each major section of the course. Since I usually had 3-4 sections for each course, five would represent a minimally acceptable level of access. The spike in the Other category in Fall 1999 is due to the graduate Historiography course. Although it is a small sample (seven students), it still may indicate two important variables in web site usage: maturity
These same variables likely produced the even more pronounced spike in e-mail usage per student. [16] For fairly obvious reasons, e-mail is not as crucial to a classroom-based course as is a web site. It was difficult to get course materials without going to the website; it was easy to pick up the phone or wait until the next class to ask the instructor a question. Nevertheless, e-mail has become a useful supplement to other forms of communication, especially in the European survey (HIST 311-312).
These rough measures of usage can be supplemented by the results of the Computer Utilization Survey. A web version of the Survey is available on my home page, although I always administered the survey in class. [17] I constructed the form before I realized that it would introduce an obvious bias into the responses: only students likely to use the web site would answer the survey. I left it on the web site to allow work-study students to enter the paper forms into a text file, which I imported into a Microsoft Access database for analysis. Over the course of four semesters, I accumulated 284 surveys from 467 students enrolled, a response rate of 60.8%.
I gathered information on four main areas
student background,
computer and Internet access,
computer and Internet skills, and
student assessment of computer use in the course.
The results of student background and access have been discussed above. Most students reported that they had adequate computer access and skills for the purposes of the course. [18] However, as one might expect, agreement was significantly less for students who did not have computer access at home.
In terms of the three goals outlined at the beginning of this paper, students overwhelmingly agreed that the web site made course materials more easily accessible.  They also agreed that the website made available resources that they would not otherwise have used. Finally, students reported that the course helped strengthen their computer skills. [19]
Asked for an overall assessment, students responded that both the web site and e-mail increased the effectiveness of the course. [20] Understandably for classroom-based courses, the web site was deemed more valuable than e-mail.
Conclusion
By all the measures used, my introduction of Internet enhancements into classroom-based history courses has been a success. I stopped administering the Survey after Spring 2000, because I was no longer introducing major new technology components, and the surveys were not revealing any significant obstacles. Students have come to see the Internet as an enhancement rather than as a nuisance or a frill. They have begun to ask their other instructors to create an Internet component, and many of the faculty have responded. When I arrived at FSU, two of eight historians had a web presence; as of this writing, five of eight do. Indeed, some of my colleagues have surpassed me, moving on to develop more sophisticated web sites using Blackboard, which FSU has adopted as its online course platform. [21]
The rules for this success were fairly straightforward:
mandatory rather than optional use of the Internet by students,
appropriate assignments tailored to students' skills and access,
early verification or improvement of necessary computer skills, and
careful assessment of Internet use and student satisfaction.
Instructors who follow these rules will undoubtedly repeat this success and find that they have a much richer environment for teaching history.
Last updated July 26, 2001
Notes
1. Recent examples include Diana W. Sanders and Alison I. Morrison-Shetlar, "Student Attitudes Toward Web-Enhanced Instruction in an Introductory Biology Course," Journal of Research on Computing in Education 33 (2001): 251-63; Brad Stith, "Web-Enhanced Lecture Course Scores Big with Students and Faculty," T.H.E. Journal 27, no. 8 (Mar 2000), <http://www.thejournal.com/magazine/vault/A2689.cfm> (17 August 2001); Deborah Vess, "Applications for the World Wide Web in the History Classroom," The History Teacher 30 (1999): 265-82; David Koeller and Larry Martin, 'The WebChronology Project,"  The History Teacher 30 (1997): 443-49; Alex Zukas, "Cyberworld: Teaching World History on the World Wide Web," The History Teacher 32 (1999): 495-516; Kathleen M. Noonan, "Untangling the Web: The Use of the World Wide Web as a Pedagogical Tool in History Courses," The History Teacher 31 (1998): 205-19.
2. See for example Carol Bennett, "Global Business Classroom - A Team Approach to Online Program Development," T.H.E. Journal (June 2001), <http://www.thejournal.com/magazine/vault/A3524.cfm> (17 August 2001); and Jane Whitney Gibson and Jorge M. Herrera, "How to go from classroom based to online delivery in eighteen months or less: A case study in online program development," T.H.E. Journal 26, no. 6 (January 1999), <http://www.thejournal.com/magazine/vault/A2080.cfm> (17 August 2001).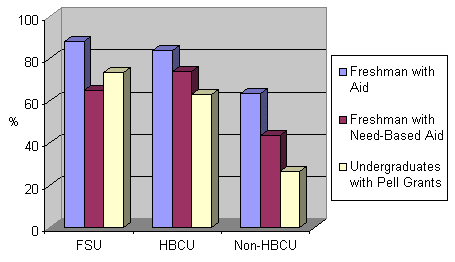 Chart 1. Financial aid at University of North Carolina institutions, 1998-1999
Notes:
FSU: Fayetteville State University
HBCU: Historically Black Colleges or Universities, UNC System
Non-HBCU: Historically white or Native American institutions, UNC System
Source: University of North Carolina General Administration. Program Assessment and Public Service Division. Institutional Profiles, University of North Carolina, 2000-2001 Edition. 2000. <http://www.ga.unc.edu/UNC_Schools/profiles/current/ip.pdf> (10 August 2001).
4. On the Digital Divide separating technology haves and have-nots, see U.S. Department of Commerce, National Telecommunications and Information Administration, "Falling Through the Net: Toward Digital Inclusion," October 2000 <http://www.esa.doc.gov/fttn00.htm> (12 July 2001).  This is the fourth in a series of reports on issues of race and class in access to information technology. The series can be accessed through the NTIA Digital Divide page <http://www.ntia.doc.gov/ntiahome/digitaldivide/>. The problems specific to HBCUs are discussed by Ronald Roach, "HBCUs Strategize on Ways to Close Digital Divide on Their Campuses," Black Issues in Higher Education 17, no. 20 (23 November 2000): 42-43; idem, "UNCF Examines Digital Divide On Campus," Black Issues in Higher Education 16, no. 11 (5 August 1999): 32-33.
Chart 2. Q2.1: Home computer access by class.
Note: The left-hand column represents the combined results of the FSU Freshman Computer Skills Survey, given in the Spring of 1999 and 2000 (Jon Young, "Assessment Report for University College," 22 May 2000 <http://spacer.uncfsu.edu/f_young/ccomplit.pdf> (18 July 2001)). The remaining columns represent the results of the author's Computer Utilization Survey. It should be noted that the questions on the two surveys are somewhat different.
Freshman Survey: Currently, I own a personal computer.
Computer Utilization Survey (Q2.1): 

How do you have access to a computer (check all that apply)?:

At home
At work
On campus
Through a friend/relative
Other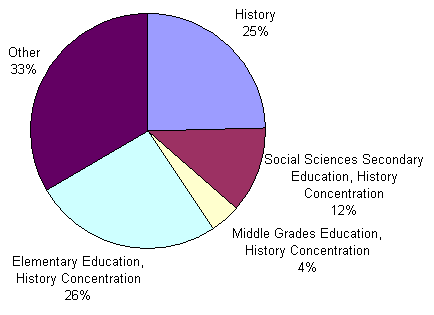 Chart 3. Q1.2: Majors among Computer Utilization Survey respondents
N = 283
7. North Carolina Department of Public Instruction, "NC Technology Competencies for Educators," n.d., <http://www.ncpublicschools.org/tap/techcomp.htm> (18 July 2001).
8.
[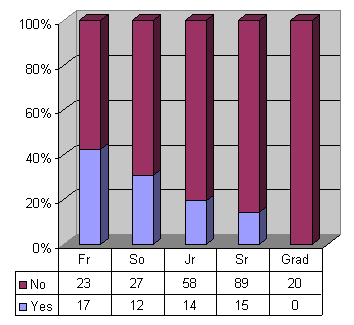 Chart 4. Q1.3: Do you live on campus (by class)?
]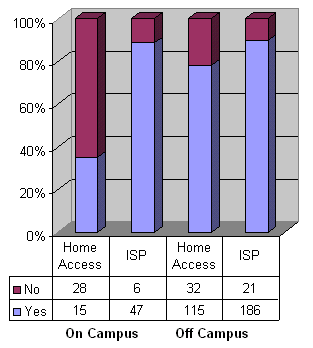 Chart 5. Q2.1, Q2.3, Q1.3: Home access and Internet Service Provider (ISP) by residence
Note: The ISP responses are frankly anomalous. Many respondents not only indicated they had an ISP when they had no computer access at home, they also indicated they had more than one ISP. The two preceding questions may have led to confusion.  Those earlier questions asked which computer applications and Internet resources respondents commonly used, and the questions asked respondents to check all applicable responses. Many respondents apparently carried over these instructions to the question about ISPs.
| | | | | |
| --- | --- | --- | --- | --- |
| Course | Fa/98 | Sp/99 | Fa/99 | Sp/00 |
| HIST 110: World History to 1600* | X |   |   |   |
| HIST 120: World History since 1600* |   | X | X | X |
| HIST 311: Modern Europe, 1648-1848** | X |   | X |   |
| HIST 312: Modern Europe, 1848-Present** | X | X |   | X |
| HIST 451: The French Revolution and Napoleonic Period |   | X |   |   |
| HIST 490*: Senior Seminar (Focus: The European Union) |   |   |   | X |
| HIST 500: Historiography (Graduate Course)* |   |   | X |   |
*Course required of History majors and Education majors with a concentration in history
**Required course taught only in Internet-enhanced form
Table 2. Internet enhancements
Medium
Enhancement
HIST 110
HIST 120
HIST 311
HIST 312
HIST 451
HIST 490
HIST 500
Web
Syllabus
X
X
X
X
X
X
X
Lecture Notes
 
X
 
 
 
 
 
Readings
 
 
X
X
 
X
X
Study Guides
X
X
X
X
X
X
X
Assignment Guidelines
X
X
X
X
X
X
X
Announcements
 
X
X
X
 
X
X
Information Form
 
X
X
X
 
X
X
Discussion List
 
X
X
X
 
X
X
Student Papers Posted
 
 
 
 
 
X
X
E-mail
Class distribution list
 
X
X
X
 
X
X
Assignment submission
 
 
X
X
 
X
X
Note: For explanation of course designations, see Table 1.
12. Primary source collections include Paul Halsall,  Internet Modern History Sourcebook <http://www.fordham.edu/halsall/mod/modsbook.html>, The Avalon Project at the Yale Law School: Documents in Law, History and Diplomacy <http://www.yale.edu/lawweb/avalon/avalon.htm>, and the Internet Archive of Texts and Documents at Hanover College <http://history.hanover.edu/texts.htm>. A more complete list of primary source collections can be found on the author's Links page <http://spacer.uncfsu.edu/f_brooks/lnkprim.htm>.
13. Most of these forms are linked from the Communication page of my Home web site <http://spacer.uncfsu.edu/f_brooks/commun.htm>.
14. An example of this assignment can be found on the course web site for HIST 311 <http://courses.uncfsu.edu/hist311/assign/01.htm>.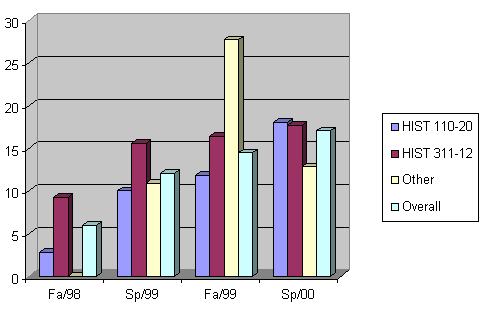 Chart 6. Course web site hits per student enrolled
Note: For explanation of course designations, see Table 1.
Chart 7. E-mail messages per student enrolled
Note: For explanation of course designations, see Table 1.
17. John I. Brooks III, "Computer Utilization Form," 6 July 2001 <http://spacer.uncfsu.edu/f_brooks/FRMS/compfrm.htm> (18 July 2001). All references to question numbers are based on this version of the survey.
18.
[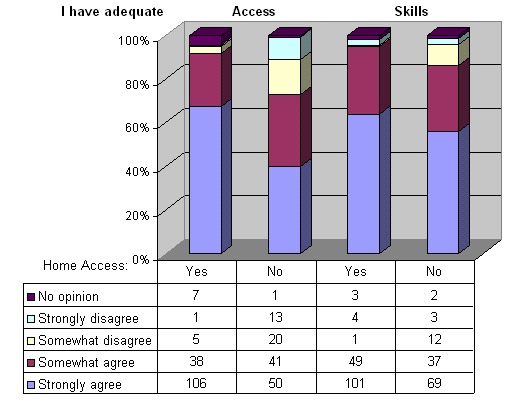 Chart 8. Q2.9, Q4.1: I have adequate computer access/skills for the purposes of this course (by Home Access)
]
19.
[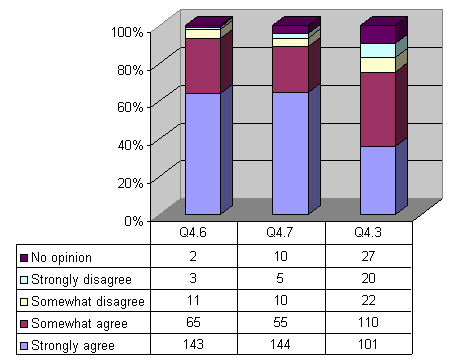 Chart 9. Internet enhancement goals
]
20.
[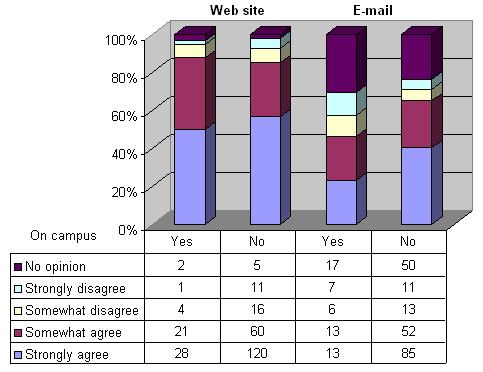 Chart 10. Q4.9, Q4.13: The web site/use of e-mail increased the effectiveness of the course (by residence).
]
21. See the University's Blackboard Gateway at <http://bb.uncfsu.edu/>.