Add to bookbag
Author:

Cam McEachern

Title:

'Getinge to Copenhagen' and Beyond: Learning to Coach Historical Thinking Skills with Computers

Publication info:

Ann Arbor, MI: MPublishing, University of Michigan Library
April 1999

Availability:

This work is protected by copyright and may be linked to without seeking permission. Permission must be received for subsequent distribution in print or electronically. Please contact mpub-help@umich.edu for more information.

Source:

'Getinge to Copenhagen' and Beyond: Learning to Coach Historical Thinking Skills with Computers
Cam McEachern

vol. 2, no. 1, April 1999

Article Type:

Article

URL:

http://hdl.handle.net/2027/spo.3310410.0002.106

PDF:

Download full PDF [159kb ]
'Getinge to Copenhagen' and Beyond: Learning to Coach Historical Thinking Skills with Computers
Keyano College
Fort McMurray, Alberta
Canada
A draft of this paper was presented to the International Association for History and Computing, Moscow, 1996.
The author is a college history instructor with interests in workplace personal skills, critical thinking, and multimedia for education or training. This computer novice's effort to expand a repertoire of computer based thinking exercises for history students is presented in a step by step account of a year long classroom experience with both disappointments and successes. The exercises' simplicity is stressed along with the instructor's observations about methods. Some strengths and weaknesses are noted with the conclusion that traditional curricula and teaching methods can both change and endure successfully with computers... and we need not get too hung up on evaluation. Aspects of this process may interest a variety of educators. A draft of this paper was presented to the International Association for History and Computing, Moscow, 1996.
.01. Instructional Setting
The group of European History students, mostly in their second year of college, waited with some curiosity and a little fear through the first eight weeks of the 1995 Fall term. The course outline indicated a modest computer project would be undertaken in November. Keyano is a small college, though diverse and well equipped, in a remote city serving Canada's oil sands industry offering the first two years of University Studies. These twelve students were senior members in a close knit student body. They knew what college life involved and they were hearing from the first year class about the pleasures and frustrations with the trial computer projects facing incoming history students.  [1]
This second year class presented a special opportunity to try a project which would bring together experienced history students and now a history teacher who was experienced using computers. I remain a technical novice... wish I could get these awful fish off the screen-saver on this, my two-week-old first computer... my claim to experience is in instructional method. I am learning to take small steps, and learning that small, well focused projects can be tailor made to improve specific needs of history students. During this term, in more junior classes, a series of opinion-making tutorials was getting polished and a reflective scrapbook assignment was taking form, all using computers. In this, more senior, European History class, new goals could be pursued which were suitable for more sophisticated students. 'Computer attitude' would require reckoning, but the novelty of college, and of college history, would not. We could roll up our sleeves and get down even more to historians' work.
The second year project aimed initially to replicate concepts' arborescent structure. The project was scheduled late in the term so that resources such as my own time and our computer lab with the Authorware Working Model would not be overly taxed. A conviction throughout this recent period experimenting with computers has been that the machines not trespass upon my regular work. While a modest project ran in a junior class, I had time to plan for the senior one and the foundation was clearly set. The second year project required a simple template which could respect the Working Model's limitations which are adequate for engaging students in an isolated task. The project required few commands so that quick training could take place and easy trouble shooting would be possible. The project's technical aspects needed to be simple to avoid trespassing upon the students' time, as well as my own. To be worthwhile, the project needed to emphasize and nurture a relevant thinking skill in an original way and students had to feel like doing the project.
Generally, while first year Alberta college students are just learning what is required of historians, second year students are learning to diagnose their own thinking and writing habits about the past. A common achievement at this stage is a demonstration of awareness of the fuller context and premises which require attention in a history research paper. A common weakness is in the organization of these ideas and a corollary symptom is a thesis which is weak, obscure, too timid, or too bold. Casting about for a second year skill which might profit from computer based tutoring, I settled upon presenting students with the concept of an arborescent structure. This could serve as an organizational model for supporting, inducing, or recreating a thesis. Reproduction of key ideas on paper within an arborescent chart can help students organize their ideas and in turn organize their discussion. But upon what criterion do we organize? This is a challenging question for any historian. I suspected that, by using the computer as a medium, with its capacity for building and selecting exclusive paths of text and pictures, a history student could see more easily the relative thrust of ideas. One could see strong and weak organization, one could feel and fashion the connections which worked. Perhaps such practice would help students visualize their subject better and prepare superior expositions in research papers.
.02. Instructor Method
This account aims to address the instructional method behind the computer exercises. Some method is by now evident and more will be evident a little later on. But here is an interesting juncture: how is a 'skill' selected as such for this kind of attention? Furthermore, how is the attention turned into a concrete and unobtrusive project within a college history course? Those moments in October 1995 when I considered the project were partly methodical in the sense that they were partly organized and thought out. For instance, the project's parameters constituted some principles and limits which experience and a little reading have taught. The quest for a skill and a modest, effective project right under my historian's nose was inspired by an introduction to psychometrics in industrial training. The kinds of questions and resources to consider resemble the lists in Figures 1 to 3 which continue to evolve with experience and through discussion with fellow faculty in instructional workshops. Object oriented programming, like Authorware, serves as a useful metaphor for the way we can think about projects. We 'cut and paste' our conceptual frameworks and apply them with adjustments in different parts of our work environments and lives. Digital materials lend themselves to this kind of reassignment in our own courses and among colleagues.  I call it 'object-oriented programming style' -OOPS for short.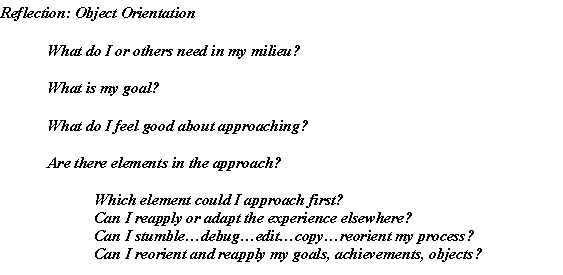 Figure 1.
A list of questions inspired by object oriented programming. Can a pedagogue think similarly to advantage?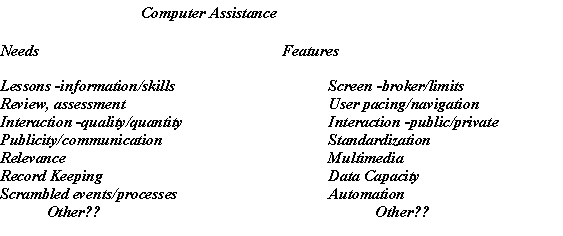 Figure 2.
A simple list of characteristics which one might nurse for implementation ideas.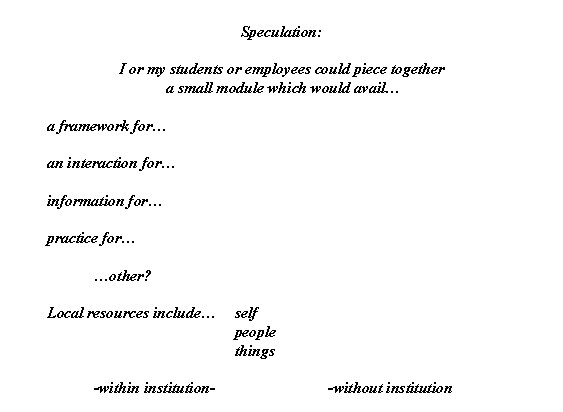 Figure 3.
Further clues to encourage a look 'right under our noses' to find a handy project.
There was no list from which the specific skill was chosen. There could not be. The choice reflects an instructor's personal perception about those students, teaching, and history. I drew some inspiration from R.G. Collingwood's The Idea of History. [2] By and large I am conscious of my efforts to encourage students to pursue and know their past through their recreation of the past. A few titles in our college library stressed the computer's suitability for rendering simulations. [3] Seymour Papert's recommendation that children program computers themselves struck a chord. [4] The journal History and Computing displayed a strong interest in practical and interpretive problems presented by historical modeling and simulations using computers, an historical method with which I confess inexperience, ignorance, and fear. [5] Not surprisingly, though, these ideas gelled with my instructional needs into a computer project where history students create a very rudimentary simulation to practice organization in a historical recreation. This stage of the project's design cannot be exactly, methodically, reproduced. It is creative play, the kind of moment which attracts so many of us to teaching and learning. The play embraced concepts very close at hand and it aimed to achieve with reasonable effort a modest improvement to ongoing work.
The resulting project qualifies minimally as a simulation since students were required to identify about five key elements of a process or concept and expose them, inspiring recreation, in a computer file consisting of several screens. Each of the elements could be reached through a scroll menu, and background information for each element could be reached using successive branches of click-touch areas or hypertext. The branches supported the elements and the elements supported a thesis statement about the subject. This was not a research project. Students were encouraged to use the course text and to find just a few titles which addressed their topic. Marks for this assignment would reflect primarily their thoughtful distinction and organization of closely related elements in a historical subject of their choice within the course's purview. Once introduced to the project, the student group showed approval. The work looked relevant in terms of both interests and skills, it met everyone's desire for exposure to the expanding computer technology and, though a few students had reservations, it looked manageable. Predictable groans greeted the first screen in my demonstration which would form their template. Wanting to show the students an example, and wanting prematurely to secretly express my growing amusement and satisfaction with this computer foray, I addressed the enclosures in Scandinavia through an imaginary journey from Getinge, a Norwegian village, to commercial Copenhagen. I couldn't resist the word play in 'Getinge to Copenhagen'. My secret message was that I was getting somewhere.
.03. Student Profile
As with other lessons and projects the students' profile prompted special consideration. All the students were of European extraction, noticeably different from the college norm, perhaps owing to the course topic. Nine of the dozen class members were female and four of these were mature students, mothers over thirty years of age. All the students had experience with computers in preparing their essays and four were introduced to programming in a computing course. Still, none ever seriously thought they would write multimedia programs, not even the one woman who had been introduced to Authorware to make a slide presentation in an education course. Based on my experience with first year students, this project's introduction was carefully planned to allay computer phobia, allow encouragement, and to avoid confusion. The course introduction and outline indicated the small computer assignment, without special fanfare, in the context of other assignments. The medium was justified in this same context along with the need to prepare written essays and to participate in seminars. The new medium made sense, was accepted, and over the next eight weeks we could all get used to the idea.
.04. Student Process
The project's launch took three steps. The first was an explanation taking fifteen minutes with the assurance that there would be a demonstration, training, and adequate help for this new kind of assignment. The accompanying handout, shown here in Figure 4, imitated customary formats and afforded course structure. The demonstration immediately followed the explanation. My example was displayed from a laptop computer connected through a $300 (CAD) Averkey to a television which was wheeled into the room. This practice was preferable to an expensive computer projector or a visit to a lab. The arrangement was affordable, convenient, and the technology was embedded in the history class rather than the other way around. Students were relieved they could replace my information with theirs on the template, and that in Authorware they could cut and paste programming code just like word processing. A few, all females, were concerned about their computer abilities but would faithfully see how the training went a few days later. The women's apprehension matched the pattern in the first year history courses and in the college's computer courses. As usual, this history class was most concerned about how much they would have to read. In half an hour the assignment was two thirds launched. On with the rest of the class.
Figure 4.
A senior class' first assignment requiring modest programming to practice thinking like a historian.
The third step, training, was delayed a few meetings to avoid information overload, to ensure that the students were focused on the exercise's substance, and to ensure that the training would be as close as possible to the moment of application so it was used, not confused. The students were led to a computer lab where the Authorware Working Model ($40 CAD) was networked. In forty-five minutes they went step by step through key commands, making changes to their template, seeing that they could turn it into their own assignment on their own disk. Authorware is a large program but any small learning module created with it will only use a few kinds of program code. Slick personalization of colours and fonts is not germane to many subjects either. Students left the session able to write with Authorware what they needed to write, able to learn more if they wished, and feeling that they could put together this project within ten hours over the following week.
The project was happening quickly in order to reassure nervous students it would be out of the way soon, and because it was small. Besides students, we teachers can be overwhelmed with our common bias which compels us to expect to do very complicated things with computers. The machines promise such bulk and precision, for which we are unprepared, that we overlook the small things which we can do. We want to picture computers as teachers rather than as tools for teachers. Putting the picture back in perspective, treating the machines as tools for teachers, the challenge of teaching or learning with computers becomes less daunting. A 'Help' handout with screen shots and penned-in advice furnished some additional comfort together with my promise to be available for help if students reciprocated and promised to consult the handout first. Many novices don't do this but burn precious time omitting a new command. We returned to a classroom for a regular session. One student, a mother who was an aspiring teacher, was having some difficulty, but she remained determined to soldier on through this assignment.
Over the next few days, students appeared seeking assistance to scan a few pictures and import them into their file. These visual sources were encouraged to inspire interest generally and to provoke commentary within the module as visual sources tend to do. The scanning took five minutes at a machine in the instructors' work room and, once shown, some students helped others. Fellow faculty were accommodating. Faculty have grown this way over the past few years while we learn to share and profit from each other's growing expertise, each according to her taste and pace. This project fit comfortably into our ongoing college lives. Ten days after the project's launch, the due date arrived. Six disks were handed in that day and six more straggled in by next class. The small class size discourages a precise evaluation of the project's worth but my review of the files and some student comments in a subsequent class discussion revealed interesting testimony.
.05. Judging the Project
The students were quite satisfied with the project. Several remarked without prompting that the exercise did encourage them to think more carefully about their chosen topic and define its stages or elements more clearly. The process, they said, also helped them see more clearly where supporting evidence belonged. An important influence was unexpected. My template's design included 1/3 screen sized placards as backgrounds for text and so, not wanting to play with the placards' sizes, the students often wrote carefully, and more powerfully, to make their point. They felt they learned to think more structurally about their topic and there were signs of this in the files which persuaded me that in this respect the project was a success. Figure 5, immediately below, shows an example of an interesting sequence through three full screens.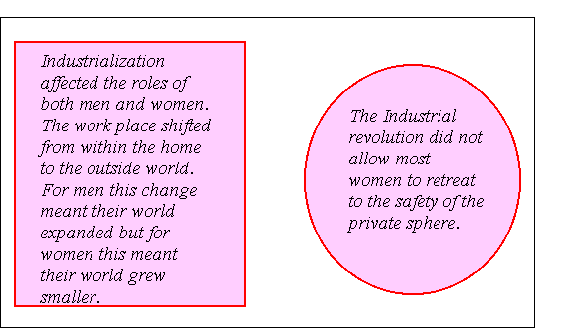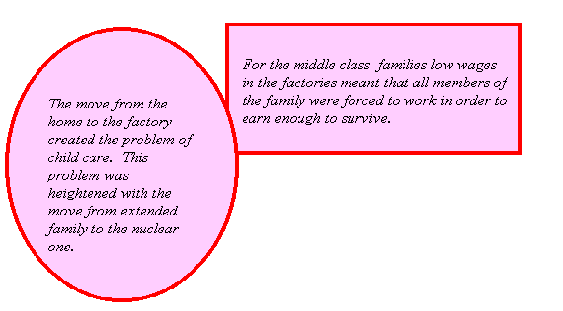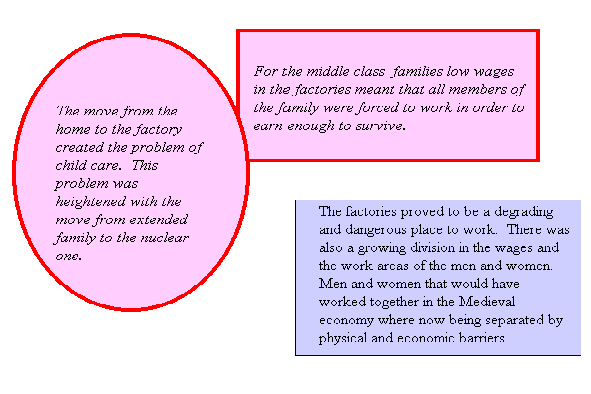 Figure 5.
A sequence in an arborescence following successive cursor clicks on right-hand placards. The student can 'simulate' the thrust of a process which attracts her interest and simulate thrusts of her outline argument.
Regrettably, the project was not a success in sharpening theses and upon examination my own design seemed to be the culprit. While a thesis was required, and expected on the first screen, its location was  not specified in the assignment handout. When they proceeded to create their file a week later, students used the first screen automatically and simply for a title page, as in a paper, sharing information which I could have obtained on the disk label. The information paths in the pull-down menus signified a series of concepts which shared the same explanatory power within the file, or within the arborescence. There appeared to be no location reserved for a thesis. In retrospect, I should have made directions clearer, furnished two screens instead of just one leading into the template file, and anticipated that paper writing habits would otherwise carry over to the computer. There was small consolation in forgiving the group the few marks for a thesis; it was easier to award the entire mark for coherence. Not all the files were very interesting, either. One fellow, a beginning student struggling generally in the course, discovered how to make clean looking text slide on and off the screen but devoted his time to this instead of saying anything meaningful about his topic, Napoleon. The behavior exemplifies a pattern exposed in several classes and which colleagues who teach computing here confirm. This college's males have tended to tinker with the gadgetry at the expense of substance. The female students have tinkered as well, but after the work is done.  All told, I've learned that unexpected behaviors frequently surface in these projects; inert, unseen habits have a kinetic force which is not apparent until change is underway.
The discomfort of change and the computer's reputation for complexity produce an anxiety among many novice users. This class exhibited the anxiety but dealt with it cheerily. The group had the advantage of some 'grapevine' news from junior classes that the various computer projects were manageable and the problems surmountable. I was learning to reduce technical problems when introducing novices to the labs so that, for instance, I could advise this group to save work fully before removing disks from drives and so avoid losing their work. I had launched the project in carefully sequenced steps to encourage primary focus upon the curriculum and to assist timely retention and use of the new computer skills. For all that, the students confessed to a common pattern of feelings which 1st year students displayed more freely. Nearly prohibitive anxiety arose during the first few hours while they worked on their own in the computer lab. Thoughts like 'This is insane', 'ridiculous', 'I can't do this', 'what is this for?', reverberated in their heads. Then, completion of the first few screens of text and successful operation of one's own scroll menu or click-touch area greatly reassured the students and they were motivated to complete the assignment. Subsequent problems alternately tempered the motivation of some and inspired others who liked the challenge of a puzzle.
A significant mood event took place within our aspiring teacher who was soldiering on. She was not pleased with this project which seemed more work than it was worth. The fact that she was a class leader almost posed problems. One evening at home, struggling to get 'that blasted menu' to take her where she wanted, her ten year old daughter helped her do it. The woman told the story with humour and astonishment in our class before the assignment deadline, sharing her new conviction that the project was important. Soon she would be teaching children like this. The event helped carry the class through a challenging week and would resurface later when the class experience itself became a common subject of reference in our discussion of the information society, its social portents and its significance to historians. We had surmounted a hurdle and were moving beyond.
Over the Christmas break, I reviewed this project and planned the next one. So far, I felt 'Getinge to Copenhagen' was a forgivable draw. It seemed a slightly helpful exercise but would beg improved organization another time and it would be more suitable, likely more powerful, earlier in the term as a preliminary exercise, with thesis, for a student's own paper. I wanted to do more with these students, exploiting their growing experience, but more of this same sort of work would properly test their patience. Improvements would await another day.
.06. Building on Experience: Students and Instructor in a New Setting
A chief motivation to introduce programming to these students in a year long course was so that there would be time for not just one, but two small computing assignments. What could be achieved with students who had experience in history and programming with Authorware? My intention was to have them design the next project themselves as learners of history, writing with computers. I had originally crossed a frontier by devising computer tutorials to coach students in a traditional skill, opinion-making. Then I was discovering interesting projects and possibilities as I presented simple programming steps to students just encountering history. In this sense I felt I was beginning to perceive the frontier in its own terms, with its own dynamics, not my habitual, inert terms. Now I wanted the students to come across the frontier too. Taking a small step, 15 percent of course weight, the prospect looked worthwhile.
.07. Project Conception —Brainstorming
My plan, and the mid-course outline, called for a student designed project late in the second term, about March, and obviously no one could know exactly what it would be. All I knew while we plugged away in the first term was that the second assignment would require a structured approach based upon what we knew of Authorware at Christmas, upon what we knew about using computers in our setting, and upon what we should be trying to do as historians. I considered this from time to time through the fall and gave it special attention over a few hours sprinkled through Christmas. The creative juncture required a gel once again. By this time, I was fascinated with the gel itself, noticing that it periodically had to happen at this stage in planning. What was this moment which I enjoyed with the same thrill which musical improvisation delivers, or a seminar discussion?
I was brainstorming. Approaching educators' conferences inspired an inner excitement and embarrassment with this activity. What should I say, if anything? In another area of work a history research proposal begged ideas which were slowly coming together. The next 2nd year computer project looked like a puzzle with some risk to time and lessons but a preliminary class discussion required faith. The discussion would need structuring as a brainstorming session, which authors stress is an important stage in a comprehensive design of computer based instruction. A constructive link became obvious. —Brainstorming had its place in the thinking process of both an historian and a computer project designer. Furthermore, the topic we would face, uncovering historians' practices and identifying one to address with computers was a fitting historiographical topic in a second year course. Our winter term started with the plan to brainstorm and create an effective learning exercise with modest time commitments. Again, class size prohibits scientific study of our work, but anecdotal evidence suggests it was a most rewarding undertaking with some meaningful lessons in history, doing history, and in instruction.
But first there remained an interesting lesson to reap from the pre-Christmas assignment. There were nine students now, due to the typical sources of attrition: a pending divorce, changing work and school priorities. We were now studying the industrial revolution. This often inspires discussion of workers' entrapment and some western Canadian students find it difficult to relate to the period. European and American invention seem inevitable outcomes of 'progress' and western Canada a fortunate relief from the pressures of industrialization and urbanization. These latter processes remain suspect in the minds of a young generation descended from eastern Canadian and European migrants, people who apparently defied the processes. Here our computer project resurfaced. Students recalled the changing technology, the struggle to adjust to it emotionally and strategically, with nowhere to go, and its influence in changing our pursuit of knowledge and work. The project had evidently helped our course serve as a tiny laboratory in which we could experience social change and relate better to the mid-19th century. This was unexpected although other classes had experienced some reflections of a similar order stemming from their projects. I was grateful for the implicit reassurance that our work so far had been worthwhile as a history project. Five or more years from now, this self-conscious component to an exercise will not be possible since the technology and programming will be familiar to the students. But in that event I will not need to consume any training time at all with them either!
Several weeks passed until we turned to the brainstorming project. Eventually, after the mid-term exam, the second year group met for a class in which the brainstorming session was presented and a timetable established for project completion. The class was advised they would next meet to brainstorm, to build a chart listing preferred topics in history, historians' skills, computer capabilities, Authorware's capabilities, and so on. They were invited to think about these matters over the weekend in the meantime. From this chart we would extract a rudimentary project design and I reserved the right to 'massage' it as necessary before we embarked upon its completion.
The class achieved this goal and completed a valuable project very well but not without some hair-pulling, most of which could have been avoided at the brainstorming stage. I occasionally use the technique along with conceptual mapping in 1st year seminars. It is common in group work in schools and industry. Somehow this group had escaped such an experience and somehow I missed their quizzical looks when I tried to help them anticipate the brainstorming. In the next class it slowly became clear that they were completely unfamiliar with the technique, and unprepared. "This can be different from the last project?" asked one woman. "Are we to do this together or separately?" asked another. "You mean, we could make a home page?" declared the only male present. A tough decision was needed. This was a history class, an hour had passed, we weren't doing history, and we all knew it. At the risk of cramping our progress through the course, we resolved to try again in a week. In the intervening history class a half hour was spent explaining more fully what brainstorming was and how it could help us. The risk was doubly rewarded but precious time had been lost. When we finally did meet to brainstorm, the class produced in thirty minutes the following list in Figure 6, immediately below, transcribed from our blackboard.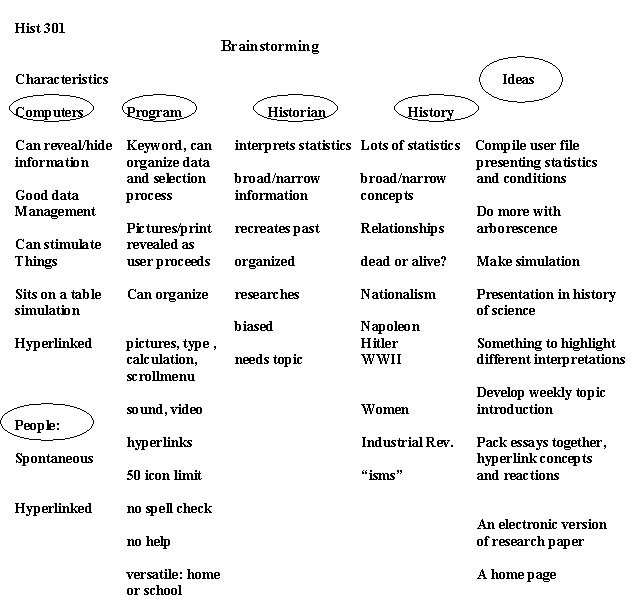 Figure 6.
Brainstorming which contributed to a class' project captured in third 'idea' from bottom on right.
.08. Project Goal
From this list, we saw that we could create a template into which we could insert a student's term paper for the class to review and insert comments linked to precise passages through hypertext. We could copy the template and render comments easily, electronically, for each student's paper. Through this process the students would participate in a peer review, seeing how others wrote and exchanging thoughtful comments. The commentary process was more formal than the spontaneous remarks which a class presentation can afford since the comments could be rendered in the students' own time. Further, 100 percent participation could be secured. The students felt ownership too. They were keen.
.09. Method Designed by Instructor and Students
By next class I appeared with a template which had required one hour to make and which met the group's approval. A copy would be made for each student's term essay. The students would convert their essay into Rich Text Format and import it into a disk's first screen which would be 'perpetual' or non-erasable. The disks would then reside for a week in a box in my office. A student could retrieve each essay's disk and scroll through the entire essay down the hall in the lab. Students were required to read all 'papers' and comment critically upon one passage in each. They might dispute a claim, share some reflection, or beg clarification, just as we do with our text-book sources in class. We could all hone our scrutiny upon our own work. When ready to comment, a student could create a hypertext link to a screen in which one would type the comment. Afterward, a click of the cursor upon highlighted text in the essay would produce the reviewer's comment and another click would remove it. Each student was now writing their essay, for a complete peer review. We discussed how we all felt about this. A few felt shy but thought the plan was a good one. Someone called it 'Listerine' and two vouched for it based on a similar writing experience using the college's network in an English course.
Meanwhile, we were approaching term's end, discussing the concepts of the post-industrial society and post modernism. [6] As with the concept of industrialization, our on-going computer exercise served as a common experience to help us discuss the new concepts. No doubt our earlier experience at this in January was a help. We noticed the handiness, even the need, which the computer displayed for images. We noticed the ease and subtlety with which images and text could be adjusted and the ease with which they could be shared world wide. We noticed how the technology had not only entered our course, like an overhead projector, to display an image bigger and brighter, but the technology had altered our agenda, what we deemed to be important curriculum. We noticed the connection between our ideas and our communication technology. We could just grasp the meaning of 'the medium is the message' and the possibility of power embedded in language.  Granted, there are other ways to do this, but January's reassurance was alive again, the ongoing computer based peer review project was serving as both a history skill practice exercise and also as an experiential process like a debate, a mock parliament, or a dramatic visitor.
The disks rested upon my desk a week later, the due date, our last class, all complete this time. I had only needed to briefly visit a lab twice to help one student import a paper and to help another make a hypertext link. Our time was limited, owing to the brainstorming delay, so our discussion about the project at this point was unfortunately limited too. The students indicated some pleasure at doing this project. A male/female pair hinted at mutual 'trashing' of each other's paper. The remark that 'we should always do this', incidentally coming from one of the shy students, was as telling as the punctual project completion. They felt they had learned something, but December's experience left me wary. 'How would we fall short this time?' I secretly wondered.
The week which passed before looking at the disks stemmed not only from a busy schedule and secret fears. Grading eight comments in each of nine essays was a chore looming out of proportion to the project. Happily, a quick survey of the work revealed satisfying results with clear strengths and weaknesses in the student work. Grading was less complicated than expected. Each essay had already been graded and now, as each short commentary was encountered in a skimming read of the essay, it was rated out of ten, looking for expression, significance and support in equal amounts. The students' classroom comments were borne out by their work. Their several peer commentaries displayed mature reading of each other's work, and helpful writing about it. This time there had not been any sign of emotional stress with regard to the computer and two students even explored and selected 'Scrolling Text' so they could write more than my template placard allowed. The class had made good use of their opportunity and they scored well. This job took a few afternoon hours, just like other small assignment evaluations for small classes after all. A well formed student comment is shown in the two-screen process below in figure 7.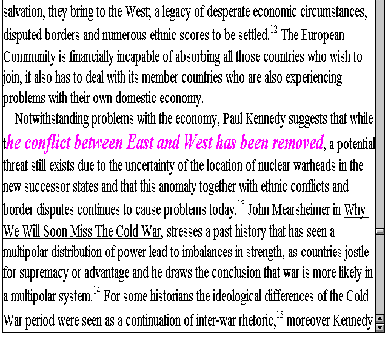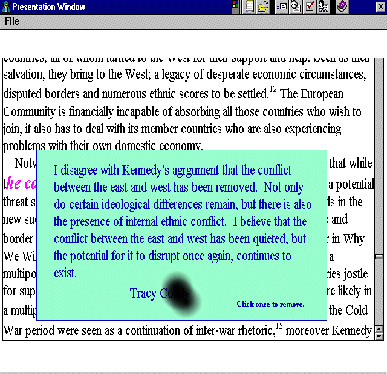 Figure 7.
Highlighted text has been clicked upon to reveal an associated student comment.
Just how much they learned is difficult to say, not only because of the small sample size but also because we did not have time for organized discussion afterward. But I remain encouraged that several written comments were more penetrating and articulate than those which their authors had shared in class. Each student now had a handful of these to take away with them. The students appreciated the exchange of ideas about their ideas. As they trickled into the office to retrieve work prior to exams they volunteered several remarks about the project. One young woman was impressed that the students' comments echoed those of her teachers: 'It got me thinking'. Another lamented that she had been 'working in the dark so long'. There were others. 'I almost feel like redoing my term paper'. 'I'll ask for comments on my home page.
.10. Results and Prospects
This year long process using computers for history teaching at the 2nd year level of university has been highly instructive itself. Computers are "ubiquitous" and networked information is becoming so. Our instructional use of computers is less well developed but it is improving, especially in the conveyance of information. History instructors can take further steps, without disrupting their established routines, to implement computer based history learning in small adjustable steps. A sophisticated, visually appealing data base contrived with good instructional design is a superb devise. While these are nice when they happen, novice computer users may overlook the considerable professional skills they can now blend with the computer in their quest to teach and learn better. We can still tackle our everyday pedagogy and curriculum wherever we judge to be suitable with a mix of advice, planning and imagination. The result will probably be helpful, as near as we can tell, and at least salvageable, as with most teaching. To this end, it is important to keep sight of what a computer signifies as a teaching tool. Neither a blackboard nor a projector contain instructional method. Books and programs may claim to contain method but what they do hold is design. Method resides in the instructor and in students who follow books, digress, or do something else completely. Remembering this, interactive multimedia can be more powerfully interactive than simply involving the student in a task, important as that is. The medium, like any other, can interact with us, with our methods and with our teaching environment.  In this environment we evaluate daily whether our remarks or our restraint help a student, whether a writing exercise is valuable, whether we are really engaging minds in something Good.  The computer medium has crossed an important threshold in sophistication so that the novice, perhaps a professional historian, can engage in new projects with risks and rewards, errors and insights, in line with the rest of our teaching. As with other lessons and methods, the more we try, and build, and share, the better we can get.
.11. Endnotes
1. Accounts of these projects can be found in C. McEachern, "Teaching opinion-making with Authorware Professional", Active Learning, No.3 (CTISS Publications, University of Oxford, Dec.1995), pp. 16-20 and in, "Teaching Historical Reflection with a Hyperlinked Scrapbook", presented to the Canadian Historical Association, Brock University, June, 1996, and published in History Computer Review, Vol. 14, no. 1 (Pittsburg State University, 1998), pp. 17-28.
2. R.G. Collingwood, The Idea of History (Clarendon Press, Oxford, 1946). A superb text introducing readers to Collingwood and other classic writers in this area is Patrick Gardiner's Theories of History (The Free Press, New York, 1959).
3. These include G. Anglin (ed.), Instructional Technology, Past,Present, Future (Librairies Unlimited, Englewood, Colorado) and D. Gayeski (ed.), Multimedia for Learning: Development, Application, Evaluation (Educational Technology Publications, Englwood Cliffs, New Jersey, 1993) and an excellent Canadian guide: R. Schwier and E. Misanchuck, Interactive Multimedia Instruction (Educational Technology Publications, Englwood Cliffs, New Jersey, 1993). Most titles are helpful for a novice trying to organize and many fall short of helping slightly more experienced designers who have worked on a project or two. Schwier and Misanchuck will continue as a handy reference.
4. Seymour Papert, Mindstorms (Basic Books, New York, 1980) and The Children's Machine (1993).
5. History and Computing (Association for History and Computing, Manchester University Press, Manchester). See also History Computer Review (Dept. of History, Pittsburg State University, Pittsburg, Kansas ). The latter focuses on instructional issues including CD reviews. Two other recent books include Daniel Greenstein's A Historian's Guide to Computing (Oxford University Press, Oxford, 1994), and Evan Mawdsley and Thomas Munck's Computing for Historians; an Introductory Guide (Manchester University Press, Manchester, 1993). These focus on computer uses for handling data bases effectively with students in the classroom.
6. Helpful texts here include Lydia Fillingham's Foucault for Beginners (Writers and Readers Publishing Inc., New York, 1993), David Lyon's Postmodernity (University of Minnesota Press, Minneapolis, 1993) and Hans Bertens' The Idea of the Post Modern, A History (Routledge, London, 1995). These discussions lend courage and insight to the task of grappling with the contemporary history teaching environment and furnish a sound basis for newcomers to original texts.