Add to bookbag
Author:

Pauline McCormack

Title:

Virtually History: The Use of On-line Communications in Higher Education

Publication info:

Ann Arbor, MI: MPublishing, University of Michigan Library
April 1999

Availability:

This work is protected by copyright and may be linked to without seeking permission. Permission must be received for subsequent distribution in print or electronically. Please contact mpub-help@umich.edu for more information.

Source:

Virtually History: The Use of On-line Communications in Higher Education
Pauline McCormack

vol. 2, no. 1, April 1999

Article Type:

Article

URL:

http://hdl.handle.net/2027/spo.3310410.0002.105

PDF:

Download full PDF [47kb ]
Virtually History: The Use of On-line Communications in Higher Education
Learning Technology Co-ordinator
Academic Quality Enhancement Unit
University of Newcastle upon Tyne
This paper examines the recent fashion for the promotion of the widespread adoption of technology within teaching, by governments and government appointed task forces. This is attested to by the number of studies on, or incorporating, the future of technology in education which have appeared recently in parallel in different countries throughout the world. It is argued that in these studies, pervasive use of educational technology is being espoused without respect for an underlying pedagogical structure and some of the concerns of educators who are sceptical of this approach are outlined.
The paper examines the potential scope of adoption of computers in teaching and some of the expressed reasons for this. It outlines some of the questions institutions and individuals should be addressing regarding the implementation of technology in education and asks how those of us who are experienced in this area can influence the progression of technology in higher education.
The last eighteen months have seen the use of computers in teaching and the use of computer mediated communication (CMC) burgeon in higher education throughout the world. A number of national reports on education and publicly reported comments by government have highlighted the use of technology at all levels of education as the universal panacea which will ensure our education systems are at the cutting edge, even though this edge is rarely defined in terms of pedagogy.
The last eighteen months have seen the use of computers in teaching and the use of computer mediated communication (CMC) burgeon in higher education throughout the world. A number of national reports on education and publicly reported comments by government have highlighted the use of technology at all levels of education as the universal panacea which will ensure our education systems are at the cutting edge, even though this edge is rarely defined in terms of pedagogy.
The United States, perhaps not surprisingly leads the field in 'technology into education' evangelists. A newly published white paper 'Transformation of Higher Education in the Digital Age' by Coopers and Lybrand  [2] reports from a round table session of 35 senior staff of United States higher education institutions (HEIs). According to the report the simple existence of technology and its widespread use in business should justify major change within education. The report states "In manufacturing, health care, advertising and the airline industries...competitive forces shifted so dramatically that they caused massive, industry-wide restructuring. There are visible signs that competitive forces may soon cause massive, structural change in the higher education industry" [my emphasis]. Of 36 strategic questions that the report recommends HEIs confront as they enter the digital age, it would seem none relate to pedagogy, to pedagogical quality, or indeed directly to learning.
President Bill Clinton has called for "a bridge to the 21st century...where computers are as much a part of the classroom as blackboards," [3] and supports a program of investment in technology in United States schools which could outlay as much as $100 billion dollars over the next five years. This is despite the fact that a number of psychological studies and prominent commentators have questioned the value of technology in education. Sherry Turkle, a lecturer in the sociology of science at Massachusetts Institute of Technology remarks, "the possibilities of using this thing poorly so outweigh the chance of using it well, it makes people like us, who are fundamentally optimistic about computers, very reticent." [4]
Granted, the United States' education system is very different from the set of countries which typically take part in educational debate in 'western' style universities (usually Europe, Scandinavia and the Antipodes) and it is not proposed that what happens in the United States will necessarily happen in other countries but, it is worth noting two points:
the United States is a number of years ahead of Europe in its use of technology in education and,
2. United States culture and technological advances are increasingly influential outside the United States, due to their dominant market position.
That other countries will be influenced in their use of technology in education by the American exemplar must therefore be a distinct possibility. However, there must also be lessons to be learnt from the experiences of United States education -- experiences which may provide a caveat.
The influence of the model of technology as a necessary and positive progression, without an examination of the fundamental implications for students and teachers, has already been seen in the UK. The Prime Minister Tony Blair last year pledged to 'wire up' every British School to the internet and has said that no schoolchild in the UK will be disadvantaged by not having access to a computer. Shortly after the announcement the Prime Minister met with Bill Gates in order to discuss implementation of this plan. This is in spite of the fact that the exact same policies have not succeeded in the United States where evidence is accumulating that high tech classrooms cause more harm than good. [5]
At the same time in the UK, a government task force 'The National Committee of Inquiry in Higher Education' was appointed to make recommendations on how UK higher education should develop. This is a highly influential body, potentially shaping UK Higher Education for the next twenty years. The results, commonly known as the Dearing Report, . [6]were published in 1997 and a number of the endorsements therein address the use of IT in higher education.
Part of the work of the Dearing Committee was to undertake a student survey of attitudes to educational technology and it reports that,"the use of computer-based learning packages is, at present, the least satisfactory mode of learning of those asked about."  [7]
Rather than being interested in investigating why students feel this way, the report sees such attitudes as a challenge facing the implementation of educational technology. It states "this points to the scale of the task facing institutions in integrating computer-based learning packages into their teaching programmes, in training staff in their use, and most particularly in ensuring that students learn effectively from computer-based materials."  [8]
What then is the motivation of a committee who can recognise students' reluctance and resolve to address that reluctance only because the plans to use technology in the students' education will go ahead in any case?
Like many North American universities, the Dearing Committee believes that the introduction of computer mediated communications is the first step towards student acceptance of Information and Communications Technology (ICT). "We believe that, for the majority of students, over the next ten years the delivery of some course materials and much of the organisation and communication of course arrangements will be conducted by computer."  [9]
What is the implication of all these reports and government comments, for the higher education community? It is recognised that the trends highlighted above are less of an immediate worry for higher education than for primary and secondary education. Older students are much better equipped to judge the merits of technology and HEIs generally have better support for technological programs, than do schools. What should be of regard to the higher education community is the promotion of an attitude which acclaims technology as the salvation of an educational establishment. This attitude is displayed in the aforementioned Coopers and Lybrand white paper when they say "...it is our belief that the challenges facing institutions in the digital age are profound, fundamental and interrelated... Above all, these challenges are causing virtually all institutions to fundamentally reshape their business models and to enter a period of significant restructuring." It is an alarming view which states that the so-called digital age should be the dynamic for change within higher education. Rather, technology should be viewed as the servant of educators who are tackling a number of challenges, arguably none of which are connected to technology. Many commentators have noted that what is wrong with education will not be solved by technology, including Steven Jobs, a founder of Apple, who says, "No amount of technology will make a dent... You're not going to solve the problems by putting all knowledge onto CD-ROMS. We can put a Web site in every school - none of this is bad. It's only bad if it lulls us into thinking we're doing something to solve the problem with education."  [10]
Before this paper proceeds the criticisms which are being made regarding the implementation of technology, must be qualified. The use of computers in subject specific teaching, when the pedagogy of the application and its implications for student learning have been examined, can be a positive and progressive move for educators and students. Technology is relevant and useful for students when it fulfils a definite educational need and creates an evocative experience. This paper is concerned with highlighting the arbitrary use and sometimes enforcement of computers in education and especially of CMC, without thought for the bias of technology and the new ways in which students need to approach their learning.
As Oppenheimer notes, enthusiasm for using technology in teaching is not a new phenomenon. In 1922 Thomas Edison claimed that the medium of film "is destined to revolutionize our educational system and...in a few years it will supplant largely, if not entirely, the use of textbooks."  [11] Similar claims were made of the radio in the 1940s and of teaching machines in the 1950s and 1960s, none of which impacted significantly on education, mainly because teachers, for whatever reason, were not interested in employing the new technology.
This time though, the situation would seem to be different and tutors are willing to use technology in their teaching or are at least interested in the potential of doing so. A 1993 study [12] undertaken by the nationally funded project, Teaching with Independent Learning Technologies, surveyed the teaching staff of the University of Glasgow on the use of computers in teaching and published the following figures (from a 65 per cent response rate)
25 per cent of teachers require their students to access on-line course related materials such as skills exercises, databases and analysis tools.
19 per cent provided some computer based learning resources for student use.
65 per cent declared themselves interested in adapting their own teaching material for computer supported presentation.
Why then have our colleagues chosen to embrace technology now, as they haven't in the past? Peter Goodyear of the Centre for Studies in Advanced Learning Technology at Lancaster University gives one view, "...universities are buying and using Information and Communications Technology because it is there and because cognate areas of activity outside academia are buying it. Academic staff are 'knowledge workers' par excellence, and if knowledge workers need a desktop PC and Internet access, then so do academic staff. By extension, so do students."  [13]
The basis of Goodyear's remarks are the results of a survey 'Academic staff in higher education: their experiences and expectations', carried out as part of the Dearing Report. Table 1 below, is taken from the report and shows that, when asked why they were making greater use of multimedia in their teaching, between 40 per cent and 50 per cent of academics said that it was because the technology was available. Fewer than 30 per cent said the main reason was that it would bring benefits to students.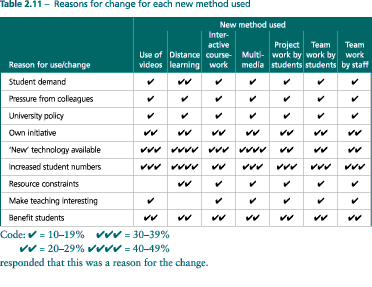 Table 1
Attendant to this are the massive logistical problems which are arising due to the unprecedented recent growth in student numbers and indeed this comes second on the table referred to. In the United States this is due to a large population segment, the 'echo boomers' being the next wave of students to enter higher education. In the UK it is due to government policy which saw higher education double student intake between 1992 and 1996, without additional resources to match. The University of Glasgow for example, in 1987/88 admitted 59 undergraduates studying for a degree in History -- this year that figure is around 140. Such numbers are scoffed at by our colleagues in the social science faculty where some first year courses, for example psychology, attract around 1,000 students.
One of the main reasons why our peers are embracing CMC in particular, is because institutions do not have sufficient budgets to arrange worthwhile face to face seminars and tutorials with students, be these one to one or small group tuition. The majority of HE practitioners are turning to technology in order to survive and HEIs should not fool themselves with the romantic notion that the global implementation of technology will dramatically increase the learning potential of students.
How then can this trend be arrested or at least re-routed? If educators are to continue to utilise technology in education, but for positive reasons and beneficial ends, what is to be done? Firstly, University administration need to adopt institution wide, bottom up, IT policies which take into account the fact that students respond and interact differently with computers than they do in face to face contact. Goodyear notes that in the UK, "as yet, only a minority of universities have an overarching ICT strategy which firmly links ICT investment to institutional goals."  [14]
The decision to adopt new technologies on a large scale is not a trivial one for an organisation. It requires long term survival as the criteria, rather than short-term profitability. Universities need to develop networks of skilled staff aware of the potential of new technology and to consult these staff when building an IT strategy. Institutions and individual teachers should be asking what the educational purpose is of each particular implementation of technology, for teaching and for course administration. Christine Spratt of the Centre for Academic Development at Deakin University, Australia presents a pertinent set of questions:
"Has the expansion of online technologies meant that academic work and our traditional experience of the work of the University is fundamentally altered?
How does a technology such as FirstCLass (computer conferencing) for example, reconfigure the notion of interactivity in learning?
How will the academic who has spent her career giving lectures to 150 students at a time and supporting that with repetitive tutorials come to terms with the use of online conferencing ?
How will new academics appointed on the basis of their expertise in their discipline, come to know about effective pedagogy using online technologies?
What are the commitments that University Executives must make to prepare academics to work effectively in these new environments?"  [15]
The breadth and depth of these questions highlights how complex and interrelated the issues are which pertain to the use of technology in education. The need now is for a model or structure through which we can examine these questions and their relevance for each individual situation. "If the teacher understands how the use of computers fits into the symbolic environment (culture, language, the thought process), they'll be clearer about the different decisions that need to be made in directing the educational process and what the educative effects of their decisions will be."  [16]
We need to interact with colleagues whose work we may have traditionally seen as unrelated to ours and we need to pool intellectual resources with these colleagues. Educationalists, psychologists, computing scientists and historians need to work together in order to undertake evaluation, to formalise our tacit knowledge and to critique our professional practice. There is a need to develop models that will allow this knowledge to be passed on. We should also be seeking to influence central administration as regards the implementation of technology into education, and administration should recognise that much good work has already been done on this subject and that any central ICT policy should be informed from the bottom up.
We must give credence to the view that says "good teaching involves more than the distribution of information. It also requires a human touch, a knack, possible only in live interaction, to do such things as inspire, spark thought, sense confusion and find a new way to explain complex matters." [17] We should be seeking to work with technology that supports this, rather than technology that ignores it.
It is important too, that we give voice to and debate with our colleagues who are reluctant users of technology, rather than allowing them to be branded Luddites or obscurantists. We are without doubt entering a digital age and it is unthinkable that University students should not have access to the most up-to-date technology, but we need to enter that digital age determined that technology will be our servant rather than our overseer. A number of commentators have pointed out that in the next few years, technology will present unparalleled opportunities to change the way in which students learn. I am more concerned that we exploit those opportunities in order to improve the way in which students learn and that this, and not the simple existence of glitzy technology, should be our axiom.
Notes
Please note that the numerals below are anchors which will return the reader to the appropriate point in the text.
1.
[ Healey,J.,
Endangered Minds, quoted in
Oppenheimer, T.
The Computer Delusion, Atlantic Monthly
July 1997, p. 53]
2.
[ Coopers and Lybrand,
Transformation of Higher Education in the Digital Age. http://www.pwcglobal.com/extweb/newcojou.nsf/docidindustry/FB7890836B0520518525664E00721748?opendocument
]
3.
[Oppenheimer, T.
The Computer Delusion, Atlantic Monthly
July 1997, p. 45]
4.
[Oppenheimer, p. 46]
5.
[Oppenheimer, p. 52-4]
6.
[Dearing, R. et al.,
National Committee of Inquiry into Higher Education, 1997: http://www.leeds.ac.uk/educol/ncihe/
]
7.
[Dearing et al. op. cit.]
8.
[Dearing et al. op. cit.]
9.
[Dearing et al. op. cit.]
10.
[Oppenheimer, p. 62]
11.
[Oppenheimer, p. 45]
12.
[Shaw, R. ed.,
Using Learning Technologies : Interim Conclusions from the TILT Project,
1995, p. 5]
13.
[Goodyear, P.,
New technology in higher education: understanding the innovation process, 1998,
http://www.lancs.ac.uk/Staff/erapmg/personal/new.htm
]
14.
[Goodyear, op. cit.]
15.
[Spratt, Christine.
Network Learner Support Forum e-mail discussion list,
http://www.mailbase.ac.uk/lists/nls-forum/archive.html
- Jan 1998 onwards]
16.
[ Bowers, C. A. The Cultural Dimensions of Educational Computing: Understanding the non-neutrality of technology, 1988, p. 4]
17.
[Noble, David.
Digital Diploma Mills: the Automation of Higher Education 1997.
It is worth noting that this paper gave rise to an entire conference in the USA in April 1998. An overview of the conference and a link to the paper itself at:
http://www2.hmc.edu/~tbeckman/essays/digital.html
. Bibliography]
RESOURCES
Bowers, C A, The Cultural Dimensions of Educational Computing: Understanding the non-neutrality of technology, Teachers College Press, 1988
Coopers and Lybrand, Transformation of Higher Education in the Digital Age http://www.pwcglobal.com/extweb/newcojou.nsf/docidindustry/FB7890836B0520518525664E00721748?opendocument
Dearing, R et al, National Committee of Inquiry into Higher Education, 1997 http://www.leeds.ac.uk/educol/ncihe/
Draper, Steve W et al, Observing and Measuring the Performance of Educational Technology, TILT Report, University of Glasgow, 1994
Ellis, Allan B, The Use and Misuse of Computers in Education, McGraw-Hill, 1974
Goodyear, Peter, New technology in higher education: understanding the innovation process, 1998, http://www.lancs.ac.uk/Staff/erapmg/personal/new.htm
Laurillard, Diana, Rethinking University Teaching: A Framework for the Effective Use of Educational Technology, Routledge, 1993
Liu, Alan, Palinurus Web Site: The Academy and the Corporation: Teaching the Humanities in a Restructured World.http://humanitas.ucsb.edu/liu/palinurus/index2.html
Noble, David, Digital Diploma Mills: the Automation of Higher Education, First Monday, Vol 3 No 1, 1997, http://firstmonday.dk/issues/issue3_1/noble/
Oppenheimer, Todd, The Computer Delusion, Atlantic Monthly July 1997
Oppeheimer, Todd, All wired up. Now I can be as thick as an American, The Observer, 5 October 1997, p25
SHARP Project Team, Shareable Representations of Practice: An introduction to the SHARP project, Lancaster University, Lancaster, 1998
Shaw, Robin ed, Using Learning Technologies : Interim Conclusions from the TILT Project, 1995
Tiffin, John, In Search of the Virtual Class, Education in an Information Society, Routledge, 1995