The Global Controversy 
over Pussy Riot: An Anti-Putin Women's Protest Group in Moscow

Skip other details (including permanent urls, DOI, citation information)
International Institute Journal
This work is licensed under a Creative Commons Attribution-NonCommercial-NoDerivatives 3.0 License. Please contact mpub-help@umich.edu to use this work in a way not covered by the license. :
For more information, read Michigan Publishing's access and usage policy.
On February 21, 2012 a group of young women in the Russian punk band called Pussy Riot (PR), with colorful stockings pulled over their heads, staged an impromptu performance at the altar of Moscow's Christ the Savior Cathedral. Their show was far from orthodox by punk standards: they were lip synching, they didn't break or burn anything, and they were wearing dresses that could only be described as, well, pretty. The band was arrested after the performance, and the ordeal of the three jailed band members has drawn worldwide attention to the incident and to the social injustices they sang about in their "punk prayer" in which they yelled for the Virgin Mary to chase away Putin. After nearly half a year on trial, the three women who were taken into custody: Maria Alyokhina, 24; Yekaterina Samutsevich, 30; and Nadezhda Tolokonnikova, 23, were sentenced by Russia's Superior Court on August 17th to two years in prison for "hooliganism motivated by religious hatred." Prosecuting lawyers had pushed for three years. They could have gotten seven.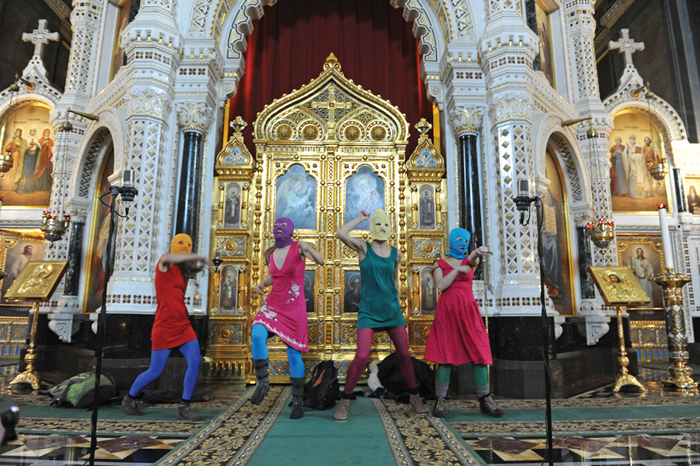 Masked members of Pussy Riot feminist punk group perform during their flashmob-style protest inside Moscow's Cathedral of Christ the Savior on February 21, 2012.Photo ITAR-TASS/ Mitya Aleshkovsky.
The trial has captured the attention of celebrities and musicians across the globe who have spoken out against the three women's imprisonment, including Paul McCartney, Bjork, and Peter Gabriel. 
Even Madonna has shown her support by painting the group's name on her bare back during a concert. Human rights groups like Amnesty International and several key politicians, including Angela Merkel, have spoken out against the sentence. Over 200 prominent Russian cultural figures have signed a letter expressing outrage over the trial, and over 41,000 citizens have added their signatures to the list. On September 12 Prime Minister Dmitry Medvedev, while condemning the concert, publicly announced he thought the women should be released. On Wednesday, October 10, the Moscow court freed Yekaterina Samutsevich on appeal. The two-year sentences for Tolokonnikova and Alyokhina are being upheld. On October 22 the two detained members announced on Twitter they would be sent to labor camps to serve out their terms: Tolokonnikova to Mordovia and Alyokhina to Perm—two of the harshest penal colonies in Russia. Last month Tolokonnikova's husband and daughter traveled to Washington DC to lobby Congress to recognize the trial's human rights abuses. International observers continue their support. In November, Russian and British authors and artists will convene in London's Royal Court Theatre to respond to the trial in art and global discussion.
There is something going on here that is bigger than the band's anti-Putinism. The incident reflects the tensions of a generation fed up with the inequality, decadence, and instability of the 1990s in Russia. Some of the ideas these women are expressing resonate with the current economic zeitgeist in the west in unprecedented ways. PR is only one group in a broader confrontation with church and state that spans the postcommunist region in public performances characterized by irony and satire.
Activism in the Putin Era
Strains of last year's Arab Spring and the Occupy Movement make much of this sound familiar. Indeed, The Guardian and the New York Times have indexed Pussy Riot by both of these movements. The turnout of hundreds of supporters on Times Square during the reading of the verdict attests to the viability of such comparisons. Rewind for a moment to Russia under Yeltsin and Gorbachev and one recalls an era of relative tolerance for political demonstrations when compared with Putin's first term. Shortly after his inauguration, Putin's crackdown on the press shifted the legacies of Glasnost into a new epoch marked by tight controls on social liberties. These changes were tracked based on the rhetorical measuring stick of "civil society," as defined by western monitoring groups and NGOs working throughout Russia's private sectors in the 1990s. Journalist and senior associate at the Carnegie Endowment for International Peace, Lilia Shevtsova, noted in 2007: "Independent Russian observers (and there are still quite a few of them) writing on Internet sites predict that the actions of the authorities sooner or later will provoke the young to take to the streets. They will do this to demonstrate their disagreement with the Kremlin's desire to keep them under control, herding them into government-sponsored organizations" (Russia: Lost in Transition: The Yeltsin and Putin Legacies). These predictions came to pass during Putin's first round as president, on the heels of the youth-led Orange Revolution in nearby Ukraine, and the gas imbroglio that followed when Putin shut off supplies heading to Europe, and tightened visa regulations in Russia citing fears about western spies infiltrating the borders.
Six years later, Shevtsova's observations still apply. The mass demonstrations against ballot-rigging in the Duma in December 2011 and the outcries against Putin's re-election this year seem to confirm the "era of street protests" she had predicted. Though Putin is less closed-off to the west today than he was in his earlier terms (he has since lowered visa restrictions), his new reign comes with a new set of challenges. Putin's actions in lashing out at antigovernment protestors contradict his outward emphasis on modernization and pluralism, further belying an effort to consolidate his base in social conservatism.
What makes PR unique in the context of postcommunism is not only that they are women demanding visibility, but also that they are the cultural vanguard of a generation with little to no memory of communism. Which begs the question—what goes into remembering communism and how do we decipher that memory? Russia today is far from the grey mash-up of bleak apartment blocs and bread lines some may have imagined it to be—even during the postwar years there were robust cultural scenes throughout Russia's cities.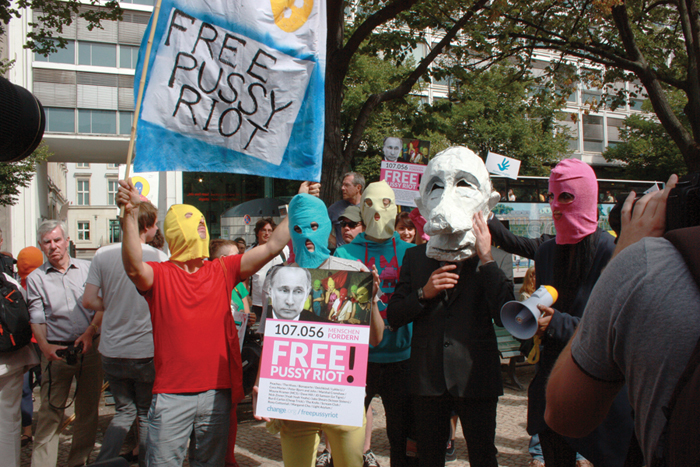 The imprisonment of three Pussy Riot band members sparked world-wide protests against the Putin regime, like this one held in Berlin on August 7, 2012. Photo by Grüne Bundestagsfraktion via Wikimedia Commons.
A Postcommunist Feminist Critique
When asked about their formation in September 2011 during Putin's run for candidacy, one member of the band replied: "We realized this country needs a militant, punk-feminist, street band that will rip though Moscow's streets and squares, mobilize public energy against the evil crooks of the Putinist junta and enrich the Russian cultural and political opposition with themes that are important to us: gender and LGBT rights, problems of masculine conformity, absence of a daring political message on the musical and art scenes, and the domination of males in all areas of public discourse" (VICE Magazine, 2012), The women of PR bring a solid intellectual feminist critique to their performance art. Alekhina is a journalism student with a proclivity for creative writing and environmentalism; Tolokonnikova is a student of philosophy; and Samutsevich has a degree in computer programming. And there are more of them—the structure of the band is based on anonymous participation by rotating members. Two other women were involved in the Christ the Cathedral performance, but managed to flee Russia unidentified.
PR's emphasis on anonymity blends the absurdist street shows, or happenings, in Poland in the 1980s (where random passersby could don an orange elf hat and baffle the authorities by pantomiming the regime in ironic street carnivals) with the rapid global dissemination of information in the digital age. Many of the feminist thinkers that the band members cite in interviews come out of poststructuralist traditions, including de Beauvoir, Dworkin, Millett, Braidotti, and Judith Butler, who wrote that, "Clearly, there are political acts which are deliberate and instrumental actions of political organizing, resistance collective intervention with the broad aim of instating a more just set of social and political relations. There are thus acts which are done in the name of women, and then there are acts in and of themselves, apart from any instrumental consequence, that challenge the category of women itself" ("Performative Acts and Gender Constitution: An Essay in Phenomenology and Feminist Theory," Theatre Journal 40, no. 4 (December 1988): 519–531.) PR's prayer is a gauntlet for leaders of the next decade to reevaluate an openness to how women want to define themselves. Like Britain's early punks in their refusal to embrace the mainstream masculinities handed to them in racist and classist terms, by targeting the Orthodox Patriarch, PR deliberately attacked the core of Russian femininity by framing it as a narrowly constructed ideal. 

In effect, their act has divided Russians between those who support their sentence and those who do not. Surprisingly, the divide does not map neatly across religious and nonreligious citizens. Some of Russia's minor clergy have denounced the sentence, while others outside the church who do support it criticize the group for being childish rather than immoral. This divide is reminiscent of the Ukrainian protest group Femen who have also used religious symbols in their street performances. They, too, have been criticized for their radicalism. Pussy Riot has noted Femen in interviews: "One day they are in Switzerland scaling the fence of the World Economic Forum and the next day they are in Moscow attacking the HQ of Russia's biggest Natural Gas producer" (VICE Magazine, August 27, 2012). Femen publicized their support for PR by cutting down a large wooden cross in downtown Kyiv and has vowed on their blog that they will continue to cut down crosses in towns throughout Ukraine until the women are released. Feminist scholars working transnationally over the past twenty years have pointed out that there is much to be learned from the postcommunist context, especially in thinking about how class and gender intersect.
Elena Gapova, scholar and founder of the Centre for Gender Studies in Minsk in 1997, recently gave a talk entitled "Pussy Riot: Feminist Protest or Class Struggle?" on a panel called The Pussy Riot Affair: The Prank Heard 'Round the World (hosted by CREES/WCED). The discussion also featured U-M visiting law professor Ekaterina Mishina and U-M professor of art, design, and theatre, Holly Hughes. Adding to those conversations, what might be most interesting about groups like Pussy Riot and Femen is the exigency and variation, not to mention creativity, with which they revisit the past and interpret power. In an article in the journal Art Aktivist Russian critic Tatiana Artimovich compares PR to the 1990s Moscow Actionists Oleg Kulik, E.T.I. and Oleg Mavromati. She calls PR's punk prayer indispensable for instantiating the debate on the interpenetration of art and politics in contemporary Russia.

About the Author
Jessica Zychowicz is a PhD candidate in the Department of Slavic Languages and Literature, and a CREES affiliate. Her dissertation is on women artists and activists in contemporary Ukraine. She has published in the Anthropology of East Europe Review and is a Community of Scholars Fellow at U-M's Institute for Research on Women and Gender. 
The CREES-sponsored panel on the Pussy Riot affair was part of the series Pluralism in Politics and Culture that examines the foundations of free and open societies. The series focuses on multiple facets of political pluralism, including its legal, cultural, and economic dimensions, to explore them in a broader historical context.
Top of page