International Internship: Soroptimist International of Europe

Skip other details (including permanent urls, DOI, citation information)
International Institute Journal
This work is licensed under a Creative Commons Attribution-NonCommercial-NoDerivatives 3.0 License. Please contact mpub-help@umich.edu to use this work in a way not covered by the license. :
For more information, read Michigan Publishing's access and usage policy.
This summer I had the opportunity to complete a two-month internship with an international non-governmental organization (NGO) in Switzerland, Soroptimist International of Europe. Soroptimist International is a network of professional women with 90,000 members in 124 countries. Their projects aim to empower women, provide universal access to clean water and sanitation, and protect human rights worldwide. Their efforts range from disaster relief to well building to educating women and girls. My work as an intern included writing the federation's monthly newsletter, translating project proposals from French to English, and researching issues relating to women.
Because Soroptimist International members are located across the globe, keeping members informed is integral in the club's success. The European federation headquarters uses the monthly programme news as a means of coordinating international initiatives, highlighting successful projects, and disseminating critical information. The monthly newsletter is used to keep members informed on human rights resources and recent women's rights stories. My role included researching women's issues, development, and human rights concerns. I provided information for members about available resources on the web, ideas for new initiatives, and how to find human rights projects to fund.
Maternal Health and Access to Services
I also researched global issues like maternal health and access to clean water and sanitation. Improving access to water benefits entire communities, but presents an even bigger advantage for women and girls in developing countries. Without the time-consuming and strenuous burden of collecting water from far off sources, more girls can stay in school, and women have more time for income-generating activities.
Maternal health is an important indicator of a country's level of development. It is also one of the areas with the greatest disparity between developed and developing countries. Over 90 percent of maternal deaths occur in developing countries, and mothers in these countries face complications that have been completely eradicated in the developed world. Improving maternal health requires providing healthcare facilities, resources, education, and trained professionals. Mobile clinics, safe abortion providers, skilled birth attendants, knowledge of the dangers of pregnancy, and access to contraception are all key components in preventing maternal death. While providing these services is daunting for struggling or developing countries, these goals have been fully realized in many of the world's developed nations.
The Soroptimist newsletter also highlights the role of the U.N. in protecting women and children across the globe. As a NGO with consultative status, Soroptimist International is able to influence the U.N.'s human rights agenda, making up-to-date information vital to the club's efficacy. In addition to reports on human rights developments, international observances also feature prominently in the programme news. Significant days of observance, like World Population Day, International Humanitarian Day, and the International Day for Rural Women, are celebrated across the world, and Soroptimist Headquarters shares information about these events to promote opportunities for people to become informed on important issues discussed at these celebrations.
U.N. in Action
In addition to providing coverage on the U.N. in the monthly programme news, during my internship I was also able to attend a U.N. conference as an observer from a NGO. I attended the U.N.'s hearings on the Rights of the Child in Cuba, Finland, and Costa Rica. This was an invaluable opportunity to see the U.N. in action; instead of reading news reports or other NGO's publications, I could hear the committee's concerns firsthand. This conference was extremely informative on children's rights. The United States is one of the two countries in the world not party to the Convention on the Rights of the Child. Other countries take extensive measures to ensure that children and their rights are protected and honored. The committee's concerns covered a variety of spheres from imprisonment of children to the number of mothers educated on the importance of breastfeeding to children's access to the internet. Through my attendance at this conference and the research presented by both the country's commission and the special rapporteurs, I was able to write a report on children's rights in Cuba, Finland, and Costa Rica for Soroptimists.
Utilizing Language Skills in a Professional Context
Another valuable aspect of this internship was the chance to use my knowledge of French in a professional setting. I have studied French since middle school and am pursuing a major in French language and literature, but I was anxious to see how my knowledge could be applied in a professional context. In working on project proposals from African countries I found that I could understand the majority of the writing, but lacked the proper vocabulary to translate without assistance. The translation process for project proposals is particularly important for a project's funding. Though Soroptimist International of Europe (SI/E) and Soroptimist International of the Americas (SIA) are separate entities, they often collaborate on funding and supervising large projects. While this collaboration is generally positive, language barriers do arise. The SI/E office conducts business in English and French and SIA uses English and Spanish. My translation work ensured that deserving projects were not excluded from funding simply because of the language they were written in. This was a special opportunity to put my language training to practical use and help the NGO achieve its goals.
I am very grateful to the Center for International and Comparative Studies, the Michigan International Internship Program, the Center for International Business Education, and the Romance Language and Literature Department at Michigan for helping me plan and fund this internship. This has been a formative experience for me both personally and professionally. I plan to explore options for a career with an international NGO or the U.N., working on women's issues in development.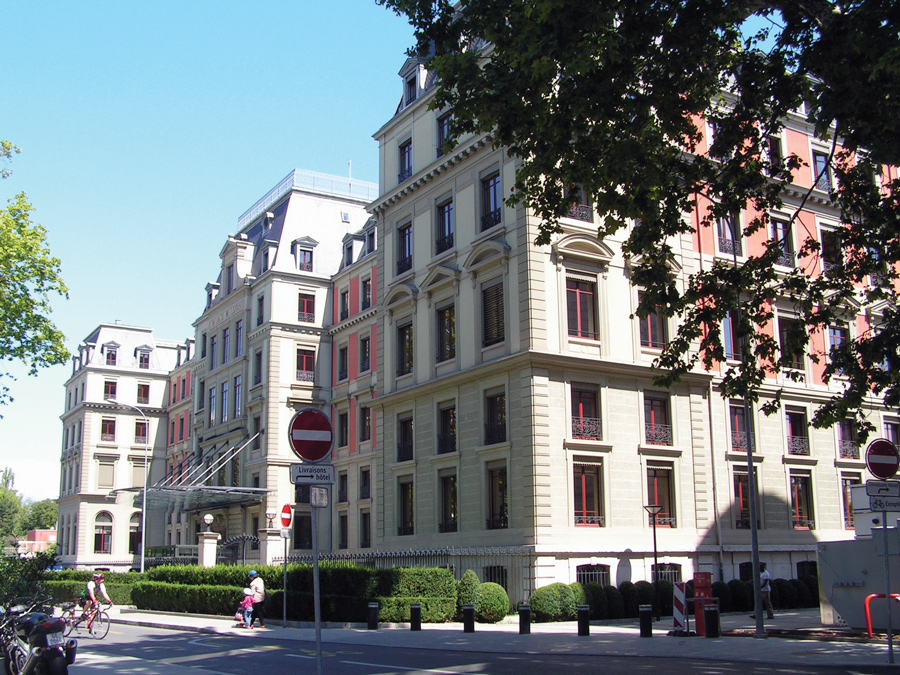 Figure 1.
Palais Wilson, named after American President Woodrow Wilson, is the headquarters of the Office of the United Nations High Commissioner on Human Rights. Every year hundreds of conferences, including the Convention on the Rights of the Child, take place in this building.
About the Author
Rachael Hancock is currently at junior at the University of Michigan majoring in international studies and French language and literature.  After completing this internship in Geneva, Switzerland she will study abroad in Dakar, Senegal for the winter semester of 2012. She hopes this opportunity will build upon both her education at the university and her previous experiences abroad. After graduation Rachael plans to attend law school where she will specialize in human rights.
Top of page