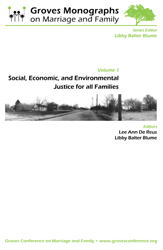 Social, Economic, and Environmental Justice for All Families
Skip other details (including permanent urls, DOI, citation information)
: Ann Arbor, MI: Michigan Publishing, University of Michigan Library, 2011.
Permissions: This work is licensed under a Creative Commons Attribution-NonCommercial-NoDerivatives 3.0 License. Please contact mpub-help@umich.edu to use this work in a way not covered by the license.
For more information, read Michigan Publishing's access and usage policy.
Page  173
Chapter 10: Engaging, Claiming, and Changing White Privilege: Educational Practices for Teaching and Learning about Intersectionalities
Interdisciplinary feminist family scholars have shown that the most effective practices for deconstructing privilege and promoting social change emerge from our own lives, classrooms, and scholarship. These activities provide opportunities to define and create new meanings for our teaching, research, and community building on issues that make a difference in our lives and the people we care about. They allow us to delve into vulnerable experiences and critical social analysis with courage and creativity (Allen, Lloyd, & Few, 2009; Blaisure & Koivunen, 2003; De Reus, Few, & Blume, 2005).
As instructors in college classrooms with relatively privileged students, the concept of privilege in general and White privilege in particular may be foreign and thus met with defensiveness and resistance. Instructors face the dilemma of introducing this concept in an academic context while also managing and negotiating the tensions that arise when students' core beliefs are challenged and Page  174 threatened. Educators confront many questions: How do we teach about privilege so that our lessons penetrate the defenses that have been built up over years of socialization and reinforced through social institutions? How do we teach about privilege if we do not feel grounded in this interdisciplinary literature or limited in our own experience and understanding? Why should we even open the Pandora's box of privilege when we only have a class session or two to address it? Who among us has not had the experience of writing words such as "sexism," "racism," "heterosexism," "classism," or "White privilege" on the board and being confronted by a barrage of student questions and comments, often hostile, about how you are perpetuating this problem by even mentioning it—that you are being biased, or that prejudice, oppression, and inequality do not exist anymore? How do you get past student resistance and enable them to consider the concept of privilege—intellectually and within their own ways of thinking, feeling, and acting?
Certainly, these are questions that have challenged feminist instructors with the aim of incorporating critical consciousness and social change into the curriculum and infuse new perspectives on gender, race, class, sexual orientation, age, national heritage, and global perspectives (Culley & Portuges, 1985; Fisher, 1994; Maher & Tetreault, 1994). The challenges do not disappear simply because we have made progress in curricular and knowledge transformation. Although we may teach from feminist perspectives, social institutions are controlling forces and new cohorts of students, socialized in the isms, (e.g., sexism, racism, heterosexism), come along fresh each year. At the same time, the concept of "whiteness" has emerged to expose how White supremacy in theory and practice continues to dominate relationships across races (hooks, 1994). Whiteness and White privilege serve as pointed critiques of majority group members' collusion in maintaining social inequality, by "perpetuating a racialized society" (Blume & De Reus, 2009, p. 214), making teaching about difference, inclusion, inequality, and social change ever more complex and controversial, yet, from our perspective, necessary.
In this paper, we define and describe White privilege, discussing ways for teachers and students in the particular context of family Page  175 studies to reflect on and resist the effects of privilege based on social inequality. The work of confronting, understanding, and making conscious White privilege has developed beyond the conceptual realm and into practical solutions for social change (Blume & De Reus, 2009; Frankenberg, 1993). Yet ongoing and new challenges continue to emerge as a deepening consciousness develops among those (e.g., teachers, activists) who facilitate this work and as the effort to deconstruct White privilege is present at the beginning of contact with each audience (e.g., students, community members). It is clear that the intellectual exercise of classroom theorizing or the activity of taking field trips to observe "others" in their home environments is not enough to penetrate the thick skin of White privilege. Nor is it enough for scholars to critique experiential activities based on outdated notions of standpoint feminism (see Patai, 2007) that are designed to introduce students to concepts of privilege and institutional control without offering alternative practices. The problem of privilege is so embedded in psyches and institutions that it requires more than academic argument to confront. Feminist activism must be brought into the classroom in creative ways (Fisher, 1994).
Thus, we present an analysis of this problem as well as educational exercises adaptable for various groups to help participants break free of categorical perceptions of self versus other. Strategic exercises are one way to open a window for learners to reflect upon the contradictions they face in their own lives and the ways in which they do and do not experience privilege. By participating in such exercises, they have a relatively safe opportunity to literally change their positions and thus their minds, which can lead to new possibilities for action. Further, we address the need for more conscious infusion of critical engagement with diverse communities of students in service-learning experiences in order to be moved beyond a surface understanding that does little to awaken their perception of collusion and challenge them to confront their resistance or passivity. We also discuss the importance of educational strategies for developing learners own understanding in order to create more effective interventions for practice.
Top of page