Latest Issue: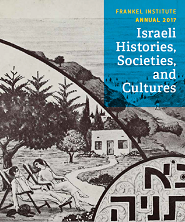 About the Frankel Institute for Advanced Judaic Studies
The Jean & Samuel Frankel Center for Judaic Studies is a leader in Jewish studies, with faculty from top-tier departments throughout the University of Michigan offering an interdisciplinary curriculum.
Under the umbrella of the Frankel Center, the Frankel Institute for Advanced Judaic Studies was established in 2008 through a generous financial contribution from the Jean & Samuel Frankel Jewish Heritage Foundation. Each year, the Institute provides annual fellowships for scholars and artists from around the world to conduct research in relation to a given theme.
The Frankel Institute is committed to interdisciplinary, multilingual work spanning ancient times through the contemporary era. By combining intellectual autonomy with the ideal of a scholarly community, it aims to offer global leadership in Jewish Studies.
Each year, visiting Institute scholars contribute an essay on their research to the Institute Annual. This publication is now made available online for your convenience.
Contact
The Jean & Samuel Frankel Center for Judaic Studies
The Jean & Samuel Frankel Institute for Advanced Judaic Studies
202 South Thayer Street, Suite 2111
Ann Arbor, MI 48104
734.763.9047
www.lsa.umich.edu/judaic
e-mail: judaicstudies@umich.edu
Top of page