Uncontained Pomposity, or Masculinity in The West Wing

Skip other details (including permanent urls, DOI, citation information)
This work is licensed under a Creative Commons Attribution-NonCommercial-NoDerivatives 4.0 International License. Please contact mpub-help@umich.edu to use this work in a way not covered by the license. :
For more information, read Michigan Publishing's access and usage policy.
Possibly the most striking thing about re-watching The West Wing all these decades later is the soundtrack. Not all the steadicam shots, which after all, I was prepared for. No, it was the stirring music in the opening, the theme, and above all the constant talking. If television abhors a vacuum - darkness, the blank screen, the absence of an image, then The West Wing abhors silence. Aaron Sorkin's characters chattiness stems from a sense of self-importance that manifests as self-aggrandization. Everything every character does is important, urgent, serious, and world-changing, even as the recurring motif is that there is always more work to be done. It's the White House as Aegean stables.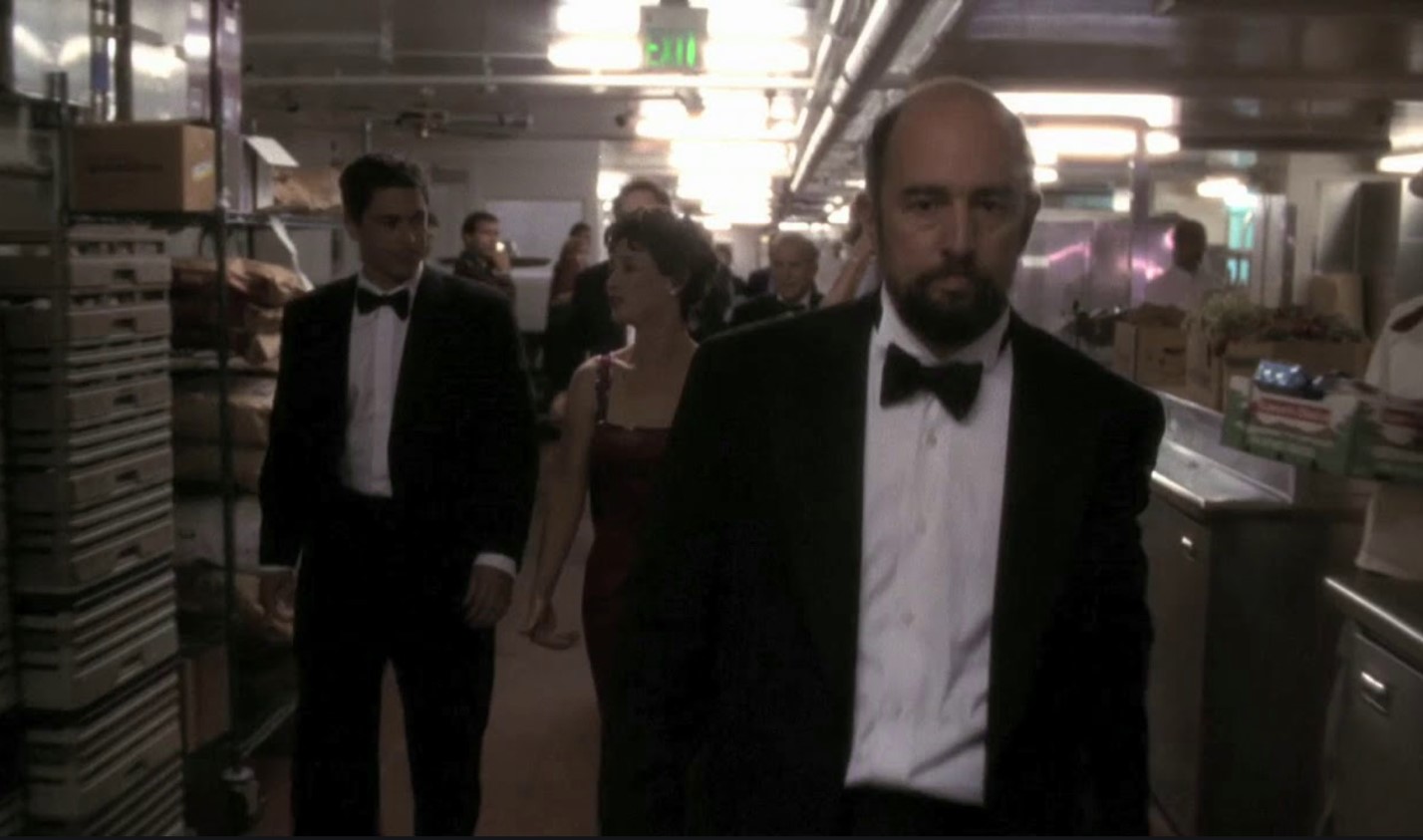 Toby Ziegler (Richard Schiff), Mandy Hampton (Moira Kelly), and Sam Seaborn (Rob Lowe) during the famous three-minute Steadicam shot through the ballroom, kitchen, and garage of the Biltmore Hotel. The West Wing Season 1, episode 4 "Five Votes Down" originally aired NBC October 13, 1999.
At first, I thought I was simply experiencing a kind of culture shock that results from watching a twenty-year-old show. Perhaps I was too used to the brooding silences of Don Draper or the broken men of True Detective. But even in this so-called platinum age of television, we still have loquacious shows like The Marvelous Mrs. Maisel or, in another vein, the painful expository dialogue of Game of Thrones. On the other hand, even The Wire, a show that literally hinged on what people said out loud, used silence effectively to ask its viewers to pay attention, to interpret, to think.
Each episode of The West Wing is like a top-notch table-read, but with walking down corridors. Out of all of Sorkin's verbose Steadicam followers, only President Jebediah Bartlett has a backstory or even memories.[1] The upshot is that the characters have no inner lives, they are simply mouthpieces (The Newsroom suffered from similar issues). Everything is surface and explicit and said out loud. As a result, the most interesting characters are those who remain silent. It may have been that Sorkin and executive producer Thomas Schlamme did not trust actors to actually act, and therefore decided that someone must always be talking. But it is not true that thought is difficult to portray visually. Across the Atlantic, while The West Wing was airing on NBC, the ITV series Foyle's War featured a taciturn Michael Kitchen putting on an acting clinic, portraying contemplation and thinking simply by looking down or biting the inside of his cheek. Even on other NBC shows, like Law & Order, the cast was allowed to hesitate before speaking. And the soapy dramatics of E.R. would have been nothing without shots of silent patients, nurses, and doctors.
The constant verbal explication of The West Wing functions as a kind of hyper-exposition and is a style more common to programs associated with femininity and female characters, such as Amy Sherman-Palladino's contemporaneous Gilmore Girls or, in another way, Sex and the City (I suppose I should be grateful Sorkin did not revert to voice-overs). Some might argue that this style is endemic to network television, in which programs are crafted to make sure their audience always knows what is happening, whether they are concentrating, distracted, or in the next room grabbing another piece of pizza. Network television genres thought of as feminized - talk shows, soap operas - are notoriously chatty and talkative. Indeed, if one were to reimagine The West Wing with a primarily female cast (Stockard Channing as President, Allison Janney as Chief of Staff, Janel Maloney as Communications Director, and Rob Lowe as Oval Office Secretary), it would be accused of being a sexist show clumsily disguised as a feminist one. In the heteronormative gender politics of late Twentieth Century America, it is the woman who is unrestrained, hysterical, anxious, who must always share her inner life and thoughts, who must know others inner emotional landscape, and who must receive pledges of allegiance, fidelity, and love. The man, on the other hand, is thoughtful, contained, and restrained; has difficulty sharing thoughts (much less emotions) and won't say a word for fear of being held to it.
Instead, Sorkin's male characters are chatty and talkative, performing a pompous masculinity in which men proclaim out loud their intellectual superiority, their wit and cleverness, and thus, their place on the grand stage of geopolitics. Crucially, this allows each character to have their chance to "pwn" their adversaries with a Sorkin "perfect response" (to borrow from our current social media lexicon).[2] The show turned stoic masculinity on its head and set the stage for "the weird masculinity of Donald Trump," in which Trump manages to mix archaic misogyny and bullying with "florid emotionality" and "histrionics" to project manliness and leadership.[3] Trump demands pledges of fealty, fidelity, and love, which the strong, silent type of a (thankfully) bygone masculinity would find bewildering and offensive, especially coming from a man. This aggrieved, complaining, pouting, and needy masculinity seems a far cry from the powerful anger some might think should be attributed to a strong masculine leader. But as Susan Buck-Morss has pointed out, at least one 20th Century dictator combined a semblance of the strong man with wounded disadvantage; connecting with the crowds that showered him with adulation by communicating fear and suffering in his gestures and facial expressions.[4] The verbal effluence of Sorkin's characters portray exactly this kind of powerful man: someone who is always right but always under siege, a glorious fighter who is also an unfairly treated victim.[5]
President Jebediah Bartlett (Martin Sheen) delivers a "perfect response" to conservative Christian Evangelists Al Cladwell (F. William Parker) and Mary Marsh (Annie Corley). The West Wing Season 1, episode 1 "Pilot" originally aired NBC September 22, 1999.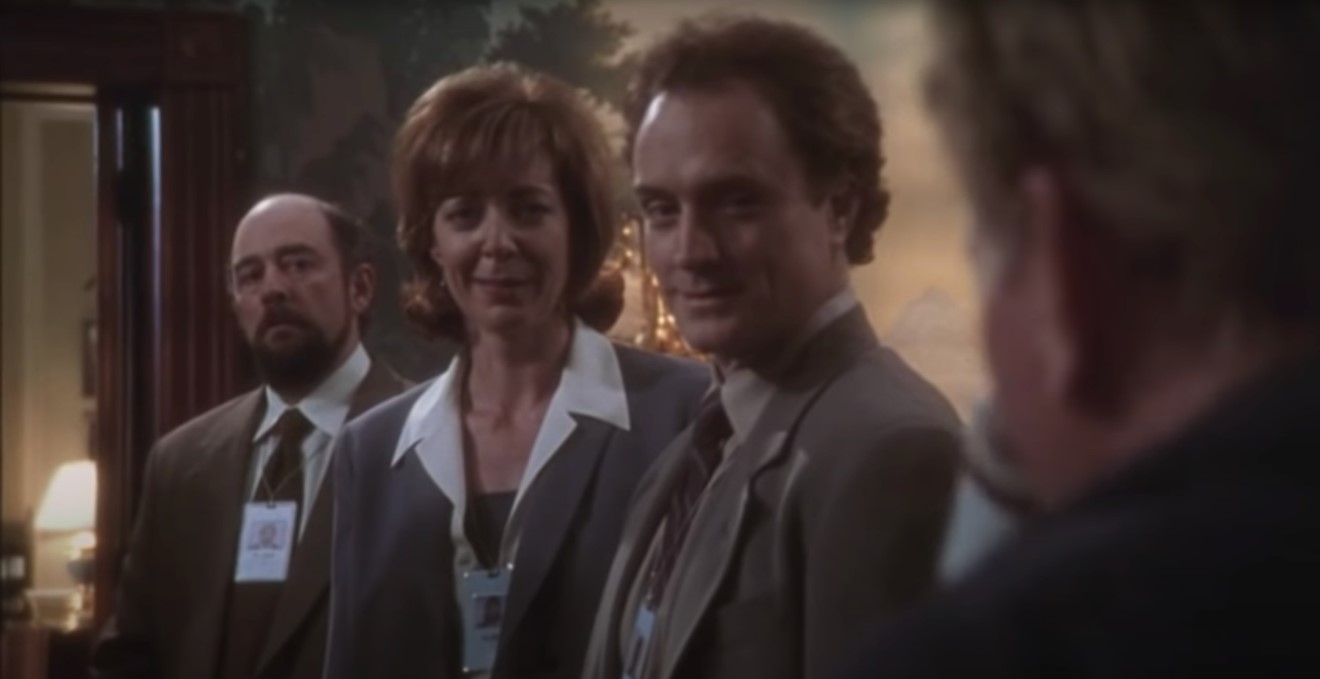 Josh Lyman (Bradley Whitford), C.J. Cregg (Alison Janey), and Toby Ziegler (Richard Schiff) look on in admiration as Bartlett delivers pwns his adversaries. The West Wing Season 1, episode 1 "Pilot" originally aired NBC September 22, 1999.
The "no filter" aspect of Trump's campaign that so many find appealing is directly connected to the type of verbal pomposity Sorkin portrayed in this now-classic example of quality television. As the first presidential debate of 2020 reiterated, Trump is as unrestrained as the characters of The West Wing. There's little evidence that Trump ever had a thought that stayed in his head or an emotion that went unexpressed. Everything that can be said must be said (also the motto of The West Wing).
Once upon a time, back in 2017, many tried to reduce the Trump presidency to reality television, searching in vain for some sort of precedent, explanation, and above all, some convenient target to blame. At first glance, this seems reasonable. The total transparency of Donald Trump's communication style has much in common with the compulsory confessions in reality television programming. And the regular declaration of reality television contestants that, "I'm not here to make friends, I'm here to win" would make more apt campaign motto than Trump's actual one. But now, in late 2020, after rewatching the first season of The West Wing, I wonder if those reductionists were looking in the wrong place. Because The West Wing portrayed wounded, needy masculinity as a masculinity that gets things done, should be taken seriously, and always pwns its opponents, the show legitimized the kind of bullying and impulsiveness characteristic of Trump's Twitter declamations. A precedent for the inner-workings of the current White House may be found in The Apprentice's neoliberal fever-dream of self-branding, unpaid internships, and survival of the sycophantic. But an explanation for the appeal of the Trump personality exists in the center-left fantasy of The West Wing, a show that once functioned as counter-programming to the George W. Bush presidency. With its pompous music, constant thinking-out-loud, and parkour-esque navigations through cubicles and offices, The West Wing portrayed a White House constantly in motion. That White House did not quite, in the words of another Sorkin creation, "move fast and break things," so much as, "talk fast and proclaim things," not unlike the White House of the past four years.
Author Biography
Stephen Groening is an Associate Professor of Cinema and Media Studies at the University of Washington and the author of Cinema Beyond Territory: Inflight Entertainment and Atmospheres of Globalization. He has published in Film History, Film Criticism, New Media and Society, Visual Studies, and Cultural Critique. His current book project traces the influence of the medium of television on European critical theory.
Notes
Top of page