Backhanded Compliment: International Women's Day and Daily Blast Live

Skip other details (including permanent urls, DOI, citation information)
This work is licensed under a Creative Commons Attribution-NonCommercial-NoDerivatives 4.0 International License. Please contact mpub-help@umich.edu to use this work in a way not covered by the license. :
For more information, read Michigan Publishing's access and usage policy.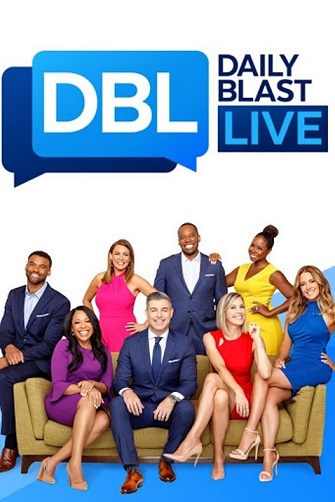 Dramatis personae: Lindsey Granger (front row, second from left), Al Jackson (back row, center), Tory Shulman (back row, left), Sam Schacher (front row, second from right), and Jeff Schroder (front and center).
On March 8, 2020 International Woman's Day was observed and on March 9, 2020 the syndicated panel-talk show Daily Blast Live (DBL) recognized the importance of women in global society with far less respect than the superficial praise it ostensibly offered.[1] With regular host Samantha "Sam" Schacher absent on maternity leave, regular panelist Tory Shulman was the acting host with fill-in panelist Lindsey Granger added to the March 9, 2020 panel along with the regular male panelists Al Jackson and Jeff Schroeder.[2] The first half-hour of this telecast started with a nod to International Women's Day. The platitudes recognizing the role of women in modern society ended with Schroeder's appreciative observation that one area of progress is technical workers in the field of professional hockey. Keeping with the theme of professional sports, the next segment was devoted to the "Flip the Switch" viral video of singer/actor Jennifer Lopez (aka J. Lo) and her fiancé, retired baseball star Alex Rodríguez (aka A-Rod).
J. Lo and A-Rod Flip the Switch
The video begins with A-Rod standing in sunglasses and a black leisure suit listening to a Tik Tok song on his smart phone; behind him and to the right J. Lo suggestively dances to the song in a form-fitting white dress. This shot jump-cuts to the same shot except that J. Lo is wearing sunglasses and leisure suit while holding the smart phone and A-Rod is dancing in the white dress. DBL cuts back to the panel with Schroder reacting with a combination of disgust and horror. He indignantly proclaimed that J. Lo "was making [A-Rod] do it." The argument's implication is none too subtle. As a representation of the "Empowered Woman" J. Lo was forcing her husband to humiliate himself and demonstrate his emasculation for the whole world to watch. The hits kept on coming. The next segment focused on whether Daylights Savings Time is obsolete in the 21st century. After Granger made a somewhat rambling argument relating Daylight Savings Time to self-determination Jackson simply dismissed her statement by noting "your point sounds like a Hallmark card." As Jackson would have it, Granger's point is concerning an ostensibly important issue amounts to so much feminine, sentimental greeting-card drivel. For added measure, Shulman admitted that she didn't even understand why the USA was divided into four time zones, yet alone the annual switchover to Daylights Savings Time. However, the coup de grâce was delivered in the final segment, which was a parody of popular "Carpool Karaoke" skits on The James Corden Show: Jackson stoically drive and did his best to ignore Schulman while she sat in the passenger seat, offering a non-stop string of pointless trivia facts and strained jokes. After the segment Jackson asked Schroeder how long he would have been able to put up with Shulman, to which Schroeder immediately answered, "If I would have been sitting in the backseat I would have flung myself out of the car." (Not coincidentally, there is a kind of standard by which both Schroeder and Jackson can engage in sexist attacks on Shulman but only Jackson can verbally challenge a black woman on the panel to ostensibly negate any potential charges of racism.)
The Battle of the Sexes Round One: Schacher vs. Schroeder
The Battle of the Sexes Round Two: Jackson vs. Shulman
In the first exchange, the gender conflict is clearly laid out between the domineering woman (Schacher) who want to shut the man up entirely (Schroeder); in turn, men are the victims of women's opinions and voices and, above all, any control women might have over men. In the end, women owe men an apology for denying them their apparent right to speak and express their views freely whereas men can petulantly sulk but need not apologize to women. In the second exchange when asked "what they would do if they were the opposite sex for a month," Shulman's observation that she would embrace the opportunity to "pee standing up constantly" is considered more empowering than the idea that as a man she could and would treat woman with respect. The latter point countered by Jackson's exasperated "My God..." followed by a variation on his go-to riposte "that should have been on the Hallmark Channel" (i.e., the Hallmark brand of innocuous "feminine" mass culture). It should be noted that the opening title sequence of DBL currently features the entire pool of panelists in a row with their arms around each other as a signifier of "community." The contradiction is evident: while DBL brands itself as avowedly anti-racist and pro-LGBTQ, its and veiled (or not-so-veiled) male chauvinism undermines the over message of gender equality. The previous (presumably now-discontinued) opening title sequence offered a more accurate and succinct summary of DBL's underlying gender politics. One shot featured Shulman losing her temper and yelling at Jackson for his argument being "totally off-base" while Jackson responds by sitting in fuming silence and contemptuously rolling his eyes. By way of identification, the viewer is encouraged to empathize with Jackson and, to paraphrase Bill Clinton's famous maxim, "We feel his pain." A montage is formed when the shot cuts to a sheepish Schacher looking off-camera to her left saying that as much as it bothered her she had to agree with the point. However, it is not Shulman she agreed with; completing the montage, the shot cuts to Schroeder with a smug grin and his chin resting on his hand like an alpha-male version of Rodin's The Thinker. Here the identification is with Schroeder (the man) and the immense satisfaction of putting Schacher (the woman) in her place. In honor of International Women's Day 2020 the message is consistent with DBL's agenda: women should be seen and not heard.
Author Biography
Doyle (Mickey) Greene is an independent scholar who has written several books and articles on film, television, and popular music. His primary area of interest is ideology critique of American popular culture and mass culture. He currently serves as a co-editor for Film Criticism.
---
Top of page