Jans B. Wager, Jazz and Cocktails: Rethinking Race and the Sound of Film Noir (University of Texas Press, 2017)

Skip other details (including permanent urls, DOI, citation information)
This work is licensed under a Creative Commons Attribution-NonCommercial-NoDerivatives 4.0 International License. Please contact mpub-help@umich.edu to use this work in a way not covered by the license. :
For more information, read Michigan Publishing's access and usage policy.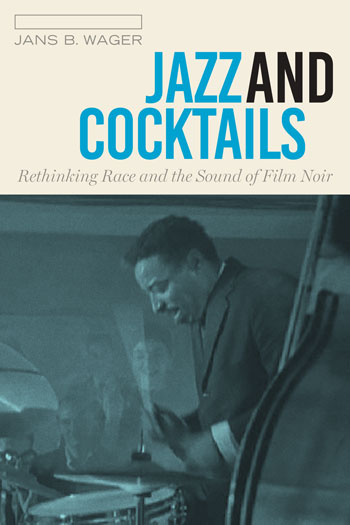 With its focus on late film noir, Jans Wager's Jazz and Cocktails: Rethinking Race and the Sound of Film Noir rigorously examines – or, as a testament to its title, re-examines – the triangulation of race, sound, and noir. While the idea that film noir represses racial tension and anxiety is not new, Wager's approach to making subtext text through the study of sound is where this monograph shines. Through the close reading of films such as Sweet Smell of Success, Anatomy of a Murder, and Elevator to the Gallows, Wager explains how jazz in noir upends expectations for the "classical Hollywood film... [in which] the musical score is subordinated to the image, and both serve the narrative," preferring instead a dialectical approach. Wager focuses on films in which the "musical discourse of jazz [is] sometimes in conflict with the emotional values embedded in the narrative," the intervention being more about what noir can do rather than what it always does.[1] The pay-off is vast, speaking broadly to the flexibility of Hollywood form and how dissonance and conflict exist within a filmic language known for its smoothness and continuity.
The organizing themes of Afromodernism and alienation thread together this transnational collection of noirs. In her initial definition of Afromodernism, Wager writes about jazz as metonymic for a white vision of blackness: colorful and exotic, but ultimately "subversive and threatening to white male order."[2] Wager, however, pushes past the common refrain that the noir internalizes and represses racial anxieties and asserts something more radical: that "the presence of the artistic, productive other on screen and behind the scenes implicitly embedded black activism into the primarily white output of Hollywood and changed how music affected the filmic narrative."[3]
Chapter 1 defines Afromodernism and alienation as the vehicles by which noir and jazz function "dialogical[ly]," with each subsequent chapter centering on a different jazz musician or film.[4] (The key exception here is Chapter 2, which centers on Utah-based jazz musician Joe McQueen and the nightclub as a site of both real-life and cinematic jazz music-making. Wager is a professor at Utah Valley University and uses both literary and ethnographic methods for this section.) In Chapter 3, using files from the Production Code Administration, Wager shows how the jazz club scene in Out of the Past (1947) evolved from "[one] overtly and stereotypically racist to [one] stylish and respectful. Blacks, peripheral to the story, are shown living in a separate but vibrant culture."[5] This separation from and vibrancy in contrast to white culture constructs the Afromodern as distinctly sophisticated – and if this visit lends the hero-interloper some "liberal white hipness," so much the better for Hollywood.[6] Meanwhile, alienation enters on the level of "double consciousness"; this sense of separate white and black worlds is presented as the product of racial inequality and one resulting in black self-estrangement.[7] Chapter 4 – on The Blue Gardenia and Kiss Me Deadly – explores this tension through the films' use of Nat King Cole, who is staged apart from the white characters, when he is given a visual presence in the movie at all.
In Chapter 5, the author explains how Sweet Smell of Success moves between composer Elmer Bernstein's film score and the interracial stylings of the Hamilton Quintet – producing a crucially "conflicted" profile of jazz.[8] The soundscape – both diegetic and non-diegetic– simultaneously upholds and undermines the visual: "Sweet Smell uses the real streets of Manhattan to bolster the veracity of the narrative, and the film also uses real jazz... in a work of Afromodernist subversion."[9] Usually, noir's ability to straddle the realist and the expressionist is in reference to visual tropes such as low-key lighting, on-location shooting, and canted framing; Wager's contribution proves both an intuitive extension of this logic while also adding something fresh and new: that film noir, a form that so consistently sidelines black representation, articulates African-American cultural expressivity through sound.
Chapters 6 and 7 focus on two of the best known jazz musicians of the period – Miles Davis and Duke Ellington – but less canonical film examples: the French noir Elevator to the Gallows and the 1959 courtroom drama Anatomy of a Murder, respectively. (Wager acknowledges that the latter film is not consistently considered a noir, posing the disciplinary question of what makes a noir anyway.) In both of these chapters, Wager explores how these jazz innovators balanced the need for a coherent, narrative-driven soundtrack with their own instincts to burn it all down, so to speak, and to scale back on classical film's "commitment to the visual."[10]
Chapter 8, on the 1957 noir Odds Against Tomorrow, serves as a fitting denouement to Wager's string of examples, as we are finally left with a late noir in which, through the power of sound, blackness is definitively decoupled from danger and criminality. Wager cites David Butler's point that, in this film, "Black jazz is used to convey the innermost feeling of a white character and to link [a] white character in a sonically unambiguous way to his black counterpart."[11] Chapter 9, which doubles as the book's conclusion, brings Wager's argument into the present, looking at the 2014 film American Hustle as a neo-noir that neuters jazz of its challenging possibilities. Ultimately, Wager's formulation about sound in jazz is historically located in this body of post-war noirs, not endemic to the form as such.
As the case studies Wager has chosen are specifically invested in the imagery and aesthetics of jazz, those in search of a broader or more portable account of the noir form might look to Wager's previous volume, Dames in the Driver's Seat: Rereading Film Noir (2005). Wager's contributions are important to the discipline, while remaining accessible to upper-level undergraduate or graduate readers in film noir and classical Hollywood courses. Jazz and Cocktails is a methods-forward text that issues an important intervention into how, once upon a time, "Hollywood film noir and jazz made remarkable and unique meaning together."[12]
Author Biography
Annie Berke is Assistant Professor of Film at Hollins University. She is at work on a book about women television writers in 1950s America.
Notes
Top of page