Complicity in Darren Aronofsky's mother! (2017)

Skip other details (including permanent urls, DOI, citation information)
This work is licensed under a Creative Commons Attribution-NonCommercial-NoDerivatives 4.0 International License. Please contact mpub-help@umich.edu to use this work in a way not covered by the license. :
For more information, read Michigan Publishing's access and usage policy.
Darren Aronofsky has, unwittingly, crafted one of the first significant films situated amidst the #MeToo reckoning. Critics interpreted mother! (2017) as a self-indulgent artist/muse portrait,[1] or as a reductive statement on woman as infinite nurturer.[2] Aronofsky himself stated that the Biblical allegory casts Jennifer Lawrence in the role of Mother Earth, and that the film's violence parallels society's environmental ambivalence.[3] What the film accomplishes is more impressive than any of these formulations: it's a traumatic, affective encounter with the cyclical nature of gendered violence that anticipates the events of Fall 2017.
The movie begins and ends with a woman consumed by flames, ultimately reduced to an ash-covered crystalline heart. This crystal becomes the treasured possession of a poet, Him (Javier Bardem), who now lives with mother (Lawrence). He struggles with writer's block while she focuses on renovating their isolated "paradise" from the aforementioned ashes. This Eden functions as an extension of her body; she places a palm to the wall and we see pink tissues, a beating heart. Aronofsky limits the visual scheme to three basic shots (all of which are handheld): close-ups on mother's face, over-the-shoulder shots from directly behind mother, and mother's POV. As soon we see mother, we are trapped in the frame that embodies her perspective.
Adam, or Man (Ed Harris) and Eve, or Woman (Michelle Pfeiffer) invade mother's carefully crafted home. Man shows Woman his crystal object (located in the Poet's off-limits office), and breaks it; they are cast out of Eden. Man and Woman's children, Younger Brother (Brian Gleeson) and Oldest Son (Domhall Gleeson) then reenact Cain's murder of Abel. As more strange figures enter the home, mother's ownership over her space disintegrates. Mourners swarm mother's house, and a wake for Abel quickly devolves into a raucous party. Replying to mother's condolences, Woman assures her that she can't understand if she doesn't have children. Woman snaps, "Why don't you put on something decent?," and walks away. A POV shot examines mother's breasts, entirely visible underneath her transparent nightgown. She gasps and covers herself with her sweater.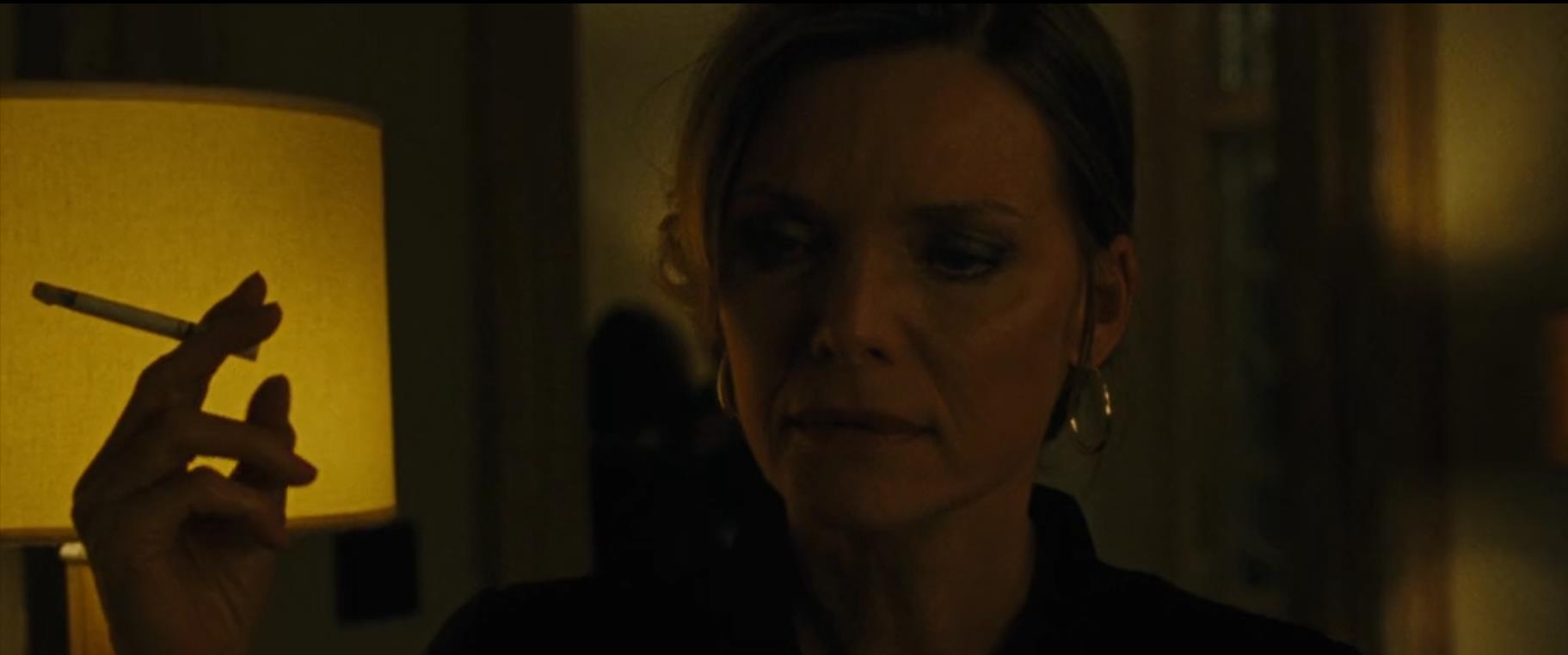 Figure #1: Woman's reproachful glance at mother's "indecent" exposure; Michelle Pfeiffer in mother! (Darren Aronofsky, 2017)
In 2014, the "Celebgate" hackers published nude photos of Lawrence online. Reflecting on this, she commented, "I would much prefer my whole house to have been invaded." mother! positions the spectator in such a way that we experience this exposure, looking down on her/our body in dismay as we realize that everyone can see us. This remark about home invasion as preferable to this hacking serves to illustrate the significance of on-screen mother's experience of both humiliations. Her home is invaded and her body becomes a site of public pleasure, against her will. The spectator is complicit: many audience members will have viewed these pictures before watching mother!. Here, the film holds a mirror up to the spectator's pleasure; we are confronted by our own role in engaging with these traditional forms of scopophilia.
Months later, crazed fans interrupt mother's celebratory dinner: the Poet has published a wildly successful piece. The house becomes a microcosm of civilization. mother runs around as rapidly devolving stages of human cruelty—enslaved people in wire cages, demilitarized zones, police riots—nearly kill her. The birth of her child amidst the dystopian chaos leads to more tragedy: the crowd rips mother's baby apart and consumes its entrails in a sacrificial mania.
Enraged, mother begins stabbing worshippers to death. The crowd strips her clothes and brutalizes her body. The Poet rescues her, only to instruct her to "forgive them." She vengefully burns the house to the ground. Before she dies, she lets the Poet take her heart, which becomes another crystal. This crystal restores the house, and a new woman takes her place in bed. The great fire the mother sets, resulting in self-immolation and the deaths of dozens of worshippers, serves no purpose in ending the cycle of abuse.
Early in the film, the Poet tells the story of his crystal object to Man: "I lost everything in the fire." Aronofsky's spectacular achievement illustrates the extreme logic of "aggrieved entitlement."[4] The interruption of male control (over female bodies, natural resources, and marginalized populations) yields self-righteous fury. Throughout mother's suffering, He remains convinced that His work trumps any damage to her body and home. He is entitled to her love, and her body.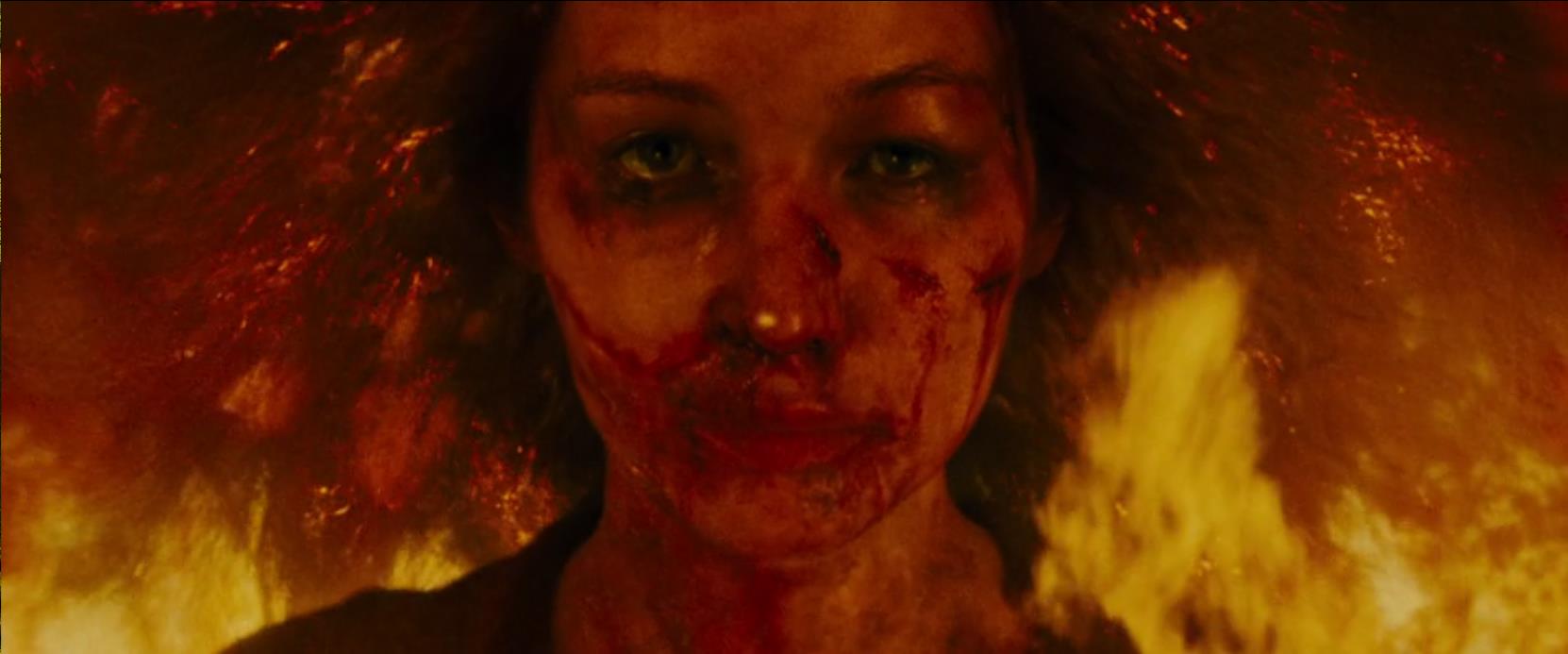 Figure #3: mother's (Jennifer Lawrence) self-immolation
mother! is a crucial indictment of a rape culture so conducive to gendered violence that only now, decades after attacks, women have begun coming forward en masse to identify the injustices of this system (signaled, in large part in the film industry, by Harvey Weinstein's history of assault). By not only witnessing but experiencing her gradual loss of control and ultimate sacrifice at the hands of a male creator and his worshippers, the spectator must face the dark reality of gendered violence. The pleasure of witnessing said violence is complicated by a subverted perspective; the audience cannot just sit back and enjoy mother's injuries. Instead, Aronofsky's affective filmmaking holds the audience accountable: we are complicit in this brutality, as we do nothing but passively watch.
Notes
1. David Edelstein. "Mother! Is a Second-Rate, Self-Aggrandizing Tour De Force." Vulture, September 15, 2017, https://www.vulture.com/2017/09/mother-is-a-second-rate-self-aggrandizing-tour-de-force.html

2. Dahlia Balcazar."Mother May I? No." Bitch Media, September 22, 2017, https://www.bitchmedia.org/article/mother-movie-review

3. Anne Thompson. "'mother!': Darren Aronofsky answers all your burning questions about the film's shocking twists and meanings." IndieWire, September 18, 2017. https://www.indiewire.com/2017/09/mother-darren-aronofsky-explains-mythology-allegory-bible-jennifer-lawrence-1201877848/

4. Michael Kimmel. Angry White Men: American Masculinity at the End of An Era. NY: Bold Type Books, 2017.

Author Biography
Molly Bandonis is a Ph.D. candidate at Southern Illinois University-Carbondale. Her work examines feminist film criticism and histories of women in comedy.
Top of page