Alexander Zahlten, The End of Japanese Cinema: Industrial Genres, National Times, and Media Ecologies (Duke University Press, 2017)

Skip other details (including permanent urls, DOI, citation information)
This work is licensed under a Creative Commons Attribution-NonCommercial-NoDerivatives 4.0 International License. Please contact mpub-help@umich.edu to use this work in a way not covered by the license. :
For more information, read Michigan Publishing's access and usage policy.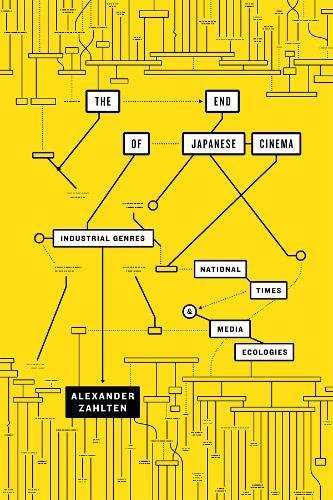 Alexander Zahlten's book, The End of Japanese Cinema: Industrial Genres, National Times, and Media Ecologies creates a map for the "road less traveled" in Japanese film industry history, covering a period from the 1960s through the early 2000s, a time oft-noted as the decline of the Japanese post-Fordist studio system frequently blamed on the rise of television. This time period is mostly referenced as a dark time in Japanese film, due to a sharp decline in production and the disappearance off the global stage previously established in the 1930-1950s. By analyzing three "industry genres," Zahlten fills the gaps with in-depth histories of Pink Film, Kadokawa Film, and V-Cinema (straight to video cinema), offering an incisive intersection between narrative and industry that can ideally be applied to other time periods and national contexts.
Zahlten builds the argument that these industrial genres lead into new "media ecologies," which include specific aspects of the Japanese film industry, including production, labor relations, distribution, exhibition, and paratexts, and connects them to specific Japanese national and ideological times. He writes, "that navigation has always been explicit, contentious, ideologically inflected, and political ...Industrial genres are enactments of the expectations, experiences of acceleration and stasis, ideas of rupture, and sudden transitions or unwelcome continuities that make up historical time."[1] Though he argues that each do the same work to "con-fuse" mainstream established film genres, Zahlten situates the three industrial genres within analytical categories designed to best fit their unique cases. For Pink Films and their audiences, he utilizes theories of gender, the body and aspects of "flesh." Then, he tracks the centrality of Kadokawa Haruki at the center of his business model, especially emphasizing Kadokawa's push towards "simultaneous time" by marketing print publications alongside film adaptations, and soundtracks. Finally, he foregrounds the specificity of video in V-Cinema, a medium which can pause, rewind, and replay alongside subject matter that is in constant reference to character archetypes and narratives from Nikkatsu action films from the 1960s to hardboiled U.S. film in the 1970s.
Zahlten's book, his first, is the result of extensive dissertation research, and his experience curating multiple film festivals, including being the program director for Nippon Connection (2002-2010) belies the intensive historiographic ground covered by this book.
The End of Japanese Cinema is comprised of six chapters with introduction and conclusion. Zahlten dedicates two chapters to each industrial genre: the first discursively approaches the theorization of the genre category, detailing constellations of aspects that include industry, ideology, nation and narratives; the second provides an exhaustive history of each genre and focuses more on its narrative content. Zahlten's first chapter, "Establishing Pink Film," discusses the appearance of violent and sexual subjects in independent Pink Film production systems, the rupture of their presence and antiestablishment credo. He begins with two controversial censorship cases brought against specific Pink Films by the Tokyo Metropolitan Police and chronicles their coverage through film theorists as well as magazine and newspaper articles in Japan. The second chapter, "Pink Times and Pink Spaces," dives deeper into Pink audience demographics of class and gender, exhibition practices, and the farm factory system that develops amongst the Majors to cause the overall streamlining of Pink film (small f) narratives to empty them out of their radicality and resistance. Chapter three, "Kadokawa Film," begins with the discursive figure of Kadokawa Haruki, his personal history and his projected image as representative of his business strategies, and specifically as his reputation as "pariah" to the golden age of Japanese cinema's auteur-led studio system. Kadokawa's publicity practices, horizontal media strategies (media-mix) and spearheading of the "blank canvas" of idoru (idol) culture make up the bulk of chapter four, "The Radicalization of Kadokawa Film." Chapters five and six, "V-Cinema," and "Subgenres," complete the last third of his industrial genres. Zahlten situates V-Cinema as particularly timely for the 1980s period: "Video arguably tapped into experiences of temporality in a different way than cinema with its modern connotations of progress and linearity."[2] Instead of citing exhibition practices of specialty Pink theaters or even the multiplexes employed by Kadokawa's blockbusters, V-Cinema was relegated to special sections of home video rental stores and personal domestic spaces. "Subgenres" details three predominant narrative V-Cinema models: yakuza, finance, and sex films. He also discusses the production and distribution strategies, in particular the reduced role of director with the increasing importance of actor and producer combined with narratives built on "shared media memory"[3] in Japan.
The End of Japanese Cinema provides a crucial history to anyone who is researching or interested in contemporary Japanese cinema. It supplies a thorough, original, and much-needed set of case studies in a long-overlooked segment of Japanese film. Zahlten's closeness to the national context and subject matter make this dense read a must for researchers already well-versed in Japanese film history, industry, and terminology. The large system of industry interviews and archival research, the breadth of industry information, Japanese reportage, and demographic statistics are of great value to graduate-level study and research. This book appears to have come from a significantly sized project and sometimes the theoretical positioning comes off obscurely to be then demonstrated in the follow-up genre chapter that discusses the primary texts. As such, I would not recommend this to non-academic readers. Zahlten discusses David Barry's theory of "asterism," writing, "Constellations are patterns of concepts that form a particular historical epoch... An asterism is a prominent pattern of concepts that lies within a wider constellation."[4] Here, Zahlten has produced an asterism of narrative, history, audience, and industry.
Author Bio
Amanda Landa is an Adjunct Professor in the Radio, Television & Film Department with a specialization on Media Aesthetics at Rowan University. Her dissertation, Cruel Stories of Youth: Contemporary Japanese Seishun Eiga Cinema, examines recent Japanese film industry and genre trends regarding youth.
Top of page