Jon Kraszewski, Reality TV (Routledge, 2017)

Skip other details (including permanent urls, DOI, citation information)
This work is licensed under a Creative Commons Attribution-NonCommercial-NoDerivatives 4.0 International License. Please contact mpub-help@umich.edu to use this work in a way not covered by the license. :
For more information, read Michigan Publishing's access and usage policy.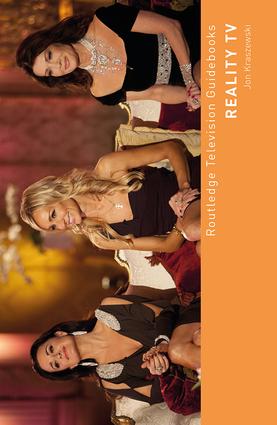 In Reality TV, written for the Routledge Television Guidebooks series, Jon Kraszewski examines reality television through various lenses of cultural geography. Kraszewski argues that scholarship on reality TV has not adequately addressed the role of the city in reality programs, despite the crucial ways geographical markers influence our understandings of these shows. One of the author's primary aims is "to understand the history of reality television within a larger context of economic history, urban demography, and the social relationships constructed within city spaces."[1] In particular, he asks, "[W]hy has city life become the defining feature of reality television at exactly the same moment that urban living has become so untenable for most Americans?"[2]
Kraszewski couches his analysis on what he terms "the political economy of social expulsions,"[3] arguing that reality TV in the twenty-first century has often served to normalize the social and economic conditions that have made city life increasingly limited to the very wealthy and the very poor. He maintains that the post-World War II period saw an organization of urban space that not only allowed, but required, the presence of all social classes for the functioning of urban industries. However, by the 1980s, Kraszewski contends, cities were transforming into financial centers catering primarily to elites and increasingly expelling historic communities of middle- and working-class residents.
In the first chapter, Kraszewski argues that "first wave" reality programs such as Candid Camera (first run, 1948-1967), An American Family (1973), and The Real World (1992- present) portrayed a relatively open space that allowed for social and economic mobility through different urban communities. However, more contemporary reality programs have obscured the structural conditions of urban expulsion by either rationalizing the city as a place for deserving elites or representing a nostalgic vision of the city that no longer reflects its current population. In this way, "Reality television is one site able to convince us of accepting this new configuration of classed urban space by . . . mak[ing] it seem like today's cities still serve the interests of all classes."[4] Thus, Kraszewski contends, "[R]eality television went from offering an open construction of urban spatial relations in the twentieth century to winning our consent of closed spatial relationships in the twenty-first century."[5]
The second chapter invokes an urban notion of "diasporic nostalgia," applying the concept to programs such as the Real Housewives franchise (2006-present), The Apprentice (2004-present), Pit Bulls and Parolees (2009-present), Millionaire Matchmaker (2008-2015), and The Amazing Race (2001-present). Kraszewski argues that although the visuals of these programs "portray urban spaces as exclusive, luxurious, and closed," their soundscapes (most notably the geographically specific and historically classed and ethnicized accents of their characters) and some of their plotlines contrast these closed visuals by "haunt[ing] contemporary urban space with the class equality industrial economies offered" in an earlier era.[6]
The third chapter is concerned with the representation (and non-representation) of an othered servant class in contemporary reality TV. Paying particular attention to Bravo programs Vanderpump Rules (2013-present), The Real Housewives, and Flipping Out (2007-present), Kraszewski traces the "geographies of urban servitude" portraying a divide between a supposedly deserving urban elite class and their employees.
The fourth chapter examines the historical facets of "vulnerable urban identities," offering case studies of two multi-program reality TV stars – the Italian-American character Boston Rob (a.k.a. Rob Mariano) from Survivor (2000-present) and The Amazing Race, whose "gangster" tactics are intertwined with a disappearing place-bound urban ethnic identity, and the "ghetto"-coded character New York (a.k.a. Tiffany Pollard) from Flavor of Love (2006-2008), I Love New York (2007-2008), and other programs, who "stands for a type of urban black poverty" in a way that is "both excessive and reductive."[7]
The fifth chapter addresses rural reality shows such as Swamp People (2010-present), Alaska: The Last Frontier (2011-present), Buying Alaska (2012-2015), Moonshiners (2011-present), and Here Comes Honey Boo Boo (2012-2014), theorizing the ways these programs offer an alternative to the increasingly inhospitable and exclusive urban cityscape while maintaining distinct value-inflected class and taste divides that normalize the rejection of these characters from urban space.
Overall, Kraszewski frames his analyses through the recurring argument that contemporary reality TV "negotiates place-based identities to win our consent for the spatial politics of expulsions" that have come to characterize the twenty-first century American city.[8]
The Routledge Television Guidebooks are by design relatively short texts, and the author keeps his chapters targeted and concise. Because of this concise format, however, one does hunger for more historical grounding for Kraszewski's pointed contrast between a "postwar economic egalitarianism"[9] and the "closed" urban access of the twenty-first century. His critique of the neoliberal forces that have caused urban spaces to be increasingly segregated and class-exclusive is very well argued, and one can hardly dispute the closures that have resulted, but the premise that pre-1980s urban spaces and their larger social contexts were "egalitarian" in their spatio-economic structures and indicative of a post-WWII liberatory drive[10] would benefit from more space for exploration.
However, Kraszewski's attention to the complex and evolving class implications of urban space, and the inherent instability of space-bound class formations on reality TV, proves a very productive project. The final chapter on rural reality programs is especially compelling. Additionally, Kraszewski's attention to formal elements that are often neglected in analyses of reality TV – most notably sound – is laudable. The book is at times focused more on space and place broadly, rather than specifically urban geography per se, but the politics of space remain deeply imbricated in the urban and non-urban landscapes the author investigates. Kraszewski's careful attention to the spatial intersections of class, taste, race, ethnicity, and gender is a highly fruitful method of examining space as "the geographic coordinates of social power within a given place"[11] in the context of reality TV.
Author Bio
Molly A. Schneider is an Assistant Professor in the Department of Cinema and Television Arts at Columbia College Chicago. Her work focuses on the history of American television, with a particular interest in cultural-industrial intersections.
Top of page