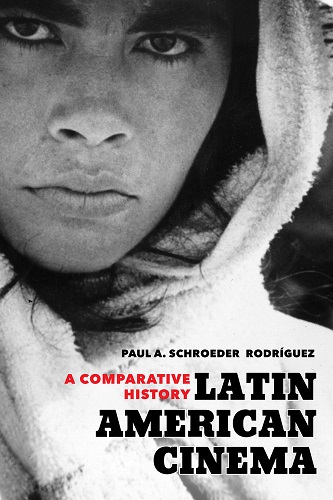 General histories of Latin America cinema include efforts attempting a country-by-country panorama, such as Peter Schumann's Historia del cine latinoamericano and John King's Magical Reels: A History of Cinema in Latin America. Others focus on specific crucial films from the continent, as in the case of Alberto Elena and Marina Díaz López' The Cinema of Latin America or the same authors' Tierra en trance: El Cine latinoamericano en cien películas. Less commonly, the approach has been conceptual as in The Routledge Companion to Latin American Cinema edited by Marvin D'Lugo, Ana M. López, and Laura Podalski or Paulo Antonio Paranaguá's Tradición y modernidad en el cine de América Latina. The latter book is particularly important for Schroeder Rodríguez's effort, Latin American Cinema: A Comparative History. Following Paranaguá's proposal for a comparative history of Latin American cinema, capable of going beyond both the limiting straightjacket of the national cinema framework, and the anti-Hollywood auteur-based version, Schroeder Rodríguez puts forward an approach that sees Latin American cinema as "a triangular flow of moving images between Hollywood, Europe and Latin America."[1] The author's goal is to produce a comparative history capable of reading approximately fifty films in their three relevant dimensions: national, Latin American (or regional), and global, while pursuing his guiding historical and conceptual thread: "...how Latin American filmmakers have represented a multiplicity of Latin Americas, and their corresponding modernities, through narrative cinema."[2]
The book is divided in five parts, each corresponding to a defining period: "silent cinema, studio cinema, Neorealism/Art Cinema, The New Latin American Cinema, and contemporary cinema."[3] The first part, on silent cinema, is subdivided into two chapters, respectively describing conventional and avant-garde films' explorations of bourgeois and revolutionary modernities.
Part II, on studio cinema, posits the consolidation of a studio-based filmmaking, made possible by the emergence of a "corporatist discourse of modernity," i.e. a nation-centered, populist, and industrializing effort to define national economies and cultures on a corporatist pact between the state, major productive industries, and organized labor. This part is subdivided into three chapters covering: the transition to sound, the growth of the studio model (based on the predominance of musicals, melodramas, and the star-system), and the model's decline.
Part III considers the transition between the studio model, its collapse, and the better-known revolutionary New Latin American Cinema of the 1960s and 1970s. In this part, Neorealism and Art Cinema are examples of the resurrection of "artisanal modes of production" that would be then taken up by the next phase.[4]
Part IV "charts the development of the New Latin American Cinema in two phases" the first one is Militant cinema and the second, Neobaroque (which according to Schroeder Rodríguez, extends New Latin American Cinema to the 1980s). While the first phase explored Latin American understandings of the socialist version of modernity, the second used "baroque representational strategies in order to explore radical alternatives to dominant discourses of modernity."[5]
Part V, on a rather loosely defined "contemporary cinema," posits that —after the collapse of national film industries with the arrival of neoliberal regimes that ceased government support for audiovisual culture— Latin American films of the late twentieth and current century have fought back for their re-integration into national and global markets. They have done so by reviving a few of the traditional genres and concentrating not on the epic of history but on microhistory. Schroeder Rodríguez calls this new approach melorealism: restrained focus on emotion and affects and realist visual style in films that are first, nostalgic, and then, through a wave of women feminist directors, suspenseful.[6]
In each one of these cases pitting conventional versus avant-garde cinema, Schroeder Rodríguez's heart is on the latter. In the case of the New Latin American Cinema this means underplaying the historical importance of the well-studied militant phase of the movement to propose, more originally, the even more radical importance of what Schroeder Rodríguez calls its neobaroque moment. The latter involves a shift away from a realist epistemology to one that highlights the rift between signifier and signified in order to call attention to the constructed nature not only of films, but, critically, of social relations as well. Using baroque strategies of representation, the films in this phase subvert "the populist truth claims and monologism of (...) authoritarian regimes."[7]
This preference for the avant-garde creates certain problems and contradictions for a historiographical model that wants to do simultaneous justice to Latin American cinema's capacity to be both a representation and a mediation of its multiple modernities "by combining a historian's approach to cinema's technological, economic, and aesthetic evolution with a theoretician's approach to modernity as both a historical reality and a narrative of progress."[8] This manifests, for example, in a rather thin discussion on modernity, made even thinner by the surprising decision to have almost no bibliographic references in the Appendix on "The Discourses of Modernity in Latin America."[9] Sometimes in Schroeder Rodríguez's book, sociocultural history (corporatist-led modernization, for example) takes the lead in providing the explanations for the films discussed, at others it would seem as if the films themselves are capable of rewriting that continental history through their formal properties (for a clear example of this unresolved oscillation see the chapter on Neorealism and Art-Cinema, or the last one on women directors). Only then is it possible to present, as Schroeder Rodríguez does here, the neobaroque as the most radical overcoming of the limitations of commercial cinema, political and aesthetic Marxism, and state-driven corporatism.
Overall, Paul Schroeder Rodriguez's daring, synthetic, and capacious volume is a very informative, stimulating, and well written book, full of careful and often inspired close readings of films, and good contextualizations of movements. In fact, Latin American Cinema: A Comparative History is, without a doubt, a great model to understand the challenges but also the great possibilities of Latin American cinema's historiography.
Author Biography
Juan Poblete is Professor of Latin/o American Literature and Cultural Studies, University of California, Santa Cruz. Author of Literatura chilena del siglo XIX: entre públicos lectores y figuras autoriales (Santiago: Cuarto Propio, 2003); and most recently editor of New Approaches to Latin American Studies: Culture and Power (Routledge, 2017) and co-editor of Humor in Latin American Cinema (Palgrave, 2015).
Notes
Top of page