Merchandising Gen X: The Singles Soundtrack Album (1992/2017)

Skip other details (including permanent urls, DOI, citation information)
This work is licensed under a Creative Commons Attribution-NonCommercial-NoDerivatives 4.0 International License. Please contact mpub-help@umich.edu to use this work in a way not covered by the license. :
For more information, read Michigan Publishing's access and usage policy.
Abstract
While it was not associated with a blockbuster film or a major children's franchise, the Singles Original Soundtrack (OST) album was highly successful, in part because of the way it tapped into Generation X's adoration of alternative rock. The album successfully negotiated Gen X tensions—tensions that are also endemic to most fan cultures—between cultural consumption and anti-commodity attitudes. This essay uses Singles as a case study to demonstrate first that soundtrack albums, though often overlooked, are a key facet of movie merchandising, and second, that movie merchandising can, and in this case does, prove more profitable and culturally significant than the film to which it's attached. The significance of the Singles OST album is demonstrated by the high-profile twenty-fifth anniversary re-release of the album, which traded on Gen X nostalgia.
If you were an alternative rock fan in September 1992, when Singles (Crowe, 1992) premiered in wide release across the United States, chances are you already owned, or had made a conscious decision not to own, the Singles Original Soundtrack (OST) album. The album featured two new tracks from recently multi-platinum artist Pearl Jam, along with the likes of Jimi Hendrix, Paul Westerberg (formerly of the Replacements), and a veritable who's who of Seattle-area bands.[1] Riding the crest of the Grunge rock explosion of the early 1990s, while also cheekily deriding it via Mudhoney's ironic contribution, "Overblown," the Singles soundtrack album was a cultural phenomenon in its own right—a defining release for Generation X. The Singles OST is not only an important album, though; it is also a complex example of a type of movie merchandise—the soundtrack album—that has frequently been neglected in conversations about merchandise that have focused primarily on toys, videogames, and apparel.
As this special issue attests, the existing literature on movie merchandising itself has been fairly sparse and limited in scope. Scholars of movie marketing have largely been deaf to music as a form of movie merchandising. In his groundbreaking book Show Sold Separately, Jonathan Gray includes many forms of movie merchandise among the examples of media paratexts he discusses. However, he only occasionally mentions "CDs" as key "peripheral" texts, particularly with regard to Disney's merchandising strategies, focusing much more explicitly on toys and videogames, and even then placing little emphasis on the sonic dimensions of these merchandise.[2] Increasingly, though, scholars of paratexts have begun to consider sound more fully. James Deaville launched an ambitious research project studying the music in film trailers,[3] and Matt Hills and Joanne Garde-Hansen have discussed fan efforts to revive missing Doctor Who episodes through audio recordings.[4] This work is important for its consideration of sound in marketing and fan paratexts, respectively, but neither of these projects focuses explicitly on music as a commodified film tie-in.
An earlier wave of scholarship may shed more light on soundtrack albums as merchandise, particularly on the era when Singles came out. As MTV rose to prominence in the 1980s and 90s, and music videos provided a crucial audio-visual link between films and their respective soundtrack albums, commentators took note of this synergy. R. Serge Denisoff and William D. Romanowski's formula "Movie + Soundtrack + Video = $$$!!!" in Risky Business: Rock in Film (originally published in 1991) undergirds many of the blockbuster films that Justin Wyatt discusses in High Concept: Movies and Marketing in Hollywood. Flashdance (1983) is a key example in both books, in part because music (and dance) figured prominently in the film, which drove its synergistic potential across platforms. According to Denisoff and Romanowski, the film "grossed $185 million, the soundtrack enjoyed profits from 17 million sales, and video cassette sales were more than $8 million."[5] This is a key example of music functioning as a commodity in its own right and as a marketing device for film. Commenting on Flashdance's success, executive Gary LeMel remarked, "The target audience for MTV is the same [as the] target for pictures. You need the twelve to twenty-five demographic."[6] Footloose (1984) and Dirty Dancing (1987) followed this wisdom. So too, though, did non-dance releases across the 1980s and 1990s, including Top Gun (1986) and The Bodyguard (1992).[7]
Soundtrack albums continue to be profitable today, and not just among the 12-25 demographic. In June 2017, Billboard reported "a banner year for soundtracks on the Billboard 200 chart following the success of top 10 efforts like La La Land, Moana and Fifty Shades Darker."[8] Soundtrack albums sold over 4.5 million copies in the first half of the year, more than Latin and Dance/Electronic albums combined. A look at this list of 2017 top sellers demonstrates the soundtrack album's packaging of music and imagery for specific demographics or taste cultures. If the twelve to twenty-five demographic flocked to Flashdance, baby boomers bought up The Big Chill (1983) soundtrack album, which collected the Motown hits they had grown up with. Fans of everything from folk Americana (O Brother, Where Art Thou? [2000]) to Australian post-punk (Dogs in Space [1986]) can find a soundtrack album that caters to their taste.[9] The way that soundtrack albums signal taste can be crucial to marketing the film to which they're attached. Discussing the soundtrack for About a Boy (2002), Finola Kerrigan notes that the music by Badly Drawn Boy, which she reads as appealing to a male fan base, "distinguished the film from previous Working Title romantic comedies from the same team, which were seen as appealing more to female than male audiences."[10] There are also, of course, soundtrack albums that are intended for children. Fred Goldberg frames Disney's Snow White and the Seven Dwarfs (1937), often deemed the first soundtrack album, as primarily a children's album. He imagines that "The single 78-rpm, 10-inch record that [kids] heard on the radio made the kids want to see the movie. After they saw the movie, they bought the record."[11] While this account is a bit dubious in its simplicity, it demonstrates that the synergistic logic behind soundtrack album releases is not purely a phenomenon of the MTV era.
While soundtrack albums clearly speak to a range of demographics, discussions of movie merchandising have been fraught by the assumption that tie-ins are first and foremost for kids, the most gullible consumer demographic. Much of the literature on film and TV merchandise takes toys as its object and children as the primary consumers.[12] However, even in the case of toys, movie merchandise is not merely for kids. As Gray notes, "the purchase and display of Star Wars figures by adult fans is commonplace."[13] Such acts signal that movie merchandise is not just crass kid culture. Martin Brochstein from The Licensing Letter agrees that merchandise need not be limited to nostalgic childhood artifacts: "The types of products that are licensed has changed over the years, with more emphasis on adult merchandise, specifically, creating collectibles."[14] As movie merchandise has increasingly targeted a wider range of consumers, so too has the "collectible" become especially significant.
When they take the form of physical objects that package sonic and visual material from a film, soundtrack albums can function as desirable collectibles. In Cult Collectors, Lincoln Geraghty counts "records" and "CDs" among other fan collectibles.[15] He contends that such objects speak to fans on a personal level: "In an age where digital culture threatens to replace older forms and formats of entertainment, the material objects that fans collect remain solid signifiers of the historical significance of previous media texts. That they do not go away suggests that they are worth more to fans than simply money; they must mean something personal for such demand to still exist."[16] Merchandise can, as Gray suggests, allow consumers to engage with or "play" in the texts' narrative worlds. Star Wars toys, for instance, emphasized key themes and character values, but they were also available for play that was individualized and did not adhere to the film's narrative.[17] Soundtrack albums do not offer the same type of play, but they can still provide opportunities for engagement. Bob Rehak remembers that the Star Wars soundtrack album was "the closest I could get to 'replaying' the movie—often I listened while poring over the album covers, which featured stills from the films, or while doodling my own spaceships and superheroes or even writing little Star-Warsy screenplays."[18] This account is especially rich for its representation of the soundtrack album as an audio-visual medium, and for its indication that soundtrack albums can evoke not only the narrative of a film, but its atmosphere or story world. While movie merchandise often has a superficial connection to the film text, the soundtrack album, in most cases,[19] is more thoroughly woven into the fabric of the film. The songs on soundtrack albums call up key scenes or events in the film, and some albums even include film dialogue. Soundtrack albums do complicated work vis-à-vis the film: the audio-visual material they package can reinforce the vibe of the film, increase narrative engagement, and/or signal (sub)cultural affinities/taste cultures that do or do not align with the film. The soundtrack album's collectability is often related to a listener's response to a film, but it need not be.
In this essay I use Singles as a case study to argue not only that soundtrack albums should be considered movie merchandising, but also, and perhaps more importantly, that movie merchandising can, and in this case does, prove more profitable and culturally significant than the film to which it's attached. The success of the Singles OST was a feat in part because of the ambivalence that Generation X consumers in particular have toward commodity culture. While the album was not universally loved and praised by its Gen X demographic, its staying power is signaled by its recent re-release. The fanfare that surrounded the album's 25th anniversary reissue in a deluxe vinyl edition, when the film did not receive such a celebration, further indicates the centrality of the album as an object of Gen X nostalgia. Thus, Singles is ultimately a key example of a film for which the merchandise became more popular than the "central" text of the film.
Singles, Gen X, and the Centrality of the Soundtrack Album
Like other forms of movie merchandise, soundtrack albums not only help promote the film, but bring in revenue on their own. Sometimes they even prove more profitable than the film, as Singles demonstrates.[20] While it is common practice to release a soundtrack album, or at least the first single from a soundtrack album, in advance of a film's release date, as part of the promotional campaign to build buzz, Singles was anomalous in that the album was released long before the film: the OST was released in June 1992, while the film didn't enter wide release until September. This led to a situation where, as Michael Walker reported in The New York Times, "Three months before the first ticket to 'Singles' could be sold, radio stations and MTV were playing songs from the soundtrack daily."[21] The lag between the album and film release was not necessarily intentional: the film was originally set for a February release before being pushed back several times, in part because it tested poorly, and in part because jumpy Warner Bros. executives worried it wouldn't find an audience.[22] Epic Soundtrax, clearly much more confident about the album than Warners was about the film, and eager to capitalize on the Seattle music craze, got fed up with the delays and released the album in June. And it was a hit, selling over 700,000 copies before the film even came out.[23] On the eve of the film's release, Epic's Glen Brunman called the album "one of the continuing miracles of the project," since the album had reached No. 18 on the Billboard charts without (ironically) any singles being released.[24] The album went platinum (one million albums sold) shortly after the film's release in October 1992, and while its numbers were no doubt bolstered by the film's release, the film itself made a fairly disappointing $18.5 million at the box office.[25]
According to Crowe, the album might actually have saved the film from oblivion. In a journal he kept during the process of making the film, which he later published in Rolling Stone, Crowe comments on the fact that, since he began filming, the Seattle scene and several of the bands featured on the album (Pearl Jam, Soundgarden, and Alice in Chains) had all blown up. In an entry dated April 9, 1992, he writes, "Epic, the label releasing our soundtrack, moves to put the music out now. WB agrees, and they quietly default into the only real title of this movie, Singles. The hometown music that helped inspire the script is now our best ally in getting the movie released."[26] Warner Bros. had been trying to change the name of the film to make it more marketable, in one case suggesting "Come as You Are" to bank on the Nirvana hit. The release of the soundtrack album not only ensured that Crowe got to keep his title, but also that there would eventually be a release date for the film.
The success of the album indeed became a key feature of the marketing for the film. A special four-page advertising supplement in the September 11, 1992 issue of LA Weekly demonstrates the tight synergy between film and album. The "supplement" is bookended by two ads. The first is for the film, and it features the standard promotional image from much of the film's advertising, including the OST album cover: an image of a Seattle park with Janet (Bridget Fonda) and Cliff (Matt Dillon) flirting on a bench, Cliff's guitar dividing them, Linda (Kyra Sedgwick) and Steve (Campbell Scott) kissing to the right foreground, and a couple of the minor characters in the background. This is, notably, an entirely promotional photograph—this scene does not appear in the film, even though it has become, arguably, the most iconic Singles image (more on this later). In addition to the four featured actors' names, the ad also features copy reading "New music by: Pearl Jam, Alice in Chains, Soundgarden, Paul Westerberg, Smashing Pumpkins, Screaming Trees." The last page of the supplement is a Tower Records/Video ad for the album. It uses the same image as the film ad, but cropped to feature just Fonda and Dillon, the youngest, most rockin' part of the promotional image.[27] At the top left of the ad is copy reading "Already gold." Here the fact that the album has already sold well lends credence to the ad's selling proposition, both for album and for film.[28] The center of the supplement invites readers to a release party for the film at restaurant/club Infiniti, where they will be treated to "live entertainment by Jonny Dryer and the House Rockers" and "special Singles prizes."
The LA Weekly ad supplement gives us a unique window into the fine line the Warner Bros./Epic Soundtrax promotional team tried to walk between the subcultural style of the musicians featured on the album, and a mainstream film about fairly yuppie twentysomethings. Most of the copy in the middle of the insert is taken directly from the film's press release, which features several paragraphs about how Matt Dillon learned to play a musician by hanging out with artists in the Seattle music scene, and it also notes that some of the clubs he hung out at "later served as sets for the movie." But the focus on the local music scene in this part of the copy rings hollow against the more standard character profiles included. Debbie (Sheila Kelley) is described as a gold digger, and the Linda and Steve characters are the definition of young urban professionals, which is likely the reason they have been excised from the Tower ad. It would be easy to imagine some of these characters enjoying the "French-American cuisine by former La Dôme chef, Jean-Pierre Guillaume" on offer at Infiniti, but it's the kind of event that we would expect Kurt Cobain to send up in an interview with MTV News.
There was, to be sure, cynicism about Singles's representation of the Seattle music scene. Much of this cynicism took aim at the all white cast and the heteronormativity of the narrative vignettes. Thomas Edward Aldelman of LA Reader remarks that "Watching Singles is extremely disappointing for anyone who expects a glimpse of the Northwest music scene. No amount of coffee houses, rainy skies, paisley shirts, and environmental concerns can disguise the fact that [... Singles] is hardly a brave and penetrating film." He goes on to call out the characters, "all of them straight, white, earnest, nonviolent, sensitive, and responsibly employed."[29] Referencing Crowe's success with Say Anything (1989) a few years prior, Arion Berger opens his review of Singles, "Or, Say Nothing, in which just-a-kid-himself Cameron Crowe [...] proposes to have some fun with '90s heterosex against the smug backdrop of the Seattle music scene."[30] Berger not only targets the heteronormativity of the film, but also Crowe's reputation as a boy wonder, which comes out of his very early success, first as a journalist with Rolling Stone when he was still a teenager, and then as the screenwriter for Fast Times at Ridgemont High (1982) when he was still in his twenties.
But Crowe was no longer a twentysomething like his characters when he made Singles, and this fact did not escape commentators. In his book The Cinema of Generation X, Peter Hanson paints a brief and ambivalent picture of Crowe. He initially positions the writer-director as somewhat of an affiliate, noting that Crowe has "devoted himself to understanding the issues of confused modern youths" and that the character of Lloyd in Say Anything (Crowe's directorial debut) works as a proto-Gen X character.[31] Nonetheless, Hanson remarks that "in most Hollywood stories about Gen Xers but not by Gen Xers, a happy glow is cast upon young characters that isn't present in real life."[32] He points to the sitcom Friends (rumored to be based on Singles) as a key example. Gen X darling Edward Norton comments that what characterizes Gen X is "not slackerdom; it's profound cynicism, even despair, even paralysis, in the face of an onslaught of information and technology."[33] While Singles includes some technological gags, like an answering machine that eats a crucial message, these are little more than gags, and the depression depicted, chiefly through Steve, does not exactly suggest existential despair.
The perception that Singles was a Hollywood film about an underground music scene was raised during the film's initial release, and it has persisted in some of the more recent scholarship. Newsweek's David Ansen remarked at the time of the film's release that "Something slick and generic has slipped into Crowe's work: too much of 'Singles' feels like television. His sympathy for the youth culture now feels not so much uncanny as canned."[34] Others compared the film to the TV show Melrose Place, which premiered while the film was in post-production.[35] What comes through in Ansen's review is a sense that Singles was cynically constructed to profit from a Gen X, alternative rock-loving demographic. Jeff Salamon of Village Voice sums this up in his review:
If timing were everything, then Singles could stand as the Generation X crowd's Citizen Kane. Released while Seattle bands account for 20 per cent of the Billboard top 10, but shot before anyone east of Mt. Ranier [sic] had heard of Nirvana, this film about young singles falling in love by the Puget Sound couldn't have taken better aim at its MTV demographic if writer-director Cameron Crowe had called it When Kurt Met Courtney.[36]
One of the ads for the soundtrack album actually picks up on this "right place, right time" rhetoric. The ad, again placed by Tower Records, appeared in the September 1992 issue of Pulse! and reads "The right music. The right movie. The right time." If Warner Bros. didn't see it, everyone else seemed to.
Gen X commentators had mixed feelings about Singles and its motivations. In the introduction to her book on grunge fans, Catherine Strong castigates the commercialization of grunge, citing Singles as an example: "We started to see the grunge tag and associated look shoved onto anything and everything in an attempt to cash in (see the movie Singles as a good example of this), and expensive flannelette shirts started turning up in big-name chain stores where 'fashion victims' shopped."[37] While Strong's statement reads as straightforwardly anti-commercial, grunge fans, and Generation X affiliates more broadly, are more often characterized by their ambivalence toward commercial culture. As I, and others, have argued, Gen X is known for its voracious pop culture consumption and, at the same time, its cynicism toward the mainstream media, particularly where marketing is concerned.[38] A Gen X fan might make fun of the marketing for Singles, or even the film itself, but this does not necessarily mean that they wouldn't buy the album. Kirk Curnutt articulates a sort of Catch-22 within Gen X's ironic stance toward popular culture: "How, for example, can we speak ironically of a song like 'Smells Like Teen Spirit' that makes ironic its own status as a commodity in lines like 'Here we are now, entertain us'?"[39] Similarly, it would be difficult for Gen X audiences to take an ironic stance toward an album that Crowe himself sometimes characterized as an "anti-soundtrack,"[40] and that came out so far in advance of the film that it did not seem like a well-designed marketing ploy.
Gen X's contradictory attitudes toward popular culture are not entirely unique: Matt Hills and Lincoln Geraghty mark this stance more broadly in their work on fandom and consumption. Hills argues that fan studies have too often minimized "the extent to which fandom is related to wider shifts within consumer culture, such as the increase in consumption-based social and communal identities. It has also reduced the significance of consumption and commodification within fan cultures of both anti-commercial ideologies and commodity-completist practices."[41] The "commodity-completist" practices that Hills describes as part of fandom are crucial to the collecting cultures that Geraghty discusses. Like Hills and other fan studies scholars, Geraghty works to legitimize these practices, arguing that "Collecting is not about mere consumption but is a reflective and strategic process [...] that articulates notions of identity, provides social connections and offers multiple experiences as fans acquire, expand and catalogue their collections."[42] So, I might buy the Singles soundtrack album because I consider myself a Seattle rock fan or because I'm a Pearl Jam completist, and this purchase would not necessarily compromise my disdain for the Hollywood film to which the album is attached.
For his part, Cameron Crowe tried to articulate his goal for the Singles album as something other than a "cash-grab" aimed at a Gen X audience, though he mostly did this by actually playing up the relationship between the album and film in response to apparent attitudes about soundtrack albums as cynically commercial tie-in commodities at the time. In multiple interviews around the film's release, he played up the idea of the film itself taking the form of an album, with each of the vignettes playing like a "track" with title cards like "The Theory of Eternal Dating" to designate them.[43] Crowe also framed the album as compiling only songs that were integral to the film. A journalist from Pulse! says of the album, "It's a somewhat eclectic mix but at a time of deceptive cash-ins, at least they're all in the movie. 'Every one of them,' agrees writer/director Cameron Crowe [...] 'and they're used prominently—which is why they're on the album.'"[44] For Crowe, the album was not a tangential commodity, but a crucial part of Singles as a multimedia work.
Crowe and commentators also distinguished the album from Seattle scene cash-ins on the basis that Crowe had already been living in Seattle for almost a decade and personally knew many of the musicians who contributed to the album. Through his wife, Nancy Wilson of Heart (and of the Lovemongers, who appear on the album singing a cover of Led Zeppelin's "Battle of Evermore"), Crowe was well integrated into the Seattle scene. In July 1991, Chris Cornell told Rolling Stone that it was "an extra pat on the back having Cameron ask us [to contribute music to the film], because we respect his opinions on music."[45] It is also important to remember that when Crowe shot Singles and curated the soundtrack album, the Seattle scene had not yet exploded into mainstream popular culture. Eddie Vedder had just joined Pearl Jam, and they hadn't yet recorded their first album.[46] Cornell's approval seems characteristic of most in or around the scene. Tim Thomas of University of Washington's Daily Evergreen gave the film and album a favorable review, and allowed Crowe to defend himself in his own words: "Isn't it weird how you go from just pounding on your friends to get them to listen to this music that you love, to all of a sudden apologizing for it being trendy?"[47] By the time the album came out, many of the featured bands were indeed trendy, but the OST also offered Gen X audiences something more than the latest hits.
The Singles album captures some of the pop cultural nostalgia for which Gen X is known. On the album, Seattle native Jimi Hendrix's "May This Be Love" references a particularly nostalgic scene in the film, where Linda admires Steve's vinyl collection, remarking "Albums... I miss albums." A musical montage ensues, highlighting "May This Be Love." During the song we not only see Linda's rapturous expression as she tells Steve "I love this song," but also an image of the record spinning on the turntable, a loving nod to what was, for many nineties consumers, a bygone musical format. As Paul Grainge has argued, "It was from the early 1970s that nostalgia became a routine keyword in America for the capaciously sentimental, and variously commodified past."[48] This boom in commodified nostalgia notably corresponded with the coming of age of Gen X. What is more, Singles characters and consumers had recently experienced a massive technological shift, hence a particular nostalgia for vinyl. As Dominik Schrey explains, "The forced displacement of analogue vinyl records and audio cassettes by the digital compact disc throughout the 1980s was one of the first moments when the scope of imminent media technological changes became evident to a broad public, creating an instant sense of nostalgia for the supplanted recording media."[49] We see this nostalgia play out within the narrative of Singles, and we will see it play out more concretely with the reissue of the OST and related paratexts over two decades later.
The marketing around Singles and its OST might also be read as nostalgic. The black and white image that was used both as advertisement and album cover feels like a romantic riff on an earlier era. Steve and Linda are even posed to evoke Robert Doisneau's famous photograph of a Parisian kiss, the postcard of which binds Steve and Linda (they both own it) within the film's narrative. While not writing explicitly about Singles, Grainge situates the potential appeal of this monochrome image at the time of the OST's release:
[B]y the early 1990s, the saturation of color within a crowded visual marketplace had given black and white a new life. [...] Black and white was part of, but also seemingly beyond, the world of corporate and media image production. The visuality of monochrome seemed to efface its own relation to the sphere of capitalist simulations, sustaining the illusion that it was somehow removed from the market culture in which it was necessarily produced.[50]
Here again we might locate the circular logic of Gen X's relationship to popular culture. The evocation of a less commercial past is, somewhat ironically, what makes this image "work" as Gen X marketing. It appeals to a sensibility that is both cynical and romantic.
But the film and soundtrack album evoke a darker sense of Gen X nostalgia too, one caught up in commemorating figures who did not live to see the film and album's release. According to Crowe, it was the death of Andy Wood, the lead singer of Mother Love Bone (members of which would go on to form Pearl Jam) that spurred him to return to work on Singles. An impromptu memorial for Wood, following his heroin overdose in 1990, gave Crowe the idea for a film that captures the way single people in an urban setting come together as family.[51] Crowe explicitly commemorates Wood's short life by including Mother Love Bone T-shirts in the film and a track by the band on the soundtrack album. Other outlets picked up on the memorial vibe: Pulse! ran an image of Mother Love Bone with their review of the soundtrack album.[52] Wood was an unfortunate forerunner of several other Seattle musicians who died young. Drug addiction would also be at least partially responsible for Kurt Cobain's death in 1994 and Alice in Chains singer Layne Staley's death in 2002, among others. I would argue that experiencing these (often self-destructive) tragedies has contributed to the already strong sense of nostalgia that haunts Gen X's relationship to popular culture. We consume, in many cases, to remember, and I think this is central to the way we are targeted as a demographic today.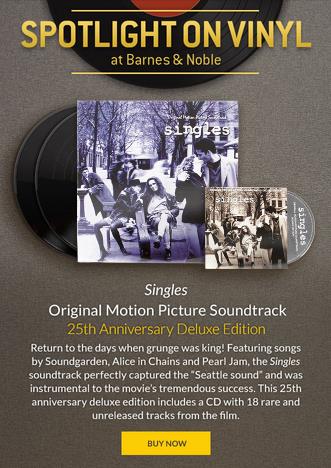 Figure 1: A marketing email from Barnes and Noble encourages fans to "return to the days when grunge was king" by purchasing the Singles OST reissue. Screen grab by the author.
Singles Going Steady: The 25th Anniversary Reissue
If Linda yearned for vinyl albums in 1992, she would be pleased with the pop cultural landscape today. In the decades following Singles's release, vinyl has made a big comeback, in large part because its materiality makes it more collectible than digital forms. As Marc Hogan of Pitchfork notes, in a lengthy article on vinyl, it's still the "physical medium for obsessive music appreciation" par excellence.[53] The connection between vinyl's resurgence and album reissues is evident in a statistic from Nielsen's 2017 end-of-year report: "Vinyl [experienced] sales growth for the 12th consecutive year, comprising 14% of all physical album sales. The top-selling vinyl LP of the year was the re-release of The Beatles' Sgt. Pepper's Lonely Hearts Club Band."[54] Like many recent reissues, Sgt. Pepper came in a variety of packages ranging from a simple CD/digital download remaster of the album, to a deluxe vinyl release with extra tracks, to a "super deluxe" release with surround sound mixes on Blu-ray and a 144-page hardcover book. When Warner Bros. re-released the Singles original soundtrack album in a "deluxe" twenty-fifth anniversary edition in multiple formats, among them vinyl, they took part in a growing trend. As this release demonstrates, movie merchandise not only bolsters profits and audience engagement in its original moment, but also participates in the economic and cultural legacy of a given text.
Why release an anniversary edition? As both William M. Johnston in Celebrations and Matt Hills in Doctor Who: The Unfolding Event discuss, anniversaries provide a predictable rhythm by which everything from televised extravaganzas, to citywide celebrations, to reissue release dates can be planned. Writing about the commercial logic of commemoration, particularly with regard to anniversaries, Johnston writes, "Anniversaries fill a vacuum left by the absence of any deeper consensus; cultural managers agree about little else except the utility of anniversaries in programming events."[55] Or releasing albums, it would seem. Taking the fiftieth anniversary of Doctor Who as an extended case study, Hills doesn't entirely dispense with Johnston's cynicism, but he does give a more nuanced account of the various forms commemoration can take, and the motivations behind it. Hills theorizes the media anniversary as a "meta-paratext," a paratextual fact that orients our consumption of the text. The media anniversary "stands as a key, privileged paratext which informs and underpins" other production.[56] In the case of the Singles album, the fact of the twenty-fifth anniversary of the film not only motivated the release of the "deluxe" anniversary edition of the OST, but also promotional materials (see Figure 1), and commentary in the press.
But unlike the fiftieth anniversary of Doctor Who, for which the "meta-paratext" of the anniversary provided a guided (if not entirely coherent) merchandising strategy, Singles demonstrates something of a missed opportunity for coordinated merchandise. Rather than a cohesive film-and-soundtrack re-release, the updated and expanded Blu-ray release of the film dribbled out, as the Cameron Crowe fan site The Uncool awkwardly puts it, "Twenty-two-and-a-half years after it's [sic] theatrical debut" in 2015.[57] In the comments section of the post, one fan noted the lack of fanfare, asking "No MTV release party? [frowning emoji]." The release did not warrant mention in trade publications like Hollywood Reporter and Variety. It is possible that the re-release of the film was originally planned to coincide with an earlier anniversary. In 2011, as the film's 20th anniversary was nearing, Crowe told a fan writer for The Uncool that he was tracking down footage for a re-release in the Warners archive, and that he already had "KILLER" footage of Soundgarden and Alice in Chains.[58] These full performances do appear on the Blu-ray, and they would seem, from fans' comments on the page, to have been one of the main draws of the release.[59] A couple fans also used this space to call for a re-release of the OST, particularly one on vinyl (the original release was only on cassette and CD).[60]
The re-release of the Singles album in 2017 warranted a great deal more media attention than the Blu-ray for two clear reasons: first, it coincided with the twenty-fifth anniversary of the film and soundtrack; second, and less intentionally, the album was released just a day after one of its most featured acts, Chris Cornell, passed away suddenly at the age of 52.[61] In part because of this, the re-release of the soundtrack album warranted articles of varying lengths in all the major music publications, including Rolling Stone, Spin, Billboard, and Pitchfork. Most of these articles share an emphasis on the original release of the OST as a landmark pop cultural moment, sometimes at the expense of the film. In an interview with Rolling Stone, Barrett Martin of Screaming Trees, who have a song on the album, remarked that the soundtrack "bottles a moment in time."[62] Cam Lindsay of Vice's music blog, Noisey remembers, "The hottest album of summer 1992 was the soundtrack to a movie nobody had seen. Just as grunge was going mainstream, an original motion picture soundtrack to something called Singles appeared. [...] This was an alternative music fan's wet dream come true."[63] The press around the re-release sometimes mentions the film. Ben Kaye writes for the Consequence of Sound blog that "Pretty much everything about the breakthrough of grunge music in the early '90s can be boiled down to one movie: Cameron Crowe's 1992 classic Singles. I mean, Pearl Jam was actually in the movie and Matt Dillion's [sic] wardrobe consisted mainly of Jeff Amnet's [sic] actual clothing." But, he continues, "nothing sums up the cultural significance better than the film's soundtrack."[64] The album seems, then, even more than the film, to package grunge-era nostalgia.
This nostalgia is evident in Crowe's liner notes for the album's re-release too. In a much-quoted tidbit, which appears as part of a signed note dated November 2016 in the album's gatefold, Crowe remarks that the album was originally intended as "sort of an anti-soundtrack, more like a souvenir and a simple mix-tape of some of Seattle's finest." Here Crowe positions the album as untainted by commercial intentions (despite the fact that this note is included as part of a commercially released deluxe packaging of the album), maintaining the narrative about the film and the album that he sought to publicize back when it was released. Speaking in 2016, though, the innocence of the initial moment when the soundtrack was put together is played up even more, and now it becomes, along with the film, "a kind of snapshot of a time gone by." Thus, the reissue of the OST becomes a means of remembrance, a trip down (Gen X) memory lane. Crowe concludes his note by saying, "Finally making its U.S. debut on glorious double-vinyl, here is the music that guided us and played while the cameras rolled. Hope you enjoy the trip back as much as we did – Viva Seattle!" Crowe upends the usual hierarchy: the music becomes central, the driving force behind (even before?) the film. Perhaps this sheds some additional light on the album as "anti-soundtrack" insofar as the music is not merely soundtrack. That Crowe refers to the album as a "trip back" captures the sense of nostalgia inherent in the re-release, and the Seattle he plugs in "viva Seattle"—the Seattle that hosted a burgeoning music scene where everyone knew each other's names—no longer really exists. It exploded along with grunge's international success, and hence it lives on only through recordings like this one.
The function of the album as a memorial to a previous moment in pop music history became more poignant given Chris Cornell's untimely death between the album's announcement and its release. Cornell put his stamp on Singles: not only does his band Soundgarden appear in the film and on the album, but he also contributed score to the film and a solo song, "Seasons," to the album. And his involvement actually went even further, as the deluxe re-release highlights. In one scene in the film, we see Matt Dillon's character, Cliff Poncier, hawking a solo cassette after his band (Citizen Dick) has broken up. Jeff Ament of Pearl Jam reportedly designed the physical cassette for the shoot, but Cornell one-upped him by recording actual songs to correspond with the track listings.[65] These songs, collectively known as the Poncier EP, included an early demo of "Spoonman," later a hit for Soundgarden, and "Seasons." Among the most coveted offerings of the re-release of the Singles OST are the songs from the Poncier EP, along with two additional tracks by Cornell, "Ferry Boat #3" and a piece of score from the film. This new Cornell material would have been collectible even if the singer-songwriter had not passed so suddenly on the eve of the reissue's release, but his death made this material all the more poignant for his fans. As Noisey's Lindsay remarks, "There will no doubt be a lot of fans revisiting this album to remember [Cornell's] work." Indeed, Billboard reported that Cornell's death led to a surge in sales of his music, including the Singles soundtrack, which had reached 33 on the Billboard 200 album chart as of May 31, 2017.[66]
Cornell's death (and, less directly, the death of Alice in Chains frontman Layne Stayley in 2002) bolstered the Singles album's collectability in the same way that rock star deaths have often driven up the market for their work.[67] However, the collectability of the album doesn't solely rely on its ability to reanimate now-deceased musicians. The re-release also draws on the classic collectible strategy of offering something new related to a presold property. The reissue offers everything that the original album offered, but it also offers something more (the "bonus" track is an obvious and time-tested example of this strategy). The Singles reissue offers us Paul Westerberg's "Dyslexic Heart" as we heard it on the original album, but also, on the bonus CD, a demo version that was previously unreleased. As Crowe remarks of this extra track, "it ends with Westerberg saying 'Broke my pick,' which ... I love that studio chatter stuff. It's always nice to have that little extra kiss."[68] This "little extra kiss" represents access to Westerberg's creative process, but the "studio chatter" also designates this version of "Dyslexic Heart" as different from all other versions, and hence collectible for the Westerberg/Singles completist.
The collectability of Singles musical merchandise had already been set in motion a few years prior to the album's reissue, when two special Record Store Day (RSD) items were released.[69] RSD privileges vinyl, in part for its collectability. The 2015 RSD release of a 7" vinyl single for Cliff Poncier's band, Citizen Dick's, song "Touch Me I'm Dick" (a sort of parody of actual band Mudhoney's "Touch Me I'm Sick") was especially collectible because the b-side featured an etching.[70] RSD 2015 also saw a CD release of the Poncier EP.[71] Both of these releases ostensibly helped to reactivate fan interest in the film, particularly in its music, setting the stage for the soundtrack reissue a couple years later. How did Gen X consumers respond to these collectibles, though? It's hard to know for sure. Given that 90s culture is now itself subject to nostalgia, Gen Xers might have embraced this material as they would have pop culture from the 1970s back in the 90s. But some might view these "special" commodities with cynicism. Record store owner and Guardian commentator Rupert Morrison expresses a sort of Gen X ambivalence in response to Record Store Day itself. While he acknowledges the helpfulness of the event in driving traffic to his store and celebrating vinyl, he derides RSD offerings like a "translucent green Doctor Who soundtrack" as "deranged fetish objects," suggesting, "The big problem with the vinyl resurgence is this bizarre effort to derail its legitimacy with gimmicky releases."[72] Even if they turn off some Gen X fans, though, the small runs of RSD releases are designed to hail only a particular set of fans whose ironic stance toward commodity culture is outweighed by their sincere appreciation of their own now-nostalgic past. These musical merchandise demonstrate savvy strategy insofar as they range from targeting a highly specialized audience of diehard fans (the RSD releases) to a much broader base of nostalgic Gen X consumers and younger folks interested in a particular image and sound of the nineties (the OST). In any case, these musical releases arguably remain more culturally salient than the film. As Lindsay puts it, "Singles became the soundtrack that didn't need its film."[73]
Maybe the Singles OST did not need its film: twenty-five years later, there's little question that the soundtrack is more celebrated than the film.[74] But perhaps it's more useful to think of the album, the film, and its other paratexts (merchandise, marketing, etc.) as part of a larger multimedia text. Gray recently clarified that "the 'para'" in paratext "is deceptive because it might suggest it's outside the text when, in fact, I think paratexts are intrinsic parts of the text as social and cultural unit."[75] Each paratext contributes to the text as a whole, though some might become more prominent than others. Take, for instance, the black and white promotional image previously discussed, of Fonda and Dillon in black leather jackets, leaning into each other somewhat hesitantly and haphazardly with a guitar between them. In its ubiquity across the whole Singles enterprise (in posters and advertisements for the film and the OST, on the cover of all releases of the album, on the Crowe fansite, and in articles about the film and OST), this image distills something of the contradictions wrapped up in Gen X culture. It is totally of the moment in its display of grunge fashion in a Seattle square, but the black and white romanticism of the image also renders it nostalgic, both in the moment when it was produced and, in an even more complex sense, today, as a nostalgic image of a period that was already nostalgic. The image sets up a sense of the era as already past, and perhaps gets at the simultaneous idealization and inaccessibility of the past inherent in nostalgia. But, as Crowe suggests in his liner notes, the music can take us there.
And this makes the OST reissue a powerful commodity: a form of movie merchandise whose value cannot be reduced to dollars and cents. As C. Lee Harrington and Denise D. Bielby argue, "Media texts and technologies help unite cohorts, define generations and cross-generational differences, and give structure and meaning to our lives as they unfold."[76] The Singles soundtrack album is one such defining text. As I hope to have shown here, soundtrack albums, and particularly those that tap a cultural Zeitgeist in the way that the Singles OST did and does, deserve more attention from scholars of popular media. Like other forms of media merchandise, the value of the soundtrack album is woven into the fabric of the film narrative, but it also exceeds the film itself in terms of the possibilities for identification (or dis-identification) it offers fans.
Author Biography
Laurel Westrup is a Continuing Lecturer with Writing Programs and the Honors Program at UCLA. She is co-editor, with David Laderman, of Sampling Media (Oxford University Press, 2014) and co-editor, with Paul N. Reinsch of The Soundtrack Album: Listening to Media (forthcoming, Routledge). Her work on popular music and media has also appeared in the journals Spectator and Projector, and she has articles forthcoming in several collections.
Notes
Top of page