Hye Seung Chung and David Scott Diffrient, Movie Migrations: Transnational Genre Flows and South Korean Cinema (Rutgers University Press, 2015)

Skip other details (including permanent urls, DOI, citation information)
This work is licensed under a Creative Commons Attribution-NonCommercial-NoDerivatives 3.0 License. Please contact mpub-help@umich.edu to use this work in a way not covered by the license. :
For more information, read Michigan Publishing's access and usage policy.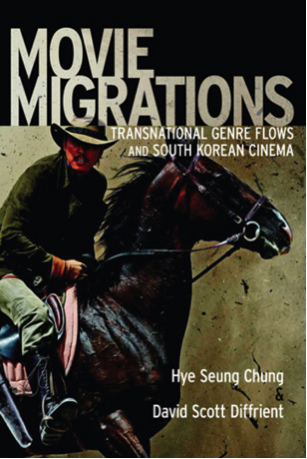 In Movie Migrations: Transnational Genre Flows and South Korean Cinema, Hye Seung Chung and David Diffrient explore a frequently noted characterization of Korean cinema, citing such critical constructs as Miriam Hansen's vernacular modernity, to characterize the transcultural nature of certain Korean film genres. They also observe that Korean cinema's transcultural position has become complicated by the country's embrace of globalization, multiculturalism, and Hallyu (the Korean Wave), thus inevitably translating cultural standards across genre, country, and even history. This raises several troubling questions, most prominently that of determining the proper (or ethical) attitude towards the Other in the process of translation. To capture the protean nature of Korean cinema, the authors prefer the term "migration" to "translation" or "hybridity," underscoring the dialectical nature of Korean films, which trade on such hybrid processes as transmedia adaptation and implicate multiculturalism and globalization. The authors thereby seek to "bring South Korean cinema . . . to the forefront of. . . debates about globalization and transnationalism."[1] In this respect they situate Korean cinema in contemporary conversations about culture and nationality.
The book comprises two parts, each divided into four chapters. Chung and Diffrient begin by examining Korean films' debt to Hollywood, which has played a significant role in Korean film history. Indeed, the Korean film industry did not develop properly at first, due mainly to Japanese colonialism, the Korean War, and other misfortunates of the early twentieth century. Consequently, significant portions of Korean films were imported from Hollywood movies, offering Korean viewers a fantasy life as well as momentary relief from their complicated reality, with several becoming perennial favorites. Koreans' preference for Hollywood films has ensured the cultural influence of American movies throughout Korean film history.
Chung and Diffrient trace this cultural influence through a transcultural comparison between a well-known Hollywood film, Love is a Many-Splendored Thing (Henry King, 1955), and a Korean film, The Stray Bullet (Hyun-mok Yu, 1961), which critics believe was influenced by its American predecessor. The authors observe that The Stray Bullet, unlike its American counterpart, which creates a petit-bourgeois fantasy in extravagant settings, unfolds against the gritty backdrop of a poverty-ridden postwar society, highlighting the cultural specificity entailed in cultural adaptation. As the authors note, this intercultural borrowing steers viewers down a cultural "detour" from Hollywood genre films, thus benefiting both Korean cinema and Hollywood. In this sense Hollywood's influence on Korean cinema raises the issue of transcultural reception in light of the localization of Hollywood genres.
As Chung and Diffrient observe late in the book's first section, we find a significant case of transcultural exchange in so-called Manchurian westerns—the Korean subgenre derived from Hollywood and spaghetti westerns. By depicting a lonely hero in Manchuria, where advocates of independence fought for Korean liberation under Japanese occupation, the genre shifts the semantic components of the western genre, transforming an American frontier tale into a (fictional) story of Korean triumph over Japanese villains. This nationalist-imperative genre had however been forgotten until a recent contemporary Korean western, The Good, the Bad, the Weird (Jiwoon Kim, 2008), was released. As Chung and Diffrient explain, this recent Korean western effectively translates the cultural influence of Hollywood westerns and historical meanings embedded in classical Manchurian westerns.
Movie Migrations turns in the second part to recent migratory trends in Korean cinema, discussing historical films, transmedia adaptations from cartoons, novels, and new media, and analyzing influences of Hallyu, the recent spread of Korean culture across the global marketplace. Chung and Diffrient explore such examples of Hallyu films as Untold Scandal (2003), a sensational cross-cultural adaptation of a well-known French novel, Dangerous Liaisons, to eighteenth-century Korea—an unusual combination of a liberal Western love story and a rigidly Confucian cultural system. The authors attribute the success of this unusual adaptation to the popularity of semi-pornographic Korean films of the 1970s and 1980s, recent trends in Korean historical films, and the well-known traditional Western love story, demonstrating how Korean cinema has extended its translational signature across culture, genre, and media.
While discussing The Host (Junho Bong, 2006) and Old Boy (Chanwook Park, 2003)—two box-office hits in the Korean and global markets—Chung and Diffrient remark that the migratory nature of Korean films is engaging viewers with complex aspects of transmedia adaptation and transcultural reception. For instance, The Host not only resembles other monster films such as Godzilla (Japan), which exploited cultural anxieties in postwar Japan, but also plays to Korean nationalism, which informs the reception of the monster film Yonggari (Hyungrae Shim, 1999). The authors conclude this section by noting that Old Boy was adapted from a Japanese cartoon and was subsequently widely embraced in Western countries.
By examining the migratory nature of Korean cinema and expanding the scope of their analysis to include multiculturalism and new media adaptations, Chung and Diffrient underscore the increasingly translational nature of Korean cinema. In the end questions about cinematic migration converge with Jacques Derrida's concept of hospitality—the principle governing the relationship between host (country) and guest (foreigner—the Other), as the authors of Movie Migrations follow Derrida in considering how Korean cinema, while adopting and adjusting to elements of Western film, is creating a new ritual, one that may yet establish proper ethical norms for the evolving practice of "movie migration." In tracing the history of cinematic migration in Korean film from its inception, Chung and Diffrient effectively introduce one of the most significant facets of Korean cinema to a broad readership. Still, in confining their analysis to transcultural phenomena, Chung and Diffrient limit the scope of their discussion. Without fully engaging with recent trends in Korean cinema, such as cultural memory, gender politics, and other aesthetic issues, the book falls short of providing a comprehensive introduction to Korean national cinema today.
Author Biography
Kyoung-Lae Kang is an Assistant Professor at Korea University, Sejong. Her research interests include postcolonial memories, translation of culture, and Asian/Korean Cinema. Her recent articles appeared in Camera Obscura: Feminism, Culture, and Media Studies, the Journal of Popular Film and Television, Television & New Media, Cineforum, and Spaces of Possibility. She is currently working on her first book, tentatively titled Guilt Cinema: Memory, Boundaries, and Ethical Criticism in Postcolonial Korea.
Notes
Top of page