"I'm not a racist or sexist, I just like the jokes."
— Daniel Tosh, host of Tosh.0
With the era of Trumpism officially in full effect, Comedy Central (CC) late night has declared open war on Donald Trump, specifically with its flagship The Daily Show and to a lesser extent @midnight. The issue is how overt late-night attacks on Trump compare with the CC-imagined audience evidenced by its early morning bloc of paid programming.
Infomercials often feature utilitarian home products like vacuum cleaners and cooking products; physical fitness products like workout DVDs and exercise equipment are also common. Cosmetics like Bye Bye Foundation, Air Luminess, or Cindy Crawford Meaningful Beauty are regularly featured on WE and Lifetime, networks with an assumed audience of women (i.e., WE's LA Hair, Lifetime's Dance Moms). In contrast, the History Channel is a site for "men's needs" infomercials. Cutlery Corner offers viewers the opportunity to buy a huge assortment of exceedingly cheap hunting knives in bulk under specials like "Big Boy Toys" or "Zombie Christmas" or "Be Your Own Boss." Another is Prosvent, a natural remedy intended to correct enlarged prostrates for men with emphasis on the sexual dysfunction ramifications of prostrate issues. This advertising is consistent with the perception that History's assumed audience is male, older, and "white working-class" (i.e., American Pickers, Ice Road Truckers, Swamp People).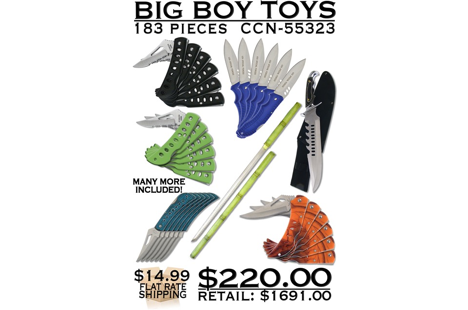 Ad for Cutlery Corner Product
I examined the first two weeks of February 2017 infomercial blocs across Comedy Central, WE, Lifetime, and History. CC not only aired Cutlery Corner and Prosvent paid programming but it became striking the degree to which CC is a niche-network for sex-products. A recent staple of CC's paid programming, often in its 4:00-4:30 am (CST) timeslot, is The Best of the Adam and Eve Home Shopping Show. A buxom woman presents an array of sex toys in a demure QVC-style setting for phone and on-line purchase. Much of it is devoted to vibrators – the Bullet Blaster Kit, Venus Butterfly, Wet Wabbit, Velvet Pleaser – as well as a few couples accessories and "for the guys, the Super Head Honcho" oral-sex simulator. Not unrelated, CC carries late-night spots for phone/video chat sites like "Phone Sexy" and "We Are 18" with the latter's spokeswoman being adult film star, Riley Reid.
CC is also a site for a variety of male-enlargement natural supplements. A quasi-talk show selling Androzene features fitness expert John Abdo (also a spokesperson for the AB Doer 360 exercise chair). Dallas morning DJ Trey Morgan does a faux-radio interview with clinical sexologist, Dr. Kat Van Kirk promoting "100% Male." A bogus news-documentary pedals "Enhanced Male" – a compendium of exotic ingredients like African tree bark and discarded elk antlers – and, as a bonus gift, a complimentary Models Exposed DVD. To note, similar products like ExtendZe and ExtraMax have regularly been featured in the past on CC. Beyond sexual prowess, what these products promise is greater male self-confidence and immediate irresistibly around women: in short, these are male domination "sex-magnet" pills.
To be sure, no network is hegemonic as far as its paid programming: WE occasionally broadcasts paid programming for Androzene. CC does likewise for Air Luminess and other general personal/home products (e.g., Walkfit Platinum orthotic shoe inserts). To this extent, I am less concerned with speculating on audience demographics; rather, I am more interested in what these infomercials suggest about the CC brand identity as a niche network, their imagined audience, and post-Trump America. My contention is that the paid programming is a symptom of CC's gender and sexual politics; a Weltanschauung evidenced not only in the content and competing discourses of its more popular shows –be it the puerile sexism of Workaholics versus the post-feminist sexuality on Inside Amy Schumer – but how CC imagines its audience as far as constructing its brand identity. In other words, it is necessary to consider the totality of CC: how do The Daily Show, @midnight, or the now-defunct The Nightly Show and Colbert Report compare and contrast with Adam and Eve Home Shopping Show, Cutlery Corner, "100% Male" and "We Are 18" advertising? It is this totally of televisual flow that reveals the contradiction concealed by CC's overt anti-Trumpism.
When the infamous Access Hollywood tape broke, the Trump defense was two-fold: one, it was merely "locker-room talk"; two, it was merely how "men talk in private." The CC brand of humor often relies on locker room comedy – crude, graphic, sophomoric, obscenity-laden – and demonstrates how men think and talk about sexuality and women in public under the guise or subterfuge of comedy. The attending paid advertising, in a trajectory that runs from The Man Show and Girls Gone Wild infomercials to Tosh.0 and "Enhanced Male" infomercials, supports this ideological position.
When Donald Trump won an Electoral College victory over Hillary Clinton, the finger pointing began in earnest. Millennial apathy, "white lash," the Democrats' decades of indifference finally handing the working class to the GOP, Russian shenanigans, etc. were all forwarded as explanations. To strain the metaphor, the elephant in the room was a campaign saturated in overdetermined masculinity and blatant sexism, a campaign that wallowed in tabloid tawdriness and vicious vulgarity. The manifestly troubling thing is that Donald Trump defeated Hilary Clinton – the first woman nominee of a major party – even after the Access Hollywood tape (i.e., "grab 'em by the pussy."), Trump's own admissions of peeping and other acts of sexual misconduct, and the numerous accusations of his having engaged in physical sexual assaults.
While unspoken racism underscored reactions to the Obama administration, unremitting sexism was part and parcel of the Trump campaign. This sadly succeeded. In the end, the contradiction of CC is that it is the male late-night niche network for anti-Trump comedic assaults, not only the male pre-dawn netherworld of sex toys, penis enlargement supplements, prostrate problem solutions, and "Big Boy Toys" knife collections. This is the supply of products that meets a demand grounded in fear of masculinity in crisis. It suggests an imagined audience of anti-Trump liberal males who share much of the same sexual ideology of Trumpism.
Author Biography
Doyle Greene is an independent scholar who has written several books on film, TV, and popular music with an emphasis on ideology critique of American popular culture. He also currently serves on the editorial board of Film Criticism.
Top of page