Abstract:
This essay considers how Rainer Werner Fassbinder's Mother Küsters Goes to Heaven (1975) rests at the halfway point in a genealogy of the Arbeiterfilme (workers' films), between Jutzi's Weimar era Mother Krause's Journey to Happiness (1929) and cinema of the contemporary Berlin School. A reconsideration of Fassbinder's Mother Küsters Goes to Heaven not only sheds light on the economics and labor politics of 1970s West Germany but also expands the genre of melodrama and the genealogy of workers' films.
Rainer Werner Fassbinder's Mother Küsters Goes to Heaven (1975), a remake of Phil "Piel" Jutzi's late Weimar classic, Mother Krause's Journey to Happiness (1929), could be read as a film that rests at the mid-way point of a genealogy of the workers' film between the Weimar era to the contemporary Berlin School.[1] In Mother Küsters Goes to Heaven, Fassbinder draws on the history of Arbeiterfilme (workers' films),[2] engages the genre of melodrama and also engages West German politics and economics of the 1970s.[3]
By focusing intensely on the labor politics and political organizing of 1970s, Mother Küsters Goes to Heaven provides a counter-narrative about West Germany's long sixties to the prevalent historical and cinematic accounts, which often overlooked the intense uptick in worker strikes.[4] The strikes were widespread. In France there were nation-wide strikes, which documentaries by Chris Marker and the société pour le lancement des oeuvres nouvelles (SLON, the group to launch new works), a workers' film collective, played a vital role in capturing and sharing with social movements throughout the country and beyond.[5] Likewise, in West Germany, in September 1969, there were widespread strikes, in particular in the metal industry. It was, however, the 1970s that witnessed the most intense decade of labor organizing in Italy, the United Kingdom and France and also West Germany.[6] In West Germany, with the disintegration of the extra-parliamentary opposition in 1968, the late 1960s social movements split along different fault-lines, with the K Groups (communist groups), which were predominantly Marxist-Leninist, being the most numerous.[7] As historian Jeremy Varon put it, "leftists flocked in droves between 1969 and 1973 into the rapidly proliferating Marxist-Leninist groups."[8] Many of them went into the factories to organize.[9]
Both West German nationals and guest workers participated in these strikes. West Germany had begun ratifying bilateral guest worker agreements with other nations starting in 1961.[10] Fassbinder featured guest workers in two films: Katzelmacher (Fassbinder, 1969), in which he played the protagonist, Jorgos, a Greek guest worker; and Ali, Fear Eats the Soul (Fassbinder, 1974), in which one of the two main characters, Ali, is a Moroccan guest worker. As to the relationship among the social movements, guest workers and strikes, as historian and sociologist George Katsiaficas lays out:
Hundreds of activists went into [West] German factories to organize, and in 1969 and again in 1973 (coincidentally, also when Italian labor unrest peaked), waves of wildcat strikes rolled through industry. Along with [West] German laborers, these struggles involved immigrant Turkish workers in automobile plants, women working on assembly lines...In 1973, 275,000 workers in at least 335 factories struck for better working conditions and higher wages...Only after numerous police attacks, headlines in Der Spiegel blaming a Turkish invasion for the unrest and mammoth wage increases (totaling almost 30 per cent from 1969 to 1973) did things quiet down.[11]
1971 and 1973 saw widespread strikes again, in particular of the metal and chemical industries, the latter striking for the first time in half a century.[12]
Starting in the 1960s and throughout the 1970s, labor was engaged in West German cultural media: in literature (Literatur der Arbeitswelt, literature of the working world); in reportage (Wallraff, Runge) and in cinema in the genre of Arbeiterfilme (workers' films).[13] Beginning in the 1970s, directors, many of whom had studied at the Deutsche Film und Fernsehakademie Berlin (dffb, German Film and Television Academy of Berlin), were producing workers' films.[14] Christian Geissler, who focused on documenting workers' lives, taught at the dffb between 1972 and 1974.[15]
Additionally, in North Rhine-Westphalia, the site of numerous labor strikes in the late 1960s and early 1970s, the Westdeutscher Rundfunk (WDR) subsidized the production of workers' films beginning in 1967 and until the political climate shifted to the right in 1978 after the election of Johannes Rau as Prime Minister of NRW—who although a member of the Sozialdemokratische Partei Deutschlands (SPD, Social Democratic Party of Germany) was at the more conservative end of the spectrum—and the films were canceled.[16] Workers' films were produced at the WDR during the time West German screenwriter, producer and author Peter Märtesheimer was editor (1964-1974).[17] And the group Arbeit und Film (Work and Film), founded in 1974 in Frankfurt am Main by Enzio Edschmid and in existence until 1984, went into factories with cameras and taught workers to use cameras in order to document their working conditions and uprisings.
New German Cinema, by contrast, engaged labor issues decidedly less, with Fassbinder being an anomaly. Between 1972 and 1973, his five-part workers' film Acht Stunden sind kein Tag / Eight Hours Are Not a Day, on which he worked with Märtesheimer, screened on the West German television station WDR.[18] Although further segments were planned, they were canceled after Märtesheimer left WDR in 1974. In Mother Küsters Goes to Heaven Fassbinder revisited workers' conditions but included a focus on the political parties absent from Eight Hours Are Not a Day. In fact, Fassbinder focuses on two of the different political fault-lines along which the New Left in West Germany split by 1970: communists pursuing political organizing and anarchists pursuing militant action.[19]
Fassbinder's place at this mid-point of the genealogy of Arbeiterfilme can also be found precisely vis-à-vis melodrama—not only how he draws on but more so how he revises Sirkean techniques. After 1971, Fassbinder's films, as scholarship has noted, show the influence of Douglas Sirk, evidenced by Fassbinder's tendency to draw on melodrama, be it construed as a genre or a mode.[20] While the impact of Sirk's All That Heaven Allows (Douglas Sirk, 1955) on Fassbinder's Angst Essen Seele Auf / Ali: Fear Eats the Soul (Rainer Werner Fassbinder, 1974) or on Die bitteren Tränen der Petra von Kant / The Bitter Tears of Petra van Kant (Fassbinder, 1972) has been noted, the effect of Sirk's melodramas on Mutter Küsters Fahrt in Himmel / Mother Küsters Goes to Heaven (Fassbinder, 1975) and Fassbinder's revision of the genre of melodrama by dint of this film in particular has not been discussed.[21]
Films by Sirk, such as All That Heaven Allows, Written on the Wind (Sirk, 1956) or Imitation of Life (Sirk, 1959) and earlier melodramas, such as Stella Dallas (King Vidor, 1937), explore differences or tensions between classes. Mother Küsters Goes to Heaven, by contrast, both draws on and revises the genre or mode of melodrama.[22] It draws on techniques recognizable from Sirk's melodramas, for example, using mirrors and framing as distancing devices. But Fassbinder revises the genre through Mother Küsters Goes to Heaven, by shifting the entire focus solidly on to the working class and on to the economic politics that impact it.[23]
1. Arbeiterfilme - Weimar Era + Jutzi's Mother Krause's Journey to Happiness (1929)
Fassbinder's Mother Küsters Goes to Heaven provides a contemporary take on the late Weimar era silent workers' film Phil "Piel" Jutzi's Mutter Krausens Fahrt ins Glück / Mother Krause's Journey to Happiness (Phil Jutzi, 1929) with key revisions politically and aesthetically.[24] The film was a Prometheus production that sought to "synthesize narrative forms of popular cinema and politically committed cinema."[25] Jutzi's silent film commemorates the work of popular Berlin artist Heinrich Zille, well known for his illustrations of working class people of Berlin. The film opens with a handwritten text, signed by Zille, which describes the Wedding district of Berlin and the situation of the workers, the unemployed, drunks, prostitutes, and children, as documentary footage depicts it, using montage, unusual camera angles and the then relatively new technique of the unchained camera.[26] Throughout, the film intercuts documentary footage and enacted fictional feature footage.
In Jutzi's film, the main character, Mother Krause, a widow, lives in a tenement apartment in Berlin in close quarters with her son and daughter; as well as a lodger, who is also a pimp and thief; his lover, who is a prostitute; and the prostitute's daughter. Struggling to make ends meet, Mother Krause earns money from her lodgers and by delivering newspapers. Her son, Paul, is an unemployed alcoholic and occasional rag-picker, who relies on Mother Krause for money. Her daughter, Erna, meets a young Communist, Max. Unable to make ends meet, Mother Krause despondently commits suicide at the film's end by turning on the gas in her apartment, also killing the prostitute's daughter.[27] The film closes with Erna and Max at a march of the Communist Party. Released at the outset of the Weimar Era's final turbulent years (1929-1933), which witnessed, after the Great Depression, an uptick in tensions between right-wing and left-wing politics, often manifesting in fatal street-fights and assassinations, the film depicts Communism—through the young couple, Max and Erna—as a salvaging force.[28]
Fassbinder's Mother Küsters Goes to Heaven, by contrast, places agency and hope on Mother Küsters and her politicization, and casts a critical eye on both the Communist party and anarchist militant action, and both on Mother Küsters' daughter, Corinna, and son, Ernst. The film depicts the political coming of age of Emma Küsters (Brigitte Mira), as she tries to understand what led her husband to commit a crime (murder); the media's representations of it; and the actions suggested by people of various political persuasions—from communist organizers to anarchist activists.
Stylistically, Jutzi's Mother Krause's Journey to Happiness is recognized for how it combined "proletarian melodrama, Soviet montage" techniques and documentary footage.[29] The use of melodrama tempers the stark documentary footage of everyday life of the Weimar era working class. As Marc Silberman puts it, Mother Krause's Journey to Happiness relies on "conventional narrative and visual structures aimed at awakening empathy in the spectator through pathos."[30] In this way, it contrasted with contemporaneous Weimar era workers' films, such as Kuhle Wampe, which, as Theodore Rippey puts it, "modeled a pattern of constructive, analytical engagement with the present."[31] Mother Küsters Goes to Heaven would build on the combination of conventions associated with melodrama and workers' film in Mother Krause's, tap into visual stylistics associated with (Sirkean) melodrama and focus on the working class.
A subtle stylistic progression also exists from Jutzi's Mother Krause's to Fassbinder's Mother Küsters via Sirk's oft-overlooked first feature film April, April! (1935). Katie Trumpener, focusing on one sequence of Sirk's April, April!, discusses how "throughout much of this sequence the camera works to dismember, isolate, and dissect the servants' bodies, reducing them metonymically to their 'functional' parts. This old operation...turns the servants into 'hands.'"[32] This reduction, she argues, contrasts with earlier depictions of the masses:
The iconographic representation of these bodies occupies a middle ground between the "mass ornament" and the "new masses," between the comically ubiquitous chores-lines of servants in Ernst Lubitsch's Oyster Princess/Die Austernprinzessin (1919) and the comically massed employees in Three from the Gas Station, between the anonymous, synchronized mass body of the Tiller Girls and the Busby Berkeley spectacular of Fritz Lang's Metropolis (1927) and of Leni Riefenstahl's Triumph of the Will / Triumph des Willens (1936), and the suffering, marching proletarian bodies portrayed in Piel Jutzi's Mother Krause's Journey to Happiness / Mutter Krausens Fahrt ins Gluck (1929) as in Slatan Dudow's Kuhle Wampe (1932).[33]
Sirk's April, April!, by contrast, focuses not on the masses but specifically, metonymically, on the body parts. Fassbinder, continues this shift from the masses, by opening Mother Küsters Goes to Heaven similarly by focusing on labor and on hands. In Fassbinder's Mother Küsters, however, as we shall see, his focus on the body parts depicts a shift in labor that took place between the Weimar era and the 1970s.
2. Arbeiterfilme - Fassbinder's Mother Küsters Goes to Heaven
Fassbinder's Mother Küsters Goes to Heaven opens with a focus both on manual labor and on the media. While the diegetic sound focuses on noise stemming from the assembly of sockets as jazz music plays in the background (on what is later shown to be the radio), the film's first shot—rather than provide an establishing long shot, often outdoors, to show the film's setting or provide context for the viewer before slowly zooming in to the main protagonists and action[34]—consists of a high angle, extreme close-up shot of a woman's hands assembling two parts to create sockets (Fig. 1).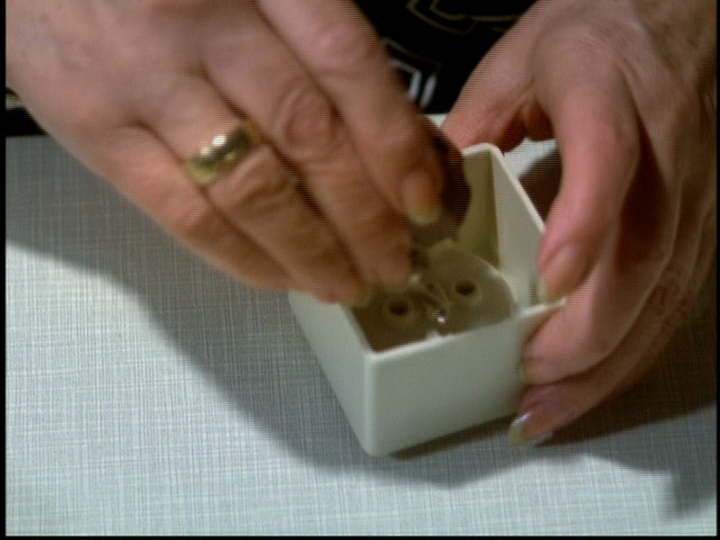 She picks the parts up from off-screen on the right, assembles them and slides them off-screen to the left. Moving the sockets across the screen invokes an assembly line. The sequence cuts to an extreme close-up of male hands flipping the sockets over and tightening screws to hold them together (Fig. 2). Then, a medium close-up shot shows first Mother Küsters ' face, then that of her son Ernst (Armin Meier). Each person is shown from the side, as the film's opening sequence sparingly shows its characters from the front. Since shot-reverse-shots establish intimacy between the characters, which the viewer is allowed to enter surreptitiously, their lack adds to the film's distancing devices and suggests a lack of intimacy between the characters. Mother Küsters, now stirring a red soup pot, bemoans that the number of sockets they have assembled this week (1500) is less than last week (1600). "Well, one becomes older and slower," she says. Thus far, the opening sequence, through its invocation of an assembly line and its reference to mass production suggests a Fordist model of production.
The film also depicts another form of labor as Mother Küsters gets up to stir the soup pot (Fig. 3).
Her meddlesome daughter-in-law, Helene (Irm Hermann)—shown in a medium close-up from the front, first behind Küsters and then alone, grating vegetables—tells Mother Küsters not to add meat to the soup, as meat is contaminated by chemicals and unhealthy. Ernst remains silent. The next shots again show close-ups of the assembly of the sockets (Heimarbeit) and Helene grating vegetables for dinner (Hausarbeit). By depicting the home-working (Heimarbeit) and multi-tasking, these shots invoke a moment of transition from Fordist mass production to feminized post-Fordist labor. By showing women carrying out the labor of housework, the film also engages Hausarbeit (housework) then much under discussion in both labor and feminist circles through the Wages for Housework campaign.[35] By not only including but also opening his film with women's labor, rather than (male) factory work, Fassbinder makes a very key and novel contribution to the genre of melodrama, on the one hand, and to workers' films, on the other hand: he focuses not only on class politics but also on feminist politics, on women, and on their typically unpaid and unrecognized housework or house labor.
Only after an extreme close-up of a ticking clock and a radio—zooming in to its old-fashioned front radio panel, while a radio bulletin interrupts the jazz playing with a newsflash—does the camera zoom out slightly, to provide some context: Mother Küsters and her son Ernst assemble electrical plugs on the kitchen table (to earn extra money). The radio bulletin announces: "at a chemical plant near Frankfurt, a mentally deranged worker beat his personnel manager to death and then committed suicide at one of the machines in the production hall. It remains unclear how it could have come to this gruesome act. As the criminal police stated, the investigations have not yet been concluded." In this way, while Fassbinder opens with the sound associated with melodrama, song, it is not the sweeping orchestral sound associated with Sirk's melodrama; instead Fassbinder reworks sound to focus instead on media, here, radio, as its source, and also news.[36] He would expand the inclusion of news, blaring on the radio or television, in Die dritte Generation / The Third Generation (Fassbinder, 1979) to such an extent that the cacophony of noise in that film makes it virtually impossible to discern or concentrate on the dialogue.[37] And again in Die Ehe der Maria Braun / The Marriage of Maria Braun (Fassbinder, 1979), media features prominently to highlight historical and political events of the day, when the news broadcast plays on the radio during a family gathering or the 1954 World Cup soccer match plays on the television in the closing sequence. In Mother Küsters Goes to Heaven, the news focuses on labor.
The choice of a chemical plant is not incidental, nor is the location. In 1971, chemical workers, bound together by the Industriegewerkschaft Chemie-Papier-Keramik (Industrial Union for Chemical, Paper and Ceramics Workers), went on strike for twelve weeks to negotiate better working conditions and wage increases. In 1973, conditions changed intensely for workers in West Germany as a result of global economic shifts. Guest workers, especially those of Turkish heritage, were often used as scapegoats. In July of 1973, Der Spiegel ran a headline announcing "Die Türken kommen, rette sich, wer kann" ("The Turks are Coming, Save Themselves, Whoever Can").[38] In August, Turkish employees went on strike for a week at a Cologne Ford factory. As a result, a media debate ensued about foreign workers, both how politicized they were and how their presence impacted other workers—by, so the argument went, leading to increased competition for jobs and to an increased politicization of the workplace. In October 1973, the world oil crisis began. By the end of the year, West Germany had decided to stop recruiting foreign workers and workers' uprisings had been, by and large, curtailed.
While Jutzi's Mother Krause grapples with the 1929 economic downturn, Fassbinder's Mother Küsters engages the 1973 economic crisis and the stress it unleashed on workers. In Mother Küsters Goes to Heaven, after the news bulletin, the regular program, playing jazz, resumes. Emma Küsters looks at the clock, and wonders aloud where "father" could be, since it is already well past 6:00 pm.[39] Her son reassures her that "father" will show up, since he has always done so thus far. The doorbell rings and a coworker tells Emma Küsters that her husband, Hermann, has beaten the boss' son to death, stating he must have heard about the planned mass layoffs.[40] A media frenzy ensues as journalists swarm the Küsters' apartment. After a journalist—Niemeyer, (Gottfried John) in whom Emma had trusted—writes a sensationalistic article about her husband, alleging that he was authoritarian, violent and an alcoholic, she vows to correct the record about what led her husband to commit the murder.
The film then presents various forms of Emma Küster's political engagement. Initially, she is involved with the German Communist Party. Fassbinder was one of the few well-known directors to thematize the communist party, which was banned in 1956 as the Communist Party of Germany (Kommunistische Partei Deutschlands) and re-established in 1968 as the German Communist Party (Deutsche Kommunistische Partei). [41] In Fassbinder's film, the communists, Frau Thälmann (Margit Carstensen) and Herr Thälmann (Karlheinz Böhm)—in a clear reference to Ernst Thälmann, the leader of the Communist Party of Germany from 1925 up until he was arrested in 1933 and then executed in 1944 in Buchenwald by the Nazis for his political beliefs—are depicted as an upper middle class couple, who live in a well-appointed home that Frau Thälmann inherited.[42] Through the figure of the Thälmanns, Fassbinder at once cites communist history and figures but also criticizes contemporary articulations of communist politics. The couple heard about Mother Küsters' case, attended her husband's funeral and gave Mother Küsters their contact information. Over the course of her conversations with them, Emma Küsters begins to consider anew the political and economic factors that motivated her husband to carry out the act, eventually agreeing to speak about her husband at a communist political rally. Buoyed initially by their interest in her situation and their warmth and accessibility, Emma is soon frustrated by the sluggish pace at which things are happening. Here, the film's narrative contrasts clearly with Jutzi's Mother Krause's Journey to Happiness, in which Communism is shown as a source of hope, if not for Mother Krause, then for her daughter, that is, the next generation.
An anarchist, Horst Knab (Matthias Fuchs) lingers outside the lecture hall after her talk and introduces himself to Mother Küsters. Frau Küsters, he says, "needs to carry out an action, to wake the public from its sleep." When Frau Küsters shares this exchange with the communists, they reply: "he is one of those who wants to destroy things instead of build them up. We cannot even talk with that kind anymore." The indictment can be read as an expression of a broader sentiment of the era, even among leftists as the film was released during the height of West German terrorism, between the Red Army Faction's 1972 May Offensive, the subsequent arrest of its first generation and the German Autumn of 1977. And yet the film outraged others on the left, who criticized Fassbinder for the film's depictions of both communists and anarchists.[43] According to Todd Rayns, "Turned down by the 1975 Berlin [Film] Festival, and disrupted by left-wing protests at its 'fringe' screening in the Berlin Forum, the original version of RWF's film (with its overtly tragic ending) created more furore [sic] than any of his previous films."[44]
Meanwhile, in the film, the journalist, Niemeyer, and Corinna begin a relationship. In a typical Fassbinder scenario, where the personal and the professional (or financial gain) are enmeshed, Niemeyer uses Corinna to gain access to Mother Küsters, facilitating his coverage of the story and his career; Corinna, inversely, uses the relationship and Niemeyer's media coverage of the murder, no matter how defaming to her father and her family, to boost her career as a singer.[45] In this way, Fassbinder personalizes or interiorizes what are ideological conflicts, in this instance, reframing class conflict in personal terms.
Mother Küsters exhibits the impact of Sirk's oeuvre—with a Fassbinder-ian twist. While the opening shots of Sirk's All That Heaven Allows depict a New England town in vivid Technicolor and using a craning shot; Fassbinder shows a series of postcard-like stills (no craning shot) of a village near Frankfurt in saturated color. And like Sirk's All That Heaven Allows and Written on the Wind, Fassbinder's Mother Küsters Goes to Heaven intensely uses mirrors as distancing devices. In Sirk's melodrama, the viewer is first introduced to the daughter and son of the main character, Cary Scott (Jane Wyman), as they appear in a mirror at her vanity table. As has been noted, her children and their initial appearance in the mirror, reflect society's gaze on Cary and her unfolding relationship with her gardener, Ron Kirby (Rock Hudson). In Fassbinder's Mother Küsters Goes to Heaven, the mirrors typically appear in conjunction with Corinna: she and the journalist Niemeyer hold eye contact through the car's rear view mirror as she sits in the rear seat, after Mother Küsters and Niemeyer pick her up from the airport. Then, the three-some has lunch, during which Corinna briefly leaves the table to make a phone call and check her face in the mirror. Here, the mirror, rather than reflecting back the constricting upper social class, as it does in Sirk, out of which the main characters try to break, depicts the aspiration toward that class, on the part of some characters. As Thomas Elsaesser points out, "Fassbinder's use of mirror shots or internal framing is a typical feature of much 'self-reflexive' cinema, in the tradition of European auteurs, from Bergman to Visconti, or Godard to Almodovar. It is also common in the work of Europe's preferred American auteurs, such as Nicholas Ray, Orson Welles, Joseph Losey, as well as emigré directors like Sirk and Fritz Lang."[46] Yet while Sirk uses mirrors to depict the stifling corset of 1950s upper class politics on women, Fassbinder uses them to show a fixation on upward mobility. Like Sirk, Fassbinder uses mise-en-scène throughout to express characters' internalized repression, that is, the interiorization or sublimation of the dramatic conflict into décor, color, gesture and composition. Yet while Sirk often includes class politics, that is, by depicting both wealthy and working class figures and relations between them, for example, in All That Heaven Allows, Written on the Wind and Imitation of Life, Fassbinder often shifts the entire focus specifically on to the working class in his melodramas and in Mother Küsters Goes to Heaven in particular.
Additionally, in Mother Küsters Goes to Heaven Fassbinder underscores and heightens thematics often touched on by the melodrama genre but with two decided shifts that again bespeak class politics. After the opening sequence set in the kitchen, many of the sequences that take place at Mother Küsters' home are shot in the hallway. The hallway and characters in it are typically shown with a doorway appearing within the frame of another doorway, that is, another frame (Fig. 4). Or the camera is placed to the right or left of the hallway, close to the wall, and a row of open doors is shown (Fig. 5).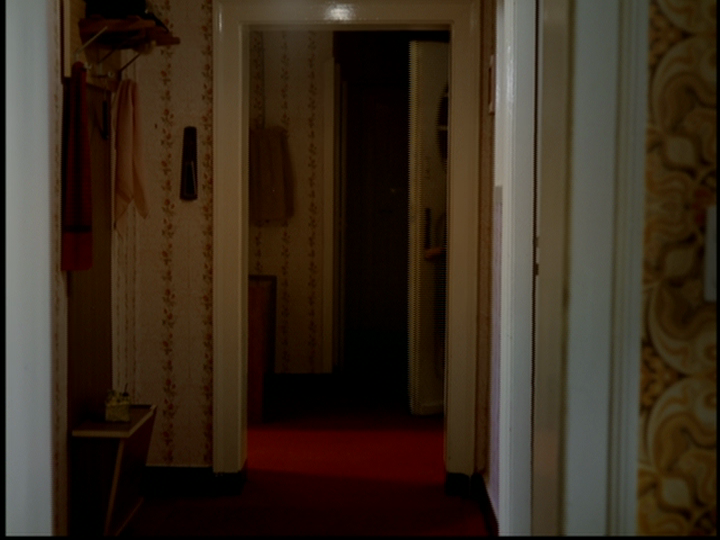 Or the shot is framed with numerous doorways and open doors framing a person.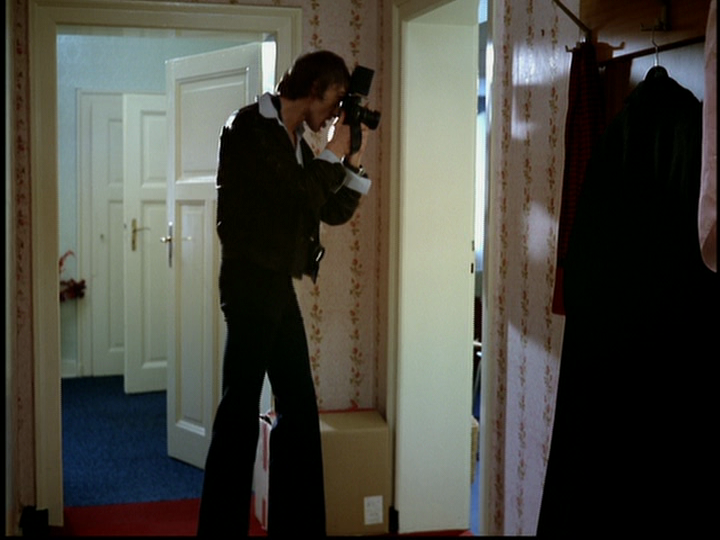 Seeing all these frames within frames or open doorways, typically in the hallway, gives the viewer the uncanny feeling of being simultaneously trapped and not yet settled. Elsaesser calls these types of shots Fassbinder's "obsessive framing shots." [47] Eric Thau describes the effect of Fassbinder's framing in his film Katzelmacher as follows: "throughout the film, Fassbinder will emulate Sirk's limiting frames, creating boxes and prisons from which his lead characters must find some escape."[48] But in Mother Küsters Goes to Heaven two crucial shifts take place.
Whereas in Sirk's melodramas, framing focuses on the constricting environment of 1950s upper middle class society on women, in Fassbinder's melodrama it focuses on the working class and, interestingly enough, shows disintegration. The aforementioned sequences in the hallway, all featuring frames within frames or open doors, show, at first, Corinna moving in; then Ernst and Helene heading on vacation, and then moving out: Helene cites being pregnant and needing calm. Then, Corinna moves out and in with the journalist Niemeyer. In this way, the film depicts the unraveling of a working class family. Both children are depicted as selfish: Ernst as a result of unquestionably obeying his domineering wife, and Corinna as a result of her lust for fame.[49] Neither one considers or tends to Mother Küsters' mourning. The framing heightens both the melodrama and the claustrophobia, as had already similarly been the case in Fassbinder's earlier The Bitter Tears of Petra von Kant and would subsequently be the case in his dark satire The Third Generation, but here focuses on a working class family's unraveling due to the era's economics.
Mother Küsters, increasingly politicized, decides to take action. She visits her husband's former employer and demands he pay out her husband's pension to her. His former boss tells her that she is not entitled to it, since her husband did not die as a result of a work accident but rather committed a crime, and a murder at that. Frustrated, Mother Küsters proposes to the communists that she go to the factories and discuss the matter with workers. The communists confirm their commitment to her but state that they are busy with the upcoming elections and ask for her patience. The anarchist activist stops by Mother Küsters' apartment and tells her that all political parties are bourgeois and cannot risk taking action. He convinces her to participate in a sit-in at the offices of the newspaper responsible for the slanted coverage.
Two different versions of the ending follow: one produced for the West German market and the other for the U.S. market. In the closing sequence included in the version produced for the West German market, Mother Küsters, together with the anarchist and two other activists, heads to the offices of the corporate paper's editor and demands that he acknowledge the article's skewed vantage-point, stating the group will occupy the space until the paper prints an official apology. Then, to Mother Küsters' horror, the other activists brandish a handgun and a rifle; state they are taking the editor and journalist Niemeyer hostage; and demand the release of all political prisoners to honor Hermann Küsters. They demand that a vehicle drive up to take them and the hostages to the airport; that no police be present within a 200-hundred meter radius; and that an airplane be made available to allow them to escape. In an ensuing shootout, not shown but narrated on screen, Mother Küsters, the editor and Knab die.[50] This version met with the afore-mentioned criticism when it premiered at the Berlinale in 1975.
By contrast, the version of the film released in the U.S. closes with a sequence in which the editor condescendingly replies that he will not take the sit-in of the anarchist and his lone companion seriously and walks away. A string of employees ignore them and step over them one by one to go home at the end of the workday, so the activists eventually give up on their sit-in and they, too, leave. Eventually, only Mother Küsters remains. A security guard arrives and tells her she must leave as he has to lock up. She is welcome to come back the next day and every day after that but she must leave at night. He states he has to go home to cook up Himmel und Erde (Heaven and Earth), a traditional dish popular in the Rhineland, consisting of blood sausage, mashed potatoes and applesauce. He reveals that his wife passed away years ago. Mother Küster decides to join him for dinner at his home, suggesting a new beginning.[51] While the happy ending can be read as Fassbinder's nod to the wishes of a U.S. audience for such a conclusion, the new relationship with a security guard, the invitation to dine on blood sausage, and the invocation of the dishes' name Heaven and Earth are each highly symbolic and ironic.
In summary, Fassbinder's Mother Küsters Goes to Heaven engages key hallmarks of Sirk's melodramas, such as his use of sound, mirrors and framings, each of which would subsequently become signature signs in their own right of Fassbinder's oeuvre, but it shifts them to focus decidedly and solely on the situation of the working class in 1970s West Germany, engaging the era's politics and economics. Rereading how Fassbinder uses each of these techniques in this film revises an understanding of them when considering a history of the genre of melodrama but also of Fassbinder's oeuvre and of the genealogy of the workers' film.
3. Conclusion - The Genealogy of Workers' Films and the Berlin School
One could also read Fassbinder's melodrama, as mentioned at the outset, as sitting at the midway mark of a genealogy of Arbeiterfilme, or films that engage work, which, at its contemporary end, manifests in the German cinema of the Berlin School. The cinema of the Berlin School and of its best-known director, Christian Petzold, in particular, engages neoliberal economics in post-reunification Germany, showing the impact these policies have on workers. Arguably, all of Petzold's films that are set in post-1989 Germany grapple with the issue of precarious labor.[52] They show the flexible labor market and its effects on relationships—couples, families or communities—and on notions of (having a) home.
Petzold often makes films in what he has called the graveyard of genre. That is, he uses genres and often combines genres, what Jaimey Fisher has called a "generic (re)assemblage" or an archaeology of genre, one that excavates, piecemeal, recombines, and re-exhibits in the service of his own aesthetic and political vision."[53] Petzold's second feature film, Wolfsburg (2003), for example, is a melodrama and at once clearly engaged with Germany's economic transitions and contemporary labor. The opening sequence shows Philip, driving and on his cell phone, arguing with his girlfriend, Katja. "Visibly agitated, he drops the phone, reaches down to retrieve it," Fisher writes, "hears a portentous thud as his car strikes something...He realizes he has hit a boy on a bicycle...[and] flees the scene."[54] Later, Philip goes to the hospital in order to confess his crime. He meets Laura, the boy's mother, and does not admit to his action. A relationship between the two ensues, made tense by the question of whether Laura will eventually learn that it was he who hit her son. "Even in light of more recent theories of the genre," Fisher argues, "the makings of the melodrama are largely there: melodrama's inherent moral logic in Philip's dilemma; the agnition...of Laura's discovering who Philip is even as she falls in love with him; and the identification with an innocent victim.[55] While Petzold draws on the genre of melodrama in Wolfsburg, he also combines it with other genres, such as thriller (will Laura uncover that Philip committed the crime). Additionally, as Fisher points out, Petzold creates a distance or gives a cool tone to this melodrama, foreclosing some of the empathetic gestures that characterized the genre's earlier iterations.[56]
Set in the city of Wolfsburg, famous for its production of VW vehicles, Philip notably works not in the factory but in sales. Laura, trained to be a graphic designer but—in a typical situation for Berlin School films and also indicative of the times—cannot find work in her area of training. As Fisher argues, "Wolfsburg foreshadows aspects of his [Petzold's] style that reverberate throughout his later work, including his engagement with the contemporary transformation of work and social life."[57] The economic shift manifests not only through Philip's job. In this film, the most private space is not the home but Philip's car: at once a sign of mobility and also of being trapped in motion and without a home. Mobility and scenes filmed from within cars, of people not only being constantly in motion but also needing to be constantly in motion, in order to chase precarious job opportunities, has become a hallmark of Petzold's films set in contemporary Germany.[58] Marco Abel has underscored "what links Petzold's films is...an interest in the question of what happens to this desire for Heimat and one's ability to forge one when the conditions of living, of subjectivity, and thus also of desire in the age of finance capitalism are defined by the rhetoric, and affectively manifest forces, of 'mobility.' What happens to the utopia inscribed into the Heimat-building when the demand on contemporary subjects is that they be flexible and ready to uproot themselves at a moment's notice?"[59] A new kind of homelessness, in other words, marks the contemporary flexible labor. And this aspect of Berlin School cinema adds a new element to the workers' film, one that differs markedly from the Weimar era's post-1929 high unemployment but rootedness in a city and a neighborhood, or Fassbinder's Mother Küsters Goes to Heaven, made after the 1973 economic downturn, where the family is also still rooted, if not exclusively in a neighborhood, then in West Germany. Petzold's films are unrooted in Germany, or unable to take root.
Petzold's Jerichow (2008) is set in post-reunification northeastern Germany (so former East Germany) where jobs are scarce. The film features the married couple Ali, of Turkish heritage and the owner of snack bars, and Laura, German and working for Ali; as well as Thomas, a German veteran who served in Afghanistan. Petzold's film references both Fassbinder's Händler der vier Jahreszeiten / Merchant of Four Seasons (Fassbinder, 1971) and Ali, Fear Eats the Soul.[60] The relationship between Ali and Laura is not healthy: he drinks too much and physically assaults her; and she owes him money, suggesting it might be the reason she stays or is forced to stay with him. As Fisher points out, "this is a world...remade by late capitalism, in which people relate to each other primarily through economic interests."[61] Ali has lost his license as a result of drunk driving and hires Thomas, who needs work, to be his driver. Laura and Thomas soon began an affair. It remains unclear if Ali intentionally set her or them up for a test. The references to a lack of job prospects for returning veterans and in this region grapple with the contemporary economic situation, in this case, in Germany, of what Harvey has called uneven development.
Not only Petzold's films but also those of other directors associated with the Berlin School consider precarious labor and its impacts on communities, families and relationships: Henner Winckler, Lucy (2006), Maria Speth, Madonnen / Madonnas (2007), Chrisoph Hochhäusler, Milchwald / In This Very Moment (2003), Hochhäusler, Unter dir die Stadt / The City Below (2010) and, of course, Maren Ade 's recent Oscar-nominated Toni Erdmann (2016). In Ade's comedy, the sequence introducing Ines, the protagonist, shows her at a family birthday gathering in Germany, but while the family is indoors enjoying cake, she is outside in the back yard, talking to colleagues on her cell phone. Her work clearly never ends. She is a consultant in Bucharest, Romania. The film is replete with references to contemporary economics and its effects. In the film, Ines' father tells her colleagues he has hired a replacement daughter because Ines is too busy to spend time him. Ines, meanwhile, is busy organizing "team-building" events. Her father finally creates the persona of "Toni Erdmann," who is a life coach, he says, to be able to spend more time with her and her colleagues. In these ways, Ade, Petzold and other Berlin School directors focus on precarious labor in present-day Germany and could be read as a contemporary iteration of workers' films.
Petzold, among other Berlin School directors, taps into the genre or mobilizes a generic assemblage, precisely to convey the "costs" of the logic of neoliberalism, personal and otherwise. For this reason, the Berlin School could be considered a contemporary iteration of the workers' film. Fassbinder's Mother Küsters Goes to Heaven sits at the midway point of a cinematic history of the Arbeiterfilme, revisiting the Weimar era's worker's films but also revisited by the contemporary German cinema of the Berlin School. As argued, Fassbinder also draws on the genre of melodrama in Mother Küsters Goes to Heaven, and revises it by focusing on the working class. By shifting the focus entirely to the working class, Fassbinder makes a novel contribution to the genre of melodrama. A reconsideration of Fassbinder's Mother Küsters Goes to Heaven, resting as it does at the intersection of melodrama and workers' films, not only sheds light on the economics and labor politics of 1970s West Germany but also reveals his unique contribution to the genre of melodrama and locates him in the genealogy of workers' films.
Author biography:
Christina Gerhardt is Associate Professor at the University of Hawai'i at Manoa. She has been awarded grants by the DAAD, Fulbright Commission and NEH; and held visiting appointments at Harvard University, Columbia University and the Free University in Berlin. She is author of Screening the Red Army Faction: Cultural and Historical Memory (2018), co-editor of 1968 and Global Cinema (2018) and of Celluloid Revolt: German Screen Cultures and the Long Sixties (2018) and editor of 1968 and West German Cinema, a special issue of The Sixties 10 (2017). She has been published in Cineaste, Film Quarterly, German Studies Review, Mosaic, New German Critique, Quarterly Review of Film and Video, The Sixties, and Wide Screen.
---
Top of page