British class conflict was at the origin of the modern Olympic Games' amateurism rule. Pierre de Coubertin, the noble Frenchman who founded the International Olympic Committee in 1894, was actually the third person to attempt to reinstitute the ancient games. His predecessor was Dr. William Penny Brookes, who hosted games at Wenlock in 1850 and then a national games in London in 1866. Aristocrats balked at professionals participating in London; however, "professional" had a different sense. "Professional" men were laborers who earned wages in the professions of carpentry, blacksmithing, etc. "Amateurs" were gentry who pursued hobbies they loved during the leisure time afforded by their status. In other words, the amateur rule was originally established in order to exclude lower classes from participating.[1] It still serves this purpose in today's college sports, where lower class "student-athletes" face a choice between turning pro or playing on college teams that do not share their revenue liberally. Some student-athletes struggle to afford meals after a game that earned millions in media contracts and ticket sales.[2] In various ways, the upper class manages to preserve its powerful position.
Eddie the Eagle is an unambiguous fable about class. A drywaller's son dreams of Olympic glory despite an athletic deficiency illustrated by a Forrest Gump leg brace and thick soda bottle glasses. He breaks out of one and breaks the other, repeatedly, as he tries his hand at different sports before landing on ski jumping. All the costs pose obstacles. His father shrugs at Eddie's harebrained scheme, but a legal loophole and some Good Samaritans open the way. The real antagonist appears in the form of the British Olympic Committee and its snobby athletes with corporate smiles, who attempt to exclude the amateurish commoner. He turns to American Hugh Jackman, whose secret technique compares ski jumping to orgasm. Male Meg Ryan scenes in a Nordic lodge ensue—brief and frequent with homosocial hip thrusting. Eddie dramatically qualifies, to the Committee's chagrin. The film thankfully avoids playing Cinderella with the dorky ingénue. Eddie quickly shrugs off their snubs because he does not aspire to join the upper crust. He only wants to compete and thus live out his childhood dream.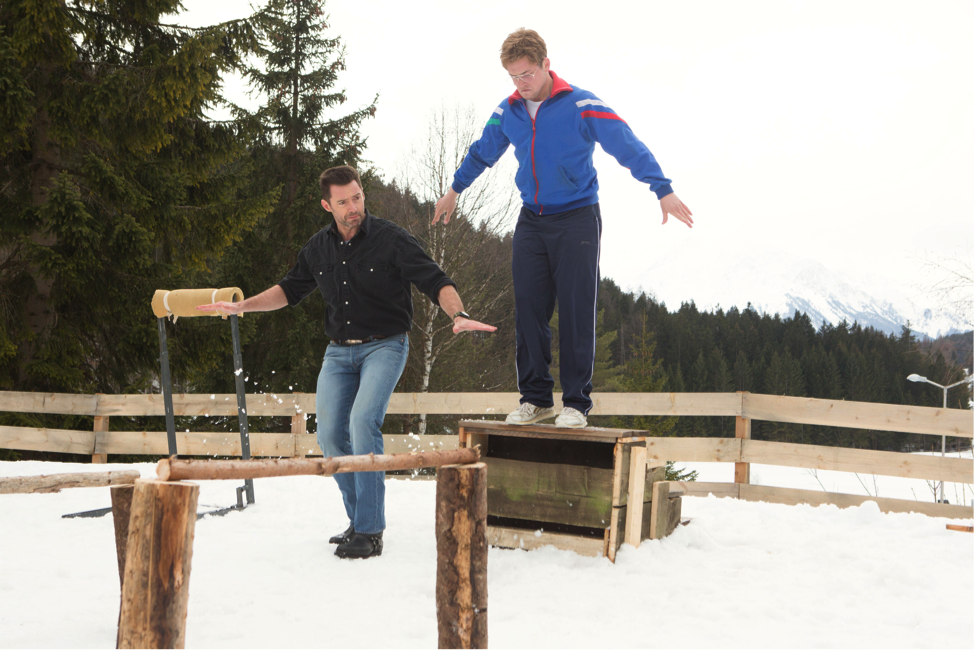 Fig. 1: The blue-collar training facilities of Eddie (Taron Egerton) and his coach (Hugh Jackman) in Eddie the Eagle.
But must not all childhood dreams like Eddie's die? As we pass into adulthood our dreams to be like Mike or Tiger or Serena fall away. That's true for 99.9% of us. Once we admit this fact we must pose the question: what does it mean to indulge in Eddie's dream?
Marxist cultural critics see one clear reason: capitalism. Through dreams and fantasies, people convince themselves that everyone can succeed, although on some level they should know better. Hollywood's potions distract the masses with the ideology of individualism. Marxists would say that personal goals belong to a dog-eat-dog world whose individuals put themselves before everyone else. Eddie the Eagle seems to preach this lesson while feeding us a popsicle of fame and high-fives with Hugh Jackman.
Aristotle, that old-school Olympics fan, would disagree. "True," he would admit, "it is easy to see how capitalist ideology is latent in the Hollywood happy ending, which belongs to the dramatic form of comedy." Comedy always elevates the hero to a higher social status. However, the Philosopher would surely wonder, must we then conclude that socialism requires tragedy, and that all comedy is individualistic? Marxist cultural critics have overlooked the ritual nature of drama. The hero is not a mere individual, but a symbol for a social group. Eddie's personal goal reflects the aspirations of the working class. Put another way, a personal goal is not merely individualistic if it adheres to a socialist ideal, in this case the opportunity for anyone to pursue and fulfill her desire. This film does not tackle the difficult political question of how individuals and their desires relate to society and to the state. What colors Eddie's dream socialist is his lack of talent. He has neither a special athletic gift nor an exceptional work ethic. Everyman Eddie pursues his dream determinedly within a system that ultimately rewards him.
Surprisingly, the news media plays a good angel who sprinkles stardust. They first catch wind of Eddie's story when he celebrates excessively after landing a relatively mediocre jump. Then, the British media liaison, the sole woman we see associated with their Olympic Committee, sets up a press conference for Eddie. Such special attention riles the Committee and their more talented athletes. Before the public Eddie freely admits his inferiority and explains that he did not intend any disrespect. Yet he will not mute his joy. There may be a hierarchy of merit, but Eddie the Everyman deserves his own happiness. The mass audience also deserves to share in this sentiment. Eddie thus becomes a socialist totem. We see his hopeful and humble mother, who can't afford to attend in person, touched by the telly. Heartwarming schlock can have good politics, if not good taste (then again, what makes taste truly "good"?).
Sports make us all losers. Gerald Early has written that the true function of competitive sports is to help us cope with losing.[3] Eddie's heroism shines forth from this angle. The film climaxes with his first attempt from the highest jump. Although he will place last in the competition, he and coach Hugh Jackman celebrate with some of punk's subcultural spirit. They defy a higher class who would shame all the losers.
Of all the great athletes who competed at the 1988 Winter Olympic Games in Calgary, Hollywood chose to make biopics about two non-champions: the Jamaican bobsled team and Eddie. The prestige of cinema gilds their heartwarming stories as a participation trophy, a certain kind of American dream. It reflects not only the populism of current U.S. politics, but specifically the socialist sentiment that all us losers who work and dream deserve a trophy, too.
Author Biography
Grant Wiedenfeld earned a PhD in Film and Media Studies from Yale University. He is Assistant Professor of Mass Communication at Sam Houston State University.
Notes
David Young, "From Olympia 776 BC to Athens 2004: The Origin and Authenticity of the Modern Olympic Games," in Global Olympics: Historical and Sociological Studies of the Modern Games, eds. Kevin Young and Kevin B. Wamsley (Amsterdam: Emerald Book Serials and Monographs, 2005), 10.

Soraya Nadia McDonald, "National champ U-Conn.'s Napier says he goes to bed starving," Washington Post, April 8, 2014, accessed March 11, 2016, https://www.washingtonpost.com/news/morning-mix/wp/2014/04/08/national-champ-uconns-napier-says-he-goes-to-bed-starving/.
Top of page