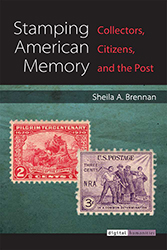 Stamping American Memory: Collectors, Citizens, and the Post
Skip other details (including permanent urls, DOI, citation information)
Series: Digital Rhetoric Collaborative
: Ann Arbor, MI: University of Michigan Press, 2018.
Permissions: This work is licensed under a Creative Commons Attribution-NonCommercial-NoDerivatives 4.0 International License. Please contact digital-culture@umich.edu to use this work in a way not covered by the license. The print version of this book is available for sale from the University of Michigan Press.
For more information, read Michigan Publishing's access and usage policy.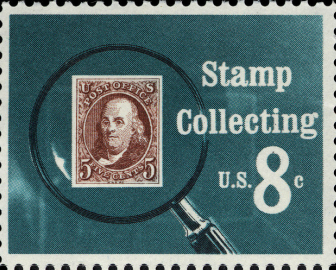 Building Philatelic Communities
"Well, I declare! You stamp collectors beat my understanding!"
"Well, I suppose to one who is not interested in philately, stamp collecting seems like a queer business."
"It isn't a business—­it's a disease."
—­"The Prevailing Malady," 1895
[*]
Stamp collecting started as an obscure leisure-­time activity in the 1860s and 1870s, but quickly emerged as a popular and more structured pursuit by the 1880s in the United States and internationally. Identifying themselves as philatelists, stamp collectors created a large community in the late nineteenth century that extended well into the twentieth through the establishment of clubs and the success of a wide-­reaching philatelic press. Defining themselves as experts, these collectors wished to bring respectability to a leisure activity that they enjoyed and that others ridiculed. Clubs established the study of stamps as a serious discipline, defined by their own as scientific, and created a professionalized feeling about the hobby through club meetings and publications that mimicked academic journals. As new groups of philatelists formed and dissolved, hierarchies also emerged in the philatelic world as clubs restricted membership based on race and gender, and "philatelists" distinguished themselves from mere "collectors." Philatelists also debated among themselves about the practices of philately, and whether it led its followers down a path of knowledge and enlightenment or a path toward materialism and greed. Philatelists formed a national network that helped to legitimize their activities, influenced businesses to pay attention to them in consumerist ways, and expanded the hobby to attract a broader audience as it grew in popularity. Through the process of selecting, saving, and preserving stamps, collectors and philatelists established relationships with their favorite objects. Importantly, the US Post Office Department noticed those connections by the 1890s and intentionally printing colorful stamps that told stories, historical narratives about America's past.
Early Stamp Collecting
People began collecting stamps in Great Britain and France soon after the postage revolution in the 1840s, and the practice spread to the United States. The first dealers in the United States, George Hussey, James Brennan, J. M. Chute, John W. Kline, and Ferdinand Marie Trifet, were found in New York and Boston in the late 1850s and early 1860s. To promote a serious aspect of studying and collecting stamps, Georges Herpin coined the term "philately" in 1864, drawing on the Greek root philos, meaning fond of, and atelia, meaning exemption from tax or tax receipt. Early collectors in Great Britain focused on the colors and subjects of stamps. In contrast, French collectors began examining the elements of stamp production, including the variation of shade, paper, watermarks, and perforations, with less concern for the subjects. As a handful of international businessmen joined casual enthusiasts in analyzing stamps for their subjects and their production qualities, stamp collectors slowly became "philatelists."[1]
The earliest stamp collectors earned reputations as "cranks" who were afflicted with a disease, often referred to as the "collecting mania," a perception that continued for decades after the hobby emerged in the 1870s and 1880s. Many collectors felt the need to justify why collecting stamps was not "a queer business" and battled accusations that they were engaged in a childish folly by insisting it was a worthy pursuit.[2] Wealthy Americans and nouveau riche industrial capitalists collected fine art, yet their behavior rarely was equated with a mania.[3] Economically stable Americans of more modest means also learned to collect things in the nineteenth century, and stamps became one of the most popularly collected items. Collecting stamps appealed to many different audiences, and grew in popularity in part because of the ways that this budding hobby community organized in the United States during the 1870s, 1880s, and 1890s.
Philatelists began to connect with other collectors, and by the 1880s, the first American stamp association had been established. Predating technical hobby clubs created after World War II, philatelic societies formed a national network of clubs in the nineteenth century to help legitimize their activities, to explain their hobby to a broader audience, and to increase the popularity of the practice.[4]
By the early twentieth century, a stamp-­collecting culture emerged as collectors established communities by forming membership clubs, published and circulated hundreds of philatelic papers, and encouraged others to collect. These communities sought to define themselves by a set of practices and behaviors that distinguished members as "philatelists" and constructed philately as a type of scientific pursuit. Comprised predominantly of white male members of financial means, members wanted to attract new collectors to philatelic clubs, but they also constructed barriers and rules that reinforced exclusivity of the privileged represented by their paying members.[5]
Other collectors never joined clubs but participated in the philatelic culture through the circulation of stamp literature and exposure through mainstream media collecting columns and stories about new commemorative releases. These institutional structures helped to shape how philatelists and collectors viewed themselves and how they practiced their hobby. This community became influential as the hobby grew in popularity and in the ways that philatelists shaped stamp production in the United States through the early twentieth century.
Who Collected Stamps?
Quantifying collectors and analyzing their demographics is difficult, because most individuals collected privately, outside of formalized clubs. Kings, queens, lords, czars, and American politicians put a public face on philately in late nineteenth-­ and early twentieth-­century periodicals, but most American collectors were not famous or worthy of headlines. They worked in a variety of occupations and lived in both rural and urban areas. Rogers' American Philatelic Blue Book of 1893 indicated that late nineteenth-­century stamp collecting was truly a pursuit of young adults who worked in a variety of occupations. The Blue Book listed more farmers than doctors and more clerks than bankers, and showed that skilled workers such as electricians, carpenters, blacksmiths, quarrymen, patternmakers, and coal miners publicly identified themselves as stamp collectors. More than half of the 2,000 respondents did not belong to a philatelic association, but they must have occasionally read a philatelic paper to know about Rogers's free listings in this directory.[6]
Directories, like Rogers' Blue Book and others printed by prominent philatelic publisher Mekeel's, showed that collectors lived in big cities and small towns across the United States. Most collectors listed themselves by their last name and first initials, making gender speculation difficult, but the occupations listed indicate that most probably were male. Rogers compiled his directory to grow membership in the American Philatelic Association, of which he was a member. Rogers' Blue Book provided some excellent information about collectors not found in other directories of collectors (such as Mekeel's), particularly age, occupation, and affiliations. Out of the 2,000 collectors listed, only 1,718 were American collectors, and only 54 identified themselves solely as dealers. Not surprisingly, Rogers' did not ask about the race or gender for the listings.[7]
Circulating addresses also gave collectors the opportunity to build communities and foster connections across geographies via the mail system by writing to others seeking to trade or buy stamps. By the 1890s, stamp collecting was an established pastime shared by many men working in white-­ and blue-­collar occupations across the country who had a few extra dollars and hours to spend on a hobby, and some of them joined newly forming philatelic clubs.
Women Collectors
For a hobby that men appeared to dominate, at least publicly, it is intriguing that women played a formative role in shaping the mythology of early philately. One philatelic writer claimed that the first gatherings of stamp collectors in Paris in the 1860s were hosted and attended by women who exchanged their duplicate stamps on Sunday afternoons in the Tuileries Gardens. When the postage system was still new in Britain, women collected stamps featuring the profile of reigning monarch Queen Victoria. In the 1880s, women's magazines such as Godey's Lady's Book and Ladies' Home Journal proposed that stamp collecting was an appropriate activity for women. Because it was an indoor amusement, "restful" and "quieting after the mind has been busily occupied with duties," it was viewed as a proper way for middle-­class women to spend their leisure time. Women were well suited to the pastime because it involved creativity—­when arranging a collection—­that capitalized on their "natural artistic tastes." Godey's instructed women how to decorate tables with stamps, and Ladies' Home Journal taught women how to throw a "fad party" that included a stamp-­collecting hunt.[8] This style of collecting and using stamps by women was seen by some club philatelists, as noted by one in 1919, as lacking "the great principles of philately."[9] Those principles emerged with the establishment of a network of philatelic clubs in the 1870s, 1880s, and 1890s that guided members to organize and analyze stamps in particular ways.
Club philatelists, for example, never advocated decorating with stamps, but rather urged collectors to protect and save stamps carefully in albums. Since collecting and presenting stamps in decorative ways were not valued by philatelists, most material evidence of those pieces was not saved. Nonetheless, articles in women's magazines exposed women to the hobby even when they were not accepted into many philatelic clubs in the late nineteenth and early twentieth centuries.
Nonclub Collectors Influenced by Popular Media
The popular press also exposed the diverse American public to information about stamp collecting and increased interest that led to broader adoption of the hobby. Whether observers were extolling the values of collecting, perpetuating the idea that anyone could find a rare stamp in a box of old letters, or framing stamp collecting as a "mania," stamp collecting was in the news. The presence of stamp-­collecting articles in American newspapers and magazines was not overwhelming, but the numbers of articles increased greatly from the 1870s to the 1930s, marking a sharp growth in exposure never shared by similar hobbies, including coin collecting.
By searching the contents of the historical newspaper databases, it is possible to see an overall increase in numbers of articles referring to philately and stamp collecting in the 1890s, and then again in the 1920s and 1930s. Articles first appearing in larger-­market papers, such as the New York Times and Washington Post, were often reprinted in smaller-­market papers. The fewest total articles appeared in the African American press, meaning there was less casual exposure to philately than to readers of the major dailies.[10]
As early as the 1870s, youth magazines promoted stamp collecting as an appropriate and educational activity for young people. St. Nicholas was among the first nonphilatelic publications to devote valuable copy space to promoting stamp collecting. It published numerous articles on stamp collecting that offered primers to teach child readers about stamps from different nations and the practices of collecting. St. Nicholas began a trend that many other periodicals would soon follow. In 1910, the Christian Science Monitor began publishing regular articles on stamps for young readers, and The Youth's Companion started a stamp-­collecting column in 1919.[11]
This trend spread to the dailies as well. In the late 1920s, the Los Angeles Times printed a regular hobby column that often included articles on stamps; the Chicago Daily Tribune began a Sunday stamp column in 1932; and the Washington Post added the "Stamp Album" to its "Junior Post" section for young readers in 1934. The New York Sun even bought ads in the Chicago Tribune inviting its readers to subscribe to the Sun's Saturday paper specifically to read its special stamp-­collecting section. In 1936, the Philatelic Almanac listed 150 papers supporting stamp departments that generated regular articles or columns.[12]
With the emergence of commercial broadcasting in the 1920s, listeners not only tuned in to hear musicians and comedy acts, but also listened to stamp-­collecting programs. Newspapers listed daily programming from their home city and from other regions; shows ran from fifteen minutes to a half hour. Mekeel's tracked philatelic radio programming and listed nine regular shows in 1932 broadcast from stations in Illinois, Georgia, North Carolina, Pennsylvania, New York, and New Jersey. By 1936, more than sixty stations broadcasted philatelic shows. Those who listened regularly were exposed to stamp-­collecting practices and "the drama of the postage stamp."[13]
As philatelic information spread in different media, stamp collecting attracted new practitioners and appealed to the interests of different people. Magazines, newspapers, and radio programs brought some activities that had been exclusive to philatelic clubs and publications out into a public realm. For collectors who did not belong to a club, especially for those excluded from clubs, this exposure increased their philatelic knowledge and allowed them to connect with the philatelic community through the media.
Organizing into Clubs
Philatelic clubs and associations defined the practices of philately and helped to legitimize stamp collecting as a leisure-­time activity. The formation of philatelic associations mirrored some of the processes undertaken by newly forming professional associations that demanded their members uphold certain standards and practices. These societies, as almost exclusively all white, all male, and all admitted through sponsorship, demonstrated the exclusivity common to late nineteenth-­century clubs. These collectors were part of a "consuming brotherhood" that emerged in the late nineteenth century. Spending money on dues and stamps was similar to how members of fraternal orders and elite dinner clubs consumed: purchasing costumes, paraphernalia, or cigars.[14] Stamp societies created standards for normative collecting behaviors that lent legitimacy to their practice so outside observers would see purchasing stamps and collecting paraphernalia as nonfrivolous and worthy expenditures.
Together with these new organizations, stamp collectors internationally distinguished themselves from other collectors by constructing their hobby as a scientific and rational pursuit. In contrast with those afflicted with a collecting mania, philatelists claimed to practice a rational leisure-­time activity they broadly defined as a "science" because their collecting work involved researching through observation, classification, and arrangement. The language of science permeated many aspects of everyday in the late nineteenth century. Definitions of science and who qualified to be called scientists was also highly contested. As Progressive Era social scientists worked to create a science of the sociohistorical world, philatelists tried to utilize scientific practices by studying the world of stamps with support of their newly created associations.[15]
The idea that philately could be scientific may also have been rooted in nineteenth-­century European philosophical ideas about writing history. This type of historical inquiry was promoted by the newly formed American Historical Association and was taught in graduate programs training professional historians. Collecting documents for careful study and comparison helped historians draw conclusions about historical "facts" that led to supposedly objective histories.[16] Although not seeking to answer historical questions, philatelists studied stamps as primary documents. Such research equated to scientific study in the minds of some. One British publication asserted, "If minute observation, research, dexterity, taste, judgment, and patience are sufficient to lift a pursuit from a hobby to a science then assuredly Philately is a science."[17]
Philatelic associations and individual philatelists perpetuated the idea that the collection and study of stamps was a scientific practice, even if they did not explicitly explain why. In one British book on philately, Arthur Palethorpe simply declared that "philately now ranks as a science," equating the practices of philately with that of a serious discipline. A philatelist classified a stamp by country of origin, year issued, denomination, paper type, paper perforations, printing process, and subject. Careful observation of the ink or perforations of a stamp might lead a collector to find differences or perhaps a mistake. Because stamps were mass-­produced, any differences within a sheet or printing were considered to have more value than the monetary amount assigned to that stamp.[18] Stamp journals printed by philatelic associations described and defined philately as scientific. The editors of the American Journal of Philately commented that their readers enjoyed debating "in the field of our sciences," while the Northwestern Philatelist billed itself as "a monthly magazine devoted to the sciences of philately."[19] Whether thinking about philately as scientific history or using the term "science" to gesture to individuals engaging in research and study of stamp design and production, incorporating this rhetoric was prevalent in stamp literature.
Collectors found support in the new philatelic associations and societies, as some hid their collecting habits from the hobby's critics. Eva Earl, a contributor to Pennsylvania Philatelist, acknowledged that in 1894 it was "customary to laugh at the devotees to stamp collecting—­all the world laughs."[20] Vindication of this push to recognize philately as a disciplined pursuit came in 1907 when King Edward VII of Britain declared stamp collectors to be "scientists" and philately to be a "science," as he elevated the London Philatelic Society to status of "Royal" by officially incorporating the Society with a royal charter. Most likely influenced by his son, who amassed a large collection of stamps, the king observed the prince researching and attending to his collection. Prior to the king's proclamation, philatelists in the United States delighted in the establishment of a Section of Philately in the Brooklyn Institute of Arts and Sciences devoted to the study and promotion of stamp collecting in 1898. The Institute hosted lectures and meetings where collectors could bring their stamps for "study and comparison" for the purpose of making meetings "profitable and interesting." More than a quarter century later, the Maryland Academy of Sciences elevated philately from a subsection of its history department to become its own department, placing philately, once again, "among the sciences."[21]
Defining their hobby as a science also offered philatelists an opportunity to achieve an expertise in the small bits of paper they collected, traded, or bought through stamp clubs and associations. Club founders and members were stamp dealers, who bought and sold stamps for a living, and casual collectors, who bought, traded, or sold their stamps during their free time. Informal meetings of collectors were not new, but when those collectors formed associations, they organized in a more systematic way. The first permanent organization in the world was the London Philatelic Group in 1869, now known as the Royal Philatelic Society. The American Philatelic Association (APA) formed in 1886, and its founders encouraged local affiliates to gather wherever "six philatelists can be brought together." As a national society, the APA would connect smaller groups meeting across the country in the pursuit of philatelic knowledge.[22]
American Philatelic Association
In the 1886, the newly created American Philatelic Association desired to build a network of regional collecting clubs that together formed an internationally significant organization that rhetorically fit with late nineteenth-­century concepts of American exceptionalism. The founding members of the APA were not isolated from the transitions of American business and leisure life near the end of the nineteenth century. A breakdown of local autonomy in small "island communities" began in the 1870s as hierarchical needs of industrial life took hold in the United States.[23] In a similar way, the APA sought to join island communities of stamp collectors to form an infrastructure that supported and nationalized the hobby. The founders believed that the adage "In union there is strength" applied to stamp-­collecting communities. Bringing national recognition to the hobby, the APA promised to promote philately "as worthy and rational" because "it should be regarded in the same light as are the generally recognized specialties that have worked their way from obscurity to the positions they now apply."[24] Signifying similarities with newly forming professional associations, these founding members suggested stamp collecting could emerge from obscurity with a formal organization leading the way. By establishing a society of like-­minded individuals, philatelists hoped to spread the word about stamp collecting to a national audience.
On September 14, 1886, the APA held their first meeting to draw up by-­laws and a constitution, elect officers, and establish membership and affiliation rules. The small group chose John K. Tiffany, an attorney from St. Louis, Missouri, to be the APA's first president. By-­laws detailed best practices for obtaining stamps and discouraged counterfeiting. According to the preamble of their constitution, the APA would help members learn more about philately, cultivate friendship among philatelists, and encourage an international bond with "similar societies" in other countries.[25] Philately had a strong international component for all collectors, since most collected and studied stamps printed in countries other than their own. Additionally, the APA believed that connecting with groups outside of the United States would raise the stature of this association and make the APA the premiere national philatelic organization. The overall mission of the APA sought to legitimize and publicize the practice of stamp collecting.
Less concerned, rhetorically, with excluding unaffiliated stamp collectors, the APA's constitution encouraged people to join. Technically, "any stamp collector" could apply to the secretary of the APA for membership. Current members considered a candidate's background for one month before voting to accept or reject petitioners. This procedure was in place to ensure no known counterfeiters applied. Yet if a candidate was not sponsored by another member, chances were high that the application for membership would be denied. This practice mimicked how other exclusive social clubs operated in an attempt to keep out undesirables, namely women and people of color. For an annual fee of two dollars, APA members received the American Philatelist journal, gained access to the APA library, and enjoyed the community of collectors for buying and trading varieties. While embracing all stamp collectors, the APA firmly and publicly rejected those dealing in or making counterfeit stamps.[26] By denying membership to known counterfeiters, the APA reassured members that the stamps they dealt or traded were government-­issued stamps.
While partaking in social gatherings was one aspect of club life, leadership in the APA encouraged a serious study of stamps as part of membership. The second president, Charles Karuth, asked members in 1899 what the APA had done for the "advancement of the science of philately." Karuth saw its membership comprising mostly collectors and not philatelists, as he carefully distinguished between the "mere amassment of stamps" and the study of philately. So as not to be viewed as "stamp cranks" and to distance themselves from schoolboys who swapped stamps, APA members were encouraged to engage in the valuable and scientific side of philately. If they did this, Karuth believed, philatelists would be "recognized as gentlemen who had chosen a valuable branch of study."[27] Karuth's plea illustrated how the APA sometimes functioned like a professional association as it distinguished between professionals and amateurs. At the same time, Karuth's comments also demonstrated a growing tension among club philatelists who wanted to encourage more individuals to collect stamps, but only within strictures established by clubs.
Philatelists represented their pursuit with an allegorical figure, "Philatelia," the goddess of philately, who engaged in rigorous study of stamps. Philatelia symbolized their pursuit and may have acted as a guide for those pursuing philatelic knowledge. The APA adopted the image of Philatelia for its seal in 1887 and it is still used today. In the seal, Philatelia holds a stamp album in her left hand while she places a stamp into it with her right. As a figurative deity, she sits on a globe that makes her appear larger than the physical world that she sits upon while tending to the stamps kept in her album. Her position suggests that she can control the world on which she sits, gesturing that collecting stamps is symbolically similar to the imperialistic logics that justify how one country believes others are available to be collected and controlled. She is focused on her stamp album, appearing studious and unaware of others, and is not welcoming or open as she faces away from observers. Her focus on the album and its stamps offers a model for all philatelists who described themselves as "prostrate admirers and worshippers" and "all in love with one female—­the Goddess Philatelia."[28]
Similar to female figures incorporated into other seals and artworks, Philatelia represented the ideals of the APA. Personified representations of America and Columbia, as well as other ideals and virtues, took female forms with which many Americans were no doubt familiar. Iconography similar to Philatelia appeared on public murals in the 1890s, with painted women representing justice, patriotism, and the disciplines of science in the Library of Congress. Imagery represented a real political and cultural conflict, because some of the principles personified by women were not legally available to them at the turn of the century, including rights to participate in democracy, to make economic choices, and to be protected equally under the law. Similar to these female mural icons, Philatelia celebrated activities that took place predominantly in a male world and was beloved by men.[29] Women collected stamps privately, but were not welcomed in most philatelic clubs. Philatelia, like other female idyllic icons, had limited symbolic powers to represent equality for American women at the turn of the century.
As the APA and other philatelic groups sought to expand their memberships, they still did not welcome women or people of color. Evidence of white women collecting stamps does not explain why many were turned away from pursuing memberships in stamp societies. First, formal organizations were exclusive and remained that way for many years, and some club names implied they were not for women or girls. The Sons of Philatelia and the Philatelic Sons of America were founded in the 1890s to encourage philately among young people, but sounded like male-­only fraternal organizations. Records indicate, however, that a few female collectors belonged to these organizations, but their numbers remained small.[30]
With some club names sounding like a fraternal organization, many male collectors believed that philately was in fact a brotherhood—­even transforming them into a brotherhood of Renaissance men. Knowledgeable in many subjects, including history, astronomy, geography, and languages, philatelists portrayed themselves as cosmopolitan men of the world. "We Collectors are brothers, comrades, citizens of a great, progressing, ever-­widening Brotherhood."[31] This concept of brotherhood was grounded in ideas learned from experience with fraternal organizations and dinner clubs, and perhaps in saloons, where men socialized in their leisure time. Philatelic club kinship was referred to as "a Freemasonry among Stamp Collectors," where a fellow collector was "always warmly welcomed."[32] Likening the bonds formed to Freemasonry solidified philatelic clubs—­in their minds—­as a white-­male-­only domain, while participation in the hobby was not.
Clubs protected the brotherhood by controlling who earned memberships, making philatelic clubs almost exclusively male and white. In the 1880s, a few women applied to join the Staten Island Philatelic Society but never enrolled as members. Rolls from the APA indicate that there were five female members in 1889, but women never became a strong portion of national stamp-­collecting societies. By 1915, 3 percent of the Southern Philatelic Association's membership were women. Most women, it appears, gave up on applying to clubs created in the late nineteenth century. By the mid-­1920s, some women turned to newer and smaller stamp societies where the membership rules were less stringent. Even as late as 1990, one of the most exclusive clubs still did not allow female members.[33]
These clubs were not welcoming for people of color, either. Surprisingly, as African Americans established fraternal, religious, and social clubs on their own terms, stamp collecting appears almost absent from their leisure-­time clubs.[34] And yet an African American publisher, who later became the assistant registrar to the US Treasury, reconstituted the Washington Philatelic Society (WPS) in 1905 together with white Washingtonians and became the club's first president. Cyrus Field Adams was a well-­known businessman as editor and publisher of The Appeal who used his position at the paper and in various advocacy organizations to argue for political and economic rights of African Americans. He also loved to collect stamps and amassed a collection of over 6,000 when he served as the Washington Philatelic Society president. His presence in a white-­dominated, "exclusive" club displeased some philatelists from other societies. Rumors were generated that spread through African American newspapers, and even in the New York Times, that Mr. Adams was passing as white, and to protect his identity denied an African American philatelist membership in the WPS. Adams had in fact voted for the applicant, whose membership was denied by a majority of the other members. These accusations demonstrate that Adams was an outlier as a collector in both the philatelic and African American communities.[35] The comics and jokes printed in philatelic magazines remind us that while philatelists were uniquely engaged within their hobby's community, they were not isolated from broader American social and cultural behaviors and discourse where racial stereotyping and racism was common.
As philatelic societies grew and established their membership criteria, they also carved out identities for their organizations and collectors. From its beginnings, the APA set forth to build a strong national philatelic organization in the United States designed to compete with British and continental European nations that had already formed their own national philatelic clubs.[36] To be on par with other national association, the APA articulated a vision in a few key ways.
First, the APA's desire to lead in philatelic pursuits came in the form of a vision. The Philatelist's Dream, an illustration printed in 1906, demonstrated how the APA could be a leading stamp society in the world.[37] In the Dream, a vision emerges from a philatelist's cigar smoke rings while he sits at his desk with his stamp album open. The first smoke ring approximates the APA's seal, with Philatelia sitting on a globe studying her album. In the next ring, Philatelia turns toward the viewer, with her album on the floor, and stretches as if she has awakened from a dream. The third ring is empty, as if Philatelia left the APA's seal. She appears above the three rings holding the globe and stamp album in her arms as she extends her right arm in an action of leadership and movement. Boys, men, and at least one woman follow the APA's Philatelia as she leads them west across the image.
The APA's image represents a striking similarity to late nineteenth-­century art representing American destiny and progress, as the APA envisioned itself as a leader in the philatelic world. The Philatelist's Dream is reminiscent of the 1872 painting American Progress by John Gast, which was distributed widely and sold in lithograph form.
The female figure wears the "Star of Empire" and floats above people leading them and approving of their westward movement as settlers from the East proceed west across the painting. Settlers push out herds of buffalo and Native Americans, with trains, stage coaches, and ships bringing more settlers to complete the conquering of peoples and lands. The female figure carries a book in hand, not unlike Philatelia's album, symbolizing knowledge and learning. This awakening of the APA's Philatelia suggests that club philatelists internalized a vision of America as a unique place with a distinctive history, extending that exceptionalism to their philatelic association. Through this imagery we see that some club philatelists equated studying and collecting stamps with the cultural of imperialism. As the United States continued to conquer North America and islands in the Pacific and Caribbean, American stamp collectors became leaders in conquering the world in their philatelic knowledge and also in the ways that they amassed nations, stamp by stamp.
The second part of the APA's exceptionalist vision included an organizational theme song first presented at the 1906 annual meeting.
Similar to the Dream, these lyrics demonstrated that members enthusiastically believed that the APA would provide a leading example in the international philatelic world and amply represent the "big and strong" United States. This organization of white male philatelists paired evenly with American foreign policy that constructed a narrative of masculine progress and "manifest" destiny that justified occupations and invasions of sovereign nations.[39] Rhetorically, the APA constructed itself to be as strong, and perhaps as masculine, as the United States had become in the geopolitical landscape. The lyrics call out to the world's philatelists to notice the APA's strength, which comes from its members—­"great and small," "representing every state." For its members, the APA stands as the "ever-­guiding star," which is almost equivalent to Gast's "Star of Empire," leading philatelists to gain new philatelic knowledge, and also to become a leader in philately. Much like the Dream, the lyrics indicate how APA members internalized the idea of American exceptionalism—­of the United States as a nation and with regard to APA. The APA certainly was not the only club with members hailing from all states, but its members believed that it stood for ideals of America and that persons trading and collecting stamps in marts in Europe and Asia recognized the APA's strength as an organization.
The Philatelist's Dream and theme song added to a grand vision the APA's members held for the organization as it expanded and faced competition from other organizations. The last components of this vision came in 1908 when the APA changed its name to the American Philatelic Society (APS) and increased the frequency of publishing its journal. The name change made the APS sound similar to the well-­established Royal Philatelic Society, and possibly distanced it from professional associations that it initially mimicked. The APS started publishing its journal, American Philatelist, quarterly rather than yearly, and American Philatelist began soliciting and printing articles that focused on the study and history of stamps rather than merely publishing the minutes and speeches from the annual conventions. Members were constantly encouraged to recruit acquaintances, and membership nearly tripled from 574 in 1895 to over 1,500 in 1908.[40] As many other stamp clubs formed, the APS relied on its members to help connect smaller clubs to the APS through affiliations. The network of philatelic clubs grew across the country together with an active philatelic press that spread the word about stamp collecting to interested readers while simultaneously recruiting new members.
Stamp Papers
Philatelic clubs formalized communities of collectors by defining practices and limiting memberships, but a much larger community grew around stamps through the flourishing philatelic print culture made possible by the postal system. Beginning in the late nineteenth century, this print culture facilitated the growth of an imagined, and most likely more diverse, community of stamp collectors and philatelists stretching across state and national borders.[41]
Stamp papers emerged after the Civil War and disseminated information about the practices and vocabulary of the hobby to collectors at all levels of interest and investment. The first serial, Stamp Collector's Record, published by S. A. Taylor, began in Albany, New York, in December 1864 and continued until October 1876, and the number of publications grew exponentially. Between 1864 and 1906, over 900 stamp papers were published in the United States alone. While Americans created the largest number of stamp papers during this time, hundreds of other publications circulated from Great Britain, France, Germany, Canada, Argentina, Egypt, Spain, Turkey, and Venezuela. Some publications published serious studies of stamps, watermarks, or articles about the countries that produced specific stamps, while other papers were the work of one person sitting at home writing a newsletter.[42] A drop in American periodical postage rates, from two cents per pound in 1874 to one penny per pound in 1885, encouraged this flurry of circulation in all types of periodicals.[43]
Some papers attempted to generate business for dealers, while others were small outlets for local philatelic clubs. Dealers such as Scott Stamp and Coin Company Limited and C. H. Mekeel Stamp Company became publishers, printing papers to encourage philately and to stimulate the market for stamps and collecting paraphernalia. Mekeel's became the first weekly newspaper in 1891 and reported philatelic news from around the world by publishing notes from clubs, announcing new issues, and hosting stamp exchanges. Like most periodicals of the day, Mekeel's also sold advertising space. Few in-­depth articles could be found in its tabloid-­style pages, but it maintained its hold as the definitive newspaper for collectors from 1891 to the present. Philatelic West began in 1895 as the journal of the Nebraska Philatelic Society and quickly grew from a regional to national publication by 1902, when it became the official organ of more than ten collecting associations. Its publishers boasted of the largest paid subscription list of any American philatelic monthly.[44] Millions of Americans learned philatelic practices and connected with fellow collectors through these publications.
Many individuals contributed to this print culture even if their papers were short-­lived. One teenager, known later in life for his fiction, started Stamp Collector in his Syracuse, New York, home. L. Frank Baum printed at least four issues of this serial between 1872 and 1873. During the 1870s—­"the golden age of amateur publishing"—­it was not uncommon for boys, more so than for girls, to create publications using the Novelty Toy Printing Press and to distribute them locally or to mail them to interested young readers around the country.[45] Baum was no doubt familiar with these and other stamp-­related papers as he created his own.
While young printers delighted in their creations, some adults cringed at the abundance of amateur publishers. One adult writer found no "earthly use" for amateur papers he claimed were produced by boys with "limited knowledge" of stamps that "only bring ridicule upon collecting from outsiders" and disgust from "advanced" collectors.[46] If forming stamp clubs and publishing journals helped to legitimize the hobby of stamp collecting, the interest generated by younger collector-­publishers was viewed by some as a distraction rather than as a boom to stamp collecting. Even the smallest and shortest-­lived papers show us that there was great enthusiasm for participating in a public discussion about stamps and the practice of collecting them.
Philatelic publications were so prolific by 1892 that they became the subject of disparaging articles. Harry Franklin Kantner of the Pennsylvania Philatelist declared that the "philatelic writer" was "one of the most potent factors in the Philatelic field," fighting for the progression of the hobby. To fully express his concerns, he wrote a poem entitled "The Philatelic Publisher's Soliloquy." This parody mocked the dilemma facing an amateur publisher who invested his own money and time "to clip news by the sweat of his classic brow," gather postal statistics, and "revamp old philatelic articles that delight none." The soliloquy borrowed from Hamlet:
To publish or not to publish,—­that is the question.—­
Whether 'tis better to announce a new philatelic journal;
The fulfiller of a long, long felt want
Or to give up these grand ideas of gaining popularity
And never issue the wished for journal?
[47]
Kantner's disapproval of the proliferation of stamp papers continued the following year when he decried "the 'stamp fever' [that] had become the 'publishing fever.'" His article actively discouraged "all ambitious young men" from starting new papers. In December 1894, the Weekly Philatelic Era rejoiced that an "exceedingly small number" of new philatelic papers appeared that season, which was much more pleasant than the "obnoxious" mushroomed growth of past years. An author for Philatelic West desired to start his own paper in the 1890s and reflected how fortunate he was that he did not burden himself and the "already long suffering philatelic public" with such a venture.[48] These collective comments demonstrated that while some stamp associations openly encouraged all to collect stamps, not everyone agreed that all collectors should participate in the philatelic print culture, or even the broader community of philatelists, equally. Within the philatelic community, philatelists drew lines among their own.
Applying a hierarchical framework to stamp papers and journalists was in keeping with the post–Civil War tendency to distinguish between high-­ and lowbrow activities.[49] Even as stamp collectors tried to construct a cultural space for themselves as learned individuals through clubs and readership of journals, some proposed fracturing within their own ranks. Kantner proposed instituting hierarchical labels for philatelic publications. He categorized papers into four classes: professional, semiprofessional, amateur, and price-­list journal. He classified his own journal, Pennsylvania Philatelist, as semiprofessional because it was less "scientific" but more literary than the "professional" American Journal of Philately. Kantner criticized smaller "amateur" papers that merely reprinted stories from larger journals and did not produce original articles. Quite aware of philatelists' place within the greater American culture, Kantner commented that it was "not only a progressive age in general affairs but also in philatelic matters."[50] Philatelists used the structure of a club, like that of a professional association, to promote standards of practice. Many stamp collectors believed in American exceptionalism in all matters, including philatelic. One way to ensure that American philatelists contributed to a global print culture was to classify papers by their content and discourage just anyone from starting his or her own paper. As a group, stamp collectors were earning an expertise in their collections, but some philatelic writers, like Kantner, felt that even enthusiastic philatelists needed to respect the hierarchy and defer to the expertise of others.
Despite complaints by vocal writers such as Kantner, the journals lived on and connected thousands of collectors each year. Like professional journals, most philatelic publications kept members abreast of the field and facilitated communication among societies. Articles featured news of first issues of American and international stamps, explanations of different types of stamps, philatelic literature reviews, and letters from readers.[51] A handful of papers, like Weekly Philatelic Era, offered subscribers a free exchange notice to facilitate the commerce of stamps among the community that was enabled by the postal service. Beyond articles, most papers accepted advertisements from dealers in stamps and collecting ephemera. Such items advertised included albums and specialized tools for handling stamps. Merchants engaged with hierarchical rhetoric and might call out to "serious collectors" in an advertisement.[52] Not only were collectors defining themselves in ways typical of the period, but in reading about their hobby they were also bombarded with advertising by dealers and manufacturers selling accessories, including magnifying glasses, hinges, and tongs. A cottage industry grew up around philatelists. By reading these papers, collectors educated themselves in the minutiae of philately.
Connecting and corresponding with other collectors was an important part of the culture, and philatelic publications helped collectors connect with others to buy, sell, and exchange stamps. One did not need to belong to a club in order to acquire more stamps and participate actively in the hobby. Around the time that C. H. Mekeel began his Weekly Stamp News, he also printed a directory containing names and addresses of collectors and dealers who paid one dollar to be listed. Five thousand collectors responded in 1891, which increased to nine thousand by 1897, and each entry described the person's collecting specialties, such as specific countries, and sometimes mentioned the languages in which they corresponded. The listings demonstrate global connections of collectors. Not only were collectors living outside of United States represented, but many American philatelists wanted to connect with foreign collectors and dealers. For example, Leon Lambert of St. Paul, Minnesota, desired to "correspond in English, French, Spanish, Portuguese, Italian, and Dutch to exchange on the basis of any catalogue. Sample copies of foreign papers desired." Charles Townsend of Akron, Ohio, called out to collectors "in all part of the world, particularly those in Mexico, Central and South America, and the Islands in the West Indies." And dealers from Peru, Britain, Austria, Switzerland, Italy, and France bought ad space in this directory.[53] Not only were stamp collectors and dealers supporting the governments who produced stamps by purchasing them, they were also supporting the postal system by conducting transactions through the mail. Stamp papers and directories provided contact information to allow collectors and dealers to conduct transactions and facilitate the practices of collecting on their own.
Collectors also used their philatelic papers to discuss what they liked about collecting. Some journals, like the Philatelic West, offered regular testimonials, and others published philatelic poetry that expressed the joys of stamp collecting or of reading a particular paper. In the Philatelic West, "Modern Maud Muller" skipped past her lover to get to the post office in a blizzard to retrieve the latest copy of her Philatelic West magazine, which she loved more dearly than her man: "And when to his heart her form he pressed, / There was something nearer to her heart—­the west."[54] This light-­hearted poem, penned by a man in 1901, jested that the Philatelic West was so good that a "modern" woman would not be swayed by matters of the heart and would put aside her love interests to read her favorite stamp paper. The poem also represented an enthusiastic female collector, an audience some publications tried to develop.
Readers of philatelic journals often heard from editors that they needed to recruit more members of their society or subscribers to the paper. Verna Weston Hanway encouraged philatelists to enlist at least one more collector and proposed starting philatelic societies in the public schools.[55] One tactic was to recruit women as subscribers to stamp papers even if they were not members of a philatelic society. Some women read philatelic papers like Philatelic West, whose editors recognized its readership. As early as 1905, the West offered readers a "Woman-­Collectors' Department" authored by Hanway. In her column, she encouraged women to collect and wrote various articles on stamps, curios, and books. She urged busy women to engage in a healthy hobby to relieve them from the turmoil of their days that they might find pleasure in their collections. She tried to recruit women by writing in the pages of the West that women were genetically predisposed to be collectors because curiosity was "an essentially feminine attribute."[56] Pennsylvania Philatelist and Philatelic West were the first papers that really identified a need to attract female readers and society members. Of course, since these papers were businesses, attracting any and all new readers or members was a key to their long-­term success.
As philatelists discussed and defended their hobby, it is undeniable that stamp papers played an important role in the growth and shape of philately. Though some collectors and journalists did not like the proliferation of philatelic literature, one cartoon printed in A. C. Roessler's Stamp News captured the reason for the paper's existence. In panel 1, the first man says to the other, "I don't subscribe to stamp papers—­they cost too much." In the second panel, the other man holds the first one down, beating him, saying, "Without papers your hobby would be dead in a year, you poor it."[57] A. C. Roessler's also needed to justify its existence and remind its readers to send in their subscription payments. But the cartoon deftly illustrates that the print culture acted as the glue that connected stamp collectors from around the world and made stamp collecting a popular pursuit. Papers offered subscribers opportunities to acquire more stamps, to learn about different varieties, to best care for their collections, and to create an imagined community. Although many small American stamp papers disappeared or merged with other publications by the early 1900s, many still thrived and supported the growing numbers of stamp collectors into the twentieth century.
Forcing Order within Stamp Albums
Philatelic clubs and papers played an important role by setting and circulating standards for stamp-­collecting practices, including ways to properly care for and maintain a stamp collection. Novices learned that philatelists did not keep stamps in cigar boxes or decorate furniture with stamps, as some women's magazines encouraged. Rather, philatelists ordered the world of stamps in their albums. Albums protected stamps from deteriorating, and in subtle ways marked gender differences between collectors. By setting standards of collecting and modeling that behavior, club collectors, who were overwhelmingly male, distinguished themselves as philatelists, while others who collected stamps were mere collectors.
To begin training collectors in the proper way to care for and maintain a collection, some philatelic literature offered primers on collecting for novices. Young readers learned how to start collecting with the ABC of Stamp Collecting. Philatelists admonished novices to care for their collections properly, because "nothing detracts more from the interest and value of any collection, than a slovenly, careless and dirty arrangement."[58] This only matters, of course, if an individual collected for the purpose of reselling stamps or participating in a public exhibition.
Keeping stamps in albums offered collectors a neat and orderly space to organize and display their stamps. The first albums appeared in France in the 1860s as publishers began printing albums in Europe and the United States. Early albums were organized visually by geography: first by continent, then region within the continent, and last by country. Later albums listed countries alphabetically, including colonial headings such as "German East Africa" or "British Guyana."[59] Albums forced an organizational structure, by country and denomination, but also provided blank pages for an individual to augment an album with issues not represented in the pages or to collect in a personal scheme. Albums also protected stamps from human and environmental damage and separated stamps designated as collectors' items from stamps purchased to mail a letter. While some albums were custom-­made, say for British royalty, most were commercially produced by publishers or dealers and sold by stamp and novelty shop owners.[60]
An album offered the collector an apparatus to classify and display stamps from different countries, empires, and colonies, giving the appearance that collectors held the world in their albums. For example, Scott's "International" and "Imperial" albums offered spaces to hold collections of all varieties of postage stamps printed, while Mekeel's created albums for specialists in Mexican or American stamps from North and South America. Order was dictated in an album so that the collector placed stamps from a specific geographical location in a specific place. When flipping through an "International" album, one found maps of continents and regions that represented national borders but not states or provinces within each country. In the map pages, we find North and Central America first, and then localities follow in alphabetical order after the stamps of the United States.[61] Selling to American customers, it is not surprising that Scott's privileged the US map and American stamps within this international album. American exceptionalist narratives were prevalent in commemoratives, as will be discussed later, and these ideas were present in American album design as well.
Philatelists bought and traded countries, represented in stamps, and then ordered the world in their albums. This process was influenced by an imperialistic view of the world where imperial powers fought over lands, natural resources, and peoples in an effort to gain an economic and political edge. An individual stamp collector chose which countries to collect and then made an effort to achieve that goal. As a virtual representation of the globe, an album offered collectors the opportunity to show off their stamps and glimpse the holdings of others with an eye toward acquiring those countries as well. Collectors occasionally spoke of their collections in this imperialistic way. Verna Hanway described how many philatelists fondly laid their eyes upon a valuable stamp sitting in an album with the "pride of a conqueror."[62] One could create a miniature empire within one's own collections held in albums.
As albums imposed order in a collection, they also acted a tool to encourage consumption by highlighting the empty spaces. An empty space meant there was still a stamp left to buy. Dealers often published albums and reminded consumers that albums provided "a valuable and necessary aid in providing for a collection," while also selling stamps to help fill those albums.[63] Albums also reflected how well collectors cared for their stamps, and philatelists judged one another based on the condition and size of a collection kept inside. Philatelists spent much of their time carefully placing stamps in their appropriate slots within an album. This also meant each time they opened an album, empty spaces stared back. These albums represented checklists, of sorts, that guided a collector when making future purchases or trades. Empty spaces motivated many collectors to fill them, and went unseen when one kept stamps in a box. Some collectors saved money to buy an expensive stamp or two that might complete a set, or that might give them something desirable to someone else for future bartering. Albums forced order, while also encouraging consumption.
Albums also facilitated looking at stamps in certain ways that made them appear like souvenirs from an international shopping spree. Physically visiting a foreign country was not necessary for acquiring stamps as souvenirs because an individual acquired stamps through dealers or exchanges, or from fellow collectors at club meetings. Souvenirs offered an incomplete vision of an authentic place or experience that allows the consumer or recipient to create a personal narrative surrounding that new object, which delighted some collectors.[64] H. R. Habicht found great romance in the idea that a French Napoleon stamp "witnessed" the commune in Paris and then was carried to South Africa with its new British owner only to be auctioned off after the Boer War to someone who would later donate it to the Berlin Postal Museum.[65] Stamps gave people like Habicht an opportunity to connect with the past and create their own memories of events or places that they had never experienced. Stamps, then, held a transformative power for some philatelists who created memories for stamps and sometimes projected themselves into the stamp's past life.
Verna Hanway romanticized about the stories hiding in the pages of an album. Engaging in a collection was an intimate experience that involved the collector's personal context of memory. For Hanway, remembering "the old days" was one of the pleasures of a collection:
Stamps told stories to Hanway. Her album brought her closer to those stories and the personal memories she associated, or created, with stamps. She distinguished collecting stamps from a practice merely for the sake of acquisition. Mining these personal relationships forged through stamps is difficult for historians who can only see stamps carefully placed in an ordered album, but cannot read the metanarrative present for the collector.
Gathering evidence of different ways that people collected and illustrated their own narratives through their stamps proves difficult because philatelic standards do not recognize collecting conventions falling outside of standard album keeping. Handmade albums or decorative stamp pieces are often discarded because the philatelic community places little or no value on them. For example, the album pictured in figure 5 is worthless in the eyes of auctioneers today. Someone made this album using a local department store catalog and reinforced it with cardboard. The collector gummed—­without the hinges typically used with a philatelic album—­inexpensive stamps and stamp-­shaped stickers to each page in colorful patterns over the illustrations of women modeling the new winter line of coats. Created during World War I, the album displays a red cross in stamps that may have been a way that this person remembered those wounded in war. Stamp papers discouraged this type of decoration with stamps and particularly discouraged gumming stamps directly to paper.[67] This collection fell outside of philatelic practice enforced by its community. Other examples of women collectors may not have been saved, given that the album would have had no monetary value.
Order and classification in albums minimized aesthetic and creative reasons for collecting stamps, which also enforced gender differences between male club philatelists and independent female collectors. Philatelists tried to distinguish themselves as experts in stamp knowledge, and they acquired that knowledge through careful classification and study of stamps as placed in their albums. This meant most disapproved of other ways that people collected and used stamps, particularly in decorating, such as when Godey's Lady's Book in 1888 printed instructions for creating a postage stamp table. Women readers learned how to gum rare stamps to the top of a small wooden white table and then to glaze over the stamps with a smooth veneer. In 1905, an American woman made a dress that was completely covered with patterns created from over 30,000 stamps. William O. Sawyer papered a twelve-­foot square room with over 20,000 US postage stamps in 1921. Responding to the latter, Philatelic West exclaimed, "Oh the affront to philately!" This style of collecting or amassing stamps for the sake of decorating or using stamps in art projects was never recommended in philatelic journals.[68] Once used in a decorative way, stamps could not be resold. The value of saving stamps might be considered lost on a decorative project.
Decorating with stamps was more often associated with women than men, which begins to address one of the more puzzling pieces of this history of stamp collecting: how men came to dominate this hobby. Steven Gelber proposes that a commodification of stamps took hold in the 1860s when the earliest collectors began trading stamps and amassing sets. Gelber argues that since stamps represented payment and were classified by country, year, and denomination, those sets possessed "real market value." Sets were meant to be completed. Male philatelists developed a market model of collecting that they taught to other club philatelists through gatherings and the philatelic press. This model militated against female participation and made stamp collecting feel like a business endeavor and not a hobby. Stamp dealers set up shops in business districts, such as in Manhattan's financial district on Nassau Street, furthering the connection between the male world of business and philatelic practices.[69] Caring for a collection in albums not only enforced the idea that stamps needed to be classified properly, but that stamps comprised sets and the sets were meant to be filled. In order to complete one set, you might have to break up another, so one protected stamps in case one wanted to sell or trade them. Collectors who decorated with their stamps were not participating in the market model, nor were they studying their stamps carefully for their watermarks or perforation. They collected stamps for fun and because they enjoyed the aesthetics.
There was a constant tug within the philatelic world between those who believed they were "true" philatelists interested in the education and enjoyment of the hobby and unconcerned with making money, and those who collected stamps to sell and trade in the hopes of earning money.[70] As the hobby attracted more followers, the marketability of a stamp collection grabbed the attention of many. The hope of getting rich from finding rare, old stamps in an attic or in a relative's trunk persisted, even when a majority of collectors never got rich from their stamps.
Even as white men controlled philatelic clubs and influences common practices, white women still collected and were urged to participate. Verna Hanaway and others urged women to collect because stamps seemed to naturally fit in with women's interests. Even though Eva Earl found life as female philatelist challenging, she still encouraged other women to participate in this hobby. Noting that stamp collecting was quite usual for "our brothers," it often was discouraged in girls. She began her collection with duplicates she received from her brother, and then Earl "caught the fever." She became more curious than ever about the pastime that she described as one of the "most seductive of pursuits." Schooled in the market model, so to speak, Earl worried that she might not be able to continue collecting because "we girls have little or no money," unlike "you men, you have every thing."[71] Even as Earl wrote publicly about her experiences, she was quite aware that she did not have many sisters in philately in 1894. Clifford Kissinger observed that the numbers of female philatelists were quite small and that they were rarely heard from in the philatelic press. His solution was that women needed more encouragement from "the sterner sex," urging married male collectors to encourage their wives to begin their own albums. Kissinger insisted that "our hobby must appear favorably to the feminine taste" because of the "pleasing colors of many of stamps" and "handsome designs." Speaking to a mostly male audience, he urged men to "encourage the ladies—­we need their presence, and should gladly welcome them to the ranks, and accord them that recognition to which they are entitled."[72] Women definitely collected stamps, but often did not identify as philatelists. The scope of their participation in the hobby is difficult to gauge from the 1880s through the 1920s, because they were excluded from most collecting clubs and were not frequent contributors to stamp papers. Material evidence of their collecting practices and habits most likely were thrown away, much like what almost happened to the handmade album shown in figure 5.
Stamp collectors and philatelists built an international community in the late nineteenth century by formalizing the practices related to saving, circulating, and discussing their favorite objects through clubs and the circulation of hundreds of stamp papers. Importantly, the US Post Office Department noticed those connections. By the 1890s, the USPOD began a commemorative stamp program, knowing there was a ready audience of collectors and individuals interested in saving stamps and the meanings associated with those objects. Philatelists were specialists who wanted to spread the word about their leisure-­time pursuit. Noncollectors viewed stamps as payment for mailing a letter, and would need to learn to see stamps as something else, as something embedded with meaning and value.
Top of page