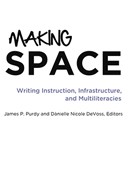 Making Space: Writing Instruction, Infrastructure, and Multiliteracies
Skip other details (including permanent urls, DOI, citation information)
Series: Digital Rhetoric Collaborative
: Ann Arbor, MI: University of Michigan Press, 2017.
Permissions: This work is licensed under a Creative Commons Attribution-NonCommercial-NoDerivatives 3.0 License. Please contact digital-culture@umich.edu to use this work in a way not covered by the license. The print version of this book is available for sale from the University of Michigan Press.
For more information, read Michigan Publishing's access and usage policy.
Chapter 1: Subverting Virtual Hierarchies: A Cyberfeminist Critique of Course-Management Spaces
In this chapter, the authors use a cyberfeminist framework to review discussions of networked environments that focus on the potential remediation of physical space to create a virtual networked community.
In particular, they consider how current course and learning management systems (C/LMSs) remediate physical space in ways that surveil students and reinscribe notions of teacherly authority—at the expense of student learning.
Acknowledging how today's digital writing instructors are often disenfranchised in their lack of power to design virtual institutional space, the authors call for C/LMS designs that better facilitate students' multiple learning styles.
Top of page