Book Review: Leap Dialogues: Career Pathways in Design for Social Innovation
Edited by Mariana Amatullo, with Bryan Boyer, Liz Danzico and Andrew Shea (2016); published by Design Matters at ArtCenter College of Design, Pasadena, CA, USA

Skip other details (including permanent urls, DOI, citation information)
Permissions: This work is licensed under a Creative Commons Attribution-NonCommercial-NoDerivatives 3.0 License. Please contact mpub-help@umich.edu to use this work in a way not covered by the license.
For more information, read Michigan Publishing's access and usage policy.
"'Take the leap. Take the leap.' And I kept on thinking, 'Easy for him to say.' Take the leap where? Don't I have to know where I am going? The wisdom, in hindsight of course, is that you don't have to know where you're going, you only have to know that you want to start the journey. In fact, you can't know where you are going—that's the point."
Heller, C. & Polak, P. (2016). "Taking the Leap," in M. Amatullo, B. Boyer, L. Danzico and A. Shea (eds.) Leap Dialogues: Career Pathways in Design for Social Innovation, Pasadena, CA, USA: Designmatters: ArtCenter College of Design, p. 238.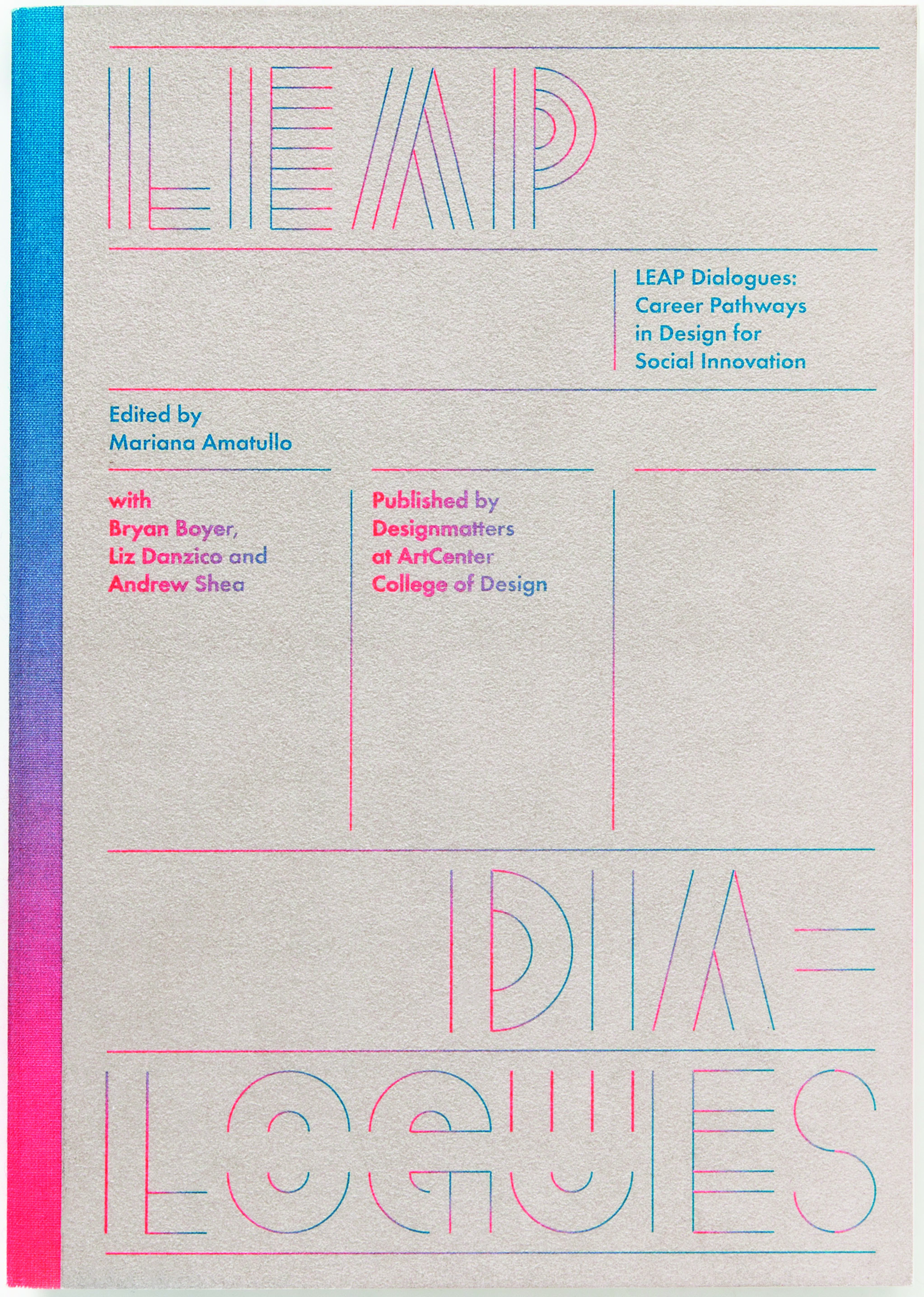 Book cover, Leap Dialogues: Career Pathways in Design for Social Innovation, edited by Mariana Amatullo with Bryan Boyer, Liz Danzico and Andrew Shea (2016)
Leap Dialogues: Career Pathways in Design for Social Innovation is undeniably a comprehensive tome of a book, which covers the vast array of the typologies of dialogue one might expect to come across when discussing and analyzing design and design processes: Generative Dialogue—involving flow and space-collapsing boundaries; Reflective Dialogue—involving inquiry, empathetic listening, and changing one's point of view; Talking Nice—listening, engaging in polite, cautious exchanges; Talking Tough— engaging in or facilitating debate, rule-revealing, clashing. Indeed, it is the thoughtfully asserted presence of all of these which makes for a truly didactic approach to the consumption of the book.
So we take the metaphorical "Leap" into the book, firstly with an excellent written introductive precis by the editor Amatullo, (p. 10), in which she offers, " ... it is purposely ambivalent and pluralistic in its use of definition about the social design practices it illustrates and describes." This declaration sets the stage for the forthcoming chapters. These chapters derive their structure from the design methodology of "Why," "What," "How," (plus "How-based case studies"), and "Futures."
Amatullo's introductory essay "Why: Why Designers Practice in Social Innovation" leads us through the storytelling of each author. The chapter quickly reveals that the common language of social innovation is a multi-faceted diamond—each author / contributor / actor has their own way of interpreting social innovation. The noise of "Talking Tough" thrives and ambiguity abounds. In the face of this murk, the chapter provides sure navigation through and interpretation of diverse soliloquy, monologue and aside.
Danzico's introductory essay "What: What Designers Need to Practice in Social Innovation" draws the threads of the various conversations around the metaphor of modal jazz, especially in relationship to the roles that "improvisation" plays in the effective development of both. It is a charming introduction and leads effortlessly into the various repartees. Danzico reveals herself to be especially cognizant to the requirements necessary for designers to engage in socially innovative endeavors as she opines that, "[to be a] good improviser is to be very comfortable with ambiguity." However, as Sarah Lidgus quotes from Alejandro Aravena's caveat, "There's nothing worse than answering well the wrong problem," the reader is reminded of how this book is intended to be used as an exemplar, or a guide to more precedent study. Just as highly skilled modal jazz musicians must listen as effectively as they play to ensure an inclusive-but-oppositional musical narrative, designers working to instigate positive social change must effectively engage in oppositional dialogues to fuel inclusive design decision-making.
In the essay "How: How Designers Practice in Social Innovation," Boyer's initiatory words bring an imperceptible smile to those who truly and experientially understand the hard work involved with fomenting change. This occurs especially as one reads lines like "the elusive line that distinguishes the social impact designer from the do-gooder who just happens to be a designer," and "here's the secret: social impact is an outcome—not a thing—and so it can only be sought, never designed." In this last section, the main editor Boyer interviews / moderates the authors, which gives it greater cohesiveness, or stickiness, to the main ideas addressed and expressed within this section.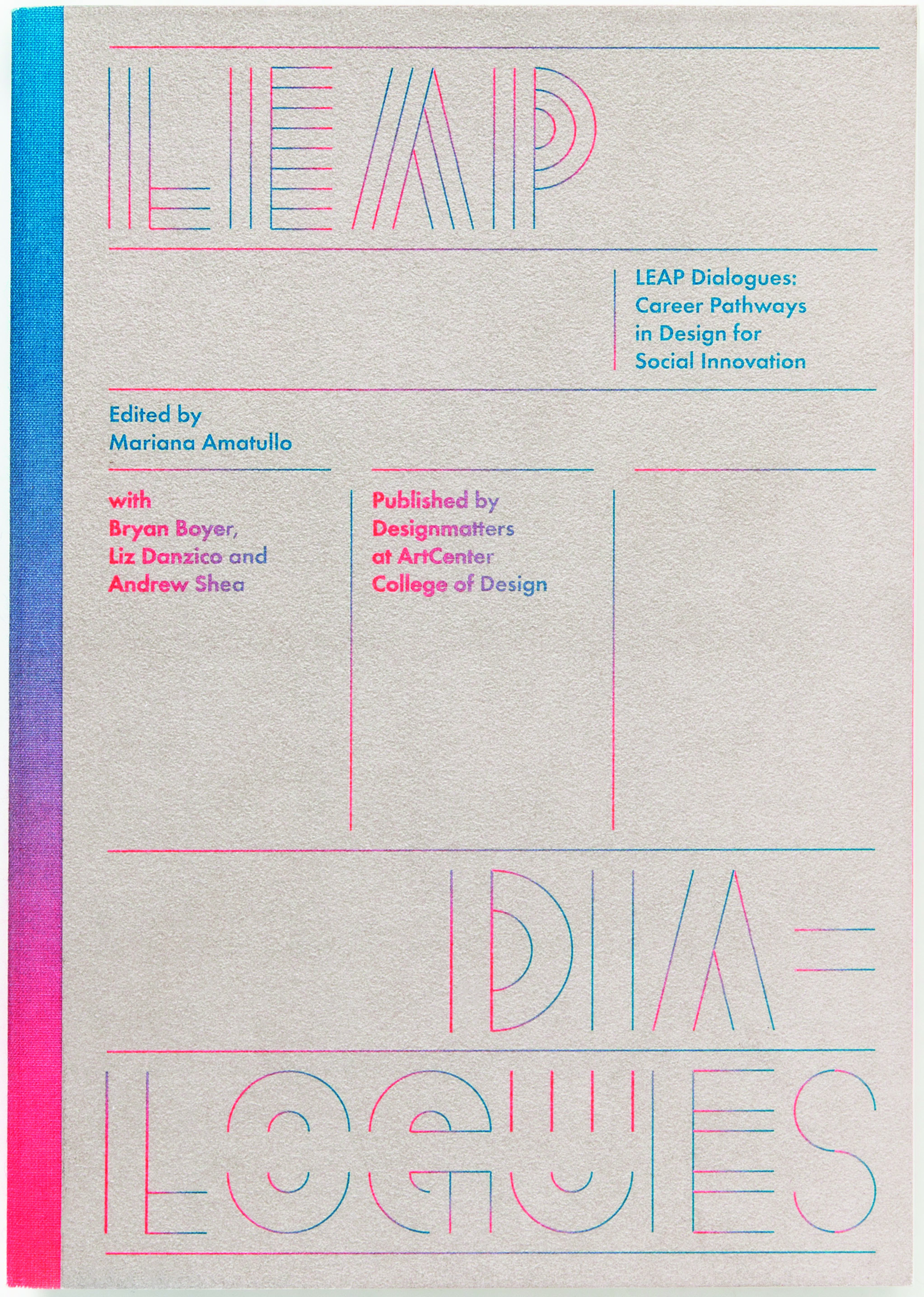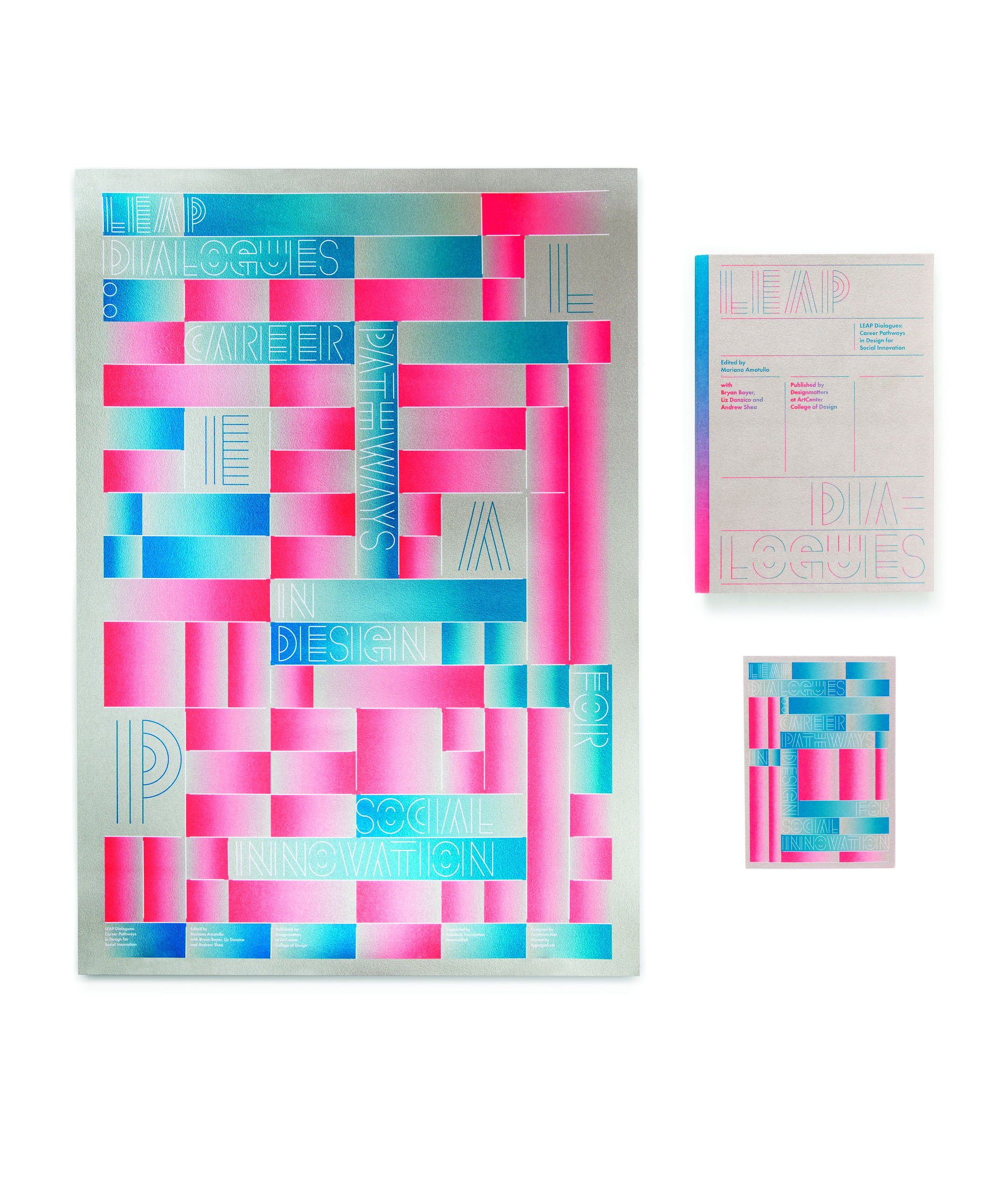 Image compilation, Leap Dialogues: Career Pathways in Design for Social Innovation, edited by Mariana Amatullo with Bryan Boyer, Liz Danzico and Andrew Shea (2016)
The sub-section titled "How: Case Studies" leads the reader through the American paradigm of Social Innovation, particularly within the context of working within large organizations. Frog's "The Humanitarian Data Exchange" is a fascinating case study with complex scaling issues and co-design across multi-organizational situations. It is unfortunate that the duotone photographs that are embedded within this narrative are difficult to understand as presented in this context. They fail to offer the reader further insights into or about how frog developed or operates its Humanitarian Data Exchange. (Sadly, this ineffectiveness of supporting imagery to help the reader gain further understanding of ideas presented in the text recurs throughout much of the book—a disappointment given the quality of its written content.)
The "Future Outlooks" section is the culmination of this volume, and begins with an essay from Allan Chochinov. His idea that, " ... it's all about fluencies. I believe that designers are the connective tissue of any constructed system ... " is a charming-albeit-sometimes-wishful reference, and sets the scene for a series of notable quotes from a diverse multitude of design educators and practitioners as to the essential qualities necessary in a student.
Although conceding that the four-part chapter structure is eminently prudent, being the rather deviant reader that I am, I do wonder as to the veracity of this. Perhaps instead of having the case studies presented as being the culmination and the summit of journey, introducing them earlier would have set the scene for the reader more effectively, and thus given the whole book more of a united structure, which would have facilitated a more cohesive read. As it is, the dialogues that frame and form the content presented in the various chapters slips and slides about rather like kelp drifting and floating in the tide—some of offerings are exceptionally well-written, and the exchanges that unfold resonate effectively between the two authors / collaborators. Conversely, other pieces are largely impenetrable as context and meaning slip and slide off one another without really addressing each other's thoughts. At many points I wondered as to how the pairings of actor / author were chosen. Some are rendered eminently readable as collations of thoughts rather than actual conversations, while others allow the language of the writer to obfuscate the effective narration of the story.
In the closing pages of this book Natacha Poggio states, "Social impact work requires empathy, co-creation and collaborative skills." This quote exemplifies the primary message of this book. Rather than reading it from start to finish in one sitting, Leap Dialogues is a well to dip in and out of; it exists as a conduit through which to consider the many voices and personal strategies that together or individually can help facilitate social innovation. To consider its offerings is to consider the wide range of discourses around the subject and to attempt to conjugate meanings from these. Though some of the conversations presented in "Leap Dialogues" go "off piste," the bulk of the content presented here truly constitutes a dialogue that is dialectic in nature.
Top of page