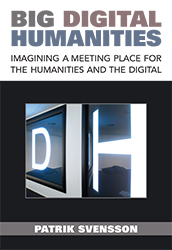 Big Digital Humanities: Imagining a Meeting Place for the Humanities and the Digital
Skip other details (including permanent urls, DOI, citation information)
Series: Digital Humanities
: Ann Arbor, MI: University of Michigan Press, 2016.
Permissions: This work is licensed under a Creative Commons Attribution-NonCommercial-NoDerivatives 3.0 License. Please contact digital-culture@umich.edu to use this work in a way not covered by the license. The print version of this book is available for sale from the University of Michigan Press.
For more information, read Michigan Publishing's access and usage policy.
Epilogue: Making December Events
December days are short in northern Sweden. In Umeå, the sun rises sometime after 9:00 a.m. and sets before 2:00 p.m. for most of the month. This is a good time for indoor work and connection building, and HUMlab has taken to organizing scholarly events during this month. These events have become one of our trademarks, channeling much energy and engagement over two or three days. They provide an opportunity to manifest, enact, and question the digital humanities and offer ideal case studies for examining how ideas and practice meet in big digital humanities. In addition, event making is a curatorial practice, so examining this process and the texture of these events can highlight the workings of the curatorial process.
Events bring people together, allow intellectual and technological exploration, and channel considerable amounts of energy into specific endeavors. A side effect of organizing large-scale events is that they motivate many other accomplishments—infrastructure is installed, projects are finalized, and the whole lab becomes refreshed and ready.
In a way, a platform such as HUMlab comes to life during such events. Curating the event can create a dynamism and experimental quality that is vital: What themes are chosen? Who is invited? How is the event carried out? How is technology utilized and integrated? Significant advantages can result from carrying out such events in a dedicated venue rather than in a generic university space or a conference hotel. Similarly, having staff and faculty who embody the basic ideas of the operation and demonstrate kindness, sharpness, and engagement is invaluable.
The networks that are created and developed through such events are anchored in HUMlab as an idea and operation. Such networks encompass physically present participants, distributed networks (sometimes represented on Twitter walls), streaming of content (when possible), and remote participants appearing on screens via Skype or similar platforms. As participants learn from each other and create new knowledge together in a conditioned environment, they form a kind of knowledge infrastructure.
At the same time, events are transitory, take a great deal of work to organize and implement, and may disappoint in that they rarely have dramatic long-term impact. Nevertheless, they are critical to an operation such as HUMlab. I agree with Jonathan Sterne's position regarding edited volumes: he declines many requests that reflect primarily interest from a press, but he believes that field-defining volumes arising from strong scholarly engagement can play a vital role.[1] Not every conference can be field-changing, but scholarly events make much more sense if they set out to make a difference, move beyond the state of the art, engage passionately with the questions raised, and be experimental (or at least not frozen) in terms of structure and the modalities employed.
On December 5–7, 2012, HUMlab hosted a conference, Infrastructure | Space | Media, that focused on themes such as knowledge production, making, architecture, infrastructure, and framing and was attended by a range of intellectuals and makers. Exactly a year later, on December 5–6, 2013, HUMlab sponsored a workshop, Sorting the Digital Humanities Out, that took a five- to seven-year perspective on the development of the field of digital humanities. Most participants were junior faculty members. And one week after that, on December 12, we held a discussion session on possible new master's degree programs at the intersection of the arts and science/technology/engineering/mathematics (STEM).
On one level, these events can be seen as exemplifying and demonstrating the digital humanities given particular intentions and conditions that roughly correspond to the idea of big digital humanities as presented in this book. Primarily, however, they were scholarly activities with specific themes and goals. The 2012 conference explored two principal questions: How is knowledge production shaped by infrastructure (and notions of infrastructure), and vice versa? And how does digital materiality change notions of space and architectural theory as well as of built space itself? Johanna Drucker, for example, talked about the renewed rise of positivism, pointed to how our understanding of spatial experience is anachronistic, and critiqued digital projects such as Rome Reborn as based on a number of lies.[2] While the research questions remained the focus of the conference, a related and sometimes fierce discussion of the digital humanities also occurred.
If the events themselves constitute attempts to model the digital humanities, their implementation can provide a sense of what big digital humanities can be and what might be difficult to realize in practice. For example, although we had wanted the 2012 conference to include a significant number of representatives invested in making and coding, most of the participants came from analytical traditions (English, information studies, and cinema studies). This bias was balanced to some degree by the presence of several architects, who are both critically invested and engaged in making and practice. A showcase demonstrated ongoing projects and technologies, and Chris Speed of the University of Edinburgh encouraged participants to use the app Comob to trace social negotiations of space.
Inviting and attracting diverse participants is one of HUMlab's major challenges in staging these events. The 2013 workshop deliberately focused on Sweden and the United States but also included attendees from Norway, Denmark, England, Australia, India, and France. Given that the task was to sort the digital humanities out, this would seem to be a fairly limited array of participants. However, some fifteen disciplines and areas were represented. In any case, it is important to go beyond established networks and try to get the best people regardless of where they are situated. Doing so is not easy, in large part because we rely on our existing networks, and moving one or two steps away from those networks may not create substantial diversity. Open and inclusion-aware calls for proposals can be a useful strategy, as can efforts to draw on the diversity of perspectives and backgrounds available within the university (including the student population) and the local community.
Events can be organized and orchestrated in a way that supports diversity, but avoiding micromanagement can also at times be helpful in this and other regards. For the discussion session on master's programs, HUMlab sent out a general invitation to the whole university to join us in exploring the possibility of creating high-quality, internationally competitive master's programs in between science/engineering and humanities/art. The inspiration was partly the U.S.-based STEAM movement, which has added the arts to the STEM framework. We were not entirely sure what to expect, but the discussion session drew participants from the Center for Arctic Research, linguistics, literature, medicine, computer science, engineering, the Institute of Design, art, archaeology, a local school's technology center, the business school, the Department of Tourism program at Otago University, and a physics simulation company. A dean attended, as did artists, professors, graduate students, undergraduate students, and practitioners.
I had planned the STEAM discussion but had not had the time to prepare as carefully as I would have liked. In terms of curatorial practice, however, underpreparing can sometimes offer advantages. Planners run the risk of having everything so much in place that some possible directions are stifled. The structure of an event can make some conversations very likely and others not. If certain people, competencies, and backgrounds are not present (or do not receive space), certain narratives and exchanges are unlikely to develop. The STEAM session was perceived as a success partly because of the participants' diversity and their willingness to engage. They spoke about societal challenges, offered experiences and perspectives on doing work across the arts and sciences, and made suggestions about what might attract students to such programs. Participants believed in the importance of having students maintain a sense of agency throughout the process as well as of strong disciplinary grounding and the need to go far beyond merely selecting existing courses from different departments. All in all, the atmosphere was very constructive and explorative.
The humanities and the digital humanities took the lead in planning this event. The initiative came from HUMlab and the Dean's Office, with support from university administrators. We demonstrated our interest, informed others about the process, and invited people to come together. The connection between the arts and the sciences will likely play an increasingly important role in the context of institutional structures and large-scale worldly challenges, and the digital humanities can be one suitable platform for carrying out such work. One participant, John Maeda (at the time with the Rhode Island School of Design), pointed to the importance of in-between platforms for doing this kind of intersectional work. As he noted, the MIT Media Lab was driven not only by Nicholas Negroponte but also by Jerome Wiesner, a former president of MIT and science adviser to President John F. Kennedy. According to Maeda, Wiesner was convinced that the arts would be important to MIT's future development. In addition, the MIT Media Lab had early success because it was institutionally placed under the radar. The Machine Architecture group and what is now the School of Architecture and Planning were not seen as major or influential institutions at the time, which made it easier to implement an intersectional and innovative enterprise such as the Media Lab.[3] Considerable advantages accrue from seeing the digital humanities as an intersectional operation, and doing so requires an appropriate institutional position.
Maeda was traveling halfway around the world from Sweden, so we brought him in on a large screen, an approach that worked well and one that we have come to use regularly. Situating off-location people in a physical environment can be quite powerful, especially if careful attention has been paid to the material conditions of such setups and if the physical environment is not a sterile white-wall videoconference room.
The 2012 conference had little remote video participation, and what did occur resulted from a raging winter storm and illness. The 2013 workshop, conversely, featured several remote participants. The organizer of a session on critical making, Matt Ratto, appeared on an enormous triptych wall screen with a second feed from his document camera, which essentially showed his hands demonstrating how the manual work should be carried out. This feed was shown on the floor screen next to the triptych screen. The communication between the remote session leader and his graduate student (ginger coons, who did much of the practical work) felt very natural and functional. It helped that they knew each other well and that we had a good audio system in place. The remote leader and the local participants communicated throughout the session.
The setup was atypical in that, for much of the time, the participants and the session leader were focused on building—looking at paper-folding projects or at each other—so the remote presence became peripheral or subdued despite the size of the screen on which Ratto appeared. It was fascinating to watch him focus on the paper building rather than on his Skype connection. He even left at one point to take care of his crying child.[4]
The document camera feed, however, was not very useful, since people were dispersed in the space and not really proximal to the floor screen. Also, focusing simultaneously on both the talking head and the floor screen seems to be cognitively difficult. Furthermore, the workshop leaders would probably have benefited from a private channel for certain conversations. But we could not have known these things until we tried—material and experimental engagement are necessary to find out what works and does not when curating events and engaging with infrastructure.
This critical making session, Fixsels, sought to explore digital materiality by building "physical pixels" (the fixsels) out of origami paper and some circuitry. Matthew Kirschenbaum's work on forensic and formal materiality was central to the session, as was the framework suggested by Drucker in SpecLab: Digital Aesthetics and Projects in Speculative Computing.[5] It was entertaining to see a roomful of humanists struggling with scissors, glue, and complex folding as well as with the connection to a set of abstract ideas about materiality. Ratto usefully kept coming back to the theoretical framing, although the making part probably took a bit too long in this first fixel iteration. The session amply demonstrated the need for a methodology to robust critical making work. If the digital humanities is about making and thinking at the same time, then we need to create and enact such methodologies.
Without appropriate infrastructure, such enactment becomes difficult. The digital humanities needs infrastructure that manifests basic ideas and values associated with the field and that allows us to engage with ideas, technology, and people. Many digital humanities platforms and spaces do not enact an inclusive, intellectual, and technologically engaged digital humanities. And even a platform that does so can be employed in many different ways, as evidenced by the various formats of the HUMlab events.
The 2012 conference was the most conservative of the three events in terms of setup and conditions. We received very generous support from the Wallenberg Foundation on the condition that we create a high-quality meeting with some of the best scholars in the world. There was also an assumption that the conference would be organized around a number of keynotes. However, we suggested a format where keynotes were kept relatively short and were followed by more junior scholars who spoke on related themes and questions. The themes included knowledge production, making, infrastructures, framing, and pre- and postdigital architectures. Each such session finished with a thirty-minute discussion. This format was successful, and the early-career scholars (some of whom were actually quite senior) made important contributions to the conversation. The professional moderator did not have to use his prepared questions and comments. Keynote speaker Tara McPherson took it is a very good sign that she found herself wishing that the "junior" scholars would do the keynotes.[6] She spoke about scholarly publishing in the session on knowledge production and was followed by Shannon Mattern on inhabiting knowledge, Cecilia Lindhé on medieval interfaces, and Zephyr Frank on bridging scales in the digital humanities. This is more than a matter of program design. Encouraging a multivocal dialogue requires creating appropriate conditions.
The 2013 workshop furthered this strategy. Most of the participants were junior scholars with a stake in the future of the digital humanities. We sought to create an event with a more active and cocreative format than a series of talks, and we orchestrated it in a much different way than the 2012 conference. A cocreative format means engaging not just with other participants but also with infrastructure and technology. In addition to Ratto's critical making session, there was a lightning talk session using the eleven-screen screenscape, and three batches of eight six-minute presentations, each followed by a discussion among the presenters and the rest of the participants. Each presenter was allowed only one slide, and the participants walked from screen to screen, meaning that all of the slides for each batch were visible at the same time. This configuration differs substantially from a sit-down presentation where the presentation surface gets erased between each contribution. The digital humanities needs to experiment with formats, expressions, and ideas in different kinds of arenas.
Scholarly conferences embed many values and modalities that the digital humanities could challenge—rigid hierarchies and other power structures, stratification, preestablished networks, disciplinarity, gatekeeping, and explicit and implicit socializing of junior scholars as well as formats such as the decontextualized conference venue, the lecture format, a single-screen presentation paradigm, and a limited focus on making. Traditional conferences also seem at times to feature a sense of disengagement and lack of curiosity, openness, and substantial progress.
Andrew Prescott notes that the conference format comes from the nineteenth century and that poster sessions are archaic, but he continues: "unconferences don't really cut the mustard. Need something more truly connective & interactive."[7] He suggests that the digital humanities can take the lead. Indeed, given the criticisms that have been directed at the ADHO Conference, it would make an excellent test case for manifesting and enacting a new kind of digital humanities. Big digital humanities (especially if grounded in strong curatorship and spatial thinking) can be a leader in challenging and realigning the format of scholarly meetings.
Technology and presentation and communication modalities impose constraints. For example, presentation software is typically based on a slide-by-slide paradigm, most display screens are single and have a cinematic aspect ratio, lightning talks impose time limit, and conference proceedings are almost always textual. Traditional conference talks are locked into very specific structural and physical conditions. Presenters are expected to stand at the front of the room, use some kind of slide software, and respond to moderated questions and comments. Institutional websites often are not just expected to look a certain way but must follow a template. Such templates lend consistency but do so at the cost of experimentation, interaction, and expressiveness, and they have become so entrenched that they do not get questioned. Such conventions are not just a matter of form but structure the way we make critical arguments and interact with others.
While working with available platforms and systems, the digital humanities needs to challenge some of these templates and restrictions, perhaps by imposing new conditions, constraints, and challenges. HUMlab's triptych screen exemplifies this approach. Most software has been designed for single rectangular screens, and the first time I tried to do a presentation using the triptych screen, some of the digital content ended up where there was no screen. And what does it mean to display and interpret research data using a center and periphery in this way? During the 2013 workshop, the faceted browser system that HUMlab has developed to interrogate rich datasets was deployed across the triptych screen and the floor screen, essentially distributing the application over several viewports. The faceted browser experiment and the triptych screen itself raise questions about our obsession with rectangular screens and single web browser windows.
We carried out another—unplanned—experiment during the 2013 workshop as a result of a late decision to show conference tweets on the triptych screen. I spent the evening before looking for an appropriate application, and I found one that worked perfectly for our purposes. It showed a collection of tweets (in this case with the hashtag #sortingDH) in the form of the images associated with the Twitter accounts. The size of the images varied according to the number of tweets that account had generated. Actual tweets (the text) were shown one at a time in large format, visually expanding out from the image associated with that Twitter account. We ran this for some time, but I was also following tweets from a conference in Hanover, Germany, (Digital) Humanities Revisited—Challenges and Opportunities in the Digital Age. I decided to shift the content of our display wall by changing the hashtag to the one used for the German conference. This simple move might not have had a major impact on the conference, but the conceptual leap is significant. There is a strong tendency to use digital mediation to strengthen existing networks and to look inward. Doing so can be useful, but there is certainly a place for rethinking some of these patterns.
This close engagement with technology and the idea that constraints can be useful helped shape one of the key activities of the 2013 workshop. The task was to devise an implementation plan for the digital humanities for a five- to seven-year time frame. The objectives and presentation format were clearly defined, and we asked everyone to reflect critically on the constraints. The preformed groups were asked to present their implementation plans using the large HUMlab space that houses the eleven-screen screenscape they had used for the lightning talks. They thus were familiar with the space, although the constraints had changed. Each group had access to the whole space and all the screens. However, only one image could be deployed per screen, and we had created a visual web interface to allow easy upload of content to the screens. The ten-minute presentations followed by discussion sessions were broadcast live. Each group had about three hours to work out ideas and come up with a presentation.
The eight groups tackled the challenge in very different ways, but none of them deployed a mostly textual implementation plan across the eleven screens or traditional PowerPoint-like presentations. Indeed, as far as I can remember, there was not a single bullet point. Again, the material conditions really matter: if there is no bullet-point template and no expectation of standard slideware presentations, chances are good that the effort will result in different kinds of expressions and narratives. In this case, the presentations were dynamic, varied, and embodied. People used their bodies, moved through the space, declared their convictions, and made narratives by meshing the group's work and the infrastructure.
The pink team, whose members came from media studies, ancient history, anthropology, art, and gender studies,[8] devised a game system, DH 2020, in which the digital humanities moved from day-to-day pragmatics to world domination fighting the old traditional scholars (OGs). A map recurred on several of the screens, and various minigames involved networking (to get influence points), spreading knowledge (to get knowledge points), fundraising, gaining disciples, and finding places to do research. The game was meant to be thought-provoking and experiential and to help players (among them junior scholars) to think through and experience the process of working institutionally, understand the roles involved in an attempted spread of the digital humanities, and teach certain mechanisms. A more generic version of such a game could be useful for graduate seminars in the humanities more generally.
The black group took a similar approach, although it based its story on an individual rather than the institutional structures.[9] The group enacted the career and challenges of Diana, a postdoc with a classics degree from the University of Budapest who was working on a project to establish the location of Troy. She had to grapple with institutional constraints, translating her work to a grant committee, methodology, expectations that the digital was limited to websites, pressures from standardized assessments, attracting funding, using crowdsourcing, and building networks. In addition, her postdoc time is ending and her desperation is increasing (demonstrated by one participant running back and forth between screens).
The guerrilla group presented an antimanifesto based on the presumption that the digital humanities is needed and does not necessarily have to act from a passive position.[10] The message was that we can make demands and set parameters before the discussion starts: "We have their loved ones!" The delivery was characterized by coordination, cooperation in the presentation, and an aesthetics taken from protest signs. The group loudly declared its manifesto, and its points (one per screen) included respect for the idea that digital objects are people too (we need to accommodate the agency of information objects and nonhuman organic forms), embracing the dark side of corporate information control (working with media companies), moving beyond the prototype (to make real change in society), letting research and education meet (drawing on Humboldt), and working with many languages (the world is multilingual). Again, the format expressed a particular perspective, and the coordination of the group's declarations carried meaning. Near the end, one group member noted that the team had sought to take a "bit of an aggressive stance," positioning itself as a guerrilla group with convictions as well as a willingness to negotiate.
One of the other groups explored the long-term validity of the term digital humanities.[11] Their initial screen featured an animation that alternately crossed out digital and humanities while ruminating on the interrelation of these terms. The animation represented a successful modification of the presentation format within the technical constraints of the system. In addition, the group used two screens to show the image search results for digital humanities on Google and Bing. The fact that these results differed significantly made the point that an important role of the digital humanities is to look critically at the tools we and others use. Toward the end of the presentation, a technologist talked about the separation of the digital and humanities. Two cartoon slides brilliantly illustrated the difference between having a process where scholars order solutions from technologists and a process that is integrated from the outset. He talked about the humanities in a way that I suspect humanists often talk about the technology side of things. Though made humorously, the point was crystal clear, important to the workshop, and highly relevant for the digital humanities.
I had been reluctant to include all the technology staff as participants in the workshop since they were needed to organize and implement the event. I may also have been stuck in my conception of different roles in the lab. The event coordinator convinced me to open up the event, and I am happy we did. Finding ways of working together across competencies, roles, and projects is critical for the digital humanities.
We could never have foreseen what would result from this exercise, but the fact that the results were not predictable is one of the most important points. We had structures, conditions, constraints, infrastructure, and carefully put-together groups, but we had no blueprint. And moving away from standard presentation formats had a major influence on the outcome. This is not to say that the session was perfect or that it could not be improved; rather, we realized that doing it this way was the right choice.
The field of digital humanities is facing many choices, some of which will be difficult. Becoming larger, opening up to other epistemic traditions, and engaging more broadly with the digital, the academy, and the world outside does not come easily. We need to make a case for big digital humanities based on the intellectual and technological challenges of the next decade. Many of them will require the humanities to engage with the digital in many different ways, to recruit the best early-career scholars and experts, and to create humanistic infrastructure.
We need technological and intellectual engagement to come together. We need to approach challenges across the technological and humanistic. We need to take on the responsibility of creating hope for early-career faculty and of making a real difference within the humanities and the academy. We need to work with the world outside academia.
Big digital humanities is a response to these and other challenges. It is not a panacea or a single solution but a set of ideas, practices, and values centered on the digital humanities as an intellectual-material meeting place across epistemic traditions and multiple modes of engagement with the digital.
At the end of the 2013 workshop, Johanna Drucker participated in a minipanel with five remote guests, each of whom had three minutes to speak. Drucker stated that until digital humanities work is cited and used in other fields because of the arguments made, it will be marginalized. We can only reach this goal by working with the humanities writ large as equal partners, and I think we are starting to do so. Strong scholarship with digital inflection is being produced both inside and outside the core community of the digital humanities. We need to meld the intellectual and the technological in all kinds of ways, and we need to draw on the meaningful coming together of different traditions and energies. Much more remains to be done.
Top of page